• Alexandra Cooper is a journalist, radio personality, and social media star, known for co-hosting the "Call Her Daddy" podcast.
• She grew up in Newton, Pennsylvania and graduated from Boston University in 2016 with a degree in film and television.
• She has a YouTube channel and social media presence with over 2.2 million followers on Instagram and more than 500,000 followers on Twitter.
• She is currently in a relationship with an unidentified man referred to as "Mr. Sexy Zoom Man from London".
• Her net worth is estimated to be over $1 million.
Who is Alexandra Cooper?
Alexandra Cooper was born in Newton, Pennsylvania USA, on 21 August 1994 – her zodiac sign is Leo, and she holds American nationality. She is a journalist, radio personality and a social media star, perhaps known best for co-hosting the "Call Her Daddy" podcast.
Early life and education
Alexandra grew up in Newton – her parents are Bryan Cooper who's a famous hockey player, and Laurie Cooper who's a housewife; she has an older brother named Grant, and a younger sister named Kathryn.
Alexandra received her primary education from Pennington High School, and during her time there she was a competitive soccer player – as a co-captain of her high school team, she won four MCT Championships and the Prep-A title. Alexandra earned All-Prep First Team and All-area First Team honors as a senior, which helped her win a university scholarship.
Upon matriculating, she enrolled at Boston University, from which she graduated in 2016 with a Bachelor's degree in film and television.
Career as a journalist
While she was a university student, Alexandra started working at the university's events and conferences office. After graduating, she got her first job at Comcast in Hartford, Connecticut as a stage manager, but later moved on to work as a production assistant at NBC Sports in Princeton, New Jersey. She also worked at the Boston-based TV station WHDH 7 as a sports intern.
"Call Her Daddy" podcast
In 2018, Alexandra met Sofia Franklin who was her flat-mate at that time – the two soon became close friends and started a podcast together – "Call Her Daddy" – launched on 3 October 2018, partially owned and distributed by the digital media company Barstool Sports.
Its content features so called 'girl talk', sex and relationship advice, and life stories. It quickly became popular, with episode downloads rising from 10,000 to two million in just the first two months.
The thee-year contract Alexandra and Sofia signed provided them with a base salary of $75,000, plus the bonuses by download statistics and a portion of merchandise sales, while the "Call Her Daddy" podcast remained intellectual property of Barstool Sports. In April 2020, the hosts stopped releasing new episodes due to issues while negotiating contract changes with Barstool Sports. David Portnoy, the founder and president of the company issued a public statement on 17 May, 2020 in which he revealed the details of the dispute, and said that the company offered a base salary of $500,000 to the hosts, and a way for them to get the intellectual property.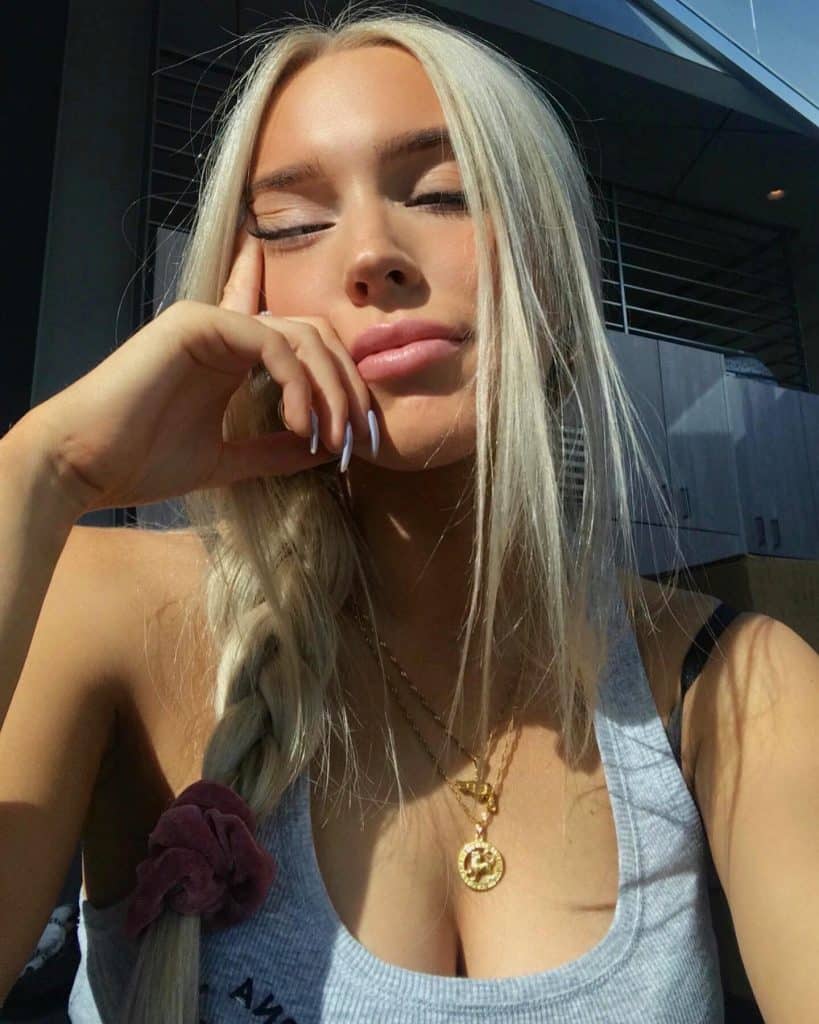 While Alexandra accepted the deal, Sofia decided to leave and launched her solo podcast entitled "Sofia With an F". "Call Her Daddy" returned to air in August the same year, with Alexandra as its only host.
Following the dispute, Sofia stated that she felt betrayed by her former co-host accepting the deal with Barstool Sports. Meanwhile, the Barstool Sports president David accused Sofia's boyfriend and HBO Sports executive vice president, Peter Nelson, of manipulating her and trying to sell their podcast to other companies while they were still under contract.
Despite the controversy, the podcast remained as successful as ever, and was the fifth most streamed podcast on Spotify in the year 2020. "Call her Daddy" is also the best-rated female podcast on iTunes at this moment, and the #1 show on Apple Podcasts.
The first episode since Sofia's departure featured the famous pop singer Miley Cyrus, who talked about her break-up from the actor Liam Hemsworth. Since then, Alexandra has welcomed numerous other celebrities to her podcast, such as Mia Khalifa and Maggie Lindemann.
In 2016, Alexandra launched her YouTube channel "Alexandra Cooper", onto which she began regularly uploading videos in autumn 2018, with her most viewed video to date being "The truth about Call Her Daddy", which has amassed almost two million views. Her YouTube content mostly consists of vlogs about dating, and her life in Los Angeles, California.
Alexandra also has a verified Instagram account – '@alexandracooper' – which numbers more than 2.2 million followers, and over 240 pictures. She often uploads provocative bikini selfies, which usually amass a huge number of 'likes', as well as content related to her podcast.
Her eponymous Twitter account numbers over 500,000 followers, and she's tweeted more than 1,500 times since joining the platform in April 2016.
Love life and relationships
Alexandra is very open about her love life, as it's one of the main topics in her podcast. In 2017, she was in an on-and-off relationship with the successful New York Mets baseball player Noah Synergaard aka 'Thor'; at that time the couple was seen together at numerous sports events, and weren't shy to show their affection in an unusual manner. During a basketball game, Alexandra was seen pushing fingers down Noah's mouth which was seen as extreme, and sparked criticism among some of their fans. Alexandra sparked another controversy in September 2017, by 'liking' a tweet which bashes the New York Mets head trainer Roy Ramirez.
In November 2017, Noah announced on his Twitter account that he was single, but not long after that, he was spotted with Alexandra again in a New York restaurant. This led many of their fans to believe that the two were still together, and that Noah's announcement was just a way for him to calm the Mets' fans after the recent controversy.
Last year, Alexandra revealed on her podcast that she was dating two guys at the same time, with one of them being her ex-boyfriend. As she didn't reveal their identities, this led to rumors that she may be seeing Noah again, but she later clarified that he isn't the ex-boyfriend she was seeing. In February 2021, she uploaded a YouTube video entitled "I HAVE A BOYFRIEND…", in which she said that she settled for one of the two guys she was dating simultaneously.
She hasn't revealed his identity, referring to him only as 'Mr. Sexy Zoom Man from London'.
Earlier this year, rumors appeared that Alexandra hooked-up with the controversial YouTuber Logan Paul. In April, he used an episode of his podcast "IMPAULSIVE" to address the rumors, saying that he told his friend Harry Jowsey about what happened between the two, and that it was a one-time thing. Alexandra confirmed they hooked-up in an episode of the "BFFs" podcast, but still blamed Logan for making the whole situation public. She said 'Logan Paul can't keep a secret. And in my mind I'm like, dude, I told one close friend. And you just told the whole internet. And now I'm telling them again.' Stand by for further developments!
Hobbies and interesting facts
Alexandra has a pet dog called Heni.
She loves pop music, with Beyoncé being her favorite artist, and "Single Ladies", "Crazy in Love" and "Formation" some of her favorite songs.
She has said that watching reality TV is her 'guilty pleasure', and she especially loves watching shows such as "RuPaul's Drag Race", "90 Day Fiancé" and "Keeping Up With the Kardashians".
Age, height and net worth
Alexandra is 26 years old. She has long blonde hair and brown eyes, is 5ft 5ins (1.65m) tall, and weighs around 115lbs (52kgs).
As of May 2021, her net worth is estimated at over $1 million.