• Valeria Golino is an Italian actress and director born in 1965
• She is known for roles in films such as "Rain Man", "Hot Shots!" and "Portrait of a Lady on Fire"
• She has also starred in several TV series, and has directed three films
• She is fluent in Italian, Greek, English and French, and has received multiple awards for her acting and directing work
• Valeria is 55 years old and has a net worth of over $11 million
Who is Valeria Golino?
Valeria Golino was born in Naples, Campania Italy, on 22 October 1965 – her zodiac sign is Libra, she holds Italian nationality, and has Italian and Greek ethnicity. She is an actress and a film director, perhaps known best for her roles in movies such as "Rain Man", "Hot Shots!" and "Portrait of a Lady on Fire".
Early life and education
Valeria was raised alongside her older brother by an Italian father, who was a professor of German, and their mother Lalla, who was from Greece, and worked as a professional painter. Her parents eventually split up, so she spent her teenage years alternating between Athens, Greece and Sorrento, Italy.
When Valeria was 11 years old, she was diagnosed with scoliosis, and had to have a metal rod implanted in her spine for about five years.
The operation was performed by a renowned surgeon in Chicago, Illinois, where she remained in hospital care for about six months, and during her time there learned to speak English, before returning to Italy
Her mother often took her to the cinema to watch the latest Hollywood movies, which made her interested in film at an early age. Despite this, she wanted to pursue a career in the medical field, but after her acting career kicked off, she gave up on her aspirations of becoming a doctor, and dropped out of high school. She worked as a model from the age of 14, but didn't find her career in modeling to be particularly appealing, so she quit after a few years.
Valeria hasn't attended college, and doesn't have formal education in acting.
Roles in movies
Valeria made her acting debut in 1983, in the Italian comedy "A Joke of Destiny", directed by Line Wertuller. She was cast in the role after her uncle Enzio, who worked as a journalist, received a call from the film's director, who was searching for a young girl to star in her new movie.
In the following years she starred in a number of independent movies, such as "Blind Date", "My Dearest Son" and "Little Flames". The role that most consider her breakthrough was in the 1986 critically acclaimed drama "A Tale of Love", written by Fiore De Rienzo and directed by Francesco Maselli, in which Valeria played the lover of two men. For her performance in the film, she received great reviews from the critics, and won the Best Actress Award at the 1986 Venice Film Festival.
Following her success, she moved to Los Angeles, California in 1988, to pursue roles in Hollywood movies. The first American movie she starred in was the 1988 comedy "Big Top Pee-Wee", directed by Randal Kleiser, and which also starred Kris Kristofferson, Susan Tyrell and Paul Reubens. Also in 1988, she starred alongside Tom Cruise and Dustin Hoffman in the Oscar-winning drama "Rain Man", directed by Barry Levinson; the film follows a selfish young man, as he reconnects with his autistic brother who inherited a fortune from their father. Valeria played the role of Susanne, the girlfriend of Tom Cruise's character, and the film won four Oscars, including for Best Picture.
In the 1990's, she returned to European cinema, and in 1996 starred in the independent Cypriot drama "Sfagi Tou Kokora".
In 2004, she played the supporting character of Camille Vrinks in the French crime drama "36, Quai des Orfevres", directed by Olivier Marchal., and more recently, she appeared in the 2013 Italian biographical film "Come il Vento", directed by Marco Simon Puccioni, which follows the life of Arminda Miserere, the first woman to direct a high-security jail in Italy.
In 2019, Valeria starred in the French romantic drama "Portrait of a Lady on Fire", written and directed by Celine Sciamma. The film is set in 18th century France, and follows an affair between an aristocratic woman and the painter working on her wedding portrait.
Roles in TV series
Valeria made her series debut in 1995, when she appeared in an episode of the crime drama "Fallen Angels". Four years later, she played the character Nunzia, in the Italian mini-series "La Vita che Verra".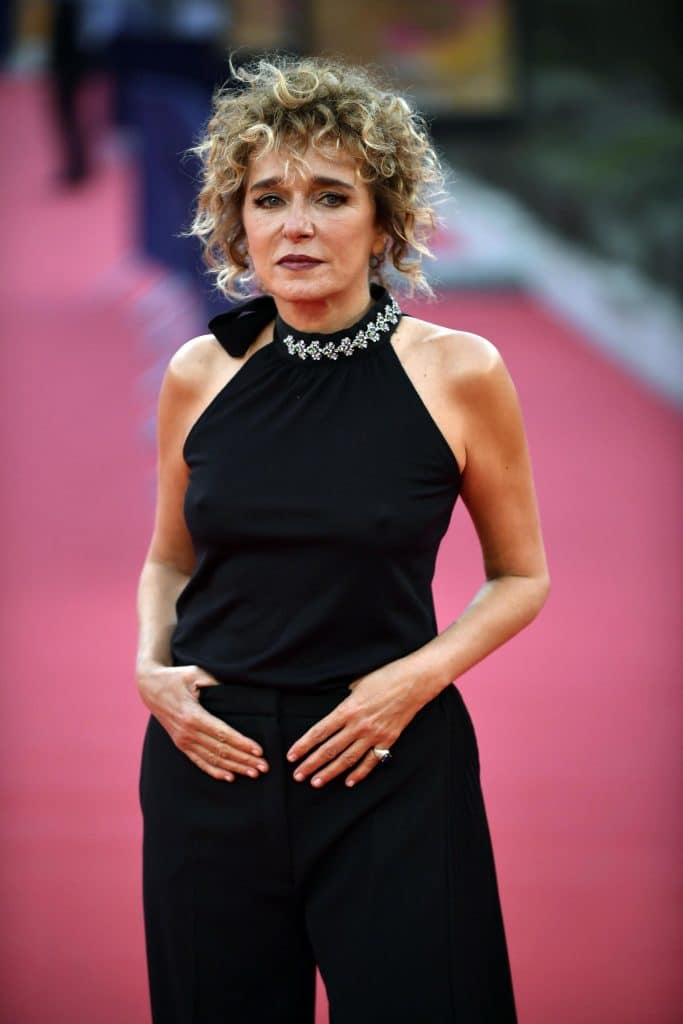 In 2002, she was Capurnia in the historical drama "Caesar", which also starred Jeremy Sisto, Richard Harris and Christopher Walken. The series was a Dutch, Italian, German, and American co-production, and was filmed in Malta; it was nominated for two Primetime Emmy Awards.
In 2013, she appeared in nine episodes of the popular Italian series "In Treatment", in which she played the recurring character Aurora. She hasn't starred in any TV series since.
Other credits
Despite being reluctant to sing, Valeria has shown her musical talents in several movies, including "Hot Shots!", "Giulia Doesn't Date at Night", and "Like the Wind". She has also appeared in several music videos, including "These Boots Are Made for Walkin'" by Planet Funk, and "Bittersweet Me" by R. E. M.
She made her directorial debut in 2010, when she wrote and directed the short comedy "Armadino e il Madre", which starred Gianluca Di Gennaro and Eshter Garrel. After that, she worked as writer and director of two other projects, "Honey" and "Euphoria", released in 2013 and 2018, respectively.
Awards and accolades
Since the launch of her acting career, Valeria has received numerous awards, particularly at renowned European film festivals. In addition to "A Tale of Love", also in 1986 she won the Italian Golden Globe in the Best Breakthrough Actress category, for her roles in "Little Flames" and "My Dearest Son"
For her performance in "I Sfagi tou Kokora", Valeria won the Best Actress Award at the Thessaloniki Film Festival in 1996. In the following year, she won another Italian Golden Globe, and her first and only Golden Sacher Award, both for her role in the Italian romantic drama "Le Acrobate".
Valeria has also been rewarded for her work as a director – in 2013 her movie "Honey" received awards at the Brussels European Film Festival and Cannes Film Festival, while it was also awarded an Italian Golden Globe, Flaiano International Award and a Golden Ciak, among others.
She had the honor of being a member of the main competition jury of the Cannes Film Festival in 2016. She is also a member of Academy of Motion Picture Arts and Sciences (AMPAS), the international organization, known best for its annual Academy Awards – aka 'The Oscars'.
Love life and relationships
Valeria has never been shy when it comes to revealing her partners to the public, and has dated many famous and successful men.
Her first partner whom the public knows about was the Italian director Peter del Monte.
They started dating in 1984, and were together for almost three years. They became engaged In 1987, but parted ways soon afterwards.
From 1988 to 1992, she dated the Spanish director Benicio del Toro; they became engaged too, and lived together in their house in Los Angeles. They likely split due to infidelity on both sides – Valeria apparently had an affair with musician Eric Clapton in 1991.
She was in a relationship with the actor and author Fabrizio Bentivoglio from 1993 to 2001, and from 2006 to 2016, she dated another actor, Riccardo Scmarcio.
In 2011, she was spotted with the American actor Dustin Hoffman at a restaurant in Los Angeles – they apparently seemed intimate and even kissed, which sparked rumors about their relationship, but they never commented on these, and weren't seen together again.
Valeria currently appears to be single, she hasn't married and doesn't have children.
Hobbies and interesting facts
Massimo Causo, the famous Italian author, wrote a monograph about her entitled "Valeria Golino: Respiro d'attrice".
She is multilingual, and is fluent in Italian, Greek, English and French, while she also speaks some German.
Valeria auditioned for the female lead in "Pretty Woman" in 1990, and the selection eventually came down to her and Julia Roberts. Many years later, she revealed that before the final audition Julia said to her 'Go and get them, big mama!', which she took as a bit of an insult, since she thought it was apparent that Julia would get the role.
She is a big fan of the Italian director Federico Fellini, with some of her favorite movies being "Amarcord", "La Dolce Vita" and "8 ½".
Appearance, age and net worth
Valeria is 55 years old. She has curly blonde hair and green eyes, is 5ft 5ins (1.66m) tall, and weighs around 134lbs (61kgs).
As of June 2021, her net worth is estimated at more than $11 million.