• Hennessy Carolina Almanzar is a model, media personality and reality TV series actress.
• She is from The Bronx, New York City and is the sister of Cardi-B, a famous rapper and actress.
• She is a student at The Fashion Institute of Technology in New York City, studying fashion and design.
• She is a bisexual who is currently in a relationship with Michelle Diaz.
• Her estimated net worth is $250,000.
Who is Hennessy Carolina?
Hennessy Carolina Almanzar was born under the zodiac sign of Capricorn on 22 December 1995, in The Bronx, New York City USA. She is a model, media personality and a reality TV series actress, with four credits to her name, while she's perhaps best known for her appearance in the reality show "Love Life and Hip Hop: New York". It's about women who are trying to succeed in the music industry, and the series is known for launching the careers of young, and until then unknown artists. It premiered in 2011, and in 2018 was nominated for the Best Reality Series/Franchise at MTV movie + TV Awards.
Early life, family and education
Hennessy was raised in The Bronx, the most controversial borough of New York City, by her Dominican father Carlos, and Trinidadian mother Clara. They were both hard workers, so Hennessy spent most of her childhood in the house of her grandparents on Manhattan. She has seven siblings, but they prefer to keep their lives private, except for her older sister Cardi-B, a famous rapper and actress. The two of them are very close, and supportive of each other.
Hennessy attended Renaissance High School for Musical Theatre & Technology in The Bronx. Upon matriculating in 2013, she didn't enrol at college, but growing-up her dream was to become a fashion designer, and she's currently a student at The Fashion Institute of Technology in New York City.
Career
Hennessy's first appearance on TV was in 2016 in a supporting role in the reality show "Love and Hip Hop: New York", alongside with her sister Cardi-B as her confidante and friend. She left the show to start her career as a stylist and a fashion designer.
In the following years, she competed in the third season of several game shows, such as "The Challenge: Champs vs. Stars" and "Hip Hop Squares". The former is a game show in which celebrities are competing against pro- athletes for a chance to win money, all of which they donate to charity.
Hennessy raised $400 during her participation, which was then donated to Bronx Works. After confrontations with some of the cast members, she decided that what was the best for her was to leave the show.
Fashion and design are still her occupation at this moment, and as she's announced, her plan is to have her own fashion line in the future.
Love life and relationships
Hennessy is a person who is attracted to both sexes. There have been various rumours about her love life and sexual orientation, but she hasn't spoken of any men or women whom she has previously been with.
In August 2017, she posted a picture onto her Instagram profile, which featured her and presumably a girlfriend lying in bed; Hennessy then revealed that she is bisexual.
Her girlfriend is the model Michelle Diaz – they met each other on social media when Hennessy sent her a message and that was the beginning of their relationship. On 22 January 2021, Hennessy shared the news on her Instagram account that the two of them were celebrating their fourth year of dating. The two are now living together; they have two dogs, and are spending most of their spare time enjoying their love, according to Hennessy's interview in a talk-show.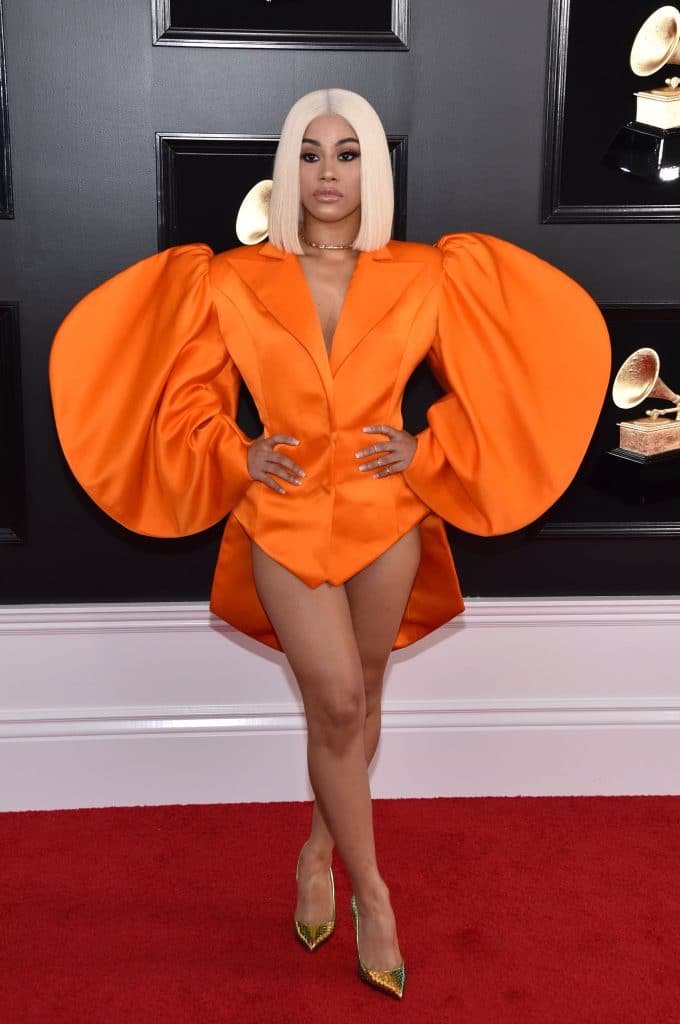 Hobbies and other interests
Hennessy's main hobby is fashion, and she has more than six million followers on her Instagram account, onto which she posts pictures almost every day, in which she wears dresses and outfits of popular designers.
She loves to travel, and has visited most of the US states, and Italy and France. Her dream travel destination is still Hawaii.
Hennessy is a lover of animals, with dogs being her favourites.
In her spare time, she loves to design clothes, listen to music or watch movies with her girlfriend; they both enjoy watching romantic comedies. Her favorite movie is "Notebook", starring Ryan Gosling and Rachel McAdams, with them also being her favorite actor and actress.
Interesting facts
Hennessy was named after a drink, because her father was slightly drunk the night when she was born, through drinking a fine French cognac – Hennessy. He gave her the middle name Carolina, because he thought it was gentle and feminine. Cardi-B's nickname was her idea.
She is very defensive in regards of her sister, and in the reunion episode of the series "Love & Hip Hop", she got into a fight with one of the girls from the show, because she was gossiping around about Cardi-B.
Hennessy was accused of assaulting and threatening three people on a beach in New York who were flying the Trump flag, but that wasn't the reason of the fight, according to nbcnews.com.
Her sister, Cardi-B, and her girlfriend Mel were also there with her, so they were both accused, too. The actual reason was a parking spot, but the fight escalated when one of the people from the group said that Hennessy's spit sprayed on their faces while she was talking, saying that they were in danger of being infected by the Corona virus. The lawsuit is still in progress.
Hennessy represents herself as a feminist, but fighting for equal rights of men and women, especially when it comes to salary.
Even though she might not look like one, Hennessy is a very spiritual person, saying in one of her interviews that she prays every day.
Her wish is to have four children, two girls and two boys.
Hennessy's first paid job was babysitting her niece Kulture, Cardi-B's daughter.
At first, her parents were against her having a relationship with a woman.
Age, height and net worth
Hennessy is 25 years old. She has long black hair and dark brown eyes. Her height is 5ft 2ins (1.58m) and she weighs around 132lbs (60kgs).
As of August 2021, her net worth has been estimated at around $250,000 . Reportedly, she gets payed around $15,000 because of her affiliation with Fashion Nova clothing.