• Santino Rice is an American TV personality and fashion designer born on August 20, 1974 in St. Charles, Missouri
• He is best known for being a judge on the reality game-show "RuPaul's Drag Race" and for launching his own clothing company
• He studied at the Fashion Institute of Design and Merchandising and received his Bachelor's degree in 1996
• He is a dog lover and enjoys travelling, music, and watching movies in his spare time
• As of April 2021, Santino's net worth is estimated to be over $500,000.
Who is Santino Rice?
Santino Rice was born in St. Charles, Missouri USA, on 20 August 1974 – his zodiac sign is Leo and he holds American nationality. He's a TV personality and a fashion designer, who's probably known best for having served as a judge in the reality game-show "RuPaul's Drag Race" which has been airing since 2009, and stars RuPaul, Michelle Visage and Santino. It follows drag queens competing to become the next America's Drag Superstar; the show has won 44 awards including 19 Primetime Emmys, while it's been nominated for 67 other awards.
Early life and education
Santino was raised in St. Charles by his multiracial parents, and as he hasn't spoken of having any siblings, most people believe Santino to be an only child.
He studied at a local high school at which he began disliking the label 'gay' because of the bad context in which it was usually used. Upon matriculating in 1992, he was offered a scholarship by the Fashion Institute of Design and Merchandising located in Los Angeles, California – Santino received his Bachelor's degree in 1996, and then began working in the TV industry.
Santino's career
In 2005, Santino entered the reality game-show "Project Runway", which has been airing since 2004 and is hosted by Nina Garcia, Tim Gunn and Heidi Klum.
It follows new fashion designers who are competing until all but one have been eliminated; Santino was amongst the top three designers who got to present their work at New York City's Olympus Fashion Week; however, he then ranked third behind Chloe Dao and Daniel Vosovic. Still, the show helped him gain recognition, and was dubbed 'the villain' because of his appearance and attitude, and he also became known as a bit of a comedian, because of his impersonations of Tim Gunn.
In 2006, Santino was invited to be a judge at the Miss Universe beauty pageant, and he was then hired by the news correspondent SuChin Pak to design a dress, which she then wore at the 2006 MTV Movie Awards.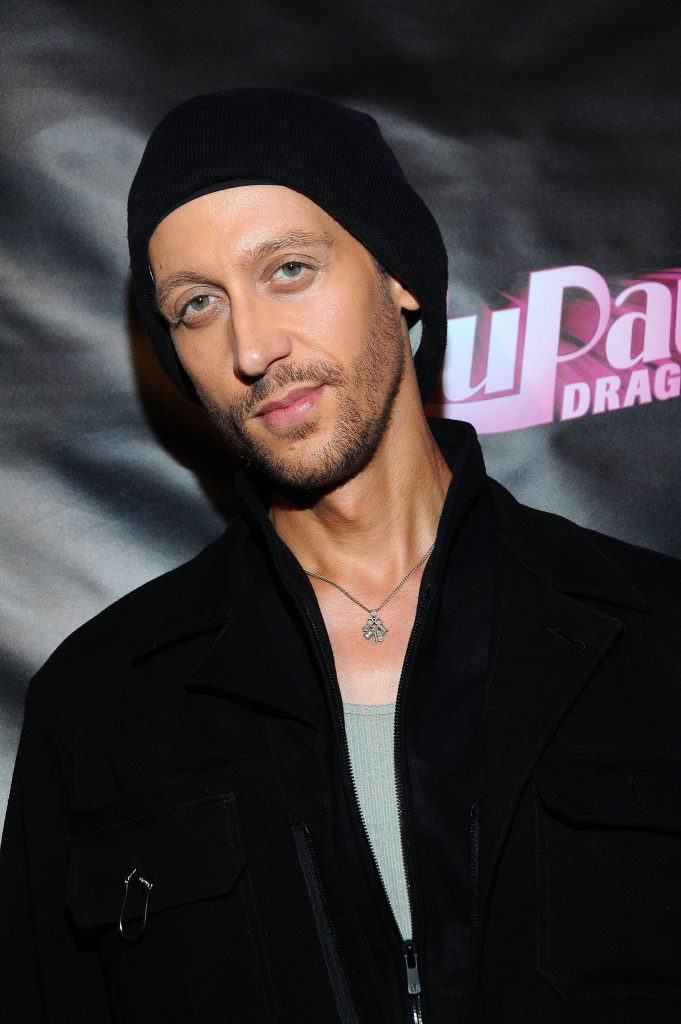 In 2007, he made a guest appearance in the reality TV show "America's Most Smartest Model", created by Mark Cronin and Cris Abrego, and which starred Andre Birleanu, Van Logan and Mone't Hart. It follows models who are competing in several challenges, one of them eventually named America's Most Smartest Model. In the show, Santino taught the girls about fashion design.
The year 2008 was very busy for Santino, who worked on launching his own clothing company, designed dresses for many private clients, and also came up with a new Camel cigarette pack design.
In 2010, he starred alongside Austin Scarlett and Nancy Brown in the reality TV series "On the Road with Austin & Santino", which follows two designers who are travelling around the USA visiting small towns, designing dresses for girls and women who are celebrating birthdays, anniversaries and graduations; the series failed to attract a lot of attention.
The same year also saw him play a homeless person in the adult horror movie "L. A. Zombie", written and directed by Bruce La Bruce, and which starred Francois Sagat, Rocco Giovanni and Wolf Hudson.
It follows a strange zombie whose appearance changes all the time as he can be a corpse, a beast with strange genitals, and a normal person; the movie won one of the two awards for which it was nominated.
In 2012, Santino appeared in the short videos "RuPaul: Responsitrannity" and "RuPaul: Glamazon", and in 2015 he appeared in his final episode of the show "RuPaul's Drag Race", since when it appears that he hasn't been very active in the industry. He is, however, currently shooting for the upcoming documentary movie "Mr. Ward", set to be released by the end of 2021. The movie's being directed by Richard Funston, and will star Santino, Madonna and Daniel Louis Rivas.
Love life and dating. Is he gay?
Santino has stated on various occasions that he's gay, but that he doesn't like the word because of all the negativity surrounding it. He likes men and is also attracted to beautiful women, which actually makes him bisexual.
Santino hasn't spoken about any men or women whom he has perhaps been with, but there are rumors circulating the internet that the popular fashion designer might be in a relationship with a non-celebrity man today, as the two have allegedly been seen spending time together and holding hands by a fan, however, no evidence has been provided to support these claims, nor has Santino commented on this.
There are also those who claim that he was in a short-term relationship with one of the contestants in the show "RuPaul's Drag Race", but this hasn't been confirmed either.
It's believed that Santino has been in several relationships with women, but none of which lasted longer than a few months.
As of April 2021, Santino appears to be single, hasn't married and doesn't have children.
Hobbies and other interests
He's a dog lover, and his pet dog can be seen featured in many of his Instagram pictures – the account is also filled with pictures of flowers, as he claims that these help calm him and make him feel at peace.
He's keen on travelling, and has been all around the US for both work and pleasure, while the fashion designer has also been to various European countries, such as Italy, Greece and France, mostly because he loves the countries' seaside.
He loves to listen to music, and one of his favorite performers is Adele – he listened to her live at the Staples Center in 2016.
In his spare time which is most often late at night, Santino enjoys watching movies starring his favorite actor and actress Jim Carrey and Amanda Seyfried, such as "Bruce Almighty", "Liar Liar" and "Dear John".
Age, height and net worth
Santino's age is 46. He has brown hair worn long and blue eyes, his height is 6ft 5ins (1.96m) and he weighs around 195lbs (88kgs).
As of April 2021, his net worth has been estimated at over $500,000.