• Elyes Gabel is an actor known for his roles in Casualty, Scorpion, and Game of Thrones.
• He was born in Westminster, London, with British nationality and a family of mixed Portuguese, Irish, Algerian, French, Spanish, Dutch and Anglo-Indian descent.
• His acting credits include roles in series such as Casualty, Dead Set, Waterloo Road, Identity, The Borgias, Psychoville, Game of Thrones, Silent Witness, and Body of Proof, as well as movies such as Boogeyman 3, Every and Nowhere, Kingdom of Dust, Welcome to the Punch, World War Z, Interstellar, and A Most Violent Year.
• He was in a relationship with Scorpion co-star Katharine McPhee, and has been accused of assault and rape.
• Elyes' net worth is estimated at over $2 million.
Who is Elyes Gabel?
He is an actor with nearly 30 acting credits to his name, however, Elyes Gabel gained recognition playing the role of Gurpreet 'Guppy' Sandhu in the long-running series "Casualty", which began airing in 1986, and won five the British Academy of Film and Television Arts (BAFTA) awards. Elyes was seen in 129 episodes from 2001 until 2007.
Besides the aforementioned role, Elyes is probably known best for his portrayal of Walter O'Brien in the series "Scorpion" which brought him international fame.
To learn more about this young actor, his career beginnings, his life, and what's he up to, keep on reading through this paper.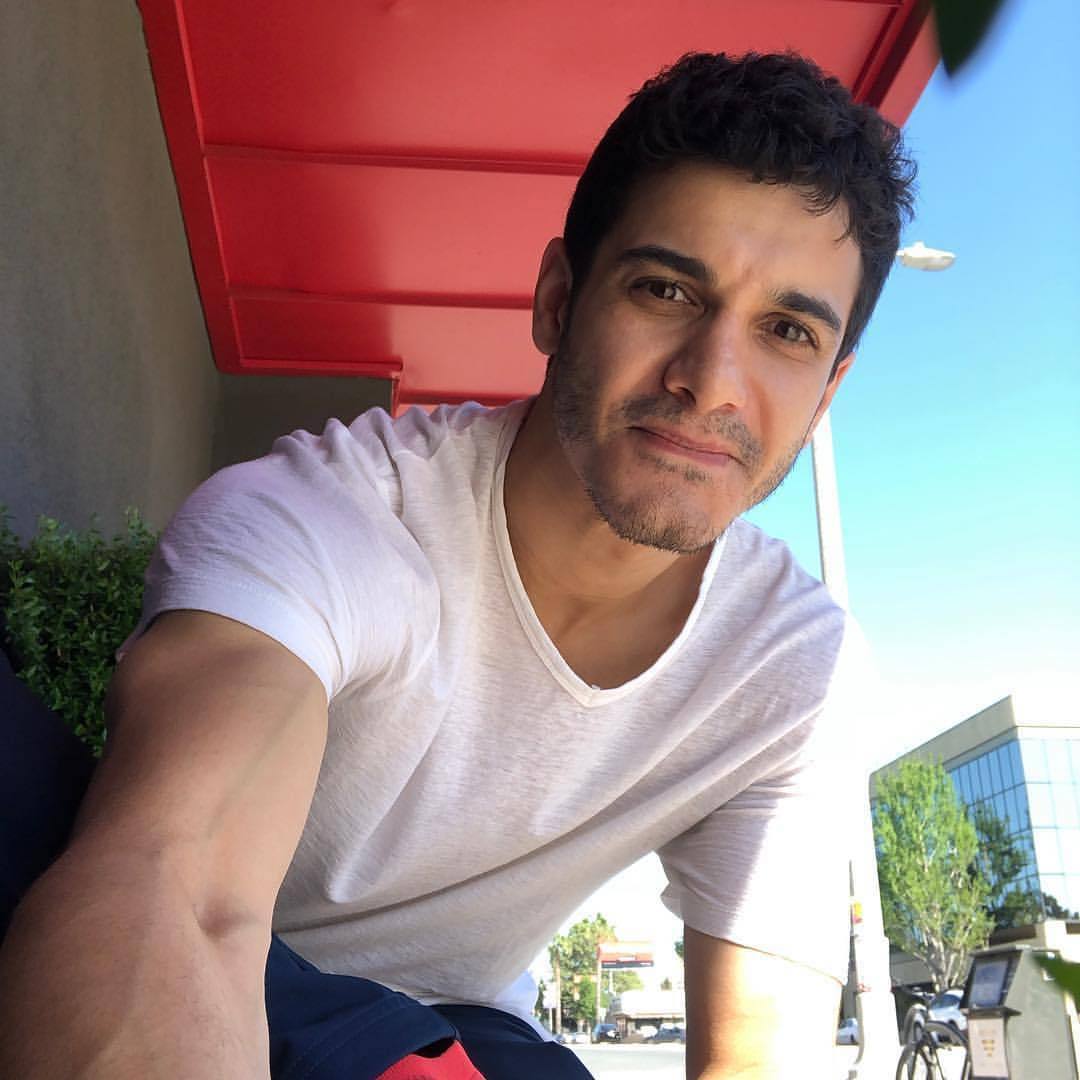 Early life, family, and education
Born Elyes Cherif Gabel on 8 May 1983, his zodiac sign is Taurus, and his age is 39 as of January 2023. He's a Westminster, London, England native, thus he holds British nationality, but  comes from a family of very mixed Portuguese, Irish, Algerian, French, Spanish, Dutch and Anglo-Indian descent. There is nothing known about his parents and siblings (if he has any) since Elys respects their wish to stay away from the spotlight.
Elys had an interest in performing from an early age, and was a member of the Northern Kids Theatre Company. He attended Saint Damian's Catholic Science College, a co-educational Roman Catholic secondary school, and then enrolled at the sixth-form Strode's College, where students aged 16 to 19 study for advanced school-level qualifications. As a teenager, Elys was a part of the youth Oldham Theatre Workshop group.
Upon matriculating in 2001, Elyes didn't go to university, but pursued his acting career.
Roles in series
Elys made his acting debut as Guppy in "Casualty", and his performance brought him National Television Award, UK for Most Popular Newcomer in 2005. The series follows the life stories of patients and doctors at Holby City Hospital; it had 40 award nominations and won 14, including the aforementioned BAFTA awards.
After his role in "Casualty", Elyes was seen in three episodes of the series "Dead Set" (2008), followed by his recurring role as Rob Cleaver in the 2009 "Waterloo Road", a romantic drama series, starring Philip Martin Brown, Chelsee Healey and Jason Done.
Next, he was seen as DC Jose Rodriguez in the 2010 series "Identity", a crime drama that followed the story of an elite police unit, created by Ed Whitmore. In the following years, Elyes guest starred in "The Borgias" and "Psychoville" in 2011, before he was cast to play Rakharo in the hit series "Game of Thrones".
Elyes Gabel (Rakharo of Game of Thrones) guest starred in #TheBorgias here's my recap http://t.co/OckqhBPMaF pic.twitter.com/wuvK2myTrH

— Recap Lab (@recaplab) September 1, 2015
Elyes was seen in less than ten episodes (during 2011 and 2012) of this worldwide popular fantasy action-adventure which had 634 award nominations and won 389, including 59 Primetime Emmys. Elyes shares with the rest of the crew the 2012Screen Actors Guild Award nomination for Outstanding Performance by an Ensemble in a Drama Series.
Later that year, Elyes was seen as Umar in the series "Silent Witness", followed by his role as Adam Lucas in 13 episodes of the series "Body of Proof" in 2013.
From 2014 to 2018, Elyes played his most notable television series role to date, as Walter O'Brien in "Scorpion". This action crime-drama followed the story of an eccentric genius who formed an international network of super-genius, the last line of defense against modern-world threats. Elyes starred opposite Katharine McPhee and Eddie Kaye Thomas, and the series had six award nominations and won the Monte-Carlo TV Festival Golden Nymph for Best Action and Science Fiction TV series.
Most recently, Elyes was seen as Sean Tilson in the 2022 series "Suspicion".
Roles in movies
Elyes made his movie debut playing Ben in the 2008 movie "Boogeyman 3". He followed with his role as Jaz in "Every and Nowhere" in 2011. Later that year, Elyes was cast in his first lead role as Ahmed in "Kingdom of Dust: Beheading of Adam Smith".
He starred opposite Stephen Hogan and Alyy Khan in this drama set in a basement of a war-torn Baghdad, where a hostage, Adam, waits to die. The movie had no nominations, and was poorly rated by the audience, some saying that it was 'unrealistic and cheap'.
In 2012, Elyes starred as Troy Vargas in the TV movie "Widow Detective". He returned to the big screen playing Ruan Sternwood in the 2013 action crime-drama "Welcome to the Punch", starring James McAvoy and Mark Strong, which won the London Critics Circle Film Award, and British Screenwriters' Award (Eran Creevy).
Also in 2013, Elyes was seen as Andrew Fassbach in the action-adventure horror "World War Z", starring Brad Pitt, which had 25 award nominations and won three.
Elyes had a small part as an Administrator in 2014 Oscar-awarded "Interstellar", a science-fiction drama about a team of explorers who traveled through a wormhole in space, starring Matthew McConaughey, Anne Hathaway and Jessica Chastain. Besides the Oscar for Best Achievement in Visual Effects, the movie had 148 award nominations, and won 44.
Later that year, Elyes was seen as Julian in "A Most Violent Year", followed by his roles in the 2015 movies "MI-5" and "Exit Strategy".
Most recently, Elyes was heard as Thomas Kallor in the 2019 animated action-adventure "Justice League vs the Fatal Five".
Love life and girlfriend, assault
It is known that Elyes was in a relationship with his co-star from "Scorpion", Katharine McPhee – the two were a couple from 2014 to 2016.
Elyes' love life was the subject of numerous rumors and controversies, but the one that caught the most attention was the news about his alleged assault on his then-girlfriend. In 2021, the unnamed girl called the police, claiming that her boyfriend choked her and pushed her onto the couch. She stated that they had a fight that erupted and that he spat in her face, threatening to punch her.
The drama unfolded in a hotel room of the Bowery Hotel in New York City, USA, and Elyes was arrested and charged with aggravated harassment, misdemeanor assault, and criminal obstruction of breathing or blood circulation. Later, he was released without bail, and his attorney denied the accusations.
As if this wasn't enough bad publicity for him, in October 2022, another woman accused him of raping her while she slept; allegedly, she dated the actor for a month before this alleged assault happened; she's chosen to keep her name undisclosed, but reported Elyes to the Los Angeles Police Department.
According to her, the incident happened on the night of 3 July2022 – she said she woke up with him inside of her, and Elyes threatened to report her to the police for forcing herself on him. She added that he didn't use a condom even though he didn't have her consent to not do so.
Elyes' spokesperson stated that these claims are false and that the two were romantically involved for months, adding that all of her allegations are untrue.
What is he doing now?
According to his official website, Elyes decided to turn his attention to music and filmmaking.
However, his first movie, filmed in 2018 and entitled "Grimshaw", was quite successful. This short drama, starring Jonathan Kowalsky, Cornell Womack and Sharon Blynn, brought Elyes the Idyllwild International Festival of Cinema Grand Jury Award for Best Director – Featurette, and he also won Show Low Film Festival for Best Director.
Elyes announced his new project, entitled "Game Show Hurt", which should be released later in 2023. We'll give you a sneak peek- it follows the story of a man who creates and hosts a game show that unwittingly plays with elements of the past.
Net worth
Elyes has made a good living as a result of his talent, having appeared in successful films and television shows, which have undoubtedly contributed to his wealth.
According to sources, as of January 2023, his net worth has been estimated at over $2 million.