• Y2K is an American record producer and rapper, best known for his hit song "Lalala" with bbno$
• Discovered interest in music in his mother's music store as a child
• Gained skills in music production from friend Lil B and released remixes for other artists
• Hit over 100,000 streams per track on SoundCloud and went platinum twice with his song "Lalala"
• Estimated net worth is $750,000 and popular on social media • 225,000 followers on Instagram, 60,000 on Twitter, and nearly two million subscribers on YouTube
Who is Y2K?
Y2K is an American record producer and rapper, perhaps best known for his hit song "Lalala", which features bbno$. His real name is Ari David Starace, and he was born under the Zodiac sign Leo on 27 July 1994, in Scottsdale, Arizona, USA. Y2K holds American nationality, and as of 2021, he's 26 years old.
Early life and Family
Regarding his family, his parent's names remain unknown, but it's known that his mother is a musician and owns a music store in Scottsdale, while his father worked in electronics. In an interview, Y2K disclosed that his interest in music began in his mother's shop, where he often discovered new bands and artists, he said: "Every day I would walk to my mother's music store and worked there for five hours and rent little kids violins and mess with my acoustic guitar."
Y2K spent most of his childhood in Scottsdale. During his high school days, he was part of a punk band that achieved moderate success. Ari also listened to numerous punk and rock bands and artists such as My Chemical Romance and Say Anything.  After matriculating, Ari enrolled at Arizona State University to study Computer Science. However, math exams were a huge impediment, and it alternately led him to drop out after completing one year, to follow his desire to make and produce music which topped his ambition for earning a degree.
Career
Prior to launching his hit record "Lalala", Y2K was an amateur producer who began his career in 2012 by experimenting with music.
In an interview with Zach Sang, he revealed his reason behind pursuing a career as a producer, saying:" I was playing a lot of games, and I thought that I could do computer science. So I signed up for it. Then I got dumped. I was playing way too many games, and I had nothing to show for my time. The only thing I'm good at are computers, so I started producing". Y2K also disclosed that his friend Brandon McCartney – professionally known as Lil B – introduced him to music production. Over time, Y2K acquired some skills and began producing and doing remixes for other artists, including YBN Nahmir, Yung Buns, Landon Cube.
He also joined a couple of projects and co-wrote songs for various artists; his earliest tracks and projects can be found on SoundCloud. Even though he often "trashes" his own music, saying it's garbage, SoundCloud credentials speak otherwise. For any new and coming–up artists, it's rare and difficult to hit over 100,000 streams on a track, but that hasn't been the case for Y2K. Most of his music has hit over 100,000 streams per track, with some reaching a million streams. Since 2015, Y2K has put out various remixes and songs for artists including Migos, Lil Uzi, and Cardi B. Some of his most notable remixes include "See Me Fall" by Ro Ransom and "Do Re Mi" by Blackbear.
In 2018 he decided to collaborate with a Canadian rapper bbno$ (Baby No Money) on their first project called "Money Conversation", which was one of Y2K's first singles streaming on Apple Music. The track achieved great success, reaching over three million streams on Spotify. In the following period, they collaborated with Lewis Grant on the song called "Thankful", which similarly to his first record, received positive reviews, and currently counts over four million streams on Spotify.
Y2K continued working with bbno$, and in 2019 they released two tracks, "Pouch" and "Lalala"; the latter went platinum twice, with more than 450 million views on YouTube – Bbno$ wrote most of the lyrics, while Y2K worked on the melodies.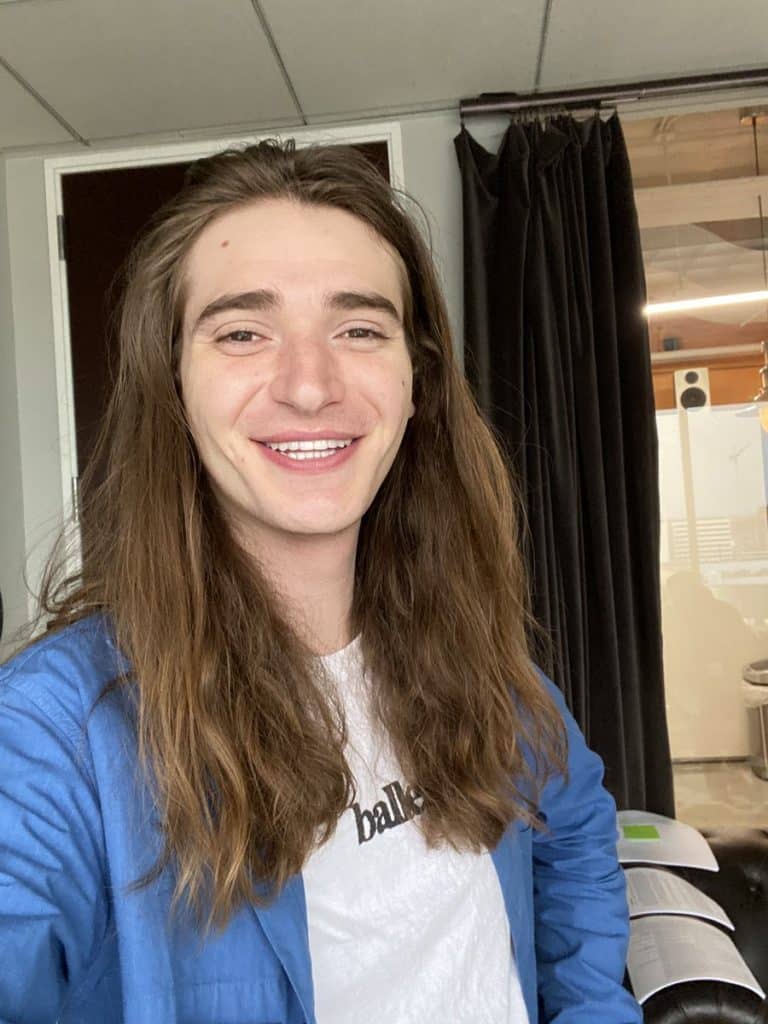 An interesting detail about the digital marketing and advertising of the song; the rappers applied a very unusual and unseen technique of promoting their tracks on various platforms, including Ebay, Tinder and Craigslist. In an interview, he said:" When it came out, the only reason we ended up in this position is because of what we did as independent artists. There no way that you can put out music on the internet in 2019, doesn't matter how good it is, and not have a game plan."
Additionally, they marketed their song on TikTok, which substantially boosted their views and streams, considering many prominent TikTok stars with huge following began posting the song, and it simply caught fire. Given the enormous success the track has received, the rapper caught the attention of Columbia Records, and subsequently signed a record deal with the producing company. Y2K used his Tinder profile and for sending links to his music to his potential date partners, which is quite an unusual use of a dating site.
The song also landed on the Billboard Hot 100 Song chart; one of the popular remixes of their song "Lalala" was featured by Carly Rae Jepsen and Enrique Iglesias.
In 2020, he collaborated with blackbear, The Kid Laroi, and Bankrol Hayden and released a track entitled "Go Dumb" and a project with JoJo called "Damage is Done". Y2k also worked on numerous songs, including "Peppa Pig" by Leyla Blue, "Welcome to Chills" by Yung Gravy. The last track posted on his YouTube channel is another collaboration with bbno$ called "Wawawa", which currently counts over 2 million views.
Personal Life
Back in 2017, the rapper asked his fans on Twitter, "fellas, is it gay to have a girlfriend?", and coupled with other similar tweets, it sparked some rumors about his sexual orientation. Regarding his dating history, he has mentioned on his social media that he dated Janice Griffith, a porn star. When it comes to his current personal life, not much is known.  Since launching his career as a rapper and producer, he has not been linked to anyone.
The rising star is currently single, and according to many, he's considered to be gay; this also hasn't been confirmed by him.
What is his net worth?
As of 2021, his estimated net worth is around $750,000, earned working as a producer, ghostwriter and rapper. Given his previous success, it's believed that his wealth will continue to grow.
Y2K is very popular on social media platforms. On Instagram he has 225,000 followers, and he posts very often. His Twitter counts close to 60,000 followers, and he posts daily, usually announcements of upcoming projects as well as funny tweets such as "Having a five-step skin routine makes me feel like I'm better than most of you" and "I've never met anyone with a worse vibe than me". He has amassed quite a following on YouTube as well; his channel has nearly two million subscribers.
Besides his songs, Y2K also posts funny and sarcastic videos for promotional purposes, such as "Y2K vs Subway (caught on iphone)", and "how to make a POP Song (justin biber please call me)"
Physical stats and Hobbies
Y2K is 5ft 10ins tall (175cm), while his weight is unknown. His hair is long and brown; his eyes are brown as well.
Judging from his interviews and content, he is a very down-to-earth person who doesn't shy away from being honest, even with his own music. During an interview he said: "I feel like I'm in a fortunate position where I can to pick and choose the hits; to put my name on the ones that I want to because obviously I'm pushing a specific sound as Y2K. When it comes to production I'm a huge sell-out. I'll make literally whatever you want."
Regarding his musical influences he is always quick to mention "Gorillaz" and "Tears for Tears".