• GradeAUnderA is a British YouTuber known for his videos drawn in Microsoft Paint
• He graduated from Imperial College London in 2010 and worked as a mathematics teacher before his YouTube career began
• His most popular video is "Things I Found Stupid About School", which has been viewed more than 16 million times
• He has a second channel entitled 'GradeBUnderB', with more than 200,000 subscribers
• As of May 2021, his net worth is estimated at over $200,000
GradeAUnderA Wiki bio
Ram Karavadra – aka GradeAUnderA – was born in England on 6 October 1988 – his zodiac sign is Libra, he holds British nationality, and is of Indian ethnicity. He's a YouTuber, who's probably known best for making short videos drawn in Microsoft Paint, in which he rants about everyday situations.
Early life and education
GradeAUnderA grew up in Northern England, in a family of Indian immigrants. He expressed interest in mathematics at a young age, and was amongst the best students at his high school. Despite having been a successful student, GradeAUnderA considers himself an underachiever, hence his YouTube alias which stands for exactly that – 'Grade A Underachiever'.
GradeAUnderA graduated from Imperial College London in 2010, with a degree in mathematics. Before his YouTube career kicked off, GradeAUnderA worked as a mathematics teacher at a local high school, but was fired from his job because he strayed from the original curriculum in his classes. However, he stated in one of his more recent videos that he has found another job in the education sector.
YouTube career
GradeAUnderA launched his channel on 1 February 2013, and in March of the same year uploaded his first video entitled "9 Things I Hate About The Barbershop". Not long afterwards, he uploaded his following video entitled "Girly Drinks vs Manly Drinks", and then stopped making videos for a while.
In December 2014, "Girly Drinks vs Manly Drinks" was shared on the Reddit website, and quickly gained over a million views, which made GradeAUnderA reconsider his decision to quit YouTube, and in a video entitled "I'm Back (Kinda)", he announced that he would be uploading videos onto his channel at least once a week.
In October 2015, GradeAUnderA published a video about a YouTube key function, which gained a lot of attention and was covered by the media outlets such as "The Daily Dot" and "Metro". In January 2016, he uploaded a video in which he criticized the YouTuber Nicole Arbour for making unoriginal content and breaking copyright laws. Soon thereafter, he produced his controversial "Everything Wrong With Youtube" series, followed by the '#MakeYouTubeGreatAgain' movement.
GradeAUnderA's channel hit the two million subscribers milestone in May 2016, and to celebrate the occasion, he revealed his face in the video entitled "How To Find Any Songs Name", uploaded on 15 May 2016, and in his following video entitled "Stupid Things That Parents Do", GradeAUnderA revealed that his real name is Ram.
In 2017, he took a five months long break from YouTube, following his "How To Protest Online" video series about the PewDiePie vs Wall Street Journal controversy. In September of the same year, he uploaded a video "Is GradeAUnderA Dead?", in which he promised to return, but he didn't make another video until January 2019. Since then, he's uploaded several videos onto his main channel, but his activity on the platform never returned to the pre-hiatus levels.
He partially blames this on the fact that all of his videos were demonetized by YouTube in 2020, while he also said that he has real life issues, and wants to go back to teaching.
GradeAUnderA's videos are recognized for their unique cartoonish style. They feature two stick-figure characters drawn in Microsoft Paint, one being short and with a severe underbite, and the other one being taller, and having a severe overbite. In his videos, GradeAUnderA usually talks loudly and with a strong British accent; his content mostly consists of so called 'rants' about the topics that annoy or anger him.
GradeAUnderA's most popular video to date is "Things I Found Stupid About School", which has been viewed more than 16 million times.
NEW VIDEO! Zodiac constellations are stupid. https://t.co/8OrDszfhnx . Go watch me complain, and then come to my Twitch n watch me play video games badly, and maybe some research for a boxing/gender video too. Fun. pic.twitter.com/vxV7bfwpGv

— GradeA UnderA (@GradeAUnderA) April 11, 2021
His channel currently numbers almost four million subscribers, and 60 million views in total. He also now has a second channel entitled 'GradeBUnderB,' with more than 200,000 subscribers, but onto which he's uploaded only one video so far.
In his YouTube bio, GradeAUnderA jokingly states that he was born in Buckingham Palace, worked as the head animator at Pixar Studios, and that he is 6ft 9ins (2.05m) tall and weighs 420lbs (190kgs).
Controversies
In August 2015, GradeAUnderA made a video about reaction channels entitled "Why Reaction Videos Are S**t", mainly focusing on the YouTuber Tryone Magnus, calling out Tryone for using copyrighted content and profiting from it while not adding anything original; Tryone responded by saying that it's his charisma and humor that attracts viewers, not the copyrighted content itself.
Some of GradeAUnderA's fans sided with him, while others criticized him for failing to address the issue at large, focusing on one person as the root of the problem instead.
However, in his video series "Everything Wrong With YouTube", GradeAUnderA criticized some of the biggest names on the YouTube platform – PewDiePie, Matthew Santoro and Markiplier – for making statements against YouTube 'drama' and unnecessary arguing amongst content creators. He received a lot of backlash from other YouTubers, and his viewers as well, because they deemed that he didn't provide valid arguments to justify making the video, and instead attacked the characters of people he criticized.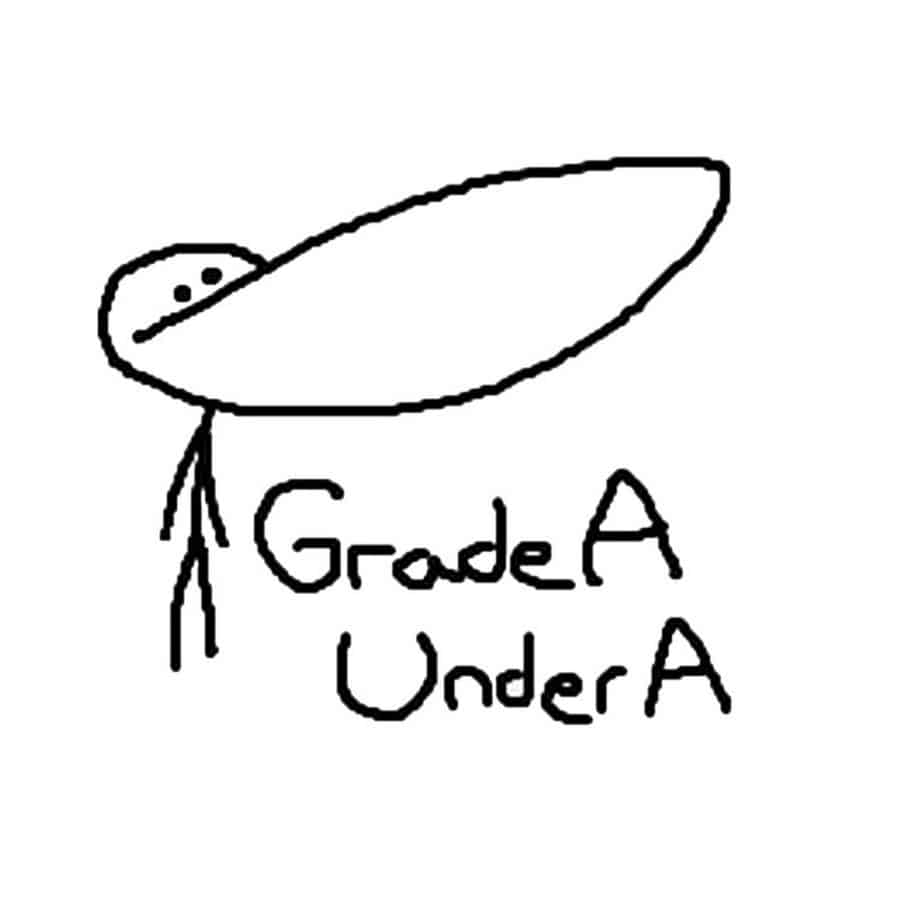 The part that was viewed as particularly problematic was him dismissing Markiplier's opinions by saying that he is not in a position to be an authority, because he has 'period blood hair'. GradeAUnderA was also called a hypocrite, because he stated that he doesn't engage in 'drama', while his videos were paradoxically a part of the 'drama' cycle as well.
In a Reddit 'Ask me Anything' thread from March 2016, GradeAUnderA spoke in favor of Keemstar, a largely controversial YouTuber and social media star, which disappointed many of his fans, as Keemstar is notorious for criticizing other content creators, and spreading rumors about them. Eventually, GradeAUnderA changed his opinion about Keemstar, and uploaded a video in calling him a pedophile, and encouraging his fans to attack him on social media platforms.
Following the 2016 presidential election in the US, he made a video claiming that Hillary Clinton won the Democrat Primaries only because she is a woman, specifically blaming the feminist movement.
In his "Racism Test – See How Racist You Really Are!" video, GradeAUnderA proposed a theory that everyone is at least 'a tiny bit' racist and sexist.
GradeAUnderA has an eponymous Twitter account with more than 440,000 followers, which he mainly uses to promote his YouTube videos and make public statements.
In July 2015, he launched his Twitch channel, which currently numbers 300,000 followers and about 20,000 viewers per stream. He streams while playing video games such as "Dark Souls" and "Skyrim". In 2017, GradeAUnderA accidentally showed his face during a stream – in comparison to the photo he shared on his YouTube channel in 2016, he looked older and had grown a beard.
He manages his Instagram account '@officialgradeaundera' which has over 65,000 followers, although he isn't very active on the platform as he's uploaded only six photos.
GradeAUnderA also has a Facebook fan page with almost 70,000 followers, but he hasn't been active on the platform since April 2016.
He is making part of his earnings from the monthly subscription service Patreon, and also by selling merchandise on his online store.
Love life and relationships
GradeAUnderA is a very private person, and hasn't revealed his dating history to his fans.
There are rumors that he was in a long-term relationship with an anonymous girl while attending college, but the two had broken-up before graduation, and he's since focus on his work.
He hasn't been married, has no children and currently appears to be single.
Hobbies and interesting facts
GradeAUnderA uses a fake voice in his videos, because he feels that in that way he is able to speak more slowly, and in a manner that's easier to understand for his viewers.
GradeAUnderA likes to include secret messages in his videos, which can be revealed by using the vidQ extension for Google Chrome. One of them says 'this video took a stupid amount of time to have me be happy with it'.
In one of his videos, he made a claim that during his time at university, he discovered a new mathematical formula for calculating the sum of two numbers raised to different powers. However, in the Reddit 'Ask me Anything' thread, he clarified that although the formula is valid, his professors dismissed it as a simple piece of math trivia, with no real applications.
He revealed in several of his videos that his favorite actress is Karrueche Tran, who is known for having starred in movies such as "Nice Guys" and "The Bay".
Appearance, age and net worth
GradeAUnderA is 32 years old. He has short black hair and brown eyes, is 6ft 1in (1.85m) tall and weighs around 180lbs (81kgs).
As of May 2021, his net worth is estimated at over $200,000.