• Katie Betzing is a former volleyball player and social media star, born in Michigan in 1997.
• Josh Brueckner is a social media star, boxing instructor and MMA fighter, born in Michigan in 1995.
• They run a collaborative YouTube channel, "Jatie Vlogs", with close to three million subscribers.
• Katie and Josh got engaged in November 2019, and married in March 2021.
• Katie and Josh are both popular Instagram and YouTube stars, with a combined net worth of over $2.5 million.
Who is Katie?
Katie Betzing was born in Michigan, USA on 10 September 1997 – her zodiac sign is Virgo and she holds American nationality. She's a former volleyball player, and a social media star who's probably known best for the channel "Jatie Vlogs", which she runs together with her husband Josh Brueckner.
Katie was raised in Michigan by her parents about whom nothing is known as she respects their privacy, but she has a brother and two sisters who can occasionally be seen featured in her Instagram pictures and YouTube videos.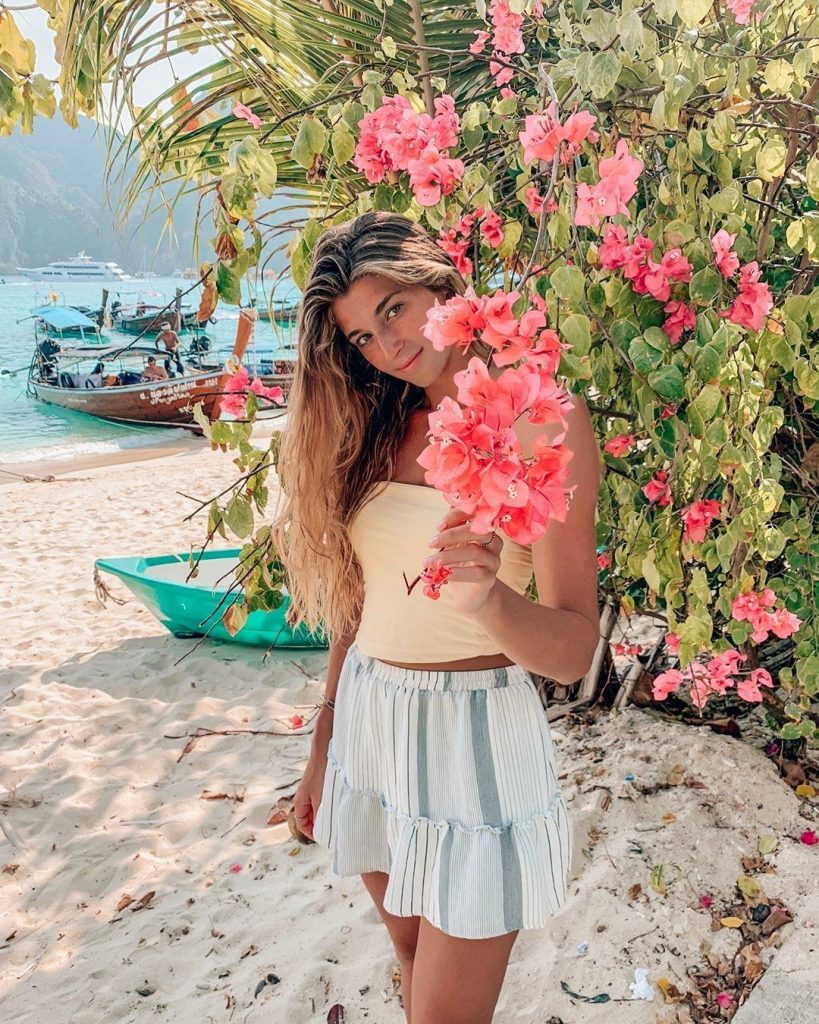 She attended Romeo High School at which she became interested in volleyball, and was amongst the best players at the school; she and her team won a Michigan State Championship. Upon matriculating in 2015, Katie chose not to pursue a college degree, but to focus on her career on the internet.
Who is Josh?
Josh Brueckner was born in Michigan, USA on 11 April 1995 – his zodiac sign is Aries and he holds American nationality. He's a social media star, boxing instructor and a personal trainer, who's probably known best for his career as a Mixed Martial Arts (MMA) fighter.
He was raised in Michigan alongside his younger brother Alex by their parents, who prefer to be left out of media.
He attended a local high school at which he became interested in playing sports and working out, and it was during his senior year that he began going to the gym with his best friend. Upon matriculating in 2013, Josh enrolled at a college from which he obtained his Bachelor's degree in 2017.
Their collaborative and personal YouTube channels
Katie and Josh launched their collaborative YouTube channel – "Jatie Vlogs" – on 19 April 2016, and it's today subscribed to by close to three million people, while it numbers over 780 million views of all their videos combined.
In their videos, the two show their everyday lives, pull pranks and do challenges; their most popular video "PROPOSING TO MY GIRLFRIEND IN FRONT OF MILLIONS OF PEOPLE *I CRIED*" has been watched more than 9.3 million times since 12 November 2019.
Katie launched her own eponymous YouTube channel on 31 December 2012, and it's today subscribed to by over 1.3 million people, while it numbers over 100 million views of all her videos combined. She mostly uploads comedy videos, with her most popular "Trying The Victoria's Secret Model Diet & Workouts For a Week" having been watched close to eight million times since 31 March 2018.
Josh launched his YouTube channel on 12 November 2019, but it's today subscribed to by only around 6,500 people and numbers around 83,000 views of his just seven videos. Most of these videos feature him fighting his MMA opponents – his most popular video "WXC 65 Josh Brueckner Vs Willis Black 170" has been watched over 25,000 times since 13 November 2019.
Their love life
Josh and Katie met in early 2016 at a gym they both worked out at – it took Josh several weeks to finally make a move and ask her out on a date. The two moved in together around half a year into the relationship – on 10 November 2019, Josh won his first professional MMA fight, and then asked Katie to join him in the ring, got down on his knee and asked her to marry him to which Katie said 'yes'.
The entire engagement as well as Josh's previous preparations have been shown in their YouTube videos.
The two planned to exchange vows sometime in 2020, but they postponed the wedding because of the outbreak of the coronavirus, however, both have written on their Instagram accounts that they're married, and judging by the pictures that they've uploaded, the ceremony took place in March 2021, but was attended by only a couple of people.
More about Katie
Katie's today also working as a model, and has posed for various less-popular brands.
She spends a lot of her spare time at the gym, having five to six training sessions every week. Katie often works out with Josh, and the two have given their fans advice regarding working out and dieting.
She's a huge lover of animals with dogs being her favorites, and she and Josh have volunteered at a local animal shelter on a couple of occasions.
Katie's also an Instagram star with over 1.1 million followers, while she's uploaded over 1,000 pictures, most of which have been taken during her everyday life, and feature her with Josh spending their spare time at various natural locations, exercising and travelling.
Katie's 23 years old as of May 2021. She has long blonde hair and blue eyes, her height is 5ft 6ins (1.68m) and she weighs around 128lbs (58kgs). Her net worth has been estimated at over $800,000.
More about Josh
Josh was raised by two very religious parents, and went to church with them once a week during his early years, however, he's not very religious today, and doesn't go to church.
He had trained for over three years before he was ready for his first professional MMA fight. His girlfriend isn't overly enthusiastic about his fighting career because of the bruises he gets and the danger that the sport involves, however, she still supports him and cheers for him during his fights.
Josh's today a member of the Michigan Top Team gym, and has also become a personal trainer and a boxing instructor.
He hasn't spoken of any other girls whom he has been with, but it's widely believed that he was in multiple short-term relationships before meeting Katie, and that he was already engaged once, but no evidence has been provided to support these claims, nor has Josh commented on this.
He's very popular on Instagram being followed by more than 820,000 people, while he's uploaded over 540 pictures, most of which feature him shirtless showing off his muscles.
Josh's age is 26. He has short brown hair and brown eyes, his height is 5ft 8ins (1.73m) and he weighs around 156lbs (71kgs). As of May 2021, his net worth has been estimated at over $1.7 million.