• Emme Maribel Muñiz is the daughter of famous singers Jennifer Lopez and Marc Anthony
• She was born in 2008 in Long Island, New York and has four half-siblings
• She was singing before she could talk and sang with her mother on stage in 2019
• Emme wrote a book, "Lord Help Me," to raise money for endangered sloths
• She has appeared in the "The Ellen DeGeneres Show" and is estimated to inherit her parents' wealth of $440 million
Let's meet Emme Maribel Muñiz
Growing up as a child of famous people can be stressful and difficult. Being in the spotlight from a young age makes it hard to have a normal childhood. That does not seem to be the case for Emme Maribel Muñiz. This thirteen-year-old seems to be very comfortable on stage and certainly has a bright future ahead of her. Being a daughter of famous musicians naturally gave her a musical talent, but this girl has a lot more in her than just a good voice.
Early life,  family, educational background
Emme was born on 22nd February 2008, in Long Island, New York, USA.
Her parents are worldwide famous singers – Jennifer Lopez and Marc Anthony. Emme and her twin brother Maximillian David Muñiz, are the only children of this couple. JLo and Marc Anthony were married from 2004 up until 2011 when they divorced, so Emme and Max have four half-siblings: Ariana Anthony, Ryan Adrian Muñiz, Cristian Marcus Muñiz and Alex "Chase" Muñiz – all four of them are Marc's children. Alex is Marc's oldest son, whom he adopted after he had his first daughter.
The six half-siblings are very close and often spend time together. They even get along well with their parents' new partners.
There seems to be some confusion about Emme's name, both first and last. The name "Emme" (pronounced "Emmy") is not very common; there's been some speculation about where it came from because it was usually used as a nickname, not an actual, given name. The website "Nameberry" states that the name "Emme" is an American invented name, so it can be used universally. Emme's last name "Muñiz" is Marc Anthony's real last name.
Even more confusingly, Emme's nickname is Lulu, but her mother also calls her Coconut.
Emme and Max grew up in Los Angeles, and have been living with their mom and her fiance Alex Rodriguez, up until this April, when Jlo and Alex reportedly split up.
 How did she start singing?
It's not unusual that she inherited musical talent, given that both of her parents are singers. What is interesting, however, is that she was singing before she could talk. Reportedly, little Emme would be humming every night before she fell asleep, which her dad immediately recognized as singing.
In May of 2019, Jennifer Lopez shared a video of 11-year-old Emme doing an amazing cover of Alicia Key's "If I Ain't Got You" on her social media account. The video went viral, and Jennifer asked her to sing with her on stage. In June of the same year, on the first night of Jennifer's tour "It's My Party", in Los Angeles, Emme came out to sing "Limitless" with her mother.
When Entertainment Tonight asked Jennifer about that performance she said: "I'm just looking at her and I'm just hoping and praying it all goes well. I got choked up and she was fine." She later shared a behind-the-scenes video in which Emme talked about why she didn't feel too scared, saying "When I was little, I used to be really shy singing in front of people, but not anymore because in school I have, like, singing stuff. I was in a play, so I've done this before." Her secret to performing in front of a lot of people is never looking at them.
Appearing on this show was not the only time little Emme got to sing in front of a big crowd, at the real show.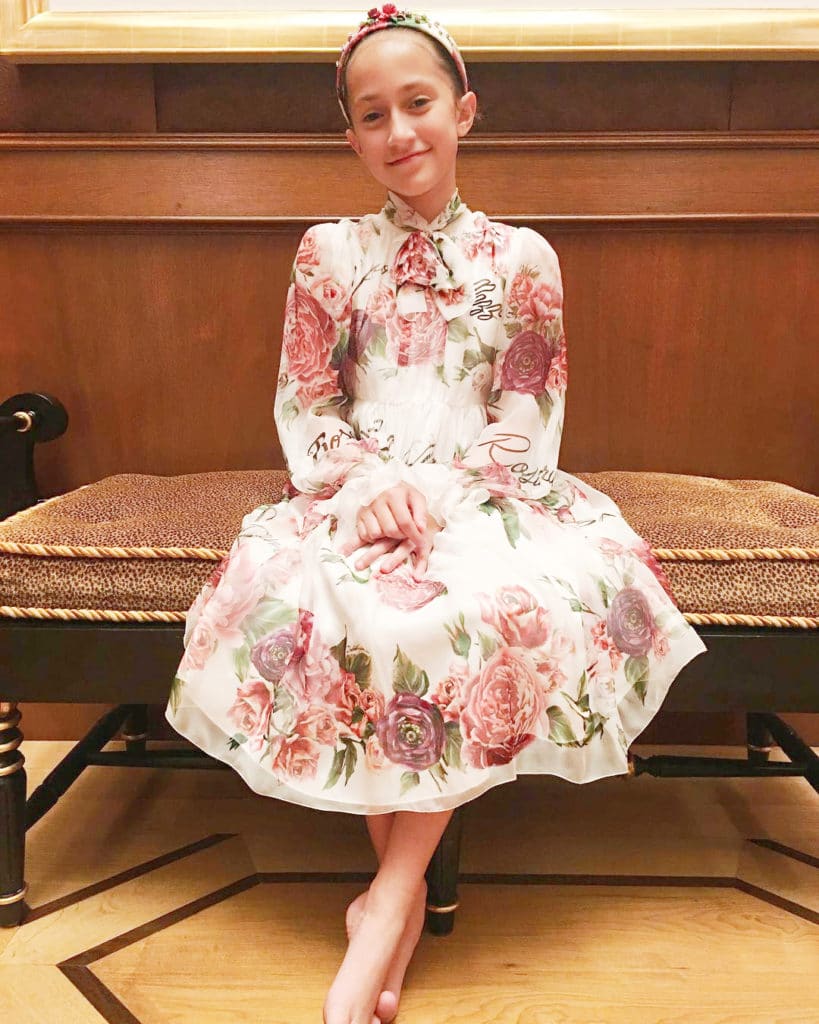 As a matter of fact, most grown-up performers have not done what Emme did at such a young age – Emme even sang at the Superbowl Half Time show, possibly the largest live and TV audince ever. The main performers at the show were Jlo and Shakira, with Emme as a surprise guest, and with her mom  sang "Let's Get Loud" and Bruce Springsteen's "Born In the USA".
Emme's other endeavors
Emme has a lot of interests, as any healthy child does. However, she seems to be most interested in various kinds of arts.
After she sang "Limitless" in Los Angeles, she appeared in the music video for the song, playing a young version of her mom.
The two appear interchangeable, climbing a hill and eventually making it to the top.
JLo is religious, a Christian and very much devoted to raising her kids in the same spirit. She's taught her children the power of prayer, and Emme prays every night before going to sleep, usually with her nanny, Jessica Morrison.
Given her love of prayer and enjoyment of writing, with help from her nanny, Emme wrote and released a picture book about the power of prayer, called "Lord Help Me", released on the 29th September 2018. Yes, Emme wrote a book at the age of 10! "Lord Help Me" was released through  Crown Books for Young Readers.
Emme has told People Magazine "I really hope children are able to learn to pray, share the book and spread the power of prayer after reading it", and that prayer has helped her through some challenging times in her life.
What's also interesting about the book, and Emme herself, is that she wrote it as a means to raise money for endangered sloths. She said in the statement: "In school, I learned about sloths and how they're facing extinction, so I began to pray for them in my nightly prayers. I wrote this book to help raise money to save sloths while also teaching other children how we can pray and ask for help — two things that bring me a lot of comfort." The book was targeted at readers ages 3-7, and featured the work of famous illustrator Brenda Figueroa.
TV and magazine appearances
Emme and her twin brother have created a lot of interest in the public, since they were born – they appeared in the photoshoot which earned their parents about $6 million. The twins still seem to enjoy being in front of the camera, as in 2020 they appeared in "The Ellen DeGeneres" show, when Jlo was Ellen's guest.
Net worth and salary
It's unknown how much money little Emme made from selling her book "Lord Help Me". It's estimated that her parents' wealth goes up to $440 million, which means that Emme and her brother could inherit that amount. Given the spirit and talents of this young girl, there's no need to worry about her earning her own wealth. She sure seems to know how to do it.