• Albert Walker Mondane (Sauce Walka) is a rapper from Houston, Texas, USA.
• He's known best for the diss track "Wack 2 Wack" and popularizing the use of the word "drip".
• He has released several mixtapes and founded his own record label The Sauce Factory.
• He's been dating the woman known as Bambidoe for over a year.
• As of May 2021, his net worth has been estimated at over $1.2 million.
What is Sauce Walka's real name?
Albert Walker Mondane was born in Houston, Texas USA, on 29 June 1990 – his zodiac sign is Cancer, and he holds American nationality. He's the rapper Sauce Walka, who's probably known best for the diss track "Wack 2 Wack", which he wrote to accuse the famous Canadian rapper Drake of having appropriated the Houston hip hop culture.
Early life, father and education
Sauce was raised in Houston alongside his brother Dillon Clemons, by their mother who was a drug addict, and their father who was a professional wrestler, and who prefers not to be mentioned in media.
Sauce had a rough childhood, as he would often find his mother doing drugs when he got back from school, he was raised in a neighborhood of gangs, drugs and prostitution.
Voochie on da clockatbin pic.twitter.com/fznv0RopEi

— Drip GOD 💧 BEO (@Sauce_Walka102) May 13, 2021
He was still attending an elementary school when he became interested in rapping, and continued writing lyrics and rapping while attending a local high school. Sauce hasn't spoken a lot about his education, and many of his fans believe that he hasn't matriculated, although some believe that he has, back in 2008. Sauce hasn't attended college.
Sauce's mixtapes
In 2007, Sauce began rapping under the pseudonym 'A-Walk', and he then became a member of the rap group Mostheard from Houston. In 2014, he became one half of the rap duo Sauce Twinz together with Sancho Saucy, and in the same year also began working on his solo career. Sauce is today known best for having popularized the use of the word 'drip', which can be heard in most of his songs.
On 24 November 2014, he released his debut mixtape "In Sauce We Trust", under his own label The Sauce Factory, also featuring Sancho Saucy. His second mixtape "Sorry 4 The Sauce" followed on 24 February 2015, and received mixed reviews; both were available for digital download only.
On 4 June 2015, Sauce released his third mixtape, "Sauce Theft Auto: Splash Andreas", on which he worked with Sosamann and Sancho Saucy, and was followed by his fourth mixtape "Sorry 4 The Sauce 2" on 19 September 2015. There were rumors circulating the internet around this time, claiming that Sauce was planning to release an album, and that he had already finished working on half the songs, however, that hasn't happened to this day.
On 20 November 2015, he released his new mixtape "Don't Let the Sauce Fool U", in collaboration with Sancho Saucy, and on 26 May 2016, his sixth mixtape "Holy Sauce" was released, to mostly positive reviews. On 21 December 2016, Sauce released yet another mixtape "Sorry 4 The Sauce 3", followed by the mixtape "The Sauce Father" on 5 June 2017; he then made it clear that he was planning to focus on releasing mixtapes, and wouldn't be releasing any albums or extended plays (EPs).
The year 2018 saw the release of his two new mixtapes: "Drip God" which came out on 31 August under both his label and Create Music Group, and "Sauce Ghetto Gospel" on 17 December, also under the two labels.
The year 2019 also saw the release of Sauce's two mixtapes: "New Sauce City" came out on 7 August, while "Sauce Ghetto Gospel 2" was released on 6 December. In 2020, he released only a single mixtape, "Lost in The Sauce" on 3 April, in collaboration with Sancho Saucy.
Between 6 April and 9 April 2021, Sauce released four mixtapes, one each day, entitled: "Sauce Train" (with El Trainn), "Birdz Hunt Snakes", "Sauce R&B", and "God of Texas".
Career as an entrepreneur
In 2014, not long before he began releasing his mixtapes, Sauce founded his own record label The Sauce Factory (TSF). Numerous rappers have since been signed to it, including Peso Peso, Sauce Gohan and 5th Ward JP.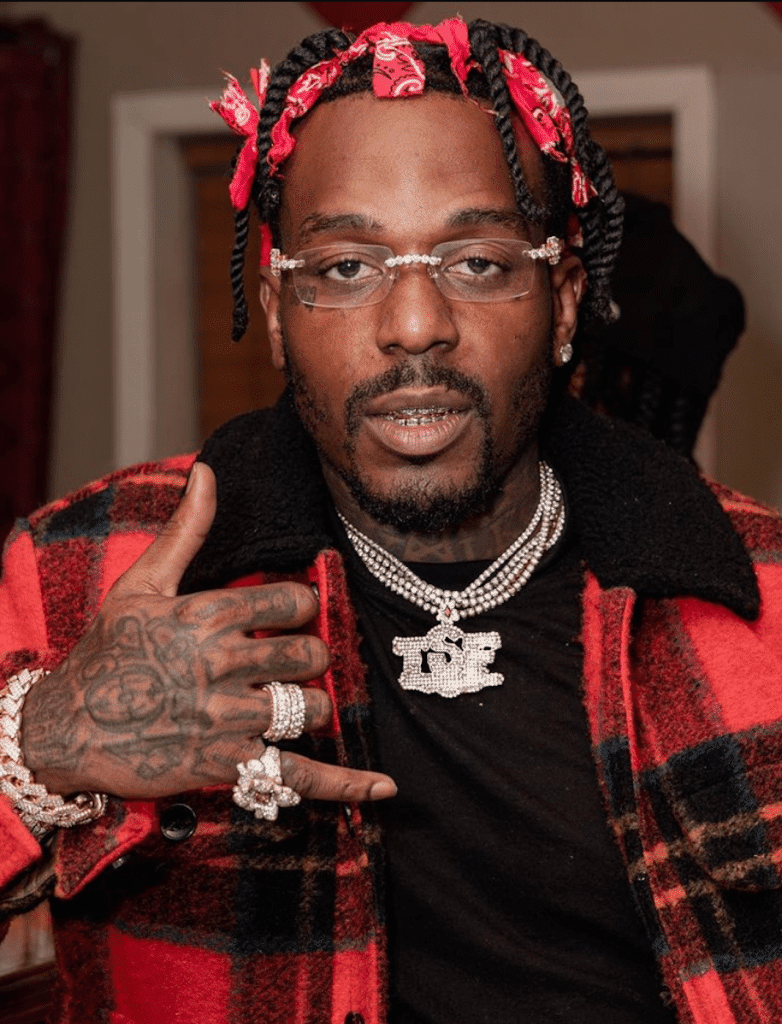 The label has also worked with Striker The Lyrical Beast, Rico Glizzy and Jamiri Francis Barber.
Problems with the law
In 2009, Sauce pleaded guilty after he shot and wounded a person at a concert organized at Texas Southern University; however, he only had to do community service under supervision.
In 2018, the Houston police told the NBC-affiliated TV station KPRC-TV, that Sauce was a member of the street gang Mash Mode back in 2009.
In the same year, the Texas police described Sauce's label as a gang known for its criminal activity, however, Sauce stated that he was going to keep on rapping and working with his label, and that he had nothing to do with any gang.
Love life and girlfriend
Sauce prefers to keep the details of his love life to himself, however, it has been reported that he has been dating the woman known as Bambidoe for over a year now. She's working on the internet as a cam girl, and has also appeared on Sauce's OnlyFans account. According to several people who have access to Sauce's OnlyFans page, he has gone live while having sex with Bambidoe on multiple occasions, while they also featured other women in the streams.
Sauce hasn't spoken of any other girls whom he might have been with, but there are rumors circulating the internet that he has dated and slept with several other women, including rappers and social media stars.
As of May 2021, he seems to be dating Bambidoe, hasn't married and doesn't have children.
Hobbies and other interests
Sauce is a huge fan of tattoos, and has numerous inked all over his body, including on his neck.
He likes to travel with his fellow rappers, and his career has taken him to various US states, while Sauce has apparently also been to a couple of European countries to perform, such as Germany and Hungary.
Sauce likes to drink alcohol, and apparently smokes marijuana every day.
He's not very sporting, however, it's said that he had several training sessions at the gym when he was just starting to work on his career as a rapper.
He likes to watch comedy movies in his spare time – his favorite actors are Chris Rock and Eddie Murphy, while some of his favorite movies include "Meet Dave", "Grown Ups" and "The Longest Yard".
Age, height and net worth
Sauce's age is 30. He has black hair and brown eyes, his height is 5ft 8ins (1.73m) and he weighs around 176lbs (80kgs).
As of May 2021, his net worth has been estimated at over $1.2 million.