• Danny Koker has an estimated net worth of $13 million
• He earns an estimated $100,000 per episode of his show, "Counting Cars"
• His businesses include Count's Kustoms, Count's Vamp'd, and a tattoo parlor
• He is the lead singer of a rock 'n' roll band called Counts77
• He has an impressive collection of classic cars and bikes
Money is a topic people usually don't want to speak about, unless said money belongs to a celebrity of course. More often than not, fans and curious-folks want to know how rich their favorite TV star or singer is, and while some of them are open to reveal those details in return, others are notably unwelcoming.
If it comes to "Counting Cars" lead star Danny Koker, we could surely talk hours about his life and projects, and even then that wouldn't satisfy people's curiosity regarding his financial status, expensive belongings, many businesses and investments.
If you're one of those who want to know every little detail about The Count's finances, then this is the right place for you! Get ready to discover how much Danny earns, his lifestyle, the little-known details about his career, and what he's doing nowadays!
Is Danny Koker Rich?
As you might have expected, the answer is in the affirmative. Indeed Danny Koker is rich, having a net worth of approximately $13 million as of mid-2021.
You're probably wondering if all of that money comes from appearing in "Counting Cars", but truth be told, it's unknown.
💯 badass Brother !!!!✊️🙏 pic.twitter.com/rhjNrQdF0b

— Justin F Kimmel (@KimmelJfk) October 21, 2020
As far as is known, Danny earns an estimated $100,000 per show's episode, and while that figure might be a little too generous, an official estimation of how much he actually earns from it hasn't been stated by either History or himself. Besides that, Danny supposedly wasn't paid a salary when he appeared as an expert in "Pawn Stars", which makes it obviously impossible to count that as part of his net worth.
Other than that, we know Count's Kustoms finances are quite prolific, especially considering the business' earnings come from both customizing cars and their exhibition room, which has become a highly visited tourist attraction in Las Vegas. If you add that to the fact that Danny also owns a tattoo parlor and a rock bar, we're sure his fortune just keeps growing.
What Is Danny Koker Doing Today?
It happens quite often that people lose track of what TV stars are doing, especially if they don't actively follow their every step on social media, or just stopped watching their shows.
Something like this also applies to Danny Koker, who despite "Counting Cars" massive popularity, only has a decent number of people following him on Twitter and Instagram.
While Danny certainly doesn't really comment much about his personal life, we can get an idea on what he's doing nowadays thanks to Count's Kustoms' website, and the few things he posts on social media.
First of all, you shouldn't worry too much about the future of Count's Kustoms for the time being. The business is still open and going strongly nowadays, and despite some schedule changes it went through in 2020 due to the many COVID-19 restrictions, the shop hasn't been stopped.
When it comes to his other businesses, it seems that Danny's bar Count's Vamp'd is also still active, and usually showcases live performances by local groups, including Danny's rock 'n' roll band Counts77.
What about "Counting Cars" then? Well, in mid-2020 the show premiered its ninth season and while it seemed considerably shorter than previous ones, it might be because the pandemic restrictions we mentioned before effected the filming time, but hopefully another season will be on the way sooner rather than later.
Who Is Danny Koker The Count?
Even if his tough-looking appearance makes him appear as an unapproachable, rebel guy, the truth is that Danny Koker is quite likeable. Not only that, he is perhaps surprisingly a man of traditions as well, seeing that he did his best to contribute to his family's business while still pursuing his passion for automobiles.
As you might imagine, Danny's love for cars and motorcycles started very early in life. Whether his passion for it started when he was gifted a bike at only eight years old or just because his family used to work for Ford, the path that led him to choose dedicating his life to automobiles was a mix of everything that has surrounded him virtually since he was born.
Originally from Cleveland, Danny actually learned the basics of mechanics by himself, and didn't shy away from car-related occupations such as design and customising. This while also splitting his teens touring with the Cathedral Quartet, which was his father's famous gospel group, and which obviously ignited his already-existing love for music. If you take all of these factors into account, you might understand why Danny is the guy he is now.
Debut On TV
We don't know exactly when Danny Koker realized moving to Sin City was the right decision for his career, but whatever he was looking for in Las Vegas, he found it. The first somewhat-major project he had there was hosting "Saturday Fright At The Movies", a TV show which showcased horror movies once a week for almost 10 years, until its cancelation in 2000.
Interestingly enough, the show's network KFBT was owned by Danny's family, but was sold in the late 1990s and is nowadays known as KVCW.
The important thing about his whole involvement with TV at the time was that he got to develop the Count Cool Rider, his own version of a goth Elvis which evolved into The Count later, making it obvious that even before "Counting Cars", he was already a local celebrity by his own means.
Danny's time to shine came with his debut in "Pawn Stars" in 2010, when he appeared as an expert to help the Pawn Shop staff acquire a Jeep. That was the first of several appearances he made in the widely-famous show until 2013, when he suddenly stopped being involved with it.
His Own Show
While his exit from "Pawn Stars" is still not clarified, it was probably because he was just too busy with "Counting Cars", which premiered in 2012. Thanks to "Pawn Stars", Danny Koker was fortunately already somewhat-popular with History channel's audience, prior to his show's premiere, making it not a wonder why the series' ratings rose quickly from the start.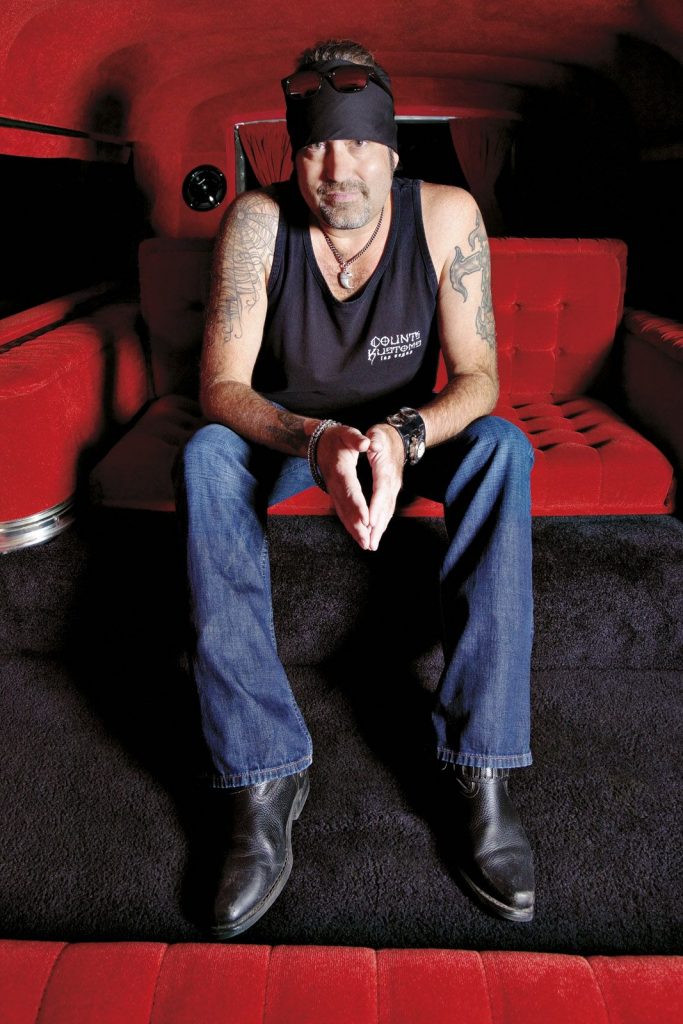 To date, "Counting Cars" has been on air for nine seasons, and has featured celebrities such as Dee Snider, Ziggy Marley and the Harrisons guys from "Pawn Stars". Even more, while the wide number of successful projects showcased in it is hard to count, those have greatly inspired and entertained the show's audience, whether they're motor-heads or just casual viewers.
Of course, the show's popularity can partially be attributed to the promotion "Pawn Stars" granted Danny and his business since his first appearance in that show, but it's undeniable that "Counting Cars" gained fame by its own means. As proof, data sites such as ratingraph.com, confirm that the series has had on average 7.1 audience points throughout its nine seasons, while also consecutively achieving highly rated season's premieres.
How Did Danny Koker Get So Rich?
At this point you might be really curious about how Danny Koker was able to build such a fortune by himself.
While the truth is that most of his money comes from his several businesses added to his income from TV, we're still going to give you a deeper insight into the way his investments came to be so successful.
Count's Kustoms
If you're wondering what is really the story of how Count's Kustoms came to be, it actually goes a long way back, to the late 1990s, when the business was established through Danny's association with his father. However, how Danny came up with the idea was another thing altogether – it started when he asked Shannon Aikau to build a chopper for him.
Unexpectedly, the bike took too much attention, and it was right then when Danny sensed it was a good business opportunity. Along with Aikau, Danny established Count's Kustoms as a body shop specializing at first mostly in choppers and other bikes, having a specific favouritism for old ones, but integrating modern technology and new customizing techniques in their projects as well.
Interestingly enough, 2007 Danny told the website RideOnTV.com that he was involved in the design process of every bike that entered the business' doors.
The big effort he and his early staff put in to grow Count's Kustoms from scratch was well compensated, as the shop eventually expanded to cars as well. Budgets also increased, as nowadays the business charges several thousands for every project they work on.
Bar & Tattoo Parlor
In the early 2010s, Danny associated with Motley Crue's vocalist Vince Neil to found Feelsgood, a rock 'n' roll bar located in Sahara Avenue, Las Vegas. However, only a couple years later, Danny was left as the bar's sole owner after Neil sold his share of the business. Subsequently, Feelsgood was remodeled, and became what is nowadays known as The Count's Vamp'd.
As you should have already guessed, Count's Vamp'd is entirely themed as a rock bar, offering menus showcasing classic bands' names, and quite often live events.
In 2016, it was rumored that the business was on sale for over $2 million, but it was later confirmed that only its building was on sale, and Danny kept the bar ownership.
Years later in 2020, the bar faced several problems due to the COVID-19 pandemic spread, which inherently restricted the number of customers and live-show attendants. As The Las Vegas Review-Journal informed at the time, the situation led Count's Vamp'd to lose several staff members, who could no longer endure the lack of available work.
Fortunately, at some point in early 2021, Count's Vamp'd resumed hosting live shows, often with slightly smaller audiences.
Other than that, Danny also owns Count's Tattoo Company, a somewhat private tattoo parlor also located in Sahara Avenue. The shop offers its clients VIP rooms, and a wide range of creative options to enjoy.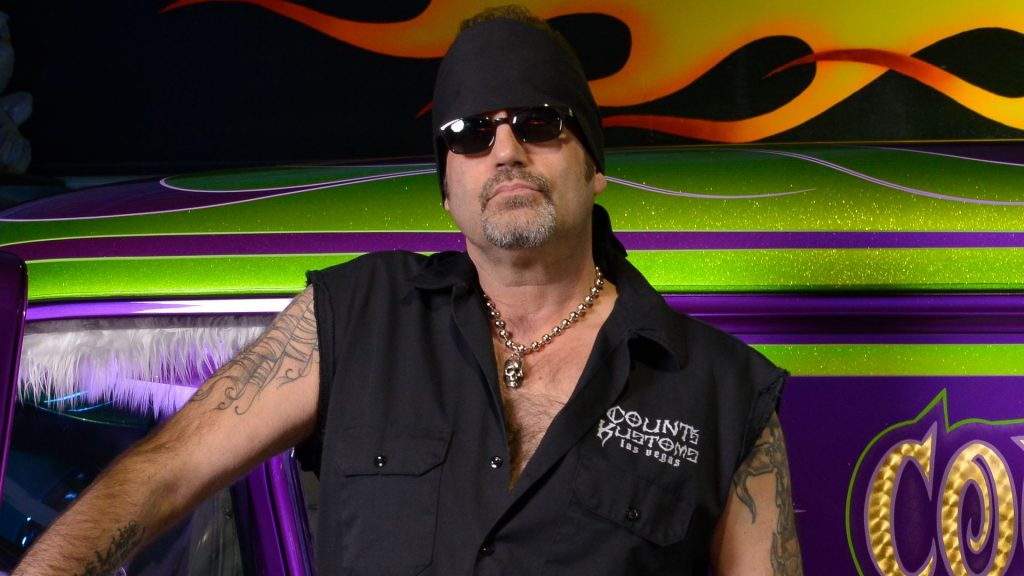 His Band
Danny Koker always knew his passion wasn't limited to only cars and bikes, as it went well beyond that. As mentioned, Danny's childhood was spent traveling with his father's gospel group, which greatly influenced his views and musical taste.
Although of course Danny became a 1970s and '80s rock 'n' roll bands' fan while growing up, he had actual experience singing as well. He didn't publicly show-off his talent until 2011, when he started joining casual session concerts with his friends John Zito, Barry Barnes, Stoney Curtis and Paul Disibio in his bar Count's Vamp'd, forming what we know today as Counts77.
Although the band only initially played 1970's cover songs, their live shows went so well that they decided to make it a permanent deal, and the fact Danny was the bar's owner obviously was of help as well. In 2014, the band was signed to Shrapnel Records, and released their first album "Count's 77", followed by "Soul Transfusion" in 2017.
All in all, Counts77 hasn't been as financially profitable as his other projects, but when it comes to music, Danny is probably more interested in having fun than making money.
Personal Life
Despite how public the life of a celebrity could be, Danny Koker is one of the very rare reality stars who prefers not to make a big deal of his private life.
If you have been paying close attention to him, you might already know what we're talking about, but if not, let us explain – the truth is that Danny is very private when it comes to his personal life, not revealing a lot about it during interviews or on TV.
Nevertheless, we managed to gather a couple details about this essential part of his life. Such as the name of his wife, Korie Koker, who is the manager and entertainment director of Count's Vamp'd.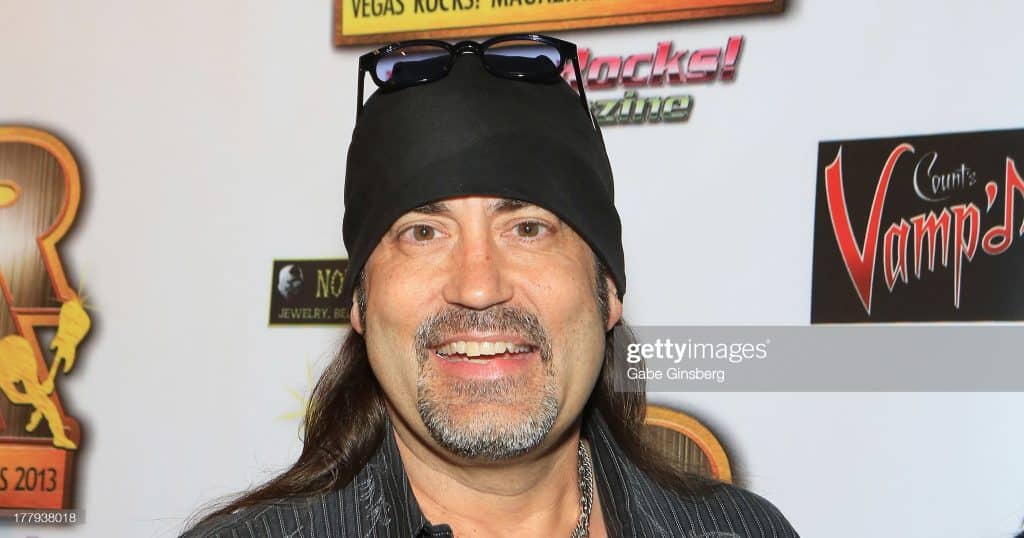 However, we don't know for certain if Danny and Korie have children, or even when they married, but the relationship looks very strong and stable.
Danny's Personal Collection
We can't talk about Danny Koker's financial situation without mentioning his very impressive car and bike collection.
If you know Danny's taste, you won't be surprised that his collection mostly consists of classic automobiles such as a 1966 Mustang GT, a 1956 Chevy Stepside, and a 1974 Roadrunner. However, the car that is still missing from his garage is the 1972 Lamborghini Miura SV, which he's still looking for, unsuccessfully.
While his bikes are less commented on, he has around 70 to show off, including his daily rider chopper The Coffin, and several other high rollers and lanesplitters.
As far as we know, the most money Danny has ever spent on a car for personal use is $100,000, but if we can assure you of something, it's that collecting cars is more than just business for him, but one of his life's passions and as you obviously noticed already, he has several of those.