• Jack Scott Ramsay is the son of famous British chef, restaurateur and TV personality Gordon Ramsay.
• He has appeared in several TV shows such as "Hell's Kitchen", "Matilda and the Ramsay Bunch" and "Born Famous".
• Jack is rumored to be dating a non-celebrity girl and is currently single.
• Jack is a huge fan of soccer and enjoys travelling and watching movies in his spare time.
• Gordon Ramsay is a celebrity chef, owner of the Gordon Ramsay Restaurants chain, and has appeared in various reality TV shows.
Who is Jack Scott Ramsay?
Jack Scott Ramsay was born in the United Kingdom on 1 January 2000 – his zodiac sign is Capricorn and he holds British nationality. He is said to be a photographer, but is perhaps known best for being the son of famous British chef, restaurateur and a TV personality Gordon Ramsay.
Early life and education
Jack was raised in the UK alongside his siblings Megan, Holly, Matilda and Oscar, by their father and their mother Cayetana Elizabeth Hutcheson, who is a TV broadcaster and the author of a couple of cookery books.
Being a child of a celebrity, Jack was thrown into the spotlight at quite an early age – he was five when he appeared in an episode of the documentary TV series "The F Word".
Aged 10, Jack appeared in two episodes of the reality game-show "Hell's Kitchen" which starred his father, and in the same year he appeared in his father's news series "Gordon Ramsay's Ultimate Christmas". In2011, Jack appeared in an episode of the show "Gordon Ramsay: Cookalong Live".
He went on to enroll at a local high school, where he was already somewhat popular thanks to his father. In 2015, Jack began starring alongside his family in the reality series "Matilda and the Ramsay Bunch", which follows the lives of the Ramsay family. It aired until 2018 and Jack appeared in 40 episodes.
He also starred in four episodes of the reality series "Born Famous".
Jack matriculated in 2018, and then disappeared from media attention. He hasn't spoken about his further education, and it's believed that he hasn't attended college.
Jack's career
Jack hasn't spoken about what he does for living, but it's said that he works as a professional photographer.
He is a bit of an actor, and has appeared in several plays performed at the London's Edward Alleyn Theatre.
Love life and relationships
Jack is quite secretive when it comes to his love life, and hasn't mentioned any girl he might be dating today, however, it's known that he was once in a relationship with a girl known only as Martha. The two were often seen spending time together, and during Christmas of 2016 they were seen kissing. It has been reported that the two split after around a year of dating and while this hasn't been confirmed, the two have indeed not have been seen together since 2017.
There are rumors circulating the internet that Jack is today dating a mysterious non-celebrity girl, as some of Gordon's fans have claimed to have seen his son holding hands with the girl, however, none of this has been confirmed.
As of February 2021, Jack appears to be single, hasn't married and doesn't have children.
Hobbies and other interests
Jack is a huge fan of soccer, which he started playing while attending elementary school. He was chosen to play for an under-14 team, but after enrolling at a local high school, Jack found out the competition was too strong, and decided to stop playing. He cheers for the club Chelsea.
He is keen on travelling, and has been all around Europe, mostly thanks to his father who was able to pay for his travels.
Jack has also been to a couple of US states, mostly to keep his father company when he had to travel for work.
Jack once tried going to the gym, but only exercised for a month before quitting.
In his spare time, he enjoys watching movies starring his favorite actor and actress Robert Downey Jr. and Scarlett Johansson, such as "Avengers: Infinity War", "Avengers: Endgame" and "Iron Man".
Age, height and net worth
Jack's age is 21. He has short brown hair and brown eyes, his height is 6ft 2ins (1.88m) and he weighs around 180lbs (82kgs). His net worth is unknown, but as of February 2021, his father's net worth has been estimated at over $220 million.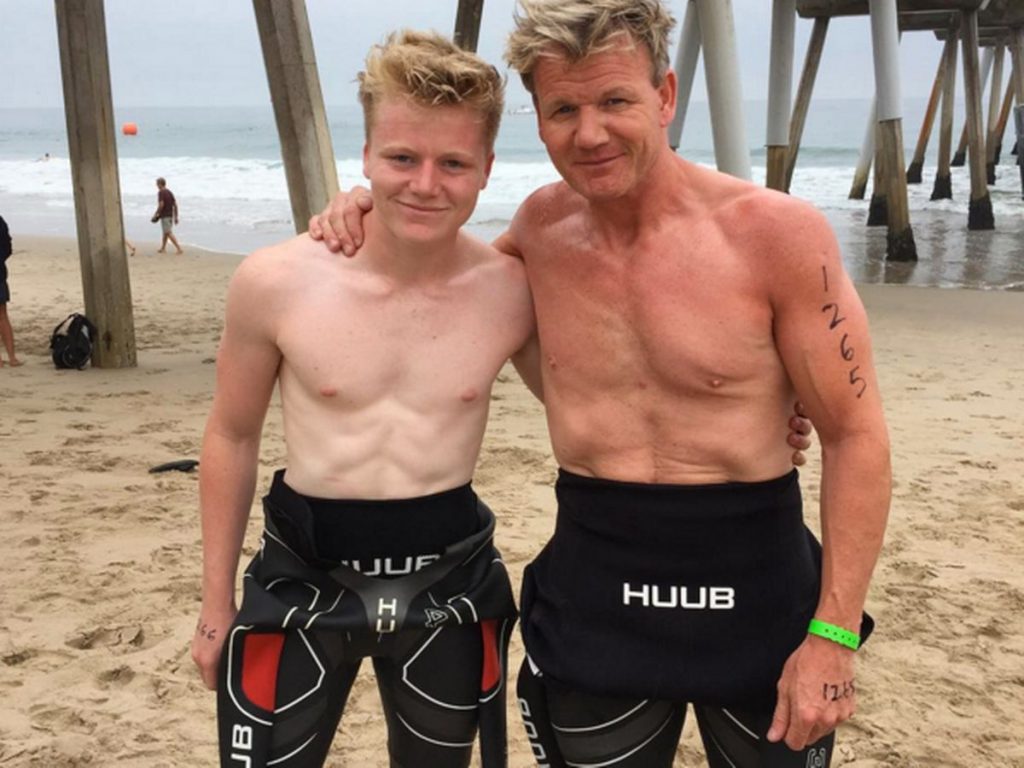 Who is Gordon Ramsey?
Gordon James Ramsay was born in Johnstone, Scotland, on 8 November 1966 – his zodiac sign is Scorpio and he holds British nationality. He is known best for being a celebrity chef, and the owner of the Gordon Ramsay Restaurants chain.
Gordon was raised alongside his three siblings in Stratford-upon-Avon, England by their father Gordon James Sr. who was a shopkeeper, welder and a swimming pool manager, and their mother Helen who was a nurse. The family often moved because James Sr. was an alcoholic and found it hard to keep a job. Gordon was 16 when he left home, and started working to financially support himself. He was 19 when he began attending North Oxfordshire Technical College, at which he studied hotel management.
When he was around 20, Gordon began working at the Wroxton House Hotel as a commis chef, but was fired after it was revealed that he was sleeping with the owner's wife. After that, Gordon worked at various restaurants before being offered work at Harveys, owned by the famous chef and TV personality Marco Pierre White. He decided to move to Paris and learn about French cuisine, however, Marco managed to persuade Gordon to instead work at the restaurant Le Gavroche for the famous chef Albert Roux. Albert was more than satisfied with Gordon, and after only a year invited him to work alongside him at his ski resort in the French Alps.
He went on to work in France and learn about its cuisine for three years, before agreeing to work as a chef on the yacht Idlewild which took him to Sicily, Italy where Gordon learned about Italian cuisine.
Upon returning to London, Gordon started working for Marco Pierre White once again, as the head chef of his restaurant Aubergine in which he also had a 10 percent share. The restaurant receive two Michelin stars, however, Gordon left in July 1998 because he wasn't getting along with the business owners. He opened his own restaurant in the same year called Restaurant Gordon Ramsay, and by 2001 it had received three Michelin stars. Gordon opened many other restaurants around the world, including two in Tokyo in 2005 and one in New York City in November 2006. In the same year, he was honored as an Officer of the Order of the British Empire (OBE) by Queen Elizabeth.
Gordon is perhaps known best for his appearances in various reality TV shows. In 1999 he was featured in the documentary series "Boiling Point", then in the 2000 "Beyond Boiling Point". He was cast to appear in the series "Ramsay's Kitchen Nightmares" in 2004, while the same year saw him star in the more popular show "Hell's Kitchen", in which he trained celebrities to become chefs. Some of the other shows he has appeared in include "The F Word", "Gordon's Great Escape" and "Hotel Hell", however, he is perhaps known best for having been a judge in the American cooking competition show "MasterChef".
Although a chef, Gordon is very sporting and has run several marathons, and competed in triathlons and ironman events. He also holds a black belt in karate.