• Jeff Fahey is an American actor born on November 29, 1952 in Olean, New York State
• He is known for his portrayal of Captain Frank Lapidus in the fantasy adventure series "Lost"
• He started his career in 1983 with a guest appearance in the long-running romantic drama "One Life to Live"
• He is the co-owner of Tyree Productions and has four producing credits
• As of April 2021, his net worth is estimated at over $5 million
Who is Jeff Fahey?
Jeffrey David 'Jeff' Fahey was born in Olean, New York State USA, on 29 November 1952 – his zodiac sign is Sagittarius and he holds American nationality. He's an actor, who's probably known best for his portrayal of Captain Frank Lapidus in the fantasy adventure series "Lost", created by Damon Lindelof, Jeffrey Lieber and J. J. Abrams, and which starred Jorge Garcia, Josh Holloway and Yunjin Kim. The series aired from 2004 to 2010, and follows a group of people who have survived a plane crash, but find themselves on an island inhabited by a hostile supernatural force. It won 113 awards including a Golden Globe, while it was nominated for 398 other awards.
Early life, family and education
Jeff was raised in Olean alongside his 12 siblings, with him being the sixth, by their father Frank Fahey who worked at a clothing shop, and their mother Jane who was a housewife. The family moved to Buffalo in New York State when Jeff was ten years old.
He was physically highly active during his teenage years, as he played soccer, football and basketball, but without excelling at any. Jeff studied at Father Baker's high school, and chose to focus on his education as he had plans for after matriculating, which he decided not to tell to anyone. Upon obtaining his high school diploma aged 17, he hitchhiked to Alaska, and then went backpacking around Europe. He also worked in Israel on a kibbutz, a collective community based on agriculture.
Jeff and five of his brothers are the owners of the production company Tyree Productions.
Roles in TV series
Jeff has been credited with appearing in more than 170 movies and TV series, and we're about to mention more of his most notable performances.
He made his debut TV series appearance in 1983, with his portrayal of Gary Corelli in two episodes of the long-running romantic drama "One Life to Live". The following years saw him make an appearance in an episode or two of many series, including the mystery crime drama "Alfred Hitchcock Presents", the action crime drama "Miami Vice", and the adventure drama "Tales of the Wind". In 1995, he portrayed the lead character of Deputy Marshal Winston MacBride in the action crime drama "The Marshal", created by Daniel Pyne and John Mankiewicz, and which also starred Kristina Lewis and Carly McKillip.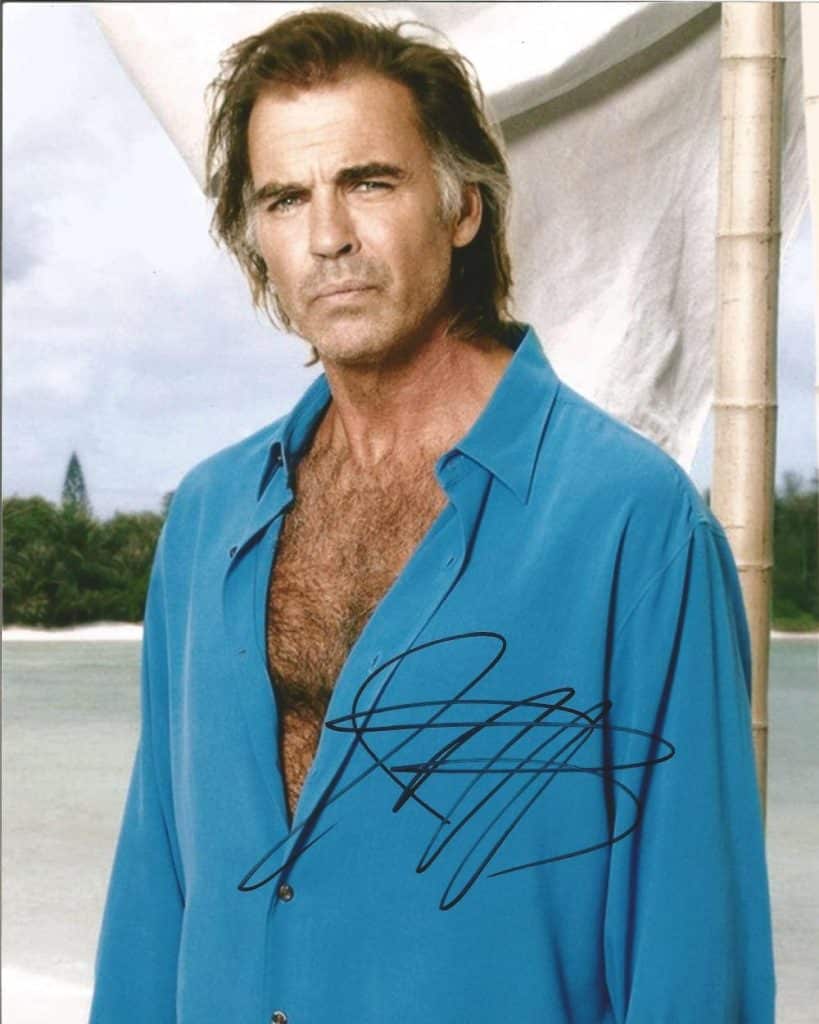 It follows the life of a US Marshal as he's travelling around the USA protecting witnesses and catching criminals.
The year 1997 saw Jeff make a guest appearance in the episode "Anatomy Lesson" of the action comedy "Perversions of Science", then in 1999 he starred as Nick Harper in all three episodes of the action adventure mini-series "The Seventh Scroll". He was mostly focused on appearing in movies in the 2000s, while a couple of his roles in TV series were in an episode of the action crime drama "Nash Bridges", the sports comedy "Arli$$", and the mystery crime drama "CSI: Miami".
In 2012, Jeff portrayed Detective McAllister in the episodes "Libra: Part 1" and "Libra: Part 2" of the mystery crime drama "Femme Fatales", created by Mark A. Altman and Steven Kriozere, and which starred Tanit Phoenix Copley, Christine Donlon and Catherine Annette.
Every one or two episodes tell a crime thriller story, narrated by Lilith.
Three of Jeff's most recent roles in TV series have been in the 2018 episode "Knock, Knock" of the fantasy mystery drama "Beyond", the 2019 episode "Reckoning" of the mystery crime drama "NCIS: New Orleans", and the 2019 episode "Fire Chicken" of the action crime drama "Wu Assassins".
Roles in movies
Jeff made his debut movie appearance in the 1985 critically acclaimed crime action drama "Silverado", written and directed by Lawrence Kasdan, and which starred Kevin Kline, Scott Glenn and Kevin Costner. It follows a group of friends in a small town who have taken justice into their own hands; the movie won one of the five awards for which it was nominated, including two Oscar nominations.
The following years saw him play supporting characters in various hit movies, such as the 1986 mystery horror thriller "Psycho III", the 1992 science fiction horror "The Lawnmower Man", and the 1994 biographical crime adventure "Wyatt Earp". In 2002, Jeff played The Governor in the horror thriller "Unspeakable", written by Pavan Grover who also starred in it alongside Mark Voltura and Michelle Wolff. The film follows a woman who's battling a terror, and it won one of the two awards for which it was nominated.
The following years saw Jeff appear in numerous movies which failed to attract any attention or received poor reviews (or both), such as the 2005 science fiction horror "Locusts: The 8th Plague", the 2005 action adventure fantasy "Manticore", and the 2006 action adventure drama "Absolute Zero".
Two of his most notable performances in the 2000s were in the 2007 action horror thriller "Grindhouse", which starred Kurt Russell and Danny Trejo, and won 10 of the 32 awards for which it was nominated, and the 2007 action adventure comedy "Planet Terror", written and directed by Robert Rodriguez, and which was nominated for three awards.
Some of the most popular movies amongst those in which Jeff appeared in the 2010s were the 2012 mystery crime thriller "Sushi Girl", the 2013 action science fiction thriller "Rewind" and the 2015 mystery thriller "Too Late". Jeff's most recent film role has been his portrayal of Phineus Davis in the 2020 comedy "Wheels of Fortune", while he's currently shooting for seven upcoming movies, including the horror "The Long Night", the action crime thriller "The Commando", and the drama "A Bird Flew In".
Other credits
Jeff has five producing credits – he worked as an associate producer on the 1996 action thriller movie "The Sweeper", as well as on the 1997 action crime film "The Underground" and the 1998 mystery thriller film "Extramarital". He co-produced the 2001 family movie "Choosing Matthias", and produced the 2004 action crime movie "Close Call".
He has received special thanks for four movies and a single series, including the 2009 short drama movie "The Miraculous Tale of the Children Dubois", the 2013 romantic drama film "Red Wing", and the 2018 comedy series "My American Neighbor".
Jeff has been featured in various documentary movies such as in 2007 "The Horrorhound", the 2013 "Sushi Girl: A Documentary", and the 2017 "And the Winner Isn't".
He has made a guest appearance in many talk-shows, including "Up Close with Carrie Keagan" and "Entertainment Tonight".
Awards and nominations
Jeff has been nominated for four awards – in 1986 for a Gemini Award for Best Performance by a Lead Actor in a Single Dramatic Program for "The Execution of Raymond Graham", and in 1992 for a Fangoria Chainsaw Award for Best Actor for his performance in the science fiction horror movie "The Lawnmower Man". In 2010, he and his colleagues were nominated for a Gold Derby TV Award for Ensemble of the Year for the series "Lost", while the same year saw Jeff nominated for a Monte-Carlo TV Festival Golden Nymph Award for Outstanding Actor – Drama Series for "Lost" as well.
Love life and wife
Jeff's quite open when it comes to his love life, and there are seven women whom he has dated that the public knows about – he hasn't married.
Sometime in the late '80s, he was in a relationship with popular American actress Yancy Victoria Butler, and in early 1990 he dated the American commentator Jennifer Rubin. The year 1992 saw him date Dawn Mangrum who's a popular American actress probably still known best for her portrayal of Connie and Candace in the mystery crime series "The New Mike Hammer" which aired from 1984 to 1989. In 1995, Jeff was in a relationship with Lisa Barbuscia who's a popular American model, singer and actress, and in the second half of the 1990s, Jeff dated Tracy Griffith, an American actress, sushi chef and painter. He then dated the American actress Marisa Petroro in 2004, and most recently, Jeff was in a relationship with Kirsty Parsons, an American actress and costume designer.
As of April 2021, he seems to be single, hasn't married and doesn't have children.
Hobbies and other interests
Jeff has been an avid ballet dancer since his early teenage years, and was offered a full scholarship by the New York City's Joffrey Ballet School when he was 25 years old. Jeff accepted, and stayed there for three years before he began teaching ballroom dancing.
He has worked various jobs just for fun, as he wanted to try something else rather than just acting – Jeff was a trainer at a health club, an encyclopedia salesman, and a vacuum cleaner salesman.
He's a huge lover of animals, with horses being his favorites, while he once wanted to build a ranch and create a place at which hurt and abandoned horses could heal and find shelter, if not even a permanent home.
Hanging with Jeff Fahey aka Dutch the Clutch on set. Still al little jealous of that awesome mustache. #psych #psychrewatch #jefffahey pic.twitter.com/I8J8ss8hHj

— Anupam Nigam (@anupamnigam) September 12, 2019
Jeff has travelled all around the world and believes this has helped him understand people better. He's a philanthropist who has spent some time in Afghanistan contributing to the American University of Afghanistan, while he's today mostly focused on working with the US Committee for Refugees and Immigrants.
He has his own favorite actors and actresses, some of whom are the late Robin Williams, Will Smith and Julia Roberts, and a couple of his favorite movies are "Patch Adams", "Independence Day" and "Pretty Woman".
Age, height and net worth
Jeff's age is 68. He has medium long brown hair with a grey beard, and blue eyes; his height is 6ft (1.83m) and he weighs around 172lbs (78kgs).
As of April 2021, his net worth has been estimated at over $5 million.