Who is Maximilian David Muñiz?
Maximilian David Muñiz was born under the zodiac sign of Pisces on 22 February 2008, on Long Island, New York USA. He is a 12-year-old celebrity child, probably best recognized for being the son of two of Hollywood's biggest celebrities, Marc Anthony and Jennifer Lopez.
How rich is he, as of now? Maximilian David Muñiz Net Worth
Being the son of millionaires, Maximilian David Muñiz is also a potential millionaire. Although his career is yet to come, he still enjoys the impressive fortune of his parents. Being the highest selling tropical salsa artist of all time, his father Marc Anthony has an estimated net worth of $80 million, as of early 2021, and his mother Jennifer Lopez a net worth estimated at over $400 million as the highest-paid Latin entertainer.
Love Story of His Parents
Marc Anthony and Jennifer Lopez met each other back in 1998, and over the years collaborated several times.
Jennifer Lopez dan Marc Anthony legally divorce.J. Lo and Marc take steps to end the households in July 2011. They…

Posted by Uulay.com on Monday, June 30, 2014
Following Jennifer's split from Ben Affleck in early 2004, she became romantically involved with Marc, and the lovebirds tied the knot at a surprise wedding ceremony which took place at her Beverly Hills home in June of the same year. Four years later, the couple welcomed their twins, but parted ways in July 2011, and their divorce was finalized in June 2014.
Popularity as a Celebrity Child
Maximilian David Muñiz is being raised along with his fraternal twin sister named Emme Maribel Muñiz – she's one minute older than him. The twins gained international fame when People magazine published the first photographs of them on 11 March 2008, reportedly offering $6 million for exclusive rights of the first photographs of the babies, which at the time were the most expensive celebrity photographs ever taken.
Maximilian holds American nationality, and belongs to mixed ethnicity.
He is growing up in New York City, as following the divorce of his parents, he and his sister continued to live with their mother, but also spend a lot of time with their father, and accompanied their parents in public from time to time. Their parents also share their photos on social media. In April 2019, Jennifer filmed a video with them and uploaded it onto her YouTube channel, and entitled "Twin Talk: AMA With Emme And Max". Both Maximilian and Emme developed their love for music and they enjoy singing; Jennifer once shared a video on her Instagram account of Maximilian singing Vance Joys' song "Riptide", while Emma playing a ukulele.
His Half-Siblings
Maximilian David Muñiz has four paternal half-siblings. He has an older half-sister, named Arianna Muñiz, from his father's previous relationship with Debbie Rosado, and while they were together, the couple adopted a son, named Chase Muñiz.
Maximilian also has two older half-brothers, Cristian Marcus Muñiz and Ryan Adrian Muñiz, from his father's marriage to Dayanara Torres, a former Miss Universe.
Appearance and Vital Statistics
Maximilian has short dark brown hair and dark brown eyes. He currently stands at a height of 4ft 11ins (1.50m), while his weight is around 88lbs (40kgs). Information about his vital statistics and shoe size isn't available, but inevitably all his physical statistics are constantly changing.
Who Is His Father? Marc Anthony Short Wiki/Bio
Marco Antonio Muñiz, better known as Marc Anthony, was born on 16 September 1968 under the zodiac sign of Virgo, in New York City USA. He was raised in East Harlem, the youngest of eight children born to Felipe, who was a musician and hospital cafeteria worker, and Guillermina, a homemaker – both of his parents were from Puerto Rico. Under the influence of his father, Marc learnt to sing in both English and Spanish.
Career Beginnings
Marc Anthony started his career as a session vocalist for freestyle and underground music acts, and then started writing songs and performing as a back-up singer for pop act Menudo and the Latin Rascals. In 1988, he released his freestyle music record "Rebel", and thereafter worked on a number of freestyle projects, and in 1991 released his collaboration album, "When The Night Is Over", together with Little Louie Vega.
Rise to Fame
In 1992, Marc changed his style from freestyle to salsa, while his Spanish-language debut studio album, "Otra Nota", was released via RMM Record in the following year. In 1995, he released his second studio album entitled "Todo A Su Tiempo", which earned him a Billboard award for Hot Tropical Artist of the Year, and besides being nominated for a Grammy Award, the album was certified gold in the US and Puerto Rico.
Two years later, he released his third album, "Contra La Coriente", including the song "Y Hubo Alguien" which became a number-one single on the US Billboard Hot Latin Tracks chart, the first by a salsa musician. Moreover, the album peaked at No. 74 on the US Billboard 200, becoming the first salsa album to enter the chart. It was also certified gold by the Recording Industry Association of America (RIAA).
Continued Success s
In 1999, Marc left RMM Record and signed a contract with Sony Records, and then collaborated with Jennifer Lopez on the duet "No Me Ames". Later that year he released his English-language self-titled album, which reached No. 8 on the US Billboard 200 – the single "I Need To Know" peaked at No. 3 on the US Billboard Hot 100 and led Marc to be nomination for a Grammy Award for Best Male Pop Vocal Performance.
Two years later, he released another album, entitled "Libre", which received gold certification, and topping the US Billboard Top Latin Albums chart. He then released the album "Mended" (2002), which was followed in 2004 by his Latin pop album, "Amar Sin Mentiras", for which he won a Grammy Award for Best Latin Pop Album, and another salsa album "Valió La Pena", which earned him a Latin Grammy Award for Best Tropical Album of the Year. Since then, he has released four studio albums – "El Cantante" (2007), "Iconos" (2010), "3.0" (2012), and "Opus" (2019).
Acting Career
Marc Anthony is also known as an actor. He made his debut as Flaco in the 1990 comedy film "East Side Story", after which he landed small roles in such film titles as "Natural Causes" (1994), "Hackers" (1995), and "The Substitute" (1996). Two years later, he was young Salvador Agron in the musical "The Capeman" on Broadway, and the following year played Noel in the drama film "Bringing Out The Dead", directed by Martin Scorsese.
This was followed by his portrayals of Lio in the made-for-TV crime-drama film "In The Time Of The Butterflies" (2001), next to Salma Hayek, then Samuel Ramos in the action thriller film "Man On Fire" (2004), alongside Denzel Washington, and afterwards playing Hector Lavoe in the 2007 biographical drama film "El Cantante". Between 2010 and 2011, he was cast as Nick Renata in the TNT medical drama series "Hawthorne".
Who Is His Mother? Jennifer Lopez Short Wiki/Bio
Jennifer Lynn Lopez was born on 24 July 1969 under the zodiac sign of Leo in The Bronx, New York City USA, to Puerto Rican parents David Lopez, a computer technician, and Guadalupe Rodríguez, a housewife. She has two sisters named Leslie and Lynda. She started taking dancing and singing classes at the age of five, and regarding her education, she attended Catholic schools and eventually matriculated from Preston High School.
While in there, she did gymnastics, ran track, and played softball for the school's team.
Career Beginnings and Dancing
Jennifer's career started in her senior year, when she auditioned for and won the role of Myra in the low budget indie film "My Little Girl" (1986), after which she decided to become an actress. However, her parents didn't agree with her, so to please them she enrolled into Baruch College, but quit after one semester to pursue her dream job. She then performed in regional productions of the musicals "Oklahoma!" and "Jesus Christ Superstar", after which she worked in the chorus in "Golden Musicals of Broadway", and was then hired to work as a dancer, singer and choreographer for the show "Synchronicity" in Japan. After performing as a back-up dancer for the group New Kids on the Block in 1991, Jennifer landed a job as a Fly Girl dancer in the Fox comedy sketch show "In Living Color", remaining as a regular cast member until 1993, and was also a back-up dancer for Janet Jackson before deciding to pursue a career as an actress.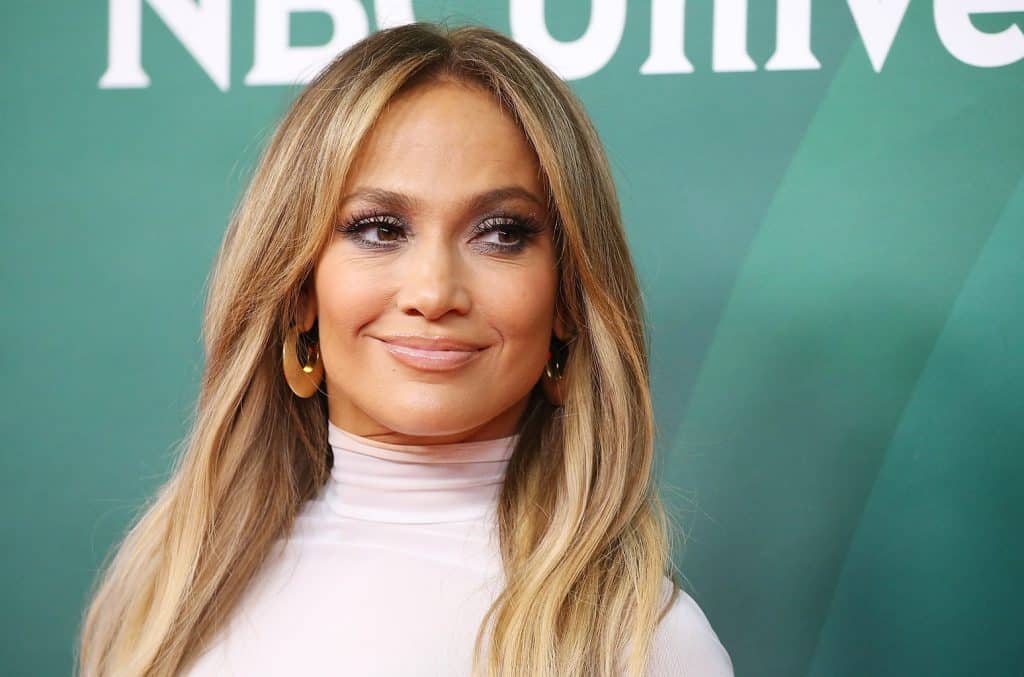 Acting Career
In 1993 and 1994, Jennifer was cast as Melinda Lopez in the CBS drama series "Second Chances", which she would reprise in its 1994 spin-off "Hotel Malibu". Her first major role came in the next year, when she starred as young Maria in the drama film "My Family", directed by Gregory Nava. Afterwards, she landed small roles in such film titles as "Money Train" (1995), "Jack" (1996), and "Blood And Wine" (1996).
In 1997, Jennifer landed the title role in the biographical musical drama film "Selena", which led her to become the first Latin actress to earn more than $1 million for a film. Later that year, she played Terri Flores in the horror film "Anaconda", and featured as Grace McKenna in the crime film "U Turn". By the end of the decade, she had also starred as Karen Sisco in the crime comedy film "Out Of Sight" (1998), provided her voice to Azteca in the animated film "Antz" (1998), and portrayed Catherine Deane in the psychological thriller film "The Cell" (2000).
Thereafter, Jennifer landed a number of major roles, such as Mary Fiore in the romantic comedy film "The Wedding Planner" (2001), Marisa Ventura in the romantic comedy-drama film "Maid In Manhattan" (2002), Paulina in the musical romantic comedy film "Shall We Dance?" (2004), and Charlie in the romantic comedy film "Monster-in-Law" (2005).
In 2006, she produced and starred in two film titles – the drama film "Bordertown" and the biographical film "El Cantante". These were followed by her portrayals of Zoe in the 2010 romantic comedy film "The Back-Up Plan", Holly in the 2012 romantic comedy film "What To Expect When You're Expecting", and Leslie Rodgers in the 2013 action thriller film "Parker".
Jennifer also provided her voice to Shira in the 2012 animated comedy film "Ice Age: Continental Drift", and its 2016 sequel "Ice Age: Collision Course".
DC Bound … ❤️🤍💙 pic.twitter.com/JmuNX2gYmf

— jlo (@JLo) January 19, 2021
In 2015, she featured as Claire Peterson and produced the psychological thriller film "The Boy Next Door", played Eve in the crime drama film "Lila & Eve", and voiced Lucy Tucci in the animated comedy film "Home". Between 2016 and 2018, she was cast as Harlee Santos in the NBC crime drama series "Shades Of Blue", which was followed by her portrayals of Maya in the 2018 romantic comedy film "Second Act", and Ramona Vega in the 2019 crime drama film "Hustler"; she also produced both film titles.
Singing Career
Jennifer Lopez released her debut single "If You Had My Love" in May 1999. It topped the US Billboard Hot 100 chart, and was followed by her debut studio album entitled "On The 6", which out came in that June, and peaked at No. 8 on the US Billboard 200 chart. The release of her second studio album "J.Lo" and the film "Wedding Planer" in January 2001, led her to become the first entertainer to have a number-one album and film in the same week.
The album became the best-selling album of her career, achieved four-times Platinum certification in the US, and spawned the number-one single "I'm Real".
She then released the remix album, "J To Tha L–O! The Remixes" (2002), which became the first remix album in history to debut atop the US Billboard 200. Thereafter, she released her third and fourth studio albums, "This Is Me… Then" (2002) and "Rebirth" (2005), both of which peaked at No. 2 on the US Billboard 200 chart, and received Platinum certifications. The lead single from the album "This Is Me… Then", entitled "Jenny From The Block", was described as her most iconic single by MTV News.
Three years later, she released her debut Spanish-language studio album, "Como Ama Una Mujer", which reached No. 10 on the US Billboard 200. She has since released three more studio albums, "Brave" (2007), "Love?" (2011), and "A.K.A." (2014), and also a number of non-album singles, such as "Ain't Your Mama", "Ni Tú Ni Yo", and "Dinero", to name a few.