• American amateur football player born in 2000 in Texas
• Enrolled at Trinity Christian High School and Jackson State University, graduating with a Bachelor's degree in 2022
• Believed to be pursuing a career as an NFL player
• Enjoys football, working out at the gym and travelling
• Son of famous American Football coach and former professional player Deion Luwynn Sanders Sr.
Who is Shilo Sanders?
American amateur Football Player Shilo Sanders was born in Texas, USA on 9 February 2000, making his zodiac sign Aquarius. He's probably only known for being a son of famous American Football coach and former professional player Deion Luwynn Sanders Sr.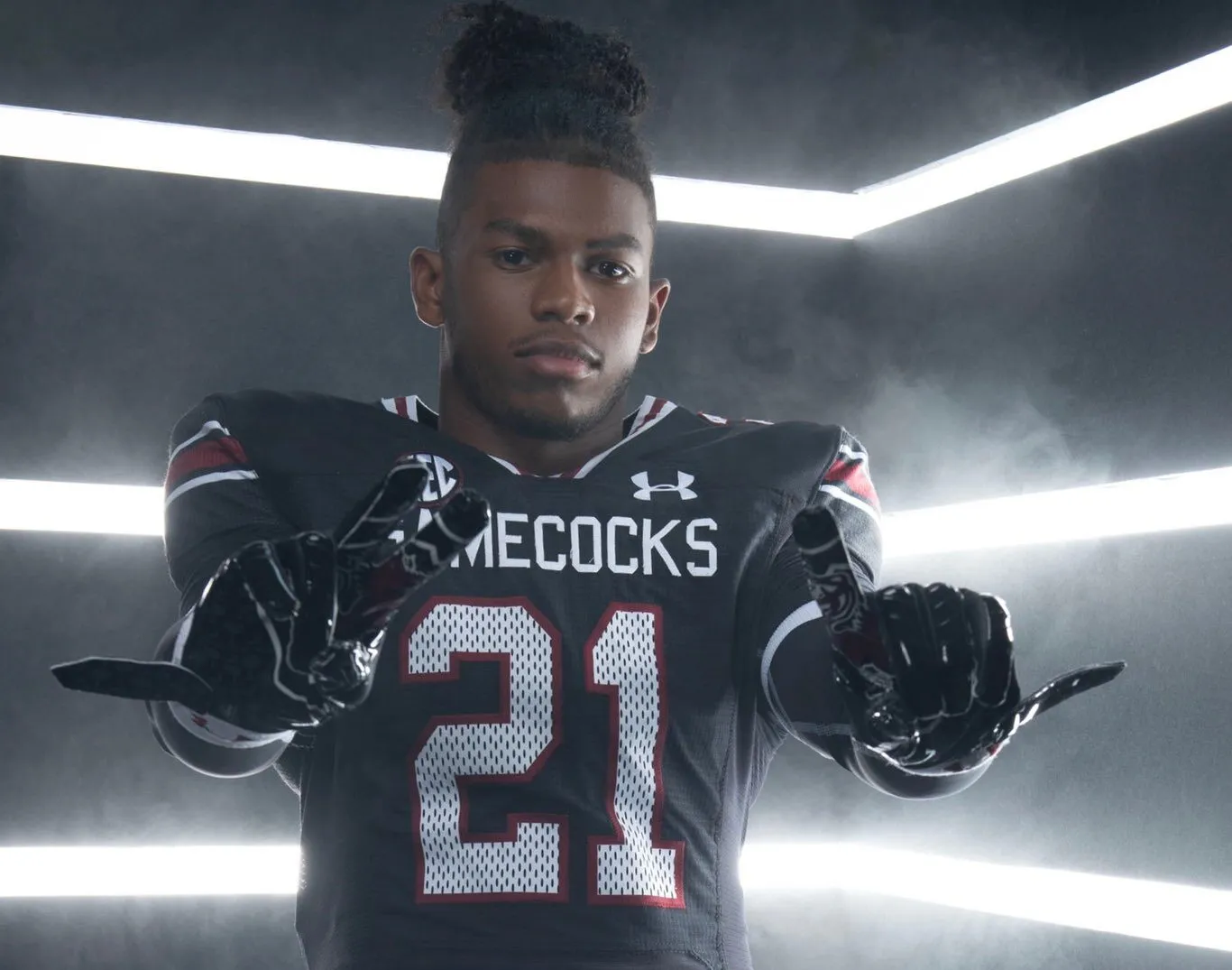 Education and early life
Shilo was raised alongside two siblings in Texas, by their father and mother Pilar Biggers-Sanders; he also has two half siblings from his father's first marriage with Carolyn Chambers.
Shilo began playing football when he was eight years old, wanting to follow in his father's footsteps, but didn't consider going professional until he enrolled at Trinity Christian High School. He helped his school's football team, the Tigers win all their 14 games in the 2018 season, and they also won the TAPPS Division II State Championship.
Shilo matriculated in 2018 and then enrolled at Jackson State University, from which he graduated with a Bachelor's degree in 2022; it's widely believed that he's now going to be pursuing a career as a National Football League (NFL) player.
Love life and relationships
Shilo hasn't spoken about the girls whom he's dated, but he recently uploaded a picture onto his Instagram account which featured him spending time with an attractive girl.
His fans were quick to ask questions about whether the two were romantically linked, and it's believed that this led Shilo to delete the picture in question; most of his fans still believe that he's in a relationship with the girl, that they met at college, and have been together for around half a year now.
There are also some who believe that Shilo's gay, but he hasn't addressed any of these rumors.
Shilo seems to be unattached as of January 2023, hasn't married and doesn't have children.
There's no shortcuts to where I'm going @gamecockfb @UnderArmour pic.twitter.com/xSR5qxYBqC

— Shilo Sanders (@ShiloSanders) July 20, 2020
Interesting facts and hobbies
Shilo enjoys being active on Instagram, and there are nearly half a million people following him on the social media network today, while he's posted exactly 250 pictures and videos, most of which are related to football.
He's today managed by Smac Entertainment.
Shilo's also an entrepreneur, having founded his own company Headache Gang.
He plays football, and works out at the gym on a daily basis.
Shilo's already been to more than 10 US states, and has fallen in love with travelling; his dream travel destination is Paris, France.
Some of his favorite actors are Leonardo DiCaprio, Russell Crowe and Joaquin Phoenix, while some of his favorite films include ""C'mon C'mon", "The Master", and "Her".
Height, eyes and wealth
Shilo's age is 22. His eyes are brown and he has short black hair, he's 6ft (1.82m) tall and weighs about 180lbs (81kgs).
Shilo doesn't have his own independent net worth as of January 2023, while his father's net worth's been estimated at over $45 million.
Who is his father Deion Sanders?
Deion Luwynn Sanders Sr. was born in Fort Myers, Florida USA, on 9 August 1967, so his zodiac sign's Leo. He's today working as the head coach at the University of Colorado Boulder, but is still best known for the 14 seasons which he played in the NFL with five teams, including the Baltimore Ravens and the San Francisco 49ers.
Deion was initially raised in Fort Myers by his parents Mims and Connie Sanders, but who divorced when he was only two years old; his mother married her second husband Willie Knight when Deion was five, and he was then raised by them. He studied at North Fort Myers High School, and has revealed that Willie supported his dreams and was amongst the few people who believed that he would succeed as a Football Player.
Deion played football, basketball and baseball during his high school years, and was named to the Florida High School Association All-Century Team in 1985. He matriculated in the same year and was then picked by the Kansas City Royals in the Major League Baseball (MLB) draft, but Deion instead chose to enroll at Florida State University on a football scholarship.
During his first year at the university, Deion played for their football and baseball teams, and also ran track; he focused solely on football during his sophomore and junior years, and was in 1988 presented with the Jim Thorpe Award. He graduated in the same year.
On 22 June 1988, Deion signed a contract with the New York Yankees of MLB, and continued his part-time baseball career with them until 1991, when he signed with the Atlanta Braves; he then played for the Cincinnati Reds in 1994 and 1995, and again in 1997. He made a brief comeback to baseball in 2001.
Deion launched his football career in 1989, when he was picked by the Atlanta Falcons in the NFL Draft, and stayed with them until 1993. He signed a contract with the San Francisco 49ers in 1994, and remained with them until 9 September 1995, when he signed with the Dallas Cowboys; Deion was released from his contract on 2 June 2000.
Not long after leaving the Cowboys, Deion signed a seven-year $56 million worth contract with the Washington Redskins, but retired after only a year, announcing it in July 2001. He returned to football in 2004, signing a one-year contract with the Baltimore Ravens; he retired again in January 2006.
Deion began working as an NFL analyst following his second retirement, and he then became the head coach at the Prime Prep Academy, which he had founded. In 2015 and 2016, he was the head coach at the Triple A Academy, and the year 2017 saw him work as the offensive co-ordinator at the Trinity Christian High School, which was at that time attended by his sons Shedeur and Shilo. Deion began working at Jackson State University as the head coach of their Jackson State Tigers on 21 September 2020, and most recently, on 3 December 2022, he became the head coach of the Colorado Buffaloes.
Deion was married to his first wife Carolyn Chambers from 1989 to 1998, and to his second wife Pilar Biggers-Sanders from 1999 to 2015. He wasn't happy during his first marriage, and even attempted suicide by driving his car into a 40ft deep chasm.
Deion's also an author, and in 1998 published his autobiography "Power, Money & Sex: How Success Almost Ruined My Life".