• Nathaniel Diggs is the son of Taye Diggs and Idina Mezel, born on 2 September 2009.
• His parents, Taye and Idina, met in 1995 and divorced in 2014.
• Taye is an actor and singer, while Idina is a stage actress and singer.
• His parents have managed to maintain a good relationship for the sake of Nathaniel.
• His father's net worth is estimated at $14 Million.
Who is Nathaniel Diggs?
Walker Nathaniel Diggs is the celebrity son of Taye Diggs and Idina Mezel. Taye is a popular actor, singer and producer, perhaps best known for his roles in "Private Practice and "Murder in the First". Idina is a stage actress, singer and songwriter, probably best recognized for her performance in the Broadway Musical "Rent", and for the soundtrack "Let it Go". Nathaniel Diggs was born under the Zodiac sign Virgo on 2 September 2009, in Newark, New Jersey USA. As of early 2021, Nathaniel is 11 years old.
Nathaniel Bio, Wiki, Parents
Nathaniel rose to prominence as a child of the popular celebrities Taye and Idina, and is currently attending middle school. His parents met in 1995 at the original production of the hit musical "Rent".
They tied the knot on 11 January 2003, and seven years later welcomed son Nathaniel. However, after a decade of marriage, the couple decided to part ways, and in 2013  issued a joint statement to the public; the couple's representatives said: "Idina Menzel and Taye Diggs have jointly decided to separate at this time. Their primary focus and concern is for their son. We ask that you respect their privacy during this time. "
Many die-hard fans were taken aback by the announcement, given that they held the throne as one the most successful and apparently compatible partners. Reportedly the couple separated for a while before announcing the separation, and they quietly filed for the divorce, which was finalized on 3 December 2014.
Neither of them gave any specific reason as to why they divorced after ten years of marriage. However, in an interview, Taye said: "Being so close to someone that they get on your nerves more than you thought anyone ever could [laughs]. I'm talking about my getting on her nerves." Additionally, after the divorce, rumors began circulating about Taye's infidelity that might have caused the end of his marriage. According to Radar Online, before their split, Taye was "acting like a bachelor" and "partying", like he was a single guy, and was caught "getting frisky with a sexy brunette while partying at Emerson nightclub in Hollywood." Taye has never confirmed any of this information on commented on these rumors.
Taye and Medina's co-parenting
Despite the divorce, they have managed to maintain a good relationship for the sake of Nathaniel. In an interview, Idina said that co-parenting with Taye Diggs is "All about putting son Walker first". In his interview with People Magazine, Taye said: "We were friends to start out with, but especially when you have a kid in the mix, there's no time for any negativity."
Who are his parents dating now?
After the divorce, Taye began dating Amanza Smith, the star of the American reality TV series "Selling Sunset". The couple even appeared together in an episode of Netflix's reality show "Selling Sunset". In an interview, Taye disclosed that it was a bit awkward introducing his new girlfriend to his son, saying: "I started seeing someone and it was pretty stressful. They get along really well. I said, how do you like the new lady? And he goes, It's good.
She doesn't use a high voice when she talks to me. She talks to me as an adult." However, they broke up in 2018, allegedly because Smith was focused on her children and pursuing her career. They have remained good friends to date.
On the other hand, Idina Menzel started her relationship with the American singer and actor Aaron Lohr in 2015.  On 23 September 2016 they announced their engagement, and married soon afterwards. They don't have any offspring.
Nathaniel's Net Worth
Given that Nathaniel is still a kid, it's too early to discuss his net worth. On the other hand, his father's net worth is estimated at $14 million, earned through his long career as a Broadway singer, actor and producer. His mother Idina doesn't fall short either – her net worth is estimated at over $10 million.
Personal Life, Physical stats, Social Media Profile
Additionally, it's early to talk about his personal life, considering he is 11 years old. His hair is black, and his eyes too. Further information about his body measurements isn't available. It appears that Nathaniel, at the moment is not using any social media accounts.
Briefly about Taye Diggs
Taye Diggs was born on 2 September 1971 in Newark, New Jersey USA; he made his Broadway debut in the 1994 Tony-award-winning musical "Carousel", and in 1996 appeared in the musical "Rent" opposite his future wife Idina Menzel.  After landing minor roles in TV shows such as "New York Undercover" and "Law and Order", Taye was Adrian Hill in the TV soap opera "Guiding Light", which holds the record for the longest-running show in the history of American television.
He made his movie debut in the same year, starring in the comedy "How Stella Got Her Groove Back", the movie adaptation of the best-selling novel by Terry McMillan. The Role of Winston Shakespeare in the acclaimed comedy earned him the nomination for Acapulco Black Film Festival Award in the category Best Actor. In 2001 he appeared in the popular TV Show "Ally McBeal", followed by his role in the romantic comedy movie "The Brown Sugar", which earned him three nominations from NAACP Image Awards, and Teen Choice Awards.
In 2004 he starred as the main character in the legal drama "Kevil Hill" which ran for one season before it was canceled. The following year, he appeared in the musical drama film "Rent", which earned him a nomination for Broadcast Film Critics Association Award for Best Ensemble Cast.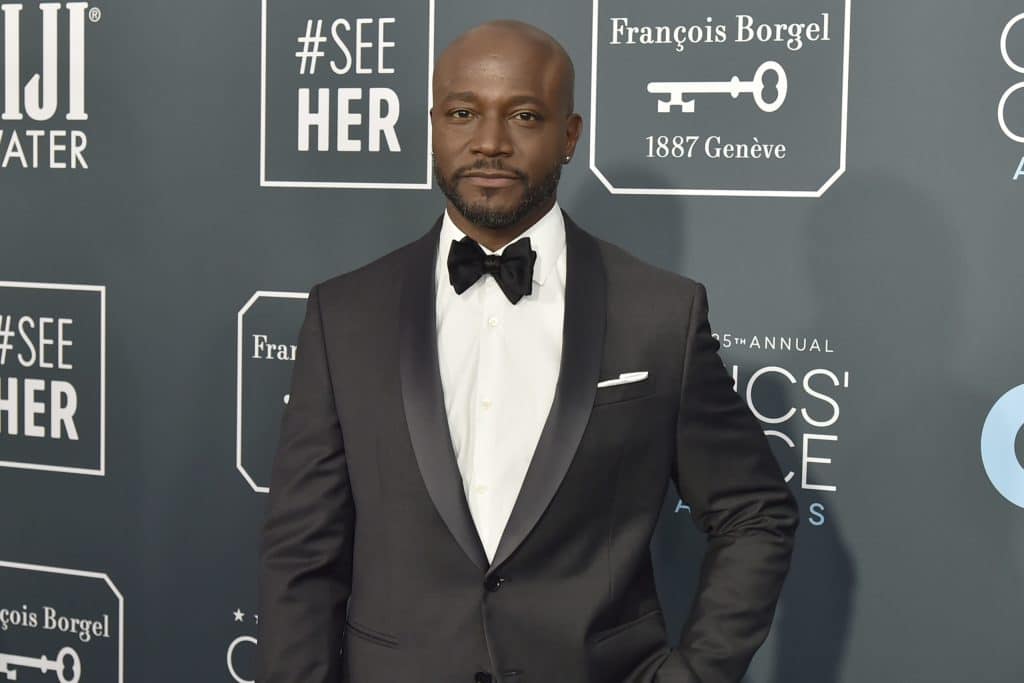 After making a couple of appearances in popular shows such as "Grey's Anatomy" and "Will and Grace", he landed the recurring role of Dr. Sam Bennett in the 2007 medical drama "Private Practice". The show ran for six seasons, and garnered him several nominations as well as the NAACP Image Award for Outstanding Supporting Actor.
His next notable role was in 2014, in the crime drama series "Murder in the First". He portrayed the main character Inspector Terrance English in the show which ran for three seasons. After starring in various TV shows and movies, he landed a recurring role in the musical drama "Empire". He later appeared in the psychological thriller "Till Death Do Us Part", and in "Set it Up". His latest projects include "Celebrities Ghost Stories", "Muppets Now", and "The Best Man: Final Chapter" run as a limited series consisting of ten episodes; the exact date of the premiere remains unknown.
Briefly about Idina Mezel
Idina Menzel was born on 30 May 1971 in Manhattan, New York City. She rose to prominence as a Broadway performer, noted for her powerful voice and belting technique. Idina appeared in the musical "Rent", which earned her a nomination for the Tony Award for Best Featured Actress in a Musical. In 2003 she portrayed Elphaba Thropp in the renowned musical "Wicked", and won the Tony Award for Best Actress in a Musical. Regarding her career as a solo music artist, she has released six studio albums, and the award-winning singer is also known for her portrayal of Shelby Corcoran in the musical-drama series "Glee".
In 2013 she voiced Elsa in Disney's "Frozen"; she also sang the Oscar- and Grammy-winning song "Let it Go", which reached number five on the Billboard Hot 100 Charts. Additionally, the movie grossed an astonishing $1.28 billion, becoming the fifth highest-grossing movie of all time. In 2019 Idina voiced Elsa in the sequel "Frozen II", which grossed $1.45 billion, becoming the third highest-grossing movie of all times.
In November 2019, Idina received a star on the Hollywood Walk of Fame. Regarding her latest projects, she will star in the movie adaptation of "Cinderella", which will premiere on 16 July 2021, and "American Murderer", the true-crime drama.
In addition to her packed career as an actress and singer, she has launched a web series on YouTube entitled "Idina's Tree House", featuring Idina in her treehouse, originally built for her son Nathaniel, in which she sings and tells stories.