American reality-television star and YouTuber Amy Slaton gave hope to many morbidly obese individuals, as she successfully lost the required number of pounds to get the much-needed bariatric surgery, and fulfill her longtime dream of getting pregnant. After giving birth, it was revealed in her reality-TV show, "1000-lb Sisters," that Amy lost a huge amount of weight that led her to confidently post her bikini shots on her Instagram account.
Early Life and Family
Amy Slaton was born on 28 October 1985, in Dixon, Kentucky. She along with her four siblings was raised by a single mom, Darlene Slaton, who worked multiple jobs just to support her children, as their father has been out of the picture since early in their lives. Her mother married again in 2013 to local firefighter and bus driver Frank Rednour, who became their stepfather.
Even as a kid, Amy was on the heavy side, and was bullied growing up, particularly in school. She's pretty close to her sister Tammy and they both have a strained relationship with their mother. Due to their weight, other members of their family including their mother would often make disparaging remarks about them, such as calling them 'lazy, fat, stupid, ugly girls.' It was only her grandmother who made an effort to care for them, and so Amy knew early on that they only have each other to depend on for the rest of their lives. Her unhealthy relationship with food got even worse when her grandmother died when she was 11 years old. Amy found comfort by eating a huge amount of food to alleviate whatever longing she had for her grandmother.
She graduated from Union High School, where she met Michel Halterman with whom she entered into a long-term relationship.
They eventually married in Nashville, Tennessee on 15 March 2019. Her husband, who works as a mill operator, accepted that marrying Amy would mean taking care of her sister Tammy as well.
As a YouTube Vlogger
Before Amy became part of a reality-TV show, she first found fame as a YouTube vlogger. She joined the video-sharing platform on 11 January 2011, and made her videos accessible to the public. Her first uploaded video lasted for a little over 30 seconds, showing Tammy with Amy narrating in the background. She gave her sister a makeover, explaining the make-up she used. Amy said that she started her vlogging because of boredom – most of her videos were about make-up tutorials, knick-knack collections, and movie and food reviews.
They all attracted only a mediocre number of views, until she uploaded the "Chubby Bunny Challenge" video in 2014. Both the Slaton sisters took part in the silly online challenge, which involved placing a marshmallow inside the mouth and uttering the words 'Chubby Bunny'. It would be repeated over and over until the mouth was filled with marshmallows. The one who could fill the mouth with more marshmallows and clearly say 'chubby bunny' would be declared the winner. It was one of the funniest challenges online, but also one of the most dangerous. The video became viral with over a million views at that time, and got them noticed by the TLC network – it was rumored that a viewer recommended them to the network. As of this writing, the video has been viewed close to 2.5 million times.
However, it wasn't the most-watched video on her channel. In 2016, Amy uploaded a video called "The Power of Make-up" which gained over 7.6 million views.
The video showed Amy putting make-up on one side of her face while leaving the other side untouched. She wanted to show the difference, but said that she's proud of her face with or without make-up. Her channel has now close to 500,000 subscribers.
Her weight-loss journey as documented on "1000-lb Sisters"
The TLC Network, home to weight-loss reality-TV shows, "My 600-lb Life," and "My Big Fat Fabulous Life," offered her and Tammy an opportunity to star in their own TV show. It was aptly entitled "1000-lb Sisters", as it depicted the combined weight of the two Slaton sisters. At the start of the show, Amy weighed around 405lbs and Tammy over 600lbs. The TV crew of Crazy Legs Productions followed the sisters in their everyday life, as they both entered a weight-loss program to eventually get bariatric surgery. The show premiered on 1 January 2020, and has since been one of the most-watched weight loss series on cable TV.
Amy's main goal
While being on reality television could mean getting paid big bucks, it's not Amy's main goal. She said agreed to headline her own show, because she and her husband Michael wanted to have their own children. Due to her excessive weight, Amy couldn't become pregnant, and since she's already in her 30's, she wanted a chance to have children before it became even harder to conceive. Tammy, on the other hand, was in danger of becoming bedridden if she didn't lose weight as she already couldn't walk without the help of a walker. Her sister also has bigger medical issues such as blot clots, pneumonia, which led to her once being placed on life support. They decided to encourage and help each other reach their goals.
Unsupportive mother with the weight-loss plans
Whether it was to add drama to the show or for real, fans felt bad for Amy and Tammy when their mother, Darlene, was quite skeptical about their plans to lose weight.
The two were naturally disheartened, even if Amy said that she wasn't surprised by her mother's attitude. Although Darlene has heard it all before and nothing happened, it wouldn't hurt to show that she would be supportive of their decision to become healthier and fit.
Start of Amy's weight-loss journey
Since her sister couldn't travel as easily as she could, they had an online consultation with Dr. Charles Proctor, a known bariatric surgeon in Atlanta, who's an expert in dealing with morbidly obese individuals. Dr. Charles had been trained personally by his father, who was one of the best medical practitioners in the field. He came highly recommended, as he gained a fan base due to his dedication to helping his patients through the reality-TV show called "Family by the Ton."
During the online consultation, the good doctor advised them to undertake the surgery as soon as possible.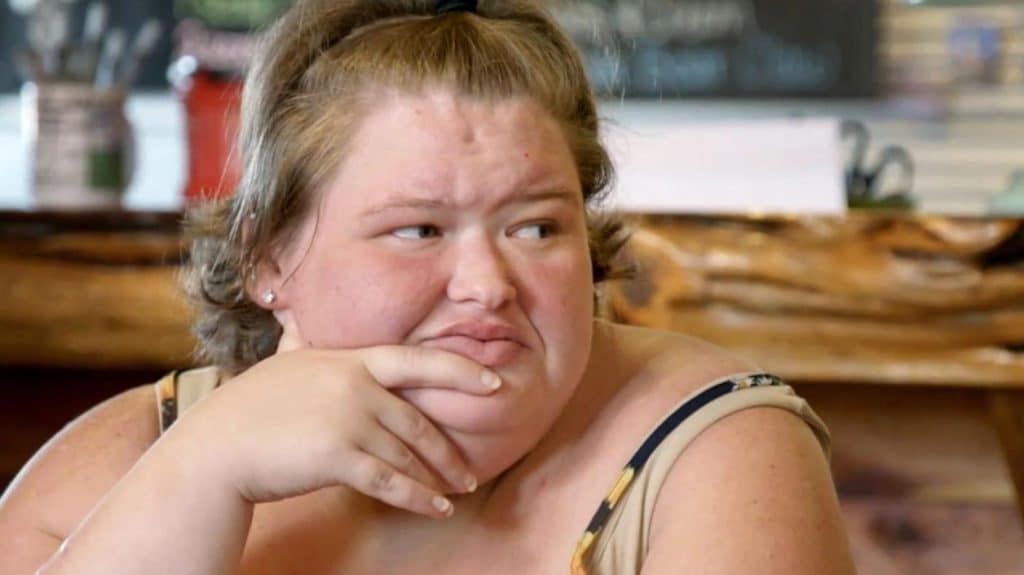 Their excessive weight would take a toll on their everyday mobility. and if left unchecked, would lead to a total loss of independence. Tammy was dangerously near the bedridden stage, and was already dependent on her sister even in doing mundane things such as taking a bath. Amy was a couple of hundred pounds lighter than her sister, but if she wanted to conceive, she also needed to lose weight, and was in danger of following in her older sister's footsteps if she didn't change her lifestyle soon.
Face-to-face medical consultation
The face-to-face consultation in Atlanta gave the doctor a clearer picture of how to go about the sisters' weight-loss program. The sisters were physically checked and given a list of things to do to qualify for bariatric surgery. Apparently, not all who seek the weight-loss procedure can get it until the individual passed the requirements, one of which was to lose a certain amount of weight.
Aside from the fact that it's a risky procedure, it's also a way to confirm if the patient is serious about losing weight.
Slaton sisters fought when on diet
Amy and Tammy went on a diet so they would subsequently be cleared for surgery. Since eating food was the sisters' main source of happiness in life, not consuming their usual amount of food took a toll on their mental and emotional health. They fought a lot during that time, even arguing about the most trivial things. It was a good that they remained close, and their genuine love for each other helped them in facing their demons, along with their humor.
Amy and Michael Wedding Ceremony
Both Amy and Michael knew the risks of having surgery, and felt that there was a chance that she won't survive it. The couple decided to have a real wedding ceremony with her in a wedding dress and him in a tuxedo, exchanging vows and witnessed by their loved ones.
Unfortunately, her mother didn't show up but Amy said that there's a whole lot of love coming from some of her relatives and Michael's family. Tammy prepared herself for the ceremony and pushed through the pain of walking down the aisle to the altar so that Amy could have the best day of her life – Amy said it was magical.
She had bariatric/gastric bypass surgery
The first season of "1000-lb Sisters" ended with only Amy qualifying for the life-changing gastric by-pass procedure; Tammy was envious and frustrated, but happy for her sister. The surgery was successful, but after a week, Dr. Charles was annoyed because Amy veered away from her post-op bariatric diet – she wasn't supposed to eat solid food because it could affect her recovery, since her wounds hadn't healed yet. The doctor said that the suture line could rupture and could lead to her death if she wasn't careful.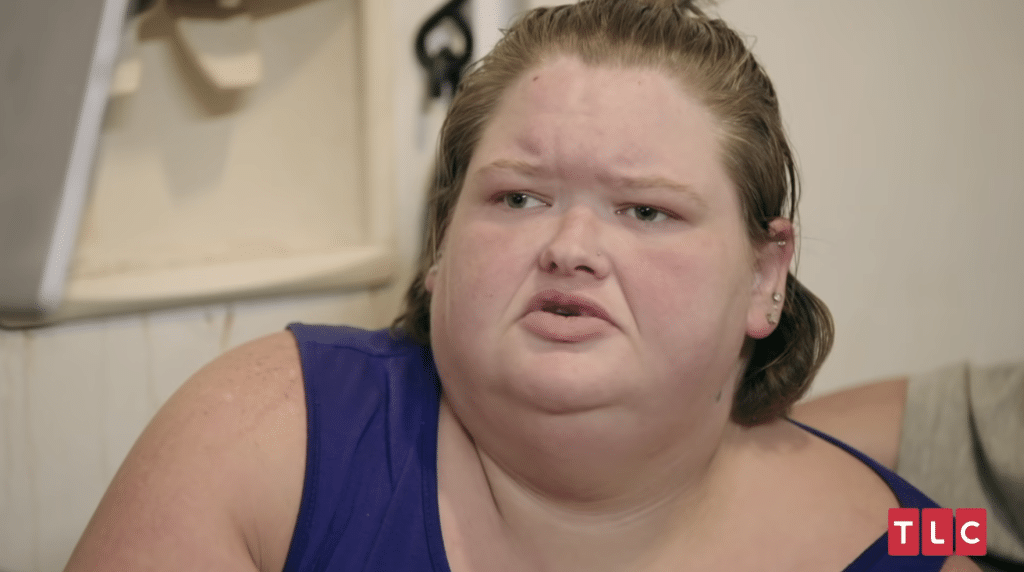 After that scare, Amy followed the doctor's orders to avoid any health issues. Weeks later, she invited her friends and family for her weight-loss reveal. She announced that she lost around 100 pounds as she started the journey with 406lbs and she was down to 306lbs after the surgery. Her mother was there and Darlene told her that she was proud of her, and that she looked like Amy's grandmother. Amy knew she still had a long way to go but was happy with where's she's at.
What happened to Amy after losing weight?
The second season of her TV show showed Amy's life after her surgical procedure, having changed in so many ways as she started doing things she wasn't able to do in the past.
Amy fulfilled her lifelong dream, she got pregnant
Losing weight gave Amy the chance to make her dream come true.
They went to see Dr. Cindy Basinski, an obstetrician-gynecologist, to check their chances of becoming pregnant – the doctor said that when Amy lost the extra pounds, the estrogen levels in her body increased, asking Amy and Michael to return after six months so they could start planning for it. However, months later, when Amy needed to go to the ER for another health issue, the ER doctor who examined her said that she was pregnant. Imagine their surprise, as the couple wasn't trying to get pregnant since it was barely four months since her surgery, although she now weighed 276 pounds. They were all quite happy, but also worried since it might endanger her life once again.
The high-risk pregnancy
Dr. Charles was concerned about her situation, but assured her that although it was a high-risk pregnancy, everything would work out for her as long as she followed his advice along with her obstetrician-gynecologist (OB-GYNE).
It was easier said than done and even as she promised to be obedient, she still made some mistakes. One of them was giving in to her food craving when she was in her seventh month, eating lots of Chinese food for breakfast, which saw her admitted to the ER. During her online consultation with Dr. Charles, the doctor was worried that Amy might have been using her condition so she could eat everything she wanted. Fortunately, when he had her check her weight on the scale, it was 290.8lbs. It wasn't that far from the 288lbs weight she had when she had a face-to-face consultation in Atlanta. The doctor was happy that her weight gain was reasonable, and her OB-GYNE said that most of it was because the baby was gaining weight.
Amy gave birth to a baby boy
Amy and Michael had their baby boy, Gage, in November 2020. She refers to him as her 'miracle baby' as she defied the odds just to have him in her life.
The baby was in the breech position so her OBGYNE decided to do a C-section on her; when the baby came out, his sugar was lower than normal at 24, so the doctor gave him some formula to increase it to 50. After running many tests to address all his health concerns, he was presented to Amy and placed in her arms. She said that all the pain that she felt and was still feeling at that time was all worth it. She still couldn't believe that she has her own baby. The couple was ecstatic that Gage need not spend more time in the Newborn Intensive Care Unit (NICU), as the doctors declared that the baby was healthy enough to be brought home.
More videos about Gage on her YouTube channel
Amy never stopped vlogging and fans could easily follow recent events in her life, even after the season's finale of her TV show was aired on TLC.
Instead of make-up tutorials or product reviews, most of her recent uploaded videos were focused on her new baby. She enjoys her motherhood to the fullest and documents all the first experiences with Gage, including the first time holding her son, his first use of the spoon, his first time in the park, and his first family trip.
The "1000-lbs Sisters" new season
Amy ended the second season of her reality-TV show, "1000-lbs Sisters," weighing 270lbs with almost half of her former weight gone. Initially, some of the fans thought the show was canceled, and drew-up a petition for the show to be renewed for additional seasons. They were somehow appeased when there were several sightings of the sisters being filmed, especially Tammy who was seen going to the hospital with her brother, Chris. The TLC network responded that the fans needed to be patient, as it usually takes many months to a year to film and edit a season. The pandemic due to the Covid-19 virus also made it difficult, as the TV crew needed to follow health protocols while filming. Fans could expect new episodes to be available either in January or March of 2022.