• "The Incredible Dr. Pol" is a reality-television series on the National Geographic Channel about veterinary care, which has been running for 11 seasons
• Dr. Erin was introduced as a veterinarian in the 10th season, but was never seen again after one episode
• Dr. Erin worked on a variety of animal cases, including a chicken with a swollen foot, a horse with colic, a bull castration, and a puppy's shots
• Rumors suggest she left the show due to her disagreement with Dr. Pol or due to the clinic's overwork and underpayment of its staff
• The show has been met with controversy due to Dr. Pol's alleged negligence and incompetence with his veterinary care
Healing and caring for animals as the primary focus of the reality-television series entitled "The Incredible Dr. Pol", made it one of the most-watched veterinary shows in the US. When the National Geographic Channel production crew included Dr. Erin in the series, devoted fans became excited since they get to see how an intern survives a busy veterinary clinic. She was off to a great start, but after taking on a few cases, she was never seen again in the show.
"The Incredible Dr. Pol," 11 seasons and counting
"The Incredible Dr. Pol" has been on air since 2011, entertaining animal-lovers via the Nat Geo Wild cable channel, with two seasons released each year The reality show revolves around the 14-hour day working life of veterinarian Dr. Jan Pol, as he treats small animals in his veterinary clinic, or makes house calls for the large farm animals in barns around the State of Michigan.
Aside from Dr. Pol, the reality show started with mainstays Diane Pol, Charles Pol, Brenda Grettenberger, and Dale Lehnert. Diane is his wife of more than 50 years, and Charles is his son who also serves as the TV series producer. Licensed veterinarian Dr. Brenda helps Dr. Pol in caring for the animals, and Dale, a dairy farmer/owner, has been a regular client of the clinic.
Dr. Pol brought around 45 years of experience to the series, handling almost all types of farm animals, including but not limited to cows, pigs, horses and goats; he even had experience in treating reindeer. Eventually, he also included small animals in his services, such as dogs, cats, birds, and lizards. Over the years, additional veterinarians were added as well as other dairy farmers. This 2021, the show will air its 19th season, since the producers promised non-stop action, as Dr. Pol and his vet team handle many rare cases.
Dr. Erin and her many firsts on her one-episode experience
During the airing of the tenth episode entitled "Beginner's Yuck," in Season 10 of the "The Incredible Dr. Pol" in 2017, Dr. Erin was introduced as the newest veterinarian at the clinic. Diane, who works as the clinic manager, said that things weren't slowing down, with more animals being brought to their attention. The extra hands that they needed came from Dr. Erin, who was just out of college. Dr. Pol said that it would be a huge deal for the rookie veterinarian, as she would gain hands-on experience tackling a variety of animals in the clinic. Here are cases she handled during her time in the reality show:
Swollen Chicken Foot with Dr. Pol
Dr. Erin, after she was shown what was expected of her, was immediately asked by Dr. Pol to assist in dealing with a chicken with swollen toes – it was her first time treating an infected chicken foot, which was filled with fluid that needed to be removed.
Dr. Pol made sure that she was part of the whole process; she assisted in removing the pus, and ministering antibiotics to the chicken.
Horse with Colic
Her next assignment was to assist senior Staff Veterinarian Dr. Emily Thomas, in trying to save a horse at a local hobby farm in Isabella County, in Central Lower Michigan. In a span of few months, the condition of a 12-year-old horse had dramatically declined, and it didn't want to consume anything. It seemed that the gelding had become lethargic, and when the two doctors arrived at the farm, they saw a very uncomfortable animal. Examination showed that the horse had an inflamed left colon, and a slight toxic line which indicated a lethal condition called colic. Dr. Erin inserted tubing through the nostril of the animal to remove the contents of the stomach, and Dr. Emily inserted a needle into the gelding's belly to somehow ease his discomfort, but all that they got was pus flowing out.
The final verdict was that it seemed that they were called in too late, and the intestine might have ruptured. The owners were given two choices, antibiotics to slow down the effects, or euthanasia.  The owners weren't ready to say goodbye, so the doctors gave the horse antibiotics, and hoped for the best. They left the farm with a heavy heart, with Dr. Erin saying that it was one of those cases in which one hoped that their diagnosis was wrong.
Bull castration in a cattle farm
Dr. Erin was happy that she was given a chance to accompany Dr. Pol on one of his farm calls. A cattle owner said that two of his young calves continually tried to escape, and wanted the two castrated. The no-nonsense veterinarian assisted by Dr. Erin performed the task by using a tool called Burdizzo, demonstrating its use, since she wasn't familiar with the tool and the process.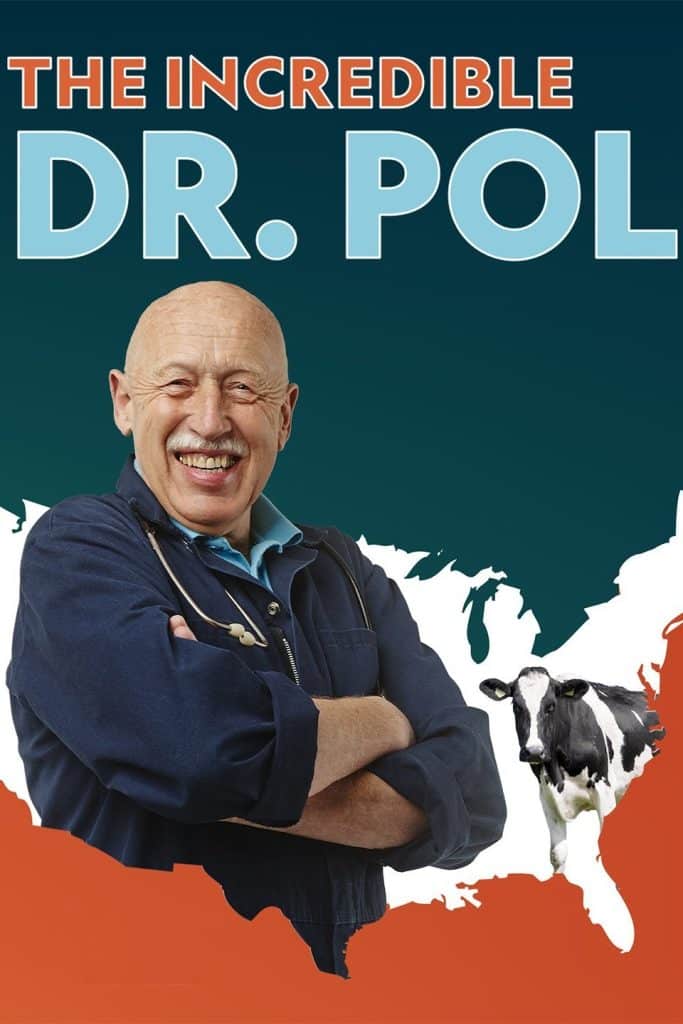 Emergency farm call
The clinic received an emergency call from a farm in a nearby town, as one of its cows had a twisted stomach. Dr. Emily took Dr. Erin to the farm to experience her first displaced abomasum (LDA) treatment. During Dr. Emily's first season with "The Incredible Dr. Pol," she also had her first flip and stitch procedure with the guidance of Dr. Pol – Dr. Erin had already performed the same task but in a surgical room, but not in a barn. An LDA in a cow means that the fourth compartment of the cow's stomach was filled with air and floats to the top, which causes discomfort to the animal. Dr. Erin followed Dr. Emily's instruction, but they had a hard time sedating the cow as the animal was fighting it off, but once they accomplished that, Dr. Erin did the second stitch on the cow's stomach to help remove the accumulated air inside it, and received praise from Dr. Emily.
First Solo Case
Having proven that she could tackle animal problems with success, Dr. Erin was given the chance to attend cases on her own. Her first solo case was giving a puppy her shots, and it went well. The puppy's owner said that her dog liked Dr. Erin because the furball didn't cry at all during the injection. Dr. Erin shared that it was a great first solo experience, and she's hoping that everything will turn out fine in her future cases.
What happed to Dr. Erin after her first and last episode?
Fans of the show were surprised that after that one episode, Dr. Erin was never seen again on the show. She looked happy to be part of it, and said that she was grateful to have learned so much from doing mundane even things such as cleaning horse sheaths, which was never taught in vet schools, to life-saving techniques from the senior veterinarians. Many theories were thrown in, and people said that it was probably because she wasn't really cut out for reality television.
However, her attitude during interviews and dealing with animals was good, which contradicted that assumption; most of the veterinarians in the clinic had good words for her. A rumor started circulating in social media that Dr. Erin had a falling out with the main star of the show, Dr. Pol, that they'd had a disagreement which nobody talked about, so people were wondering if it was more than that. Nobody addressed the rumor, and no official statement was released about Dr. Erin by the producers of "The Incredible Dr. Pol."
In 2019, Dr. Emily left the clinic, and the reason she gave surprised many people. She said the stress of having too much work got to her, especially since she has three small children to take care of at home. She further said, 'Vets coming and leaving just as fast, leaving the on-call duties spread between mostly two to three of us with no extra compensation.'
According to some fans, this revelation might help in understanding why Dr. Erin left. New veterinarians saw already how overworked people in the clinic were, and since they allegedly weren't paid enough, they probably felt that it wasn't worth it.
Some fans theorized that Dr. Pol's controversial techniques and allegedly unsafe standards during procedures could also be the reason why Dr. Erin immediately left the show. No one knows where Dr. Erin is right now, as no one even knew her full name, and if she has any social media presence.
Controversies and Legal Issues on the show
Dr. Pol is an old-school veterinarian from the Netherlands, and the way he ran his clinic along with the way he performed as a doctor raised many concerns from other veterinarians. Since the premiere of his reality show, he's been accused of negligence and incompetence.
Check out the latest arrivals from camo caps to seasonal candles, and more!
👇 https://t.co/1PFiohyZnr

— Dr. Pol (@DrPol) September 5, 2021
Some veterinarians even called his show "The Incompetent Dr. Pol," as they were disgusted that he was using outdated methods, and didn't even practice minimum standards of veterinary care, including using a surgical cap, gloves, mask and gown during procedures.
Several cases have been filed against Dr. Pol since 2013 – he's won some and lost some in the appeals court. In 2020, the Michigan Court of Appeals ruled against him regarding a case on professional probation for negligence, when he performed surgery on a dog and when he treated a wounded horse. Dr. Pol will continue to challenge the Department of Licensing and Regulatory Affairs decisions 'until a fair and rational process is used for review of veterinary care.' The Nat Geo Wild will continue to produce and air new episodes of "The Incredible Dr. Pol", until prohibited by law, or if the viewership decreases significantly.