• Louisiana is more than beautiful natural scenery and vivacious cities • it also hosts one of the most looked-after alligator hunting seasons
• Elizabeth Choate is a cast member who is known for her hunting expertise and straightforward personality
• Elizabeth was fired from the show in 2015, but rejoined in 2021
• She is an entrepreneur and has an online shop, cookbook, and seasoning brand for 'gator meat
• The show has been on air for over a decade and ratings have always been high, suggesting that it will likely be renewed for another season
Louisiana is definitely more than you might imagine. Besides having beautiful natural scenery and vivacious cities, it also hosts one of the most looked-after alligator hunting seasons, which occurs only once a year, and is a significanr source of income for people courageous enough to become involved with it.
The fact that this centuries-old practice has become a business and a tradition attracts the interest of many people, but it's obviously not something everyone can do. This is when "Swamp People" comes in handy, letting us see in detail the lives of the 'gator hunters of the Atchafalaya River Basin, and the many risks they take in order to put food on their tables through such a dangerous occupation.
When it comes to Elizabeth Choate, her hunting expertise and straightforward personality truly made her stand out from her fellow cast members. That's why it was shocking, to say the least, when she suddenly stopped appearing in the show in 2015.
Riding the waves into the weekend 🌊 #SwampPeople pic.twitter.com/mZTfRDkL6d

— Swamp People (@SwampPeople) July 30, 2021
So what happened to her? Why did she leave the "Swamp People" and is she likely to return? Keep with us to find out!
What's Up With Her?
If you have been loyally watching "Swamp People" from the start, then you were probably flabbergasted to tune in to the show's seventh season, only to find out that Elizabeth Choate was nowhere to be seen.
Although she wasn't the only cast member who at some point exited the show, her disappearance from it was very noticeable. Whether it was for her personality or the fact she was one of the few lead female cast members, Elizabeth was greatly missed by a big part of the audience, who had obviously started to care about her over the years.
So before you worry about her well-being, we have some good news. Not only is Elizabeth doing quite well nowadays, but she rejoined "Swamp People" in 2021.
It's not exactly clear what motivated "Swamp People"s production staff to offer Elizabeth a place in it after being away from TV for six years, though. While it could be assumed the audience requested her and some other cast members' return to the show, it could be compensation from the network's side for having fired them years before. Whatever it is, at least fans could be happy to see the 'Gator Queen back in action.
Why Did She Leave The Show?
Although back in the day Elizabeth Choate's exit from "Swamp People" was hugely commented on social media, it's normal that many viewers still don't know what actually occurred.
While there's a wide variety of things that could lead to a reality star's firing from or simply leaving a show, it seems that in Elizabeth's case, her exit was more related to an executive decision than motivated by her own actions.
It's unclear why she and a couple of cast members were specifically chosen to leave the show in 2015, but it's widely acknowledged that back then, "Swamp People" was going through radical changes in its management staff, contracting producers who considered that saying goodbye to several cast members was the right choice.
Apparently, Elizabeth was only informed that she was out of "Swamp People", and that was it. Knowing that she couldn't just stop appearing in the series without giving her followers an explanation, she posted the news on Facebook, while apologizing to the fans who, in her words, were to 'suffer the most' due it, also stating that she wished to stay in contact with her followers even despite of her cut-short career on TV.
Why Was Her Exit Dramatic?
While the whole situation surrounding Elizabeth Choate's exit from "Swamp People" was unclear and sudden to say the least, no one really expected it to entail some drama, though that was exactly what happened at the end.
As Elizabeth affirmed, the new additions to the show's production apparently told her to delete her initial post regarding her firing from "Swamp People". Not taking the order too kindly, Elizabeth publicly said 'no' to the network's demands and even told them to 'kiss her behind', affirming that she wasn't going to be censored for 'wearing her heart on her sleeve'.
Unsurprisingly, History channel was at the receiving end of the rage awakened by her words. Soon enough, her husband Justin, who was also fired from the show, gave his two cents on the matter by stating he felt that having informed their fans about the whole situation was the right thing to do, even regardless of the network's and production company's insistence on deleting their posts.
Eventually the whole situation calmed down, and Elizabeth never acquiesced to the show's staff censorship demands, but it was an occurrence that more or less let us see that things off-camera can become more dramatic than on-screen.
Was Elizabeth Sick?
In mid-2020, Elizabeth Choate posted an interesting text on her Facebook that took the attention of her fans, though not necessarily for a good reason. As she informed her fans, back in late 2019, Elizabeth and some members of her family went through a health situation that didn't make sense to them, due to how apparently 'unusual' the symptoms were. After initially thinking she had the flu but testing negative for it, Elizabeth was eventually diagnosed with a sinus infection.
However, months later she started suspecting that the incident hadn't been a simple infection, leading her to ask for her fans' opinions on the matter with the phrase 'is it possible?' Although she didn't straight out say it, everyone on the comments section assumed she was referring to COVID-19, especially considering that at the time of her posting, Louisiana had recently entered lockdown for the pandemic spread.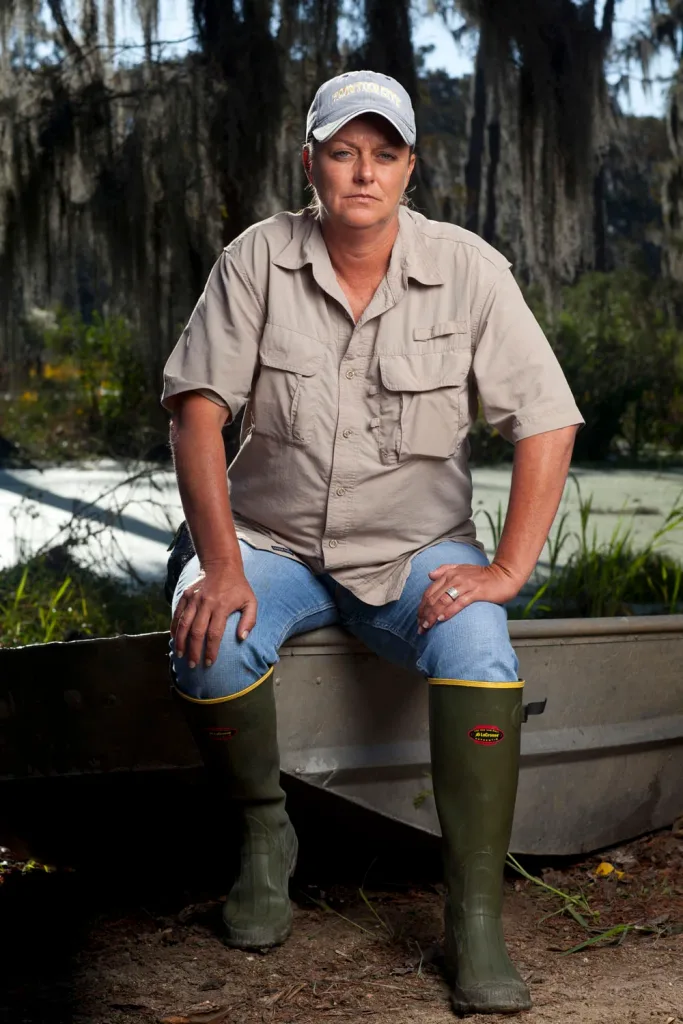 As expected, news about her being diagnosed with COVID-19 spread like wildfire, though it seems that at the end Elizabeth's conjectures weren't on-spot. Facebook eventually verified her post and marked it as 'fake', meaning that it could have been impossible for her to have been infected with the virus so early.
Who Is Elizabeth Choate?
As usually happens with "Swamp People" cast, the life stories behind each hunter are like nothing you could find elsewhere. when it comes to Elizabeth Choate it's no different. Although she comes from a family with a tradition of 'gator hunting, she wasn't allowed by her parents to go to the swamps on her own. As Elizabeth retells it herself, her mother Ella's role in the practice was that of preparing the 'gator meat while it was her father C.J who went out on the hunt.
However, never a child to stay put doing what she was told, a very young Elizabeth wasn't afraid of getting too close to the wild swamp animals.
In fact, at some point she even sneakily adopted a seven-foot long 'gator she nicknamed Charlie Pie, which she would feed with her father's reserve of bread and crackers everytime she was in the camp.
The seemingly candid occurrence was impressive and unusual for almost everyone else, but it ended when her father discovered Charlie Pie. Naturally, Elizabeth cried for days after her beloved wild pet ended up lifeless in her father's boat, but she admittedly learned that 'gators were not animals for fun and leisure. Anyway, that was only the start for what would become Elizabeth's long-time passion for hunting.
Career On TV
Regardless of how diverse gator hunters might seem, the truth is that there are not many women who are into it. That's why it's unsurprising that "Swamp People"s production wanted Elizabeth to join the show in the second season.
As Troy Landry's long-time friend, it was only natural for Elizabeth to join his team as a replacement for Clint Landry. However, she soon caught the audience's attention for her hunting expertise and straightforward demeanor, gaining a recurrent spot in the series for the following seasons, and with her own team. At first she partnered Kristi Broussard for two seasons, though later on her own daughter Jessica and husband Justin joined her team as well.
In her return to "Swamp People" in 2021, Elizabeth teamed up for the first time with Destin, her step-son who, judging by his social media pics, is also very much into hunting and fishing.
What Happened To Her Daughter?
If you ever watched the 'Gator Queen in action on TV, it's impossible that you don't remember her daughter Jessica, who accompanied her mother for a long while during the earliest seasons of "Swamp People".
While Jessica always appeared to be a sweet child in the show, she was proud to follow her mother's steps in the hunting camp, though life for Jessica wasn't as simple, following her exit from the show.
For starters, in late 2015 Jessica welcomed her first daughter Ellie. As she was only a teen at the time, she received huge support from her mother Elizabeth, who was more than happy to share the news of her then newly-acquired grandmotherhood with her Facebook followers.
However, later in 2016, Elizabeth informed her fans that Jessica had been struggling for a while with substance abuse. The unfortunate news came as a surprise to everyone, but the support to Elizabeth and her family during that difficult time was quick to come.
While Elizabeth hasn't updated her followers on the subject since then, Jessica is apparently doing well nowadays.
On her personal Facebook account, Jessica has shared that she still lives in Pierre Part, and is a very dedicated young mother.
What Are Elizabeth's Businesses?
Even if hunting gators is one of Elizabeth's biggest passions, don't ever assume that's the only thing she does. As it happens, she is pretty much an entrepreneur in other fields that aren't necessarily related to swamp's beasts.
The fame she obtained through "Swamp People" has served her well. Besides having over 300,000 followers on Facebook, she also has an online shop which showcases merchandise for fan, including shirts, stickers, visors and even autographed pics for sale. However, out of all the articles listed, her cooking products are the most curious ones.
Not surprisingly, Elizabeth's expertise in wild swamp animals-related things has led her to write a cookbook, and release a seasoning brand for 'gator meat.
Though we don't know how commercially successful those products are nation-wide, it seems that they sell well in her native Louisiana.
As if that wasn't enough, Elizabeth has also expressed her desire to found a Pecan Island-based restaurant specialized in 'gator meat, though we're not sure if said project ever saw the light. Nowadays, when she's not in the swamp, she spends her free time crafting decorative bird houses and wreaths for sale.
Net Worth
It's not easy to know how much a reality TV star actually earns, especially considering there's always a lot of speculation surrounding these topics.
It's no different when it comes to "Swamp People" – it's been reported that while some of its cast members earn as much as $25,000 per episode, that number could be considerably lower for less regular cast members, or who aren't so popular.
It's also unknown if Elizabeth ever got to gain that much in the years she appeared in the show.
Considering that, we can estimate Elizabeth Choate's net worth at over $500,000, resulting not only from her career on TV, but from her entrepreneurship endeavors and 'gator meat and leather-selling business.
Is The Show Still On Air?
Reality shows come and go quite frequently. Time on TV for series of this genre are more often than not relatively short-lived, due to low audience ratings, problems with the production, or even personal issues that the show's stars might be facing.
Regardless of the sad destiny that other shows have encountered, "Swamp People" has maintained stability on TV for over a decade.
Although the show is notably lacking on the drama side, apart from the obvious, its viewers are very invested into the whole gator-hunting thing. Maybe it's because of the adrenaline or for how entertaining it apparently is to see people risking their life for money. Whatever it is, it's surely good enough to have kept people's interest for so long.
As it happens, in 2021 the show's 16th season premiered on History channel, including the return to TV of not only Elizabeth Choate, but also of Junior Edwards, who was fired back in 2015 when "Swamp People"s sixth season ended.
These additions, along with the fact that ratings for the show have always been high, assure us that the series will most likely be renewed for another season, though when that will happen is still unclear. Will Elizabeth be in it for the next season though? Only time will tell.