• Fans of "American Pickers" have been worried about Frank Fritz, one of the lead pickers, who mysteriously wasn't present for the show's 22nd season in 2021
• It is speculated that Frank's absence could be due to his health condition, Crohn's disease
• Frank had a lawsuit filed against him by his ex-fiancee, Diann Bankson, in January 2020 for negligence, which was later withdrawn
• Frank and his ex-fiancee previously bought a house in Iowa which was sold in 2021
• Frank also had a lawsuit filed against him in 2016 by a contractor who he allegedly didn't pay in full
• Frank has an estimated net worth of $6 million, with most of it coming from his business and TV career
If you watch a show too often, it's normal for you start caring about the cast and their life off camera as well, especially in the case of a series which has been on air for 10 years, such as the case of "American Pickers".
While there doesn't seem to be anything wrong with the show in terms of a possible cancellation or any budget cuts, its fans are notably worried about Frank Fritz, one of the lead pickers, who mysteriously wasn't present for the show's 22nd season, aired in early 2021.
So what happened to Frank? Is he okay or does he have difficulties in his personal life? Does he have any health issues which could have caused his absence from TV? This and more we will answer in this vid!
What's Up With Frank Fritz?
"American Pickers" has been pretty much stable throughout the decade it has been on air, added to the fact its popularity has been high ever since its premiere.
Knowing the show is so successful, it's surprising that no one, not History channel nor the show's production companies, have publicly explained why such an important member of the cast as Frank Fritz, is missing from the 22nd season which premiered in June 2021.
The whole situation added to the lack of communication from the network obviously doesn't look very promising, which is the reason show's fans have been inquiring "American Pickers" social media accounts to no end, about Frank's wellbeing, but receiving no answers.
However, Frank's co-star Mike Wolfe admitted during a show's episode that Frank was undergoing surgery, though exactly what caused the need for an operation was left unanswered. Either way, thinking Frank's absence from "American Pickers" has something to do with his health seems to be the only safe thing to assume at this point, especially knowing that he's been suffering from Crohn's disease for years.
Nevertheless, a variety of media outlets have also theorized that to prevent any potentially damaging risk considering his health condition, Frank could probably be staying away from work during the COVID-19 spread.
Either way, while we can't really get a hold on what is possibly happening to Frank Fritz, we hope he's doing well and returns to "American Pickers" sometime in the near future.
Is His Health At Risk?
While it's unclear what Frank Fritz' actual health situation is, we can at least assure you that while Crohn's disease could potentially be endangering, Frank has been able to live a normal life for years despite his diagnosis.
Back in 2012, shortly before Frank revealed the truth about his health condition, his fans had been worried for a while when he'd been rapidly losing weight, which was pretty visible at the time.
On a Facebook post, Frank finally spoke out about his health condition and admitted his weight loss had been caused by the disease, and he 'ran with it'. Nevertheless, he also said his lifestyle habits had improved as well, motivating him to eat healthily and exercise often.
Normally, those who suffer from Crohn's disease, primarily effecting the bowel, present symptoms such as anaemia and weight loss, which makes sense seeing the immense physical change Frank went through during those past times, leading him to take time away from the show during its ninth season to learn how to deal with the illness without having to worry about the show for a while.
Even if we would like to offer a deeper insight into what Frank's current health condition is, the fact he hasn't posted anything on his social media for years makes it difficult to obtain first hand updates from him.
Marital Problems
If you ever followed Frank Fritz closely on social media, you might remember he was in a relationship with a woman named Diann Bankson. The couple had apparently been together for years, when in 2017 Frank popped up the question.
Although everything seemed to be going well for them and their new engagement, in 2018 the bliss came to an end when Diann apparently discovered that Frank was cheating on her. As The Sun reported, Diann apparently 'walked in' when he was intimate with another woman in their shared farmhouse in Iowa.
While the whole situation could have led to the couple's definite break up, Diann and Frank reconciled sometime later. Either way, that wasn't the end of their problems, as in January 2020, Diann sued Frank for negligence.
Following the court's papers, back in 2018 a drunk Frank along with a friend had tried unsuccessfully to light up a firework in their farmhouse. As Diann affirmed, instead of disposing of the defective firework, Frank and his friend left it on a covered ashtray, forgetting to inform her of it.
Later on, when Diann was using the ashtray while lighting up a cigarette, the firework's waste caused a small explosion, leaving her with third-degree burns on her hand and parts of her face.
What Happened To The Lawsuit?
While Diann's court claims were based on the fact that Frank caused the burns she suffered, it gets worse than that. Frank apparently refused to take his fianceé to get medical assistance, telling her to 'toughen up' during the obviously distressing situation.
The whole incident caused the couple's definite split, though there's yet more! Diann also claimed that Frank had changed the locks of their other shared Iowa house, impeding her from accessing her belongings.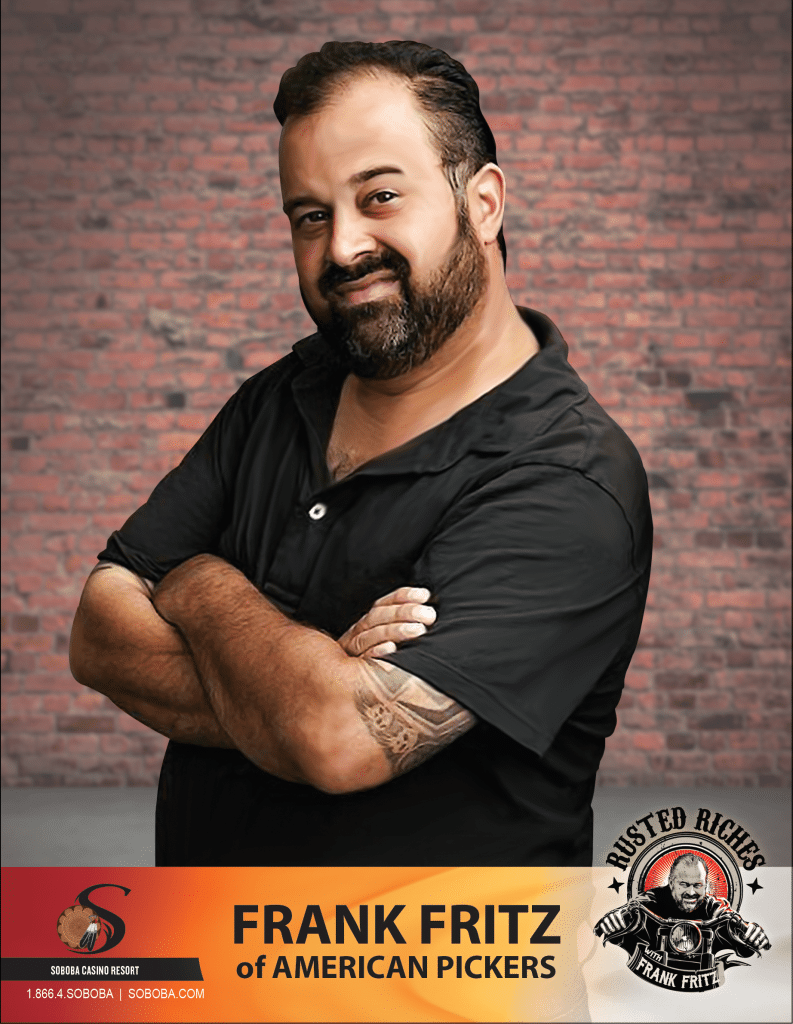 In addition to that, Diann claimed that besides the obvious physical damage he caused her which included loss of her hearing capacity and bodily functions, he also purposefully caused her to suffer emotional and mental distress.
However, the $50,000 lawsuit against Frank was finally withdrawn by Diann months later, for unknown reasons. Could the issue have been solved through an oot-of-court agreement, or what? That is unknown as neither of them ever made any public statement afterwards.
Did He Sell His House?
In early 2018 when Frank Fritz and Diann Benkson were still together, they bought a 2,780 square-foot house in Iowa, for approximately $355,000. However, as the couple's relationship deteriorated, the house was put up for sale in 2019.
Although at first the house's market value was higher than the price Frank and Diann had initially bought it for, it seemed the sale price was reduced a couple times, finally selling in early 2021 for $358,000.
The house included three bedrooms and bathrooms, a three-spot garage and a recreation room, plus it apparently had several nice-looking details, including the incorporation of a modern, stainless steel appliances-equipped kitchen, wood floors and granite countertops.
Interestingly enough, Diann retired her name from the house's selling deed in March 2019, which coincides with the time she dismissed her negligence lawsuit against Frank, adding force to the theories regarding a possible out-of-court agreement between the former couple. Other than that, it's also safe to assume this is the property Frank locked Diann out of, when she suffered the burning accident.
Other Lawsuits
At this point you might be wondering how many legal problems Frank Fritz has had in recent years, aren't you? Well, so far we only have knowledge of one other lawsuit filed against Frank, though this one dates back to 2016, although not revealed until June 2021 when The Sun dug up Frank's records.
It's unknown why this incident was never publicly revealed, but it's safe to assume it was kept in the dark in an effort not to damage Frank's public reputation.
Long before Frank bought the house they sold in 2021, he already owned a farmhouse in Iowa valued at $130,000, which he'd bought in 2010. Apparently, in 2016 Frank contracted the local company E&G Contractors to lead renovation works to this property's interior and exterior spaces.
Following the reports, the renovation efforts included the building of a new bedroom and modifying and improving other spaces such as the roof, deck and front door. However, Frank allegedly didn't pay the entire billing for the project, even disregarding the company's apparently diligent work.
The court's papers indicated that the $20,204.40 compensation stated in the lawsuit was meant to cover costs for the materials used in the project, along with labor. However, Frank contended that the lawsuit's claims were unfounded, and in July 2018, E&G Contractors finally dropped the case.
Who Is Frank Fritz?
As it happens to those who are lucky enough, life passions are led by childhood dreams. This is the case of Frank Fritz, whose love for history and collecting rare items in his younger years resulted in him dedicating his life to deal in antique goods for a living in his adulthood.
While his childhood apparently wasn't too happy due to his parent's separation, Frank had enough time to discover many of his passions early in life. One is his love for motorcycles, which to this day he still collects for personal use, and sometimes also sells.
Life has its way and sometimes those ways are convenient. As it turns out, Frank got to meet Mike Wolfe during high school, and though at the time they had no way of knowing that some decades later they would still be friends, and share the co-starring role of an internationally acclaimed show, back then both boys soon linked through their mutual love for anything antique.
Fast forward to the future – both Frank and Mike ended up founding separate antique-selling businesses. In Frank's case, his Illinois-based Frank Fritz Finds sold items both in from its headquarters as well as through its website of the same name. However, sometime in the last couple years the website was closed, leaving only the physical shop operating.
Debut On TV
If you've watched "American Pickers", you surely know that despite it seeming that Frank and Mike are junk fanatics, the truth is that some of the items they find abandoned or in a bad state, are quite valuable.
The show's centers on Frank and Mike, as they travel in their Mercedes-Benz or Ford truck around the US, searching for rare items usually found in garages, storage rooms, attics and even parking lots. However, contrary to what is usually assumed, Mike and Frank are not really business partners, no matter how much it might seem that way.
In an interview with Quad-City Times, Mike affirmed that the business featured in the show Antique Archaeology, was founded solely by himself in 2002, and has never had any financial association with Frank.
This means that even if sometimes 'American Pickers" gives the impression that Frank and Mike are in any way legally associated, the truth is that Frank usually goes looking out for items for his own shop. The relationship between the two is just a strong friendship cemented on the common ground of their interest in rare and/or old items, besides the obvious fact they're fellow cast members.
How Rich Is Frank?
Knowing he owns his business and is quite successful at it, it's not hard to imagine that Frank Fritz has accumulated quite a fortune.
Following reports online, Frank has an estimated net worth of $6 million, as of mid2021. Most of this comes from his business, but it's safe to assume his career on TV, which has included not only his recurrent role in "American Pickers" but also appearances in shows such as "Pawn Stars", and voicing a character in "American Dad", has had a positive impact on his income.
Last but not least important, Frank actually owns 60 motorcycles of all styles. Although the collection's value it's unknown, it surely took a while and a lot of money for him to build such a large and impressive collection.
How Does He Deal With His Health Condition During Filming?
Crohn's disease is a serious condition which surely affects the lifestyle of people suffering with it.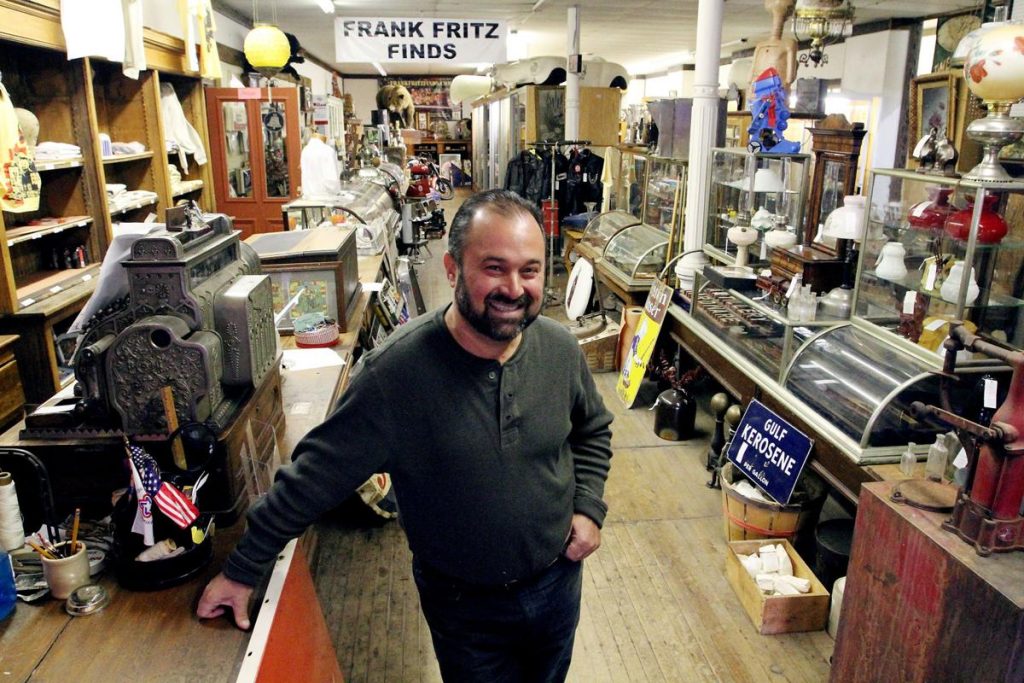 Knowing this, it's normal to wonder how Frank Fritz usually deals with it, not only in his daily life, but also when he's on the road, filming "American Pickers".
However, you shouldn't worry a lot about this. As Frank told The National Enquirer years ago, the show's production team is very understanding of his condition, affirming it gives him freedom to accommodate his travels to his needs. Even more, that the production has usually been chill about him taking breaks.
Going to the bathroom or even finding one, is a situation Frank's health condition makes him worry about. As he explained, it's hard not to worry about going somewhere that a bathroom isn't easily accessible, or is occupied, becoming somewhat of a nightmare.
While Frank has learned to deal with his health condition over the years, it's not a wonder why his fans worry about his health so much, indicating as well that he has earned people's appreciation and considerable respect.