• Horny Mike is an airbrush painter and active cast member of "Counting Cars"
• He has his own online shop and offers a Road Show with his "horny nation"
• Mike owns a Horny Bus, a Dodge Challenger and a Horn Beast truck
• His estimated net worth is over $2 million
• "Counting Cars" has remained on air for many years, with its ninth season cut short due to COVID-19
Whether they're from a movie or a TV show, it's not unusual that the most outrageous-looking and extravagant cast members usually gain rapid popularity with the audience. Though if you've watched History's "Counting Cars", you most-likely know it's very hard to choose who fits this description the best.
However, if there is something for sure it's that the popularity of Count Kustoms' airbrush painter Horny Mike doesn't come solely from the fact he has been in "Counting Cars" since its premiere, or for his flashy appearance, but also because his skillfull, eye-catching creations are a sight to behold whether you share his sense of style or not.
So if you have lost track lately on what he's doing, you might wonder: what happened to Horny Mike? Is he still in Count Kustoms or has he taken another career path? We will share with you the answers to these questions and even more, so take a seat and enjoy the ride!
I may be #HornyMike on #CountingCars but in Canada they call me Oh Henry Eh! pic.twitter.com/OgxkDp59se

— Horny Mike (@TheHornyMike) August 29, 2016
What Is Horny Mike Doing Now?
Horny Mike is admittedly very popular with the audience of "Counting Cars" and while no one denies that, it's true that not many people actually keep up-to-date with his life outside work.
So before getting into what he's doing nowadays, it's important to point out that contrary to what you might have assumed, Horny Mike is still an active cast member of "Counting Cars". The reason many viewers have been led to believe otherwise is the fact that Mike barely appeared during the show's ninth season.
While you might see that as a bad sign, in this case it's quite normal considering "Counting Cars" ninth season was quite short compared to the previous ones. The cause is probably related to the COVID-19 contingency outlines Count's Kustoms had to follow in 2020, which negatively affected their already tight filming schedule.
Taking a quick look into his Twitter and Instagram accounts, we can tell that Mike's life is very much alright nowadays. In early 2021 he bought a new house, and moved out of his allegedly annoying homeowner association property. On the grim side, in May 2021 he was run off the road by an unknown driver on his way home, but he's fortunately physically okay, and his Horny Beast truck wasn't greatly damaged.
Who Is Horny Mike?
Although widely known as Horny Mike, his real name is Mike Henry, a guy who somehow ended up in Las Vegas living a very different life from that in his native Michigan.
While we don't have much information regarding his family or even know his age, Mike's very sincere when it comes to talking about his early life and the struggles he went through to become the person he is today.
In an interview with PhilStar Global, Mike confessed that following his high school matriculation, he lived in a van, unsuccessfully trying afterwards to establish a car and motorcycle repair shop. As Mike admits it, he "ran it badly" and ended up closing it not long after it was opened.
Forgetting his failure with his first business seemed to be the right thing to do; sometime later, he moved from old Michigan to the admittedly potentially more profitable Las Vegas, where he moved from one place to another on his way to finding a place right for him.
That's how Mike took an independent job as a t-shirt painter, who also occasionally personalized license plates in Fremont Street, obviously a work that didn't fit his personal taste, but allowed him to improve his financial situation for a while; as he affirms: 'I would put goofy hearts and draw those things even in jackets. But heck, it was paying the bills.'
While the graphic t-shirt business isn't related to what he does today, the job fortunately set him on the path to learning how to put his creative mind into doing something people liked, and that he enjoyed doing too.
Debut On TV
Despite how popular "Counting Cars" has become after so many years on TV, the truth is that Count's Kustoms was already an established and locally well-known business long before the TV show ever went into production.
However, it's hard to know when exactly Horny Mike joined the shop. The only information we have about it is that at some point he left the t-shirt painter job to join Count's Kustoms. From then on, his passion and creativity added to his love for cars, allowed him to finally let out all of his talent in a niche he actually enjoyed.
His eagerness for putting horns on everything that is his, including cars, masks and helmets gained Mike not only his "Horny" nickname, but was admittedly what made him one of the most memorable "Counting Cars" cast members. Though he admits that his style doesn't always fit Danny Koker's preferences, so leading him to tone down some of his creations to go well with his customers' taste.
Even then, while we don't often see Mike putting his beloved horn creations on every single "Counting Cars" project, we know that his charismatic personality and skills are definitely the reason people love to see him on TV so much.
Best Works On TV
Horny Mike's talent as an airbrush painter is widely acknowledged, not only by fans of the show, but also by his fellow cast members. Due to that, during "Counting Cars" fourth season, the special episode "Paint Jobs" showcased all of the most memorable car paint jobs made by Count's Kustoms' lead painters Horny Mike and Ryan Evans.
Out of all the works shown in that episode, the very patriotic Corvette they restored and repainted in commemoration of the 2nd Amendment is probably one of the most outstanding ones. The car was undoubtedly very American, not only for its amazing paint job, but for its flag-themed cushions and mechanics too.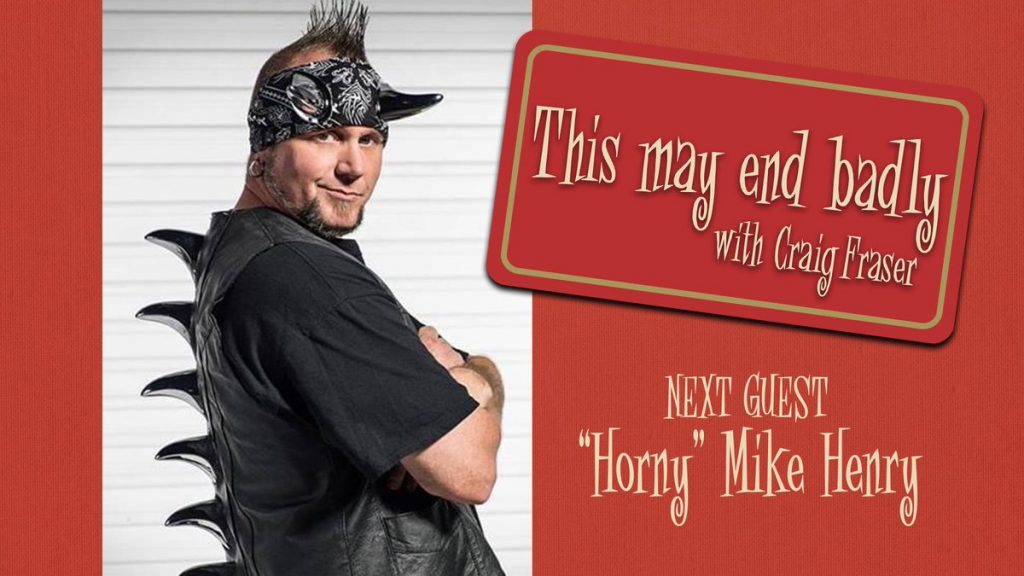 Besides that, we can't talk about Mike's painting jobs without mentioning the Horned Smart car, an initially cute-looking, little electric automobile which Mike converted into a green monster with terrific illustrations and two of his trade-mark horns on top. In his words, the car was a good way to promote the show, and he wasn't wrong, as not only did it attract many pairs of eyes on the Las Vegas streets, but was also showcased in many exhibitions.
Other than that, we can't forget that time when Mike repainted a GMC truck entirely with medieval-themes. In Danny's words, that one project was going to be Mike's "mona lisa", and although he wasn't allowed to add green paint to it, the final result was a very gorgeous-looking, navy blue-colored truck that totally displayed Mike's impressive skills at concept art.
His Business
During the fourth season of "Counting Cars", Horny Mike mentioned that while he often complained about working in Count's Kustoms, the job actually was a "dream come true" for him, as it allowed him to showcase his creativity with automobiles. while also leading many side projects his way.
All of his statements are true, especially when it comes to the great opportunities that working in the shop has brought him. It's especially notable that even if his taste for obnoxiously-looking things is not everyone's cup of tea, he has been able to reach his own niche of horn-loving people through the show.
If you don't believe us, then you should take a look into his online shop, on which he sells an admittedly wide range of products, starting from his trade-mark horn accessories for helmets, to t-shirts, caps, bob heads and even popcorn and dried meat, jerky.
Rare photo of me in a Macungie, Pennsylvania police uniform. I think I look damn good in it! Just call me Officer #hornymike. Thanks to all the good people and police officers from Macungie, PA,

Posted by Horny Mike on Tuesday, September 19, 2017
As if that wasn't enough, you can also book him for a Road Show with his so-called "horny nation", which consists of him appearing in car-related events and exhibitions. Though it's unknown how much he charges for that service, judging by the fact that he usually brings his cars and other products to those events, we can tell it's a very profitable sideline.
His Cars
As you can expect from people who spend most of their time restoring and fixing cars, the guys of "Counting Cars" own several automobiles which they use for either personal transportation or for exhibitions.
Granted, the entirety of Count's Kustoms' staff doesn't own as many cars as Danny Koker, who is said to possess over 50 automobiles and 70 motorcycles, but their collections are still special despite not being as big. In the case of Horny Mike, it's not surprising to find that some of his most eye-catching creations are part of his own personal collection, but you would be shocked to see some hidden, and less loud-looking gems in it as well.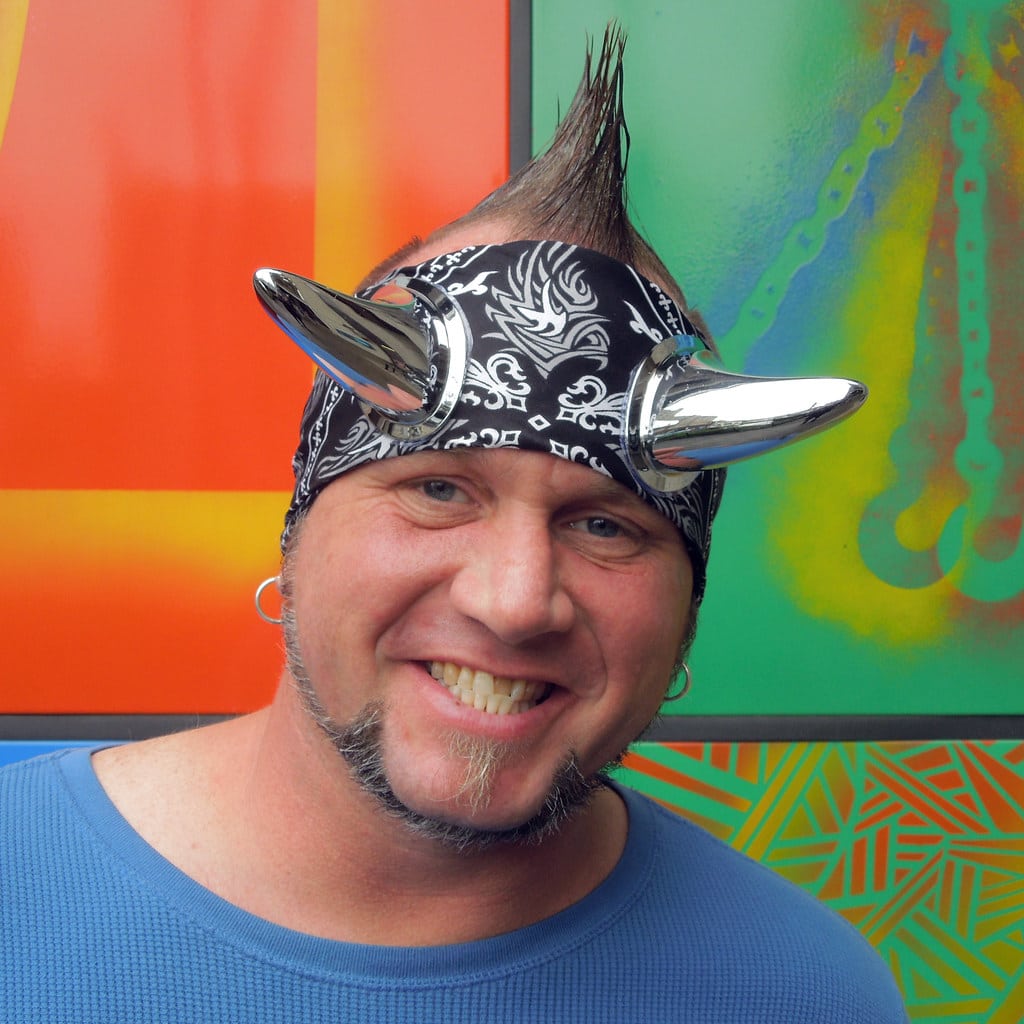 Let's start with the Horny Bus, which is not only one of his trade-mark creations, but is quite impressive in itself. With his very loud green paint, massive horns and otherworldly bone-resembling paint, this bus is everything you would expect from Mike and even more. Before it was sold in 2019, the Horny Bus was exhibited in Count's Kustoms' Las Vegas showroom, and sometimes traveled with Mike's "horny nation".
Besides that one, The Dodge Challenger from 2015 is one of the newest cars in Mike's collection, but that doesn't mean it's not great as well, considering its purple paint, futuristic-design and 500 horse-powered engine. However, what truly sets this Dodge apart from his other automobiles, is its less eye-catching and more subtle appearance.
To finish this list, we can't forget his Horn Beast, a truck he recently acquired, and which surely scares many people on the streets, with its intimidating appearance, dragon-themed paint-job and ominously-placed claws and horns.
Personal Life & Net Worth
Despite his eye-catching attitude and style, we can all agree that Mike Henry is a very sincere and straightforward guy. That's why it's so surprising to discover that he's not very open when it comes to his personal life, especially if it's related to his relationship status.
Although knowing that the pretty lady he usually showcases on his Instagram is the same woman with whom he also apparently recently bought a house, it's easy to assume he's happily married. However, while our bets regarding this topic are most-likely true, it's very difficult to find information about Mike's partner.
While the personal details about Mike are scarce, there are other interesting details about him we can reveal such, as his net worth, which is estimated at over $2 million. If this impressive figure is somewhat shocking to you, it's important to remember that it probably it doesn't result solely from his work in Count's Kustoms, but also comes from his business and any high-profit painting jobs he makes on the sideline.
Is Mike Still Working In Count's Kustoms?
As is usual when it comes to reality TV, rumors about beefs, disputes between the cast members or the production team arise from time to time. Occasionally those speculations are proven to be false, while other times they're true, usually resulting in the firing of someone, or the cancellation of a show.
It's no different in the case of "Counting Cars", and whether this comes as a surprise or not, the rumor of Horny Mike's firing has always been latent, though not for clear reasons. It could be for the fact that he's sometimes absent from some episodes, or for the notion that he's not as happy to be in it as one might think. Either way, those assumptions are untrue, and Horny Mike is still an active staff member of Count's Kustoms.
It's not hard to assume people who don't like Mike or his personality would like to see him out of the show, but there's also a lot of fans who think of him as an essential part of "Counting Cars", and who appreciate his creativity and skills, which is what really matters.
Was "Counting Cars" Canceled?
It's not a secret that reality shows come and go easily, especially considering the boom these types of shows have had during the last decade. However "Counting Cars" is one of those series that has actually remained on air for a long while, even surpassing other shows such as "American Restoration", which was also a spin-off from the very famous "Pawn Stars", and that only aired for a couple seasons.
As we know, seeing a very stable reality show is good news, but the fact that it's aired for so many years also makes its fans nervous, thinking that it won't be long until its cancellation. In "Counting Cars" case, in 2020 it was very obvious that its ninth season was cut short, though that has a credible explanation. It turns out that the COVID-19 contingency led the shop to modify its working schedule, making the filming process difficult.
Anyway, we hope that "Counting Cars" keeps airing for many years to come and that Horny Mike continues cheering up the audience with his personality and crazy creations.