• The Great Khali, born Dalip Singh Rana, is an Indian professional wrestler and national hero
• His ring name comes from the Hindu goddess Kaali – the goddess of time, destruction and ultimate power
• He is 50 years old, stands at 7ft 1in (2.15m), and has a net worth of $6 million
• He opened the first wrestling promotion in India, Continental Wrestling Entertainment (CWE) in 2015
• He is married to US-born Indian Harminder Kaur, and has a daughter named Avleen
Who is The Great Khali?
The Indian professional wrestler, The Great Khali, was born Dalip Singh Rana on 27 August 1972, and is known worldwide for his World Wrestling Entertainment (WWE) tenure, which lasted from 2006 through 2018. His WWE achievements have made him a national hero in his home country, where he introduced professional wrestling to millions of new fans.
It's believed that his ring name, The Great Khali, came from the name of the Hindu goddess Kaali – the goddess of time, destruction and ultimate power.
The WWE has superstars of all sizes including 7"3 The Great Khali. Take a look at all the best Khali photos on Pinterest. http://wwe.me/m2IkT

Posted by The Great Khali on Friday, June 14, 2013
Khali is 50 years old, and stands at 7ft 1in (2.15m). As of late 2022, his net worth is estimated at more than $6 million, while his yearly salary falls in the range of $900,000 – $1 million.
Career beginnings
The Great Khali has modest roots. He grew up in the small village of Dhiraina located in the Himachal Pradesh region in northern India. Born one of seven siblings, Khali often took on odd jobs to help his financially struggling family.
He eventually became a security guard, which is when he caught the attention of a former Punjabi police officer, Mahal Singh Bhullar, who was impressed by Khali's stature. Mahal had previously helped several of his colleagues start an international sports career, and was set on doing the same with Khali. In 1993, he recommended him for employment in the Punjabi Police; although Khali was initially reluctant because he didn't want to leave his family behind, he agreed after his younger brother was offered the same job.
They moved together to Jalandhar, where Khali started training in local gyms to become a wrestler. After winning several awards in local competitions, he was selected for specialized training in the US.
Khali's wrestling career in the US began in 2000, when he started competing in All Pro Wrestling (APW) under the ring name Giant Singh. His time at APW was overshadowed by a tragedy that happened to his colleague Brian Ong. In May 2001, Ong passed away after taking a flapjack move from Khali received during a training session. The move went wrong, adding a concussion and other injuries that were recklessly ignored by the APW. Ong's family filed a lawsuit, ultimately receiving more than $1.3 million in damages from APW and Khali
After the incident, Khali moved to California and signed a contract with World Championship Wrestling (WCW), which ended eight months later when the company was bought out by World Wrestling Federation (WWF). Back in India, he was still on the payroll as a member of the Punjabi Police, as a sub-inspector on 'temporary leave'.
The Great Khali,competing as Giant Singh in New Japan Pro Wrestling back in 2001 pic.twitter.com/pdwG0KP7ib

— Rasslin' History 101 (@WrestlingIsKing) January 5, 2020
Not long after his contract with WCW ended, Khali found himself on the other side of the world. Still performing under the name Giant Singh, he began competing in the New Japanese Pro Wrestling (NJPW) promotion, alongside the former Brazilian basketball player, Paulo Cesar da Silva aka Giant Silva. With an average height of 7ft 3in (2.2m), and a combined weight of more than 800lbs (363kgs) the due was almost undefeatable.
Khali suffered his first loss in 2002, against the legendary Hiroyoshi Tenzan. Another big defeat came in August of the same year, in a singles match against his wrestling partner, Giant Silva. After that, Khali started wrestling in the Mexican promotion CMLL (Consejo Mundial de Lucha Libre), alongside Japanese AJPW (All Japan Pro Wrestling).
WWE
Khali's WWE career started in 2006, signing a deal on 2 January, becoming the first Indian wrestler to compete in the promotion. In the beginning, he was assigned to their Deep South Wrestling federation, and competed under his real name.
With the former wrestling champion Shawn Daivari as his manager, Khali made his WWE debut in a match against The Undertaker on 7 April. Following his decisive victory, he was introduced as The Great Khali for the first time just a week afterwards. His win against The Undertaker was just the beginning of his undefeated streak that lasted until 2007.
In October 2006, Khali was moved to the ECW brand of WWE, making his debut with a win against The Reject in an episode of "ECW on Sci Fi". In January of the following year, he moved to "Raw", now without Daivari as his manager, where Khali won two matches against John Cena, while his victory against The Highlanders led him to ask for 'tougher competition'.
Khali's first loss happened on an episode of "One Night Stand" when his opponent John Cena finally enacted his revenge after suffering two consecutive defeats. Despite this loss, Khali's track record was enough to make him a first pick in the 2007 draft for "SmackDown!" brand. Not long after, it was revealed that Edge had to vacate the World Heavyweight Championship (WHC) due to a (real) injury. On 20 July a 20-man battle royale for the title was held to fill the position. Khali easily won, earning his first WHC title.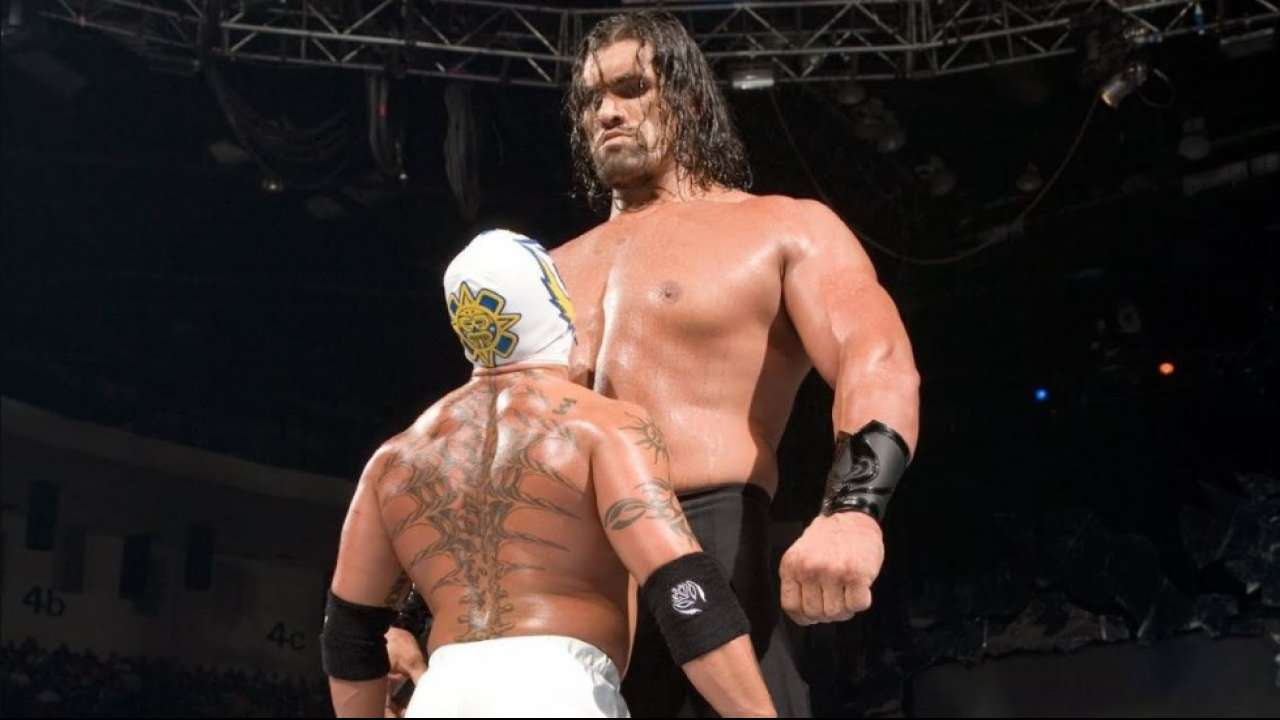 In the following year, Khali retired his villain shtick, and took on a more fun persona which made him a fan favorite. Every week, he and his manager Ranjin Singh would host "Khali Kiss Cam", during which Khali would pick out 'random' women from the audience to kiss him.
The year 2009 marked one of his biggest feuds against Dolph Ziggler, then in the 2010 supplemental draft, Khali and Ranjin joined John Cena's team in "Raw". In the following years, The Great Khali had varying success in his matches. He came close to winning the 2012 United States Championship, but lost to defending champion, Antonio Cesaro. He also competed in the 2013 Royal Rumble, but was taken out by Kane and Daniel Bryant.
On 31 October 2013, Khali lost to Rusev, marking his last WWE appearance until 2017. Since then, he's made only two more appearances in the WWE; his first was at Battleground, where he helped Jinder Mahali defeat Randy Orton. In April 2018, we saw Khali fighting one last time, at The Greatest Royal Rumble match. He entered at number 45, but was defeated by Bobby Lashey and Braun Strowman.
In 2021, the legendary Indian wrestler was inducted into the WWE Hall of Fame.
Movie roles and TV appearances
Aside from his appearances on WWE, at the height of his popularity, Khali was offered a number of roles in both Hollywood and Bollywood productions making his film debut in Adam Sandler's 2005 comedy "The Longest Yard". His next role was in the comedy blockbuster "Get Smart", which starred Steve Carell and Anne Hathaway, and another WWE superstar, Dwayne 'The Rock' Johnson.
Khali's most remarkable Bollywood roles have been in the movies "Kushti" and "Ramaa: The Saviour" in 2010), and "HOUBA! On the Trail of the Marsupilami" (2012). In 2011, he competed on the Indian version of "Big Brother", called "Bigg Boss", finishing the competition as a runner-up.
Personal life, wife, and family
Nowadays, The Great Khali is based in Atlanta, Georgia. He's married to US-born Indian Harminder Kaur, with whom he has a daughter named Avleen, born on 26 February 2014. Despite his success in the US, he spends a lot of time in India as well, where he visits his family and does occasional commercial and sports business deals.
In his private life, Khali has been described as very religious. He has his own guru, meditates every day, and abstains from consuming alcohol and tobacco. He is also very committed to his physical well-being, doing both weight and cardio exercises daily, and adhering to a strict diet.
He opened his own wrestling promotion
Before Khali joined the WWE, few people in India were even interested in professional wrestling, but as his popularity grew so did the interest of Indians in the sport. Khali capitalized on this phenomenon by opening the first-ever wrestling promotion in India, Continental Wrestling Entertainment(CWE) in 2015.
Alongside the promotion, Khali also opened a wrestling school in Jalandhar, which already boasts two students in the WWE: Kavita Devi and Dilsher Shanky.
CWE has a YouTube channel with over 4.5 million subscribers, and more than a billion views.