• "Overhaulin'" premiered in 2004 and was more entertaining than other shows of the same type due to its prank concept
• Chip Foose is "Overhaulin'"s star and is still actively working on design projects
• Chris Jacobs is the longest running host and is currently the main host of "Diesel Brothers"
• Courtney Hansen was the original hostess, is a car enthusiast, and is currently active as a host in "PowerNation"
• Adrienne Janic co-hosted the show and is also an accomplished model and actress
It's been a while since "Overhaulin'" premiered in 2004, and the show certainly hasn't been forgotten by motorheads around the world.
Watching a series about car renovations is of course not exactly everyone's cup of tea, but "Overhaulin'" was definitely more entertaining than other shows of the same type due to its prank concept.
The other enthralling thing about the show was how creatively talented the designers and builders were. However, after several seasons and two hiatus, it's normal people wonder what the "Overhaulin'" cast is doing today.
If you're one of those long-time fans or are simply curious, keep with us to discover all!
What Happened To "Overhaulin'"s Cast?
Chip Foose
Chip is "Overhaulin'"s star for a good reason. Working in his father's design company slowly but surely influenced his creativity and love for art from an early age.
Knowing for sure which was the right career path for him, Chip later attended the Art Center College of Design in Pasadena, California for two years, until he couldn't afford it and had to drop out.
These financial difficulties weren't enough to deter him though. Chip worked at a furniture shop until 1988, when he returned to college and finally graduated in 1990.
The following years Chip worked for various car design agencies, such as Hot Rods by Boyd, of which he became its president until the company filed for bankruptcy in 1998. It was then when he decided to establish his own company, Foose Design in California, where he produced many award winning car projects.
In 2003, Chip appeared on TV for the first time in the documentary "Speedbird", which was then followed the next year by the premiere of "Overhaulin'".
During his three-decade career, Chip Foose has won several recognitions for his work, such as the Most Beautiful Roadster Award, and has also been inducted into the Hot Rod Hall of Fame.
Nowadays Chip Foose is still actively working on his design projects, and in 2019 he returned to TV for the 10th season of "Overhaulin'" on MotorTrend.
Chris Jacobs
Chris is one of the most recognizable faces of "Overhaulin'", for being its longest running host. He was in the show ever since its premiere in 2004, and continued in the show's revivals in the following years.
However, Chris is also renowned for other works besides "Overhaulin'". Although he's actually a lawyer by profession, he chose instead to dedicate his life to the entertainment world, and started his career as an actor in TV ads, and briefly appeared in "Two And A Half Men".
Though he also appeared in films, he didn't rise to fame until the premiere of "Overhaulin'" in 2004. Then when the show went into abeyance in 2008, Chris became co-host of "The Insider with Lara Spencer" until 2011, when he joined "Entertainment Tonight".
While his time as a correspondent in the show seemed promising, Chris left it to take back his position as "Overhaulin'"s host, when it inevitably came back in 2012. Not long after, he also started hosting several NFL shows, and Discovery's live events.
Later Chris became TLC's "Long Lost Family" host along with Lisa Joyner, which premiered several months after the cancellation of "Overhaulin'" in November 2015.
In 2019 Chris again reclaimed his position as "Overhaulin'"s host, and also became "Diesel Brothers" main host.
Courtney Hansen
Courtney Hansen is remembered by "Overhaulin'"s fans for being the original hostess of the show. She unfortunately left the show in 2005, but her career continued to thrive after that.
Contrary to what is believed, Courtney was already a car enthusiast long before she appeared in the show. Her father Gerald John is a professional and experienced racing driver, winner of almost 30 national championships. Courtney's family also owned the Brainerd International Raceway in Minnesota.
In the early 1990s Courtney graduated from Florida State University with a major in Marketing. She worked in a company for a few years, but left to take occasional jobs on TV as a host and model.
Although Courtney chose a different career path than her father, her love for cars never faded out. It's for this reason that her career in the entertainment industry has always been more inclined to the car-related world, even appearing on the cover of Hot Rod Magazine.
Despite being in "Overhaulin'" for only a year, it was definitely through the show that she rose to fame. She moved on to host "Powerblock" for eight seasons, while at the same time appearing in other renowned shows such as "Destination Wild", "Million Dollar Motors" and more recently "PowerNation".
In 2018, Courtney married Jay Harrington, with whom she has two children.
Her latest TV appearance was in the TV series "Home & Family" in 2019.
Adrienne Janic
Adrienne became the co-host of "Overhaulin'" after the exit of Courtney Hansen in 2005, staying with the show until its first hiatus in 2008. Although she didn't come back when the show returned in its 2012's revival, she temporarily took back the position in 2014.
Besides her work as a hostess of shows such as the Speed Channel's "Hot Import Nights" and Velocity's "Competition Ready", Adrienne is also an accomplished model, having appeared in TV ads for Fanta and Fat Blasting System. She also briefly tried her luck as an actress, having appeared in a minor role in the 2006 movie "National Lampoon's Cattle Call".
In 2015 she started hosting "Competition Ready", but later in 2019 reclaimed her position as "Overhaulin'"s co-host in the series' latest revival.
Jessi Combs
Jessi was probably one of the most well-known personalities ever to appear in  "Overhaulin'". She co-hosted the show from 2012 to 2013, though she was also an accomplished racing car driver on the side.
What most people don't know about Jessi, is that she was also a metal artist. She actually attended the WyoTech institute, where she specialized in several fabrication programs.
In 2005 she debuted on TV as the host of "Xtreme 4×4", which was then followed by other car-related shows such as "1001 Car Things To Do Before You Die" in 2011. Jessi also appeared in Velocity's series "All Girls Garage".
Jessi won her first number one cup as a professional race driver at the Legends Class of the Ultra 4 Stampede in 2014, having more importantly in 2013 already set a new 4-wheels world record at the Supersonic Speed Challenger by running at a top speed of 440,709mph. This accomplishment gained her the title of "the fastest women on four wheels", for which she was internationally known.
Sadly, in August 2019 Jessi Combs died in a car crash at the Alvord Desert, when trying to break the existing land speed record set in 1976. Regardless of her unfortunate fate, in 2020 the Guinness World Records officially recognized her as the new record holder.
Arianny Celeste
Arianny became "Overhaulin'"s host in 2013, and stayed in the show until its cancellation in 2015.
Besides being a TV host, Arianny is also a model and ring girl. She's been given the title of the "Ring Girl Of The Year" six times in her career, and has posed for renowned magazines such as Playboy, Sports Illustrated and Maxim.
Arianny debuted as an actress in the 2011 short film "Humanity", but since when she's only appeared in support roles in movies such as "Here Comes The Boom", and in the series "Team Nerdist". Nonetheless, her career as a TV host and personality is considerably more successful, having appeared in several specials for the Ultimate Fighting Championship (UFC) and talks shows.
Regardless of her success, Arianny's personal life has had its ups and downs – in 2012 she was surprisingly arrested for domestic abuse, although Arianny later alleged she was only defending herself from her then-boyfriend Praveen Chandra.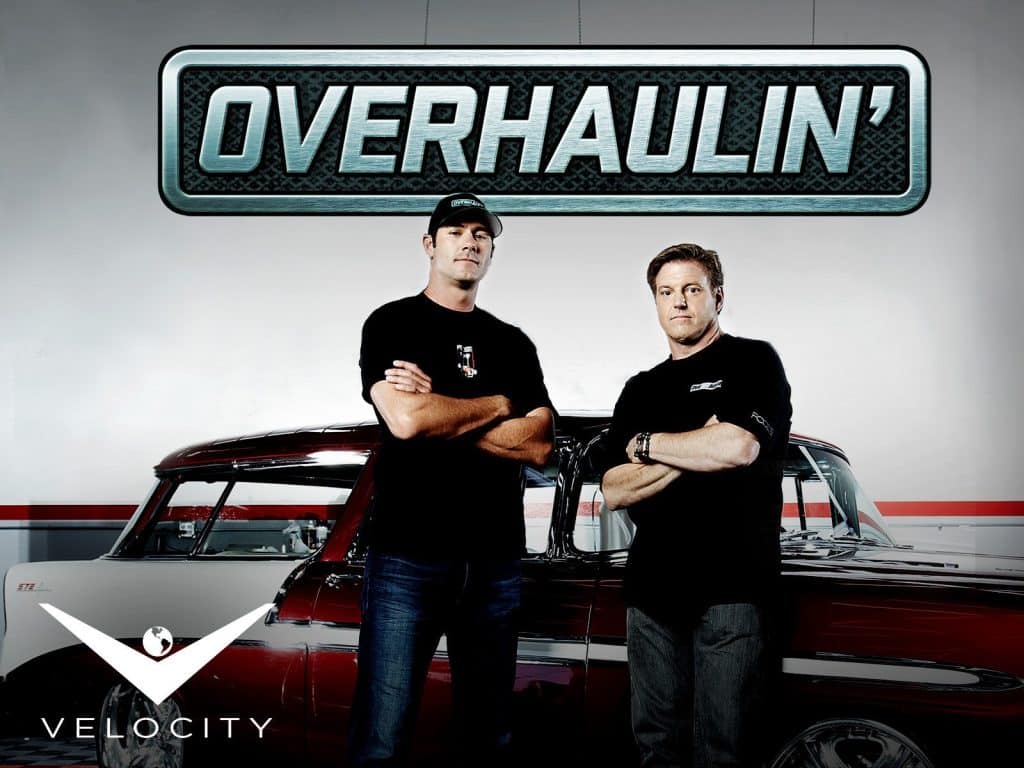 Fortunately, things for Arianny seem to be improving in recent years. Although she didn't come back as "Overhaulin'"s host in 2019, she's still active as a ring girl, and in late 2020 she happily gave birth to her first child.
Lee Reherman
Lee Reherman is well remembered by "Overhaulin'"s fans for being the mystery prank guy from 2004 to 2008.
Although he didn't return to the show in 2012, Lee actually made a name for himself in Hollywood by appearing in several other roles on TV and in films. He made his debut as an actor in the TV series "Columbo" in 1992 although in a minor role, in 1995 he had his first memorable acting role as Hawk in "American Gladiators".
His career has seen him appear in renowned TV series such as "Blackout", "Prison Break" and "Wizards of Waverly Place", and in 2007, he debuted as a host in the Speed show "Hot Rod TV", followed then by his work in other car-related shows such as "Off-Road Overhaul".
Lee was also an accomplished voice actor, having been heard in the video game "Dead Rising 3" and the "Bratz" movie.
Unfortunately Lee died in March 2016. Following reports, the cause of his death was initially announced as a blood clot resulting from a surgery he had weeks prior, though a later post-mortem evaluation published in 2018 revealed that he had chronic traumatic encephalopathy, which is a disease related to cranial traumatism and brain injuries.
The last role Lee was ever credited with was as a doctor in the 2017's movie "Too Faced".
Skratch
Many long-time fans of "Overhaulin'" might remember Skratch from the series' first run from 2004 to 2008. Although he didn't return to the show in 2012, his work as one of the main builders and artists was always note-worthy.
Skratch is a man who prefers to let his work speak for itself, and as such details about his personal life and even his real name are unknown. As expected of a talented guy like him, Skratch started his career early in life by working on hot rods, and buying and selling car parts he had fixed himself.
After things went downhill for him following the opening of his first auto repair shop, Skratch moved to California to try his luck with hot roads once again.
On the West Coast his work started getting the attention it deserved, and soon enough he opened his second shop – Skratch's Garage, and not long afterwards, he was showcased in magazines such as Rod & Custom. His increasing fame led him to debut on TV in "Overhaulin'", and then in "Hot Rod TV".  Later in 2010, he also collaborated with Bell Customs to create his own series of helmets.
Skratch's most recent TV appearance was in the show "Full Custom Garage" in 2020 -apparently, he's still actively working in his own auto-shop.
Why Was 'Overhaulin'" Cancelled?
"Overhaulin'" ran for the first time from 2004 to 2008, when the show took a long and break. It's unclear why it was decided that the show had to take an hiatus, but the several changes to the production staff were made obvious when the series came back in 2012.
In its second run, "Overhaulin'" had a different concept. Left behind were the pranks on the car owners, and now the show's format was also less aggressive. "Overhaulin'" then lasted three years on air until in 2015, it was cancelled despite its apparent continued success.
In 2019 MotorTrend announced "Overhaulin'" would come back for its tenth season, though this time it was only broadcast on the network's mobile app. The season' last episode aired in July 2020, and showcased the basketball legend Shaquille O'Neal.
It's unclear if "Overhaulin'" will return for another season, but knowing how successful and widely appraised the show is, it will most likely return sometime in the future. Meanwhile fans can binge-watch the more than 100 car renovations showcased in it, and rejoice once again in the incredible talent of its cast.