• Jarret Stoll is a former professional ice hockey player best known for his time with the Edmonton Oilers in the NHL
• He has won two Stanley Cups and works as a talent scout for the Los Angeles Kings
• He is married to Erin Andrews and they do not have any children
• His hobbies include skiing, snowboarding, swimming, watching movies, and eating Italian food
• His net worth is estimated at over $16 million
Who is Jarret Stoll?
Jarret Lee Stoll was born in Melville, Saskatchewan, Canada, on 24 June 1982 – his zodiac sign is Cancer and he holds Canadian nationality. He's a former professional ice hockey player, best known for the time he spent playing for the Edmonton Oilers in the National Hockey League (NHL).
Early life and education
Jarret was raised in Melville alongside his older brother Kelly and younger sister Ashley. by their father Tim and their mother Sherri – nothing about their parents is known as they prefer to stay away from the media's attention. Both Kelly and Ashley are also hockey players – Kelly played for the Yorkton Terriers competing in the Saskatchewan Junior Hockey League, while Ashley played for the University of Saskatchewan Huskies.
Jarret began playing minor hockey in Neudorf in Saskatchewan before switching to Melville, while he eventually moved to Yorkton, Saskatchewan and helped the team Yorkton Bantam AAA Terriers reach the 1997 Western Canadian Championship. He studied at St. Paul's Elementary School before moving on to Sacred Heart High School, and eventually St. Joseph's High School
Career as a hockey player
Jarret began playing for the Saskatoon Blazers competing in the Saskatchewan Midget Triple A Hockey League, and then in 1997 aged 15, he was drafted by the Edmonton Ice competing in the Western Hockey League (WHL). In 1998, Edmonton Ice changed its name to Kootenay Ice and Jarret spent the following four years with the team until the end of his junior years.
In 2002, he entered the NHL Entry Draft and was picked by the Edmonton Oilers, thus launching his career as a professional player.
In 2001 and 2002, Jarret also represented Canada at the World Junior Hockey Championships and he won a bronze and a silver medal, respectively.
Jarret became a starter for the Oilers in the 2003-2004 season, and for the following season, he played for the Edmonton Roadrunners competing in the American Hockey League (AHL). He returned to the Oilers for the season 2005-2006 when they reached the Stanley Cup play-offs, in which Jarret scored the winning goal in overtime of the Game 3 of the Western Conference Quarter-finals.
On 20 June 2008, Jarret began playing for the Los Angeles Kings after signing a four-year contract worth $14.4 million. On 11 June 2012, the Kings entered the Stanley Cup and winning it, thus marking Jarret's first Stanley Cup victory.
He was then offered a new three-year contract with the Kings of close to $10 million, and on 13 June 2014, he won his second Stanley Cup.
Jarret began playing for the New York Rangers after signing a one-year contract with them on 10 August 2015. He was let go after having scored only one goal in 29 games, and on 15 December 2015, he was picked to play for the Minnesota Wild, but was let go not long after.
Jarret hasn't played hockey since, but hasn't officially retired. On 15 December 2016, he was hired by the Los Angeles Kings to work as their talent scout.
Love life and marriage with Erin Andrews
Sometime in the mid-2000s, Jarret met Rachel Hunter, a famous New Zealand model and actress probably known best for having appeared on the cover page of numerous magazines such as "Playboy", Sports Illustrated" and "Harper's Bazaar".
In 2008, Jarret asked Rachel to marry him and the date was set for August 2009, however, the two split before that.
Jarret was also in relationships with the American actress Katie Cassidy (2010-2011) and the American model Paulina Gretzky (2012), daughter of hockey super star Wayne Gretzky.
In 2012, Jarret began dating Erin Andrews, a popular American sportscaster, actress and a TV personality. The two became engaged on 9 December 2016, and on 24 June 2017, they exchanged vows in front of their closest friends and family. Jarret and Erin don't have children, believed to be because they've agreed to focus on their careers, however, this hasn't been confirmed.
As of 2021, he's married to Erin Andrews and doesn't have children.
Hobbies and other interests
Jarret's a dog lover, and has a Golden Retriever pet dog called Howard, which can be seen featured in many of his pictures on Instagram.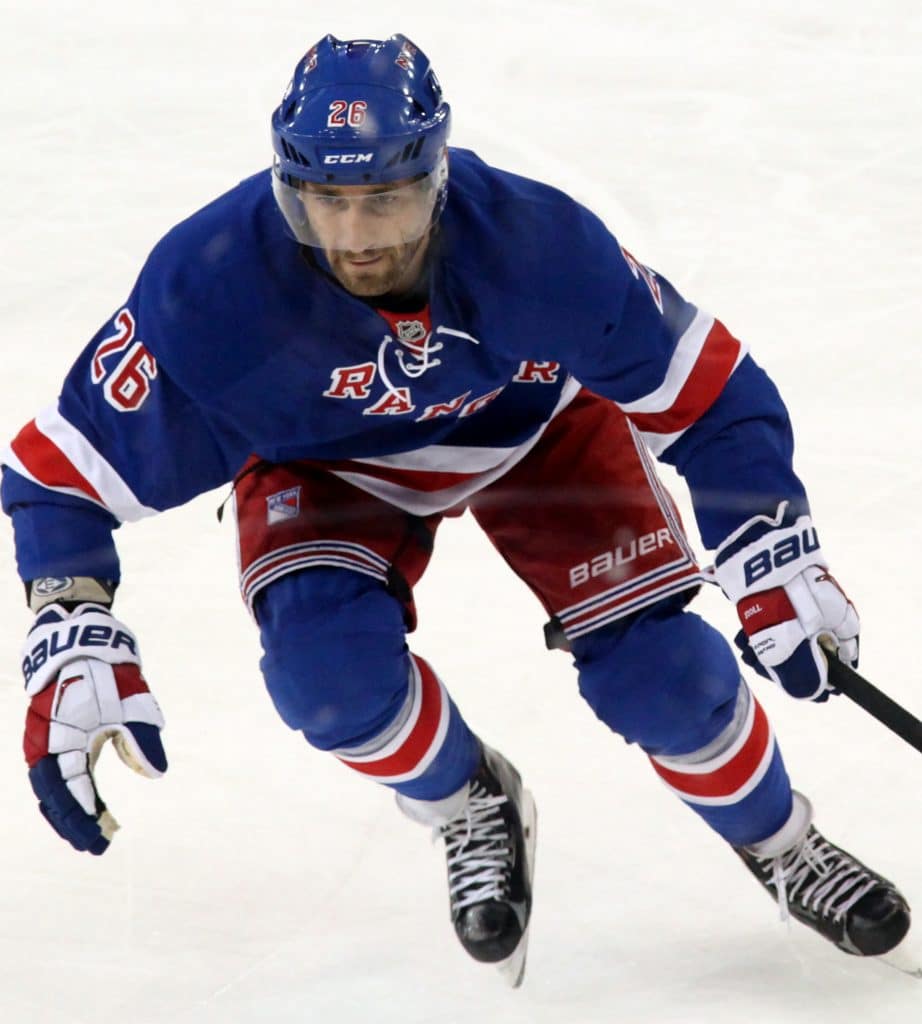 He's keen on tasting various cuisines – his favorite is Italian, as he enjoys pizza and pasta. Jarret also loves to eat sweets, and his favorites are Reese's and M&Ms.
Winter is his favorite season as he both skis and snowboards, but he also likes summer as he's an avid swimmer.
Jarret's keen on travelling, and his career has taken him to various Canadian cities and US states, while he has also been to several European countries for pleasure, with his favorite city being Paris in France.
In his spare time which is most often late at night, Jarret enjoys watching movies – his favorite actor and actress are Leonardo DiCaprio and Kate Winslet while his favorite films include "Shutter Island", "Inception" and "Titanic".
Age, height and net worth
Jarret's age is 38. He has short brown hair and brown eyes, his height is 6ft 1ins (1.85m) and he weighs around 210lbs (95kgs). As of March 2021, his net worth has been estimated at over $16 million.
Who is Erin Andrews?
Erin Jill Andrews was born in Lewiston, Maine USA, on 4 May 1978 – her zodiac sign is Taurus and she holds American nationality. She's probably known best for the work she's done for the TV network Fox Sports' NFL broadcasting team as their sideline reporter.
Erin spent the first five years of her life in Lewiston, where she was raised alongside her sister Kendra by their father Steven Andrews, who was a broadcast journalist and the winner of six Emmy Awards, and their mother Paula who was a teacher. In 1983, the family moved to San Antonio in Texas, and then in 1985 to Valrico in Florida when her father was offered a job at WFLA-TV as an investigative reporter.
ICYMI, @ErinAndrews released her newest collection, @WEARbyEA, and it is now available @OfficialNFLShop and @Fanatics!

This is the perfect apparel #everyWEAR and #anyWEAR! Get yours today: https://t.co/DNhoKVaX4W pic.twitter.com/8GqdyBamN0

— Fanatics (@Fanatics) October 4, 2019
Erin grew up being interested in sports, as she and her father often watched National basketball Association (NBA) games together, and after seeing the female sportscasters Lesley Visser, Melissa Stark and Hannah Storm, Erin decided that she would also become a sportscaster. She studied at Bloomingdale High School at which she practiced dancing, which eventually led her to enroll at Brandon School of Dance Arts. She matriculated in 1996, and then enrolled at the University of Florida, from which she graduated with a Bachelor of Arts degree in telecommunication in 2000.
Erin launched her career by joining Fox Sports Florida, then in 2001 she moved to the Sunshine Network, and reported on the professional ice hockey team the Tampa Bay Lightning.
It was in April 2004 that she joined ESPN and their show "ESPN National Hockey Night". From there, she joined the cast of "ESPN College Football Saturday Primetime" as a sideline reporter, while also began appearing in "ESPN College Football Thursday Primetime". In 2008, '09 and '10, Erin covered the Scripps National Spelling Bee and also in 2010, competed in the tenth season of "Dancing with the Stars", ranking #3 of 11 teams with her partner Maksim Chmerkovskiy.
It was announced on 29 June 2012 that Erin would quit ESPN and join Fox Sports, after being invited to host their show "Fox College Football". She also joined "Fox NFL Sunday" as a contributor and field reporter, and Erin could've been seen making a guest appearance in various other programs too, such as "Fox College Saturday", "Fox College Football Kick-off" and "Fox Football Daily".
Since 2014, she has been working as the sideline reporter for the program "NFL on Fox".
Erin also co-hosted "Dancing with the Stars" from March 2014 to 2020. and in both 2015 and 2016, she co-hosted the CMT Music Awards.
She's a philanthropist who has worked with many charity organizations such as Feeding America, Tragedy Assistance Program for Survivors, and the American Red Cross. In October 2016, she was named an ambassador of Orangetheory Fitness.
In both 2007 and 2008, Erin was named 'America's Sexiest Sportscaster' by the magazine "Playboy".
On 2 October 2009, the FBI arrested Michael David Barrett who filmed Erin while she was naked in her hotel room, and then uploaded the video onto the internet which went viral. On 15 March 2010, he was sentenced to spend two years and six months in jail which he served at the Seattle Community Corrections. Erin sue Michael as well as Mariott International, the company which owns the hotel she was staying at, and was awarded $55 million (she asked for $75 million) while Michael was found to be 51 percent responsible for the incident, and the company 49 percent responsible.
In September 2016, she was diagnosed with cervical cancer, which was completely gone after she underwent two surgical procedures.