• "Storage Wars" first aired on A&E in 2010 and was watched by several million people during its first season.
• The show remained on air for almost a decade, but stopped production for a while in 2019.
• Spin-off shows based in different states and cities didn't achieve success and were cancelled after one season.
• "Storage Wars" was accused of unethical practices and Dave Hester even filed a lawsuit against the producers.
• The cast of "Storage Wars" is doing various things, including returning to the show in the 13th season premiering in 2021.
There's nothing like the excitement one can get when opening an unknown box, right? What if instead of only a box it's an abandoned storage room full of 'things? The anticipation will surely be increased a ton, especially if people pay to see what's inside, or at least that's what producers of "Storage Wars" thought in 2010, when the show first aired on A&E.
They weren't wrong though, as the show was watched by several million people during its first season, and the audience continued increasing steadily. Knowing that, it's not a wonder why the show remained on air for almost a decade.
However, fans of "Storage Wars" were surprised when the show didn't return after the end of its 12th season, and no one explained why.
Fortunately, we know the answers to those questions! So take a seat as we tell you the reason why "Storage Wars" apparently ended, while we also run a quick check on what the buyers and auctioneers are doing now.
What Happened To Storage Wars?
After achieving worldwide success and becoming one of the top A&E shows, 30 January 2019 markED the day the final episode of the 12th season of "Storage Wars" aired.
While at the time the network hasn't made an official announcement regarding this subject, the show's long hiatus surely spoke for itself and expectedly, fans either requested another season or lost their hopes of seeing its return.
While some of the cast members had not wanted to talk about "Storage Wars" and what is in store for the series in the future, during an interview with the website TV Shows "Ace 2020", Rene and Casey Nezhoda touched the subject by saying A&E had 'moved on' from the show.
The hopes of watching a 13th season of "Storage Wars" are still alive though. As the Nezhoda couple also admitted, the network invited them to appear in a show renewal from a remote location fitting to the COVID-19 restrictions in 2020, which is an offer they rejected as it didn't fit their expectations.
Even if that answer left a lot to the imagination, it's safe to conclude that the network stopped the show's productions for a while to concentrate on other series. While it was also speculated that there are other reasons why the show didn't return to TV for so long, such as problems between the cast, or an audience target change, in early 2021 the network announced that the 13th season of the series would premiere in April that year. That surely made fans of the series very happy, despite the obvious absence of some of the old buyers.
The Failed Spin-Offs
When a TV series achieves a certain degree of success, it's quite expected that its network would try to expand it to other fields. That's why it's usual to find out that reality stars are often endorsed by brands, get juicy advertising contracts, and even release merchandise branded by their shows.
However, what truly seems to be the highest degree of accomplishment for a TV series is when it gets spin-offs. That's exactly what happened to "Storage Wars", when it's producers obviously noticed that the show had several million viewers per season, and obviously wanted to juice out that success as much as they could.
The first one of these spin-offs was "Storage Wars: Texas", followed by others of the same format based in other states of cities, such as New York and Miami.
Have a great weekend from all the team at #NorthEastSpace.
Looking forward to catching up on a few episodes of #StorageWars later! 📺👍#LouthChat pic.twitter.com/b5BN2UNuYK

— North East Space (@NorthEastSpace) September 5, 2020
As well, the original series' star Barry Weiss got his own show – "Barry'd Treasure" – which preceded "Married To The Job", starring Jarrod Schulz and Brandi Passante.
Unfortunately, none of these shows worked out in the end, and most of them were cancelled after only one season due to low audience ratings. While that's surprising considering the positive reception "Storage Wars" always had, its failure to become a big series franchise could also be one of the possible reasons A&E took a break from producing the show.
Legal Scandal
Television productions are often accused of devious things. While those claims are usually damaging, when it comes to reality series they can get away with a lot of undertakngs, including accusations of being fake or staged.
In "Storage Wars" case, the backlash it faced went beyond a simple claim of being a scripted show, as it involved fraud and a big media scandal.
The legal fight happened in 2012, when the then-recently fired buyer Dave Hester filed a lawsuit against the producers of "Storage Wars" for allegedly deceiving the public, and illegally terminating his contract. He claimed that the show's staff not only scripted the cast members' dialogues, but also strategically placed items so certain buyers could gain an advantage over the other bidders. Although at first A&E denied Hester's words to be true, one of the show's executive producers, Thom Beers, eventually admitted that some items were placed from some storage rooms to others, in order to make the show more entertaining.
Although at the end Hester's claims against the show for alleged unethical practices was dismissed in court, his wrongful firing claims were apparently going somewhere by late 2013.
Unfortunately, not a lot is known about what happened to his lawsuit, as he and A&E seemed to come to a private agreement ,and he eventually rejoined the show the following season. Nonetheless, the scandal surely effected the reputation of a show that prior to it claimed it was 100% real.
What Is The Cast Doing Now?
Dan and Laura Dotson
They're well remembered for being the show's main auctioneers of "Storage Wars". Although they had to leave the show in the 10th season because of budget cuts made by the network, fans of the series didn't easily forget them.
Besides their appearances in the show, Dan and Laura are well known for being the owners of the California-based auction company American Auctioneers, and following the words of the "Storage Wars" producer Thom Beers, they inspired him to create the show.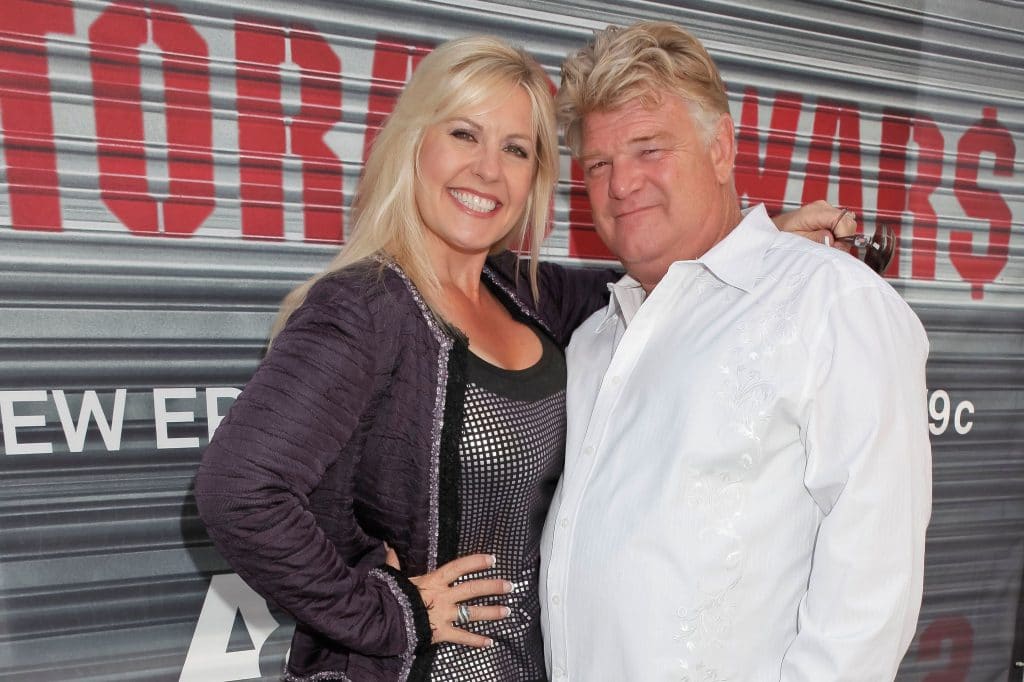 While their business has been going on strong for over three decades, the couple has gone through some difficulties related to Dan's health. In 2014 he had to undergo surgery to repair the damage produced by a double aneurysm he suffered at home. While Dan overcame the episode and is in good health nowadays, it was a hard experience that he wouldn't have survived if it wasn't for Laura's first aid assistance at the time.
When it comes to their television career, the couple hasn't been very active. Although not appearing in "Storage Wars" for a long time, they still contributed to the show as consultants. In 2020 Dan and Laura appeared in an episode of "The Real Housewives Of Beverly Hills" during a charity gala, which is unsurprising as the Dotsons do philanthropic labor quite often.
Luckily for fans of the couple, Dan and Laura will return to "Storage Wars" in its 13th season.
Emily Wears
She joined "Storage Wars" after the exit of the Dotsons, and despite her young age, Emily Wears clearly had enough knowledge and experience to manage the biddings well. Coming from a family of auctioneers, Wears grew up learning everything about the business, and took part in his family company Wears Auctioneering from a young age.
Unknown to many people, Wears' debut on TV was actually in 2012, in Animal Planet's "Money Barn", which eventually lead her path to appearing in "Storage Wars" in 2017.
Nowadays Wears is quite happy managing Wears Auctioneering WEST in Wyoming, and her fashion brand Western Wears. In 2017 she married rancher Cody Kroul, with whom she welcomed her first daughter, Millie Rose in 2019.
Dave Hester
Many remember Dave Hester not only for his infamous lawsuit against the "Storage Wars" producers, but for his eccentric and somewhat ill-mannered personality.
As already mentioned, Hester was fired from the show prior to the fourth season due to his unconformity with how the producers managed the series, which unleashed a legal battle that ultimately led to an undisclosed agreement, and Hester's return to the show until the 12th season, when he went on to found his own auctioneering company.
In 2018 Hester's life was put at severe risk when he suffered a stroke caused by high pressure and sleep apnea. Although he had to undergo a long therapy to recover his previous lifestyle and physical abilities, his health is fortunately better nowadays.
Darrell and Brandon Sheets
Darrell Sheets was definitely one of the most well-known bidders and buyers in "Storage Wars". For his part, his son Brandon was introduced into the show as his father's helper, and later on his skills improved so much that he even appeared to bid by himself.
On Darrell's part, big changes have happened in his life in recent years.
After his divorce from Kimber Wuefel in 2016, Darrel underwent a severe physical change by losing weight, and adapting to a seemingly healthy lifestyle. He was apparently in good health until in 2019 he suffered a heart attack, which led him to reveal that he had been having problems with his lungs.
Nowadays, Darrell's health has fortunately improved to the point that he left his retirement in Havasu to appear in "Storage Wars" 13th season.
Regarding Brandon Sheets, he didn't appear in the show after the 10th season, and won't appear in its renewal. However, now he seems to be quite content with being a real estate agent in Arizona.
Jarrod Schulz and Brandi Passante
They were definitely somewhat relatable and too-normal a couple when they appeared in "Storage Wars", but it seems things in real life weren't as blissful or funny for Jarrod Schulz and Brandi Passante as they seemed on TV .
In early 2020, Passante revealed that she and Schulz had ended their years-long relationship in 2018.
Although they weren't married and didn't have to go through a divorce proceedings, she described the post-separation feeling as being "dead-inside", though that is something she's been overcoming thanks to therapy. Recently, she has been struggling with her health after testing positive for COVID-19, from which she fortunately recovered from by the end of 2020.
Schulz nowadays manages his own bar, and is apparently in a stable relationship with a Rochel Beckman. Although he doesn't reveal a lot about his personal life, his and Passante's fans can consider themselves lucky, because the former couple is on board for the "Storage Wars" renewal.
Ivy Calvin
He appeared in "Storage Wars" in the third season as a guest star, but his attitude and work ethic led Ivy Calvin to become a main buyer by the fifth season. He also became a fan favorite until the series' prolonged hiatus in 2019.
Calvin's career in the bidding world started in the late 1990s, and it went so well for him that he had to open his own California-based store Grandma's Attic in 2009, which has been thriving for years, despite "Storage Wars" momentarily ceasing production. Luckily for his fans, Calvin and his sons will appear in the show's 2021 revival.
Kenny Crossley
After years of being a guest or a recurring cast member, Kenny Crossley finally became a main buyer in "Storage Wars" in the 10th season.
His affable personality is the reason Crossley is well liked by fans of the series, though what most people don't know is that he's more than just a bidder. In fact, he has several side careers such as music producer, podcaster, Uber driver, YouTuber and social media influencer.
Although his real life is just as interesting as what he does on TV, fans of Crossley can surely be happy to know he will take part in "Storage Wars'" 13th season.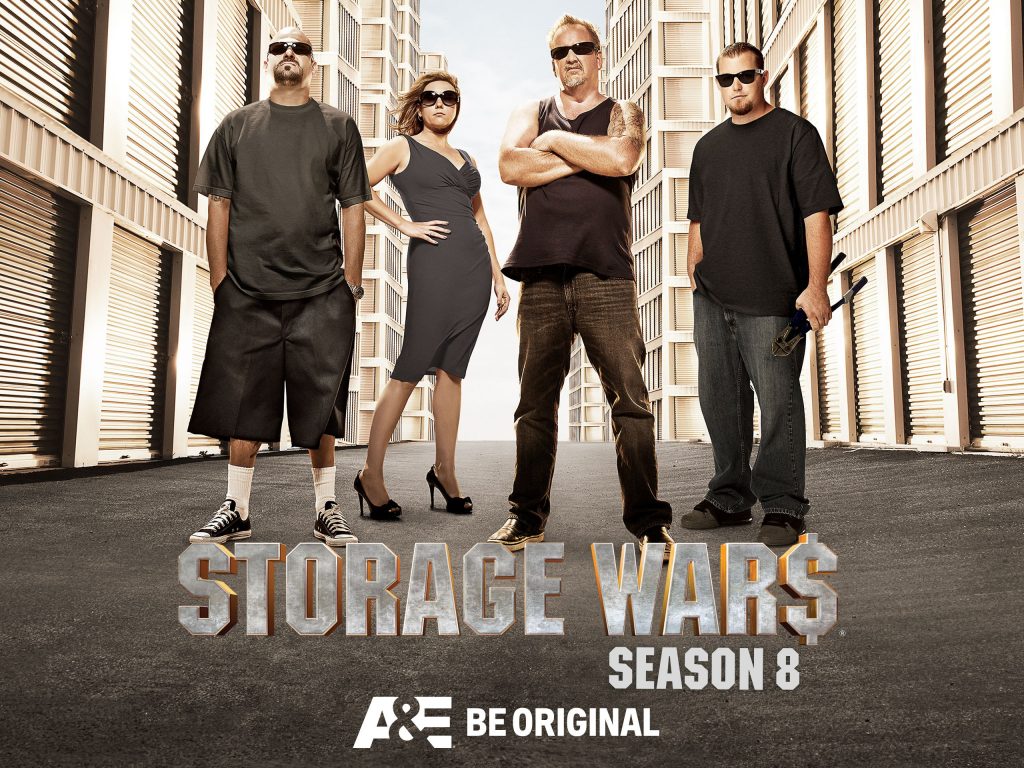 Rene Nezhoda and Casey Lloyd
Rene Nezhoda and Casey Lloyd are still active in the bidding world. However, they didn't say goodbye to cameras during the "Storage Wars" hiatus, and have recently become YouTube content creators as well.
While their business hasn't stopped thriving, in early 2020 Casey and Rene's names were in the headlines when they found a load of items belonging to the deceased basketball legend Kobe Bryant in an abandoned storage unit. Although the room was apparently abandoned by one of Bryant stylists, the couple returned the various and collectible items to his family.
Rene and Casey will return to "Storage Wars" in its 2021's revival, and along with their fellow cast members, they will surely bring joy to their fans in the US and around the world, who have been waiting for so long to see another season of the well-liked series.