• Carlos Valdes is a Columbian-born American actor best known for roles in The Flash and Wayward Guide.
• He announced his departure from The Flash following the 7th season finale in June 202•
• He grew up in Miami, Florida before his family moved to Marietta, Georgia.
• Carlos was a part of StarKid Productions and has toured with the musical Jersey Boys.
• He is a multi-instrumentalist and has released his debut EP, "Night Off", under the stage name Tha Los.
Who is Carlos Valdes?
Carlos Valdes is a Columbian-born American award-winning actor, who is best known to the world as Francisco Baracus 'Cisco' Ramon in the TV series "The Flash" (2014-2021), and also as Dr. Henry Edwards in the TV series "Wayward Guide" (2020), in addition to a few notable stage appearances in plays and musicals.
Why is Carlos Valdes Leaving "The Flash"?
Carlos was on the show from episode one until 2021, appearing in a total of 147 episodes and skipping just four, during this time became an international star, thanks to the eponymous success of the series.
However, his decision to leave the show has been in his mind for some time and it was announced that he would leave the show following the final episode of the seventh season, aired on 8 June. His character is sent off to Star City to serve as the Director of Technology and Science of A.R.G.U.S. The reason behind his departure is that he felt that he'd gave it all, explored all storylines with his character, and that it's time to start something new, and maybe even focus on his musical career.
Carlos Valdes Wiki: Age, Childhood, and Education
Carlos David Valdes was born on 20 April 1989 under the Aries zodiac sign, in Cali, Columbia to parents of Mexican ethnicity.
However, the family moved to the US when Carlos was five years old, living in Miami, Florida until he turned 12. Another move followed, this time he and his parents settled in Marietta, Georgia, where he went to Pebblebrook High School.
While in high school, he was a member of the school's program for art enthusiasts, known as Cobb County Center for Excellence in Performing Arts.  After matriculating, Carlos enrolled at the University of Michigan, from which he obtained a Bachelor's degree in drama.
Career Beginnings
During his university years, Carlos became good friends with the founders of StarKid Productions, including Darren Criss, Brian Holden, and Matt and Nick Lang.
He started working with them, and his first contribution was the music for the musical "Me and My Dick", while he also played bass, and contributed with bass notes to the group's most popular creation, the spoof musical on the "Harry Potter" franchise, entitled "A Very Potter Musical".
Vividly interested in theater, Carlos worked on several theatrical productions between 2009 and 2011, including "High School Musical", and "The Wedding Singer", and also toured the US with the musical play "Jersey Boys". He then portrayed Andrej in the musical "Once", which provided him the chance to showcase his skills playing various instruments, such as bass, guitar, ukulele, and percussion.
Television Debut and Rise to Stardom
Carlos made his TV debut in 2014, as Cisco Ramon in the superhero series "Arrow", which chronicles the life of Oliver Queen/Green Arrow, and the same year was cast in the "Arrow" spin-off entitled "The Flash". His character is a part of the "S.T.A.R. Labs team, with Dr. Harrison Wells played by Tom Cavanagh, and Caitlin Snow portrayed by Danielle Panabaker, who combine their knowledge and skills to help Barry Allen, a.k.a The Flash, who is played by Grant Gustin.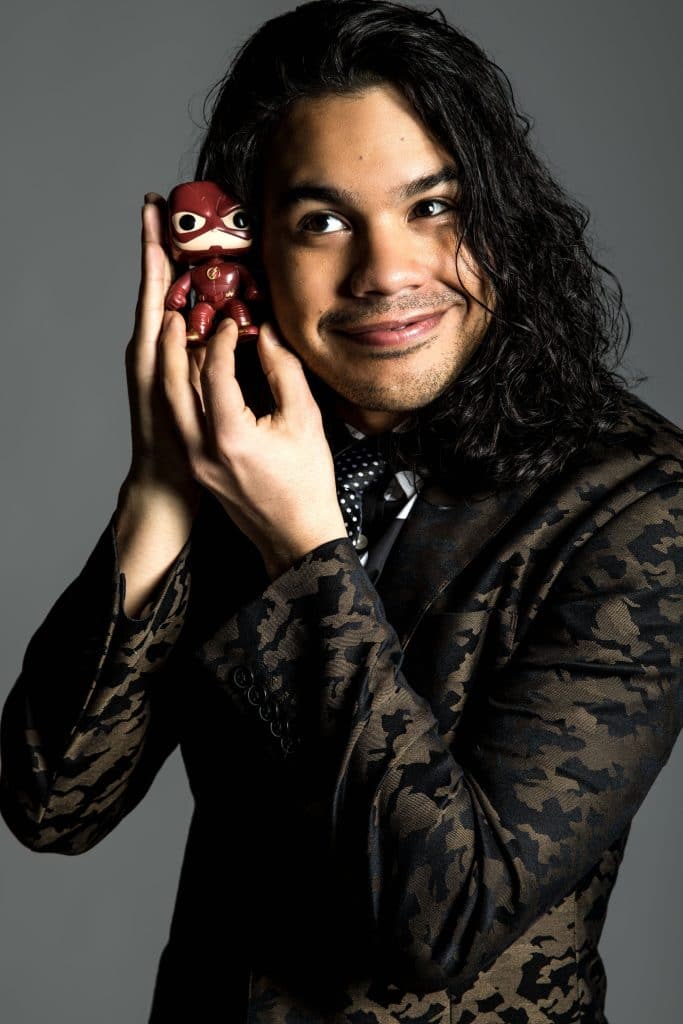 Carlos rose to stardom with the role of Cisco Ramon and has portrayed or voiced the same character in six projects – this includes the animated TV series "Vixen" (2015-2016), then the award-winning action-adventure series "DC's Legends of Tomorrow" (2016-2017), and "Supergirl" (2016-2018), while he voiced Cisco in the animated series "Freedom Fighters: The Ray" (2017-2018).
Other Projects
Carlos has been mainly focused on the character from the DC Universe ever since launching his on-screen career, but in recent years has started exploring other possibilities.
In 2019, he starred in the short film "The Stew" with Melissa Benoist, while in 2020 he portrayed Dr. Henry Edwards in the fantasy comedy series "Wayward Guide", starring Mary Kate Wiles, Steve Zaragoza, and Spencer Devlin Howard.
Music Efforts
The popular actor is also a very talented musician. Skilled in several instruments and accomplished as a lyricist, Carlos has released his debut EP entitled "Night Off", under the stage name Tha Los.
Personal Life, Dating, Girlfriend, Single?
In regards to his personal life, Carlos likes to stay low-profile and not reveal too much to the public. As a result, rumors of his sexuality have been aroused, however, he hasn't commented on the matter. According to reports, he is currently single and focused on his career.
Net Worth
As of mid- 2021, Carlos Valdes' net worth has been estimated to be around $1 million, earned largely through his successful career as an actor, during which he has appeared in 13 film and TV titles, all of which have added to his wealth, plus his budding musical career.
Appearance and Vital Statistics
This prominent actor has brown eyes, and has become known for his long wavy hair, however, in June this year, he cut his hair and now sports a different hairstyle, which left his fans shocked. He stands at a height of 5ft 7ins (1.7m), while he weighs approximately 148lbs (67kgs). His vital statistics are unknown, though he has an average figure.
Hobbies, Interests, and Trivia
Thanks to his Columbian and Mexican heritage, Carlos is fluent in the Spanish language, and is proud of his roots.
He held a TEDtalk on writing a musical back in 2010 with his fellow colleagues from the University of Michigan, Ali Gordon and Aj Holmes.
Prior to the role of Cisco Ramon/ Vibe, Carlos didn't know a thing about the DC Universe and its superheroes. As a result, he read through the comics to become acquainted with the characters and superheroes, and in no time became a fan and of the comic books on the whole.
In addition to making music in his free time, Carlos is a rather skilled break-dancer, though he hasn't displayed these kinds of skills on TV.