• Alex from Target is a social media phenomenon who became famous after a photo of him working in a Target store went viral.
• His net worth is estimated at close to $200,000 as of early 2021.
• He left high school to make appearances on news programs and talk shows and transferred to homeschooling.
• He has several tattoos and is currently in a relationship with a girl named Kate Callahan.
• He has his own YouTube channel and is focusing on a lifestyle of health and gym.
Who is Alex from Target?
Alex Christopher LaBeouf, also known as Alex Lee, was born on 21 January 1998 under the zodiac sign of Aquarius, in Dallas, Texas USA, so has American nationality.  He is a 23-year-old social media phenomenon, who gained fame as Alex from Target after a photo of him working as a cashier in a Target store went viral.
How rich is he, as of now? Alex from Target Net Worth
As of early 2021, Alex from Target has a net worth estimated at close to $200,000, earned through his successful involvement on the social media scene.
Early Life, Parents, Siblings, Nationality, Educational Background
Alex spent his early years in his hometown of Dallas, where he was raised by his father, Eric and his mother Marci Fooks. The professions of his parents haven't been revealed to the public. He has two siblings, a brother and a sister. Regarding his education, Alex attended a local high school, which he eventually left after becoming famous since he missed many days of school to make appearances on news programs and talk shows.
So, he transferred to homeschooling, and has said that he has a plan to further his education to become an Emergency Medical Technician (EMT).
Rise to Fame
While attending high school, Alex started working as a cashier in a Target store near his home, actually for just three months until he was spontaneously catapulted to fame and became popular overnight thanks to his appearance. It happened in 2014 when one of the female teenage girls noticed him while he was packing groceries at the checkout, took a photo of him and posted it on her Twitter account with the caption 'letting people know about his good looks, just for fun'.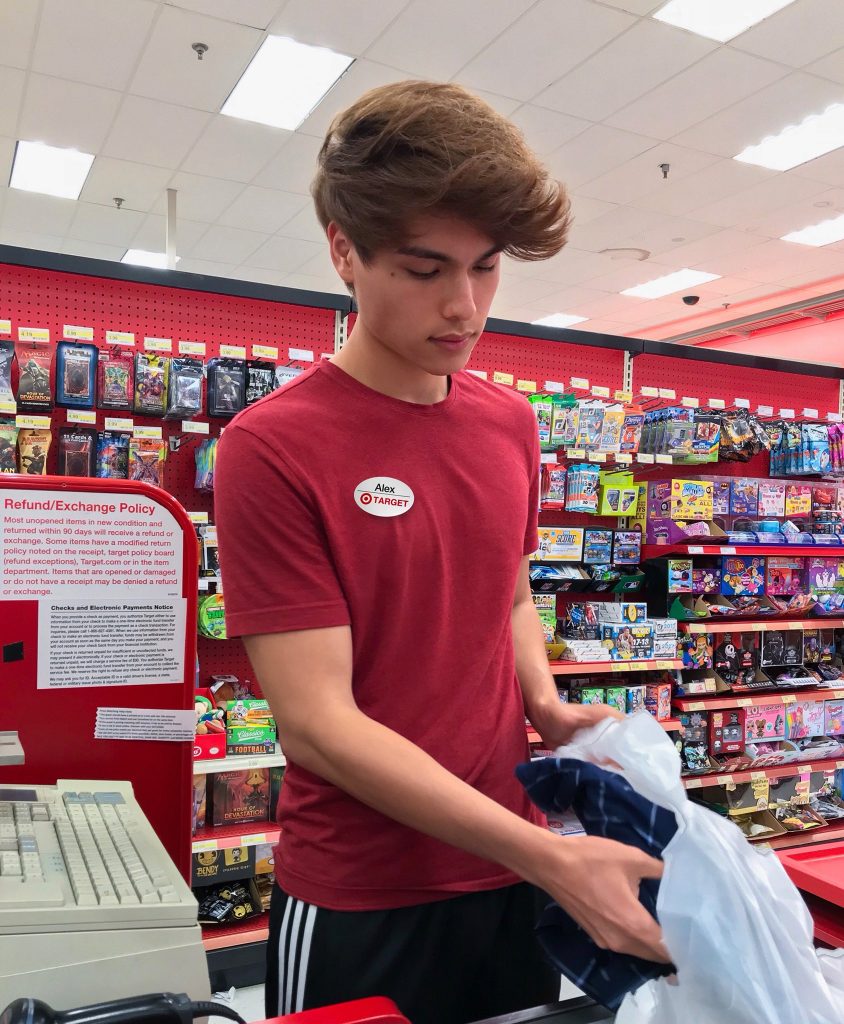 As soon as she posted his photo it went viral, and people started looking for his social media accounts on Twitter and other platforms. His Twitter account was flooded with followers, and in just one day he had more than 500,000, while the hashtag #AlexfromTarget had been tweeted over 800,000 times.
"The Ellen DeGeneres Show" and DigiTour
Alex's story immediately ended up on the news, which led to an invitation by Ellen DeGeneres to appear in her talk show "The Ellen DeGeneres Show", telling her that he only had 144 followers before his photo went viral.
He also made appearances in other shows such as "Entertainment Tonight", "Extra With Billy Bush", and "Pop Trigger", to name a few. It increased his fan base so much and attracted him many modeling, singing, and acting offers that he had to hire a manager to handle that.
He then decided to join other social media stars on the 2015 DigiTour, and became close friends with Sam Pottorff. In the same year, he appeared in the short film "The Fearless Five", directed by Evan Hara and based on his overnight fame. He even tried himself as an actor, and in 2016 landed the role of Zach in Rod Hermansen's drama film "Coming Home".
NEW YOUTUBE: https://t.co/NbmnCyEVgS pic.twitter.com/sJZ7kdR6UT

— Alex Lee (@AlexLeeWorld) October 7, 2017
YouTube Channel
After being surrounded by social media professionals for a month on the DigiTour, Alex came up with the idea to start his own YouTube channel, on which he posted videos related to his daily life activities. He quickly amassed over 150,000 subscribers, and ran it successfully until his manager took it away from him. He got it back after a year and a half, but realized that his manager is admin. Since he couldn't change that, Alex started his new channel under the username 'Alex Lee'. In October 2017, he uploaded his first video entitled "RIP #AlexfromTarget", and soon amassed over 10,000 views, and more than 13,000 followers.
What is he doing now?
As time passed, Alex from Target's popularity faded away, and he decided to distance himself from the fame. He deleted his Instagram page as well as videos from his YouTube channel, and also stopped being active on Twitter in November 2017. He then turned to a lifestyle of health and gym, and in March 2018 launched a new Instagram account dedicated to his fitness journey.
Appearance, Vital Statistics, and Tattoos
Alex has short light brown hair and blue eyes. He stands at a height of 5ft 10ins (1.78m), while information about his weight, vital statistics, biceps size, and shoe size isn't available. Alex is a huge fan of tattoos and has several on his body, including a cherry blossom tree on his shoulder, a wave on his arm, and a smiley face on his middle finger. He also tattooed 'When you saw only one set of footprints, it was then that I carried you' on his rib, and 'Let's get lost' on his collarbone.
Personal Life
Alex was romantically involved with a girl named Kelsey Carpenter, who he met as soon as he moved to Los Angeles, California, since they both lived in the same building. She featured in some of his videos and photos, however, they are no longer together. She recently welcomed a baby with another guy, while Alex is currently in a relationship with a girl named Kate Callahan.