• Chris Magello, aka ChrisFix, is a YouTuber known for making car repair videos.
• He graduated from Rutgers University in 2016 with a Bachelor of Science degree in Marine Biology.
• His YouTube channel is one of the most popular in the car repair niche and has almost 8.2 million subscribers.
• Chris is active on Instagram, with his account '@chrisfixit' numbering almost 700,000 followers, and over 2,000 posts.
• As of August 2021, his net worth is estimated at more than $4.7 million.
ChrisFix Wiki Bio
Chris Magello – aka ChrisFix – was born in Tennent, New Jersey USA, on 4 July 1996 – his zodiac sign is Cancer, and he holds American nationality. He's a YouTuber, known best for making car repair videos.
Early life and education
Chris grew up in New Jersey alongside his two siblings. His mother worked as a nurse, while his father is the owner of an auto repair shop. As a child, Chris spent a lot of time with his dad at his garage, which got him interested in cars at an early age. However, in elementary school he was called Chris Fish, stemming from his love for fishing.
He graduated from the Rutgers University in 2016, with a Bachelor of Science degree in Marine Biology.
Career on YouTube
Chris launched his YouTube channel on 30 July 2008, and uploaded his first video on 11 January 2010 entitled "Corvette Sights and Sounds". In the following years, he continued making videos about car repair, as well as reviews of certain car models.
Aside from cars, Chris is also passionate about fishing, and occasionally makes videos about it, such as "How to Clean a Blue Claw Crab" and "How to Fillet a Fish (quick and easy way)".
Today, Chris's channel is one of the most popular in the car repair niche, surpassing his competitors such as EricTheCarGuy and Scotty Kilmer. One thing that helps him attract subscribers is his consistency, as he has been uploading new videos at least once a week for the past ten years. He is also quite unique, as he never fully shows his face in his videos. Instead, he would usually wear a helmet or just keep his head down.
As of August 2021, the most popular video on Chris' channel is "How to SUPER CLEAN your Engine Bay", which numbers more than 39 million views. It's estimated that he averages over three million views per video, and that each video earns him more than $70,000.
Chris' channel numbers almost 8.2 million subscribers, with more than 1.2 billion total views.
Chris is active on Instagram, with his account '@chrisfixit' numbering almost 700,000 followers, and over 2,000 posts. His Instagram account is very on-brand, as it's mainly dedicated to cars, and Chris doesn't show his face on there either.
He has a dedicated Facebook page, which he mainly uses to promote his YouTube content. It's amassed more than 125,000 likes, and over 140,000 followers.
Chris launched his Twitter account in November 2013, but it's somewhat less popular, having less than 30,000 followers on the platform.
Love life and relationships
Chris is a very private person, and has never mentioned anything about his love life on his channel. This has led to a lot of his fans speculating about his relationship status, with some thinking that he might be married. He apparently resides in a four bedroom house in New Jersey, which might suggest that he doesn't live alone, however, there is no way of confirming Chris' relationship status, unless he decides to do it himself.
Hobbies and interesting facts
In April 2019, news of Chris' death started circulating the Internet. This was caused by a mix-up with news about the death of CBS ad executive, Chris Fix, who died of heart attack at the age of 53.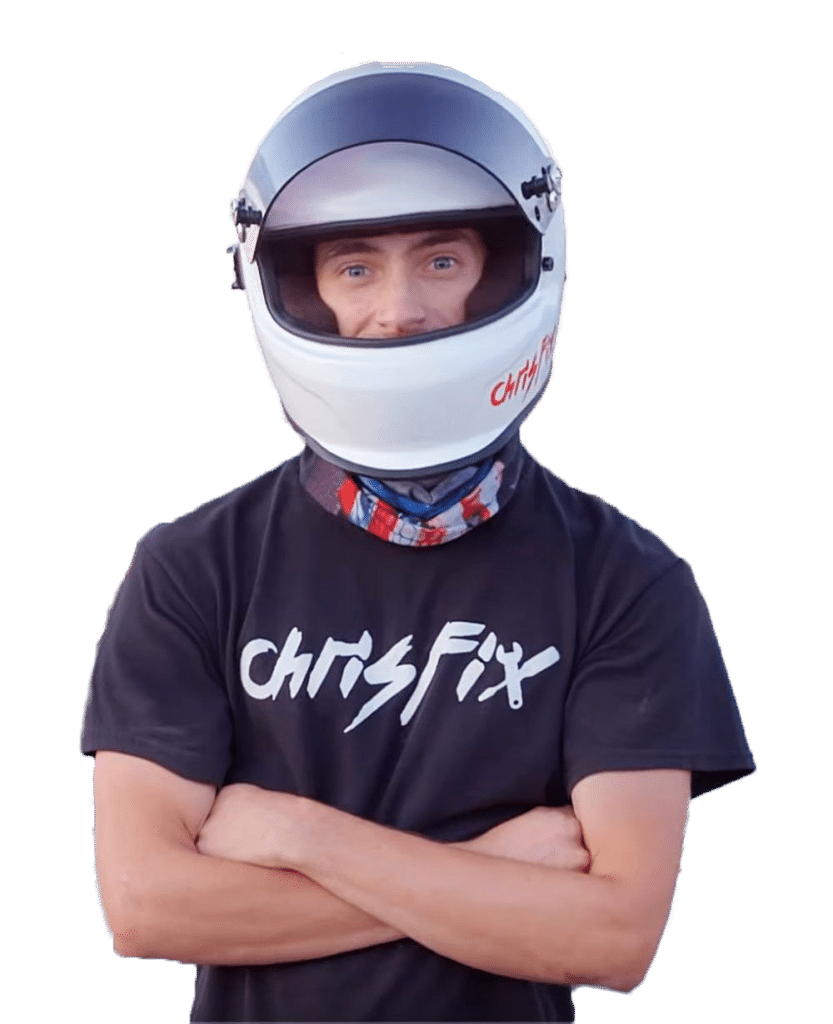 While many other YouTubers like to brag about owning expensive cars, Chris values reliability and timelessness over price. In a video from two years ago, he revealed that it was his childhood dream to own a Hummer, and after his channel grew in popularity, he was finally able to buy a 1992 model.
He loves watching movies in his spare time, with some of his favorites being "Seven Samurai", "The Good, the Bad and the Ugly", and "Fight Club", while his favorite actor is Clint Eastwood.
Rivalry with Scotty Kilmer
In May 2018, Chris uploaded a video about clear coating plastic headlights.
This prompted the YouTuber and professional car mechanic, Scotty Kilmer, to make a video explaining why Chris was wrong, while calling him out on several unrelated issues, such as having a degree in Marine Biology. Although Chris didn't respond to the video, a lot of people in the car repair online community took his side, and pointed out that Scotty had given much more questionable advice to his viewers in the past.
In December 2019, Scotty posted another video about Chris, entitled "Chris is Wrong, Don't Try to Fix This on Your Car (It Can Kill You)", in which he stated that he shouldn't be encouraging his viewers to change Prius car batteries on their own, because the process could be dangerous if done incorrectly.
Chris' fans came to his defense again, although he didn't respond to Scotty publicly.
Why doesn't ChrisFix show his face?
Chris is unique among car repair YouTubers, as he goes out of his way to hide his identity, and not show his face. He even once did an interview for NASCAR while wearing a hat and keeping his head down.
Chris later clarified that he thinks that the viewers should focus on helpful content of his videos, rather than his personality or identity. However, some people are speculating that he might be doing this as a publicity stunt, as the veil of mystery makes people more interested in him.
In August 2018, a Twitter user asked him if he would reveal his face once his channel hit four million subscribers, to which Chris responded: '10 million!' Considering how well he's doing on YouTube, an official face reveal might be coming relatively soon.
We still have some idea about what he looks like, because in a video from 2019, he accidentally showed his face in the window reflection of his car, which revealed that Chris is dark-haired and had a beard.
Appearance, age and net worth
Chris is 25 years old. He has short dark brown hair and blue eyes, he's 5ft 11ins (1.8m) tall, and weighs around 174lbs (79kgs).
As of August 2021, his net worth is estimated at more than $4.7 million.