• AdeptTheBest is an American video game player, YouTube star, and Twitch streamer
• She has a degree in business management and a minor in interior design
• She streams on her Twitch channel to a public of 445,000 and has 134,000 YouTube followers
• She is dating xQc, a professional e-sports player and Twitch star with over 6 million followers
• AdeptTheBest has a net worth of $500,000 and xQc has a net worth of $5 million
Who is Adept?
AdeptTheBest is an American video game player, YouTube star, and Twitch streamer, best known to the world by streaming and uploading gameplay videos of such games as "Among Us", and "GTA" among others. She is also working on a career as an interior designer.
AdeptTheBest Biography: Real Name, Age, Childhood, and Education
AdeptTheBest's real name is Sam, however, she hasn't revealed her surname. She was born on 3 March 1994 under the Pisces zodiac sign, in Texas USA. She has often talked about her childhood, saying that she became interested in video games from an early age, playing such titles as "Call of Duty" and "Counter-Strike" among other popular games of her youth.
She never considered pursuing streaming as her full-time career, and after high school, she enrolled at a university from which she obtained a degree in business management, with a minor in interior design. Nevertheless, her parents have supported her in all her efforts.
Career Beginnings
AdeptTheBest launched her career in 2016 with the creation of her YouTube channel, and began mixing video game videos and daily vlogs such as "Overwatch Themed Streaming/ Gaming Room Tour". In 2017 she opened a Twitch channel and began streaming various video games such as "Call of Duty", "CS: Go", and "GTA 5". Her fan base increased at a rapid pace, thanks to her perky personality and funny comments.
Rise to Prominence
As she became more popular, she started playing other games such as "Among Us", "Black Ops 2" and "Fortnight", and uploading all the videos onto her YouTube channel. She regularly streams on her Twitch channel to a public of 445,000 people, and she is now focused on "Valorant", "Rust", and Grand Theft Auto V", among other games.
The number of her fans on YouTube has also reached a new high, with 134,000 followers, while her videos have been viewed more than 35 million times.
Saw this post on my insta and thought I'd repost it to ask what I should be for halloween this year?? The time to order cute ass fits is NOW ☺️ https://t.co/SHsmCXgDI4

— adept. (@adeptthebest) July 27, 2021
Some of her most popular videos include "Adept Reacts to xQc Saying Things", which has been viewed more than 660,000 views, then as "Adept and xQc become Chef Masters", with over 465,000 views, and "Did you ever catch him doing it…", which has been viewed 465,000 times, among numerous other videos that have increased her popularity and wealth as well. In recent years, AdeptTheBest has become focused on "Overwatch" and "Fortnite" video games, often uploading new gameplay videos of these games.
Personal Life, Dating, Boyfriend, Single?
AdeptTheBest has often shared details and events from her personal life, however, she has kept a secret the one thing that interests her fans. She started living together with another YouTube and Twitch star, xQc – the two posed as just roommates for a while, before accidentally revealing that they were dating with a kiss on camera – they thought the camera was off! They have featured in each other videos quite often, such as "Making XQC try my Skincare Routine".
Net Worth
As of mid- 2021, AdeptTheBest's net worth has been estimated to be around $500,000, earned through her successful career as an online content creator, Twitch streamer, and video game player.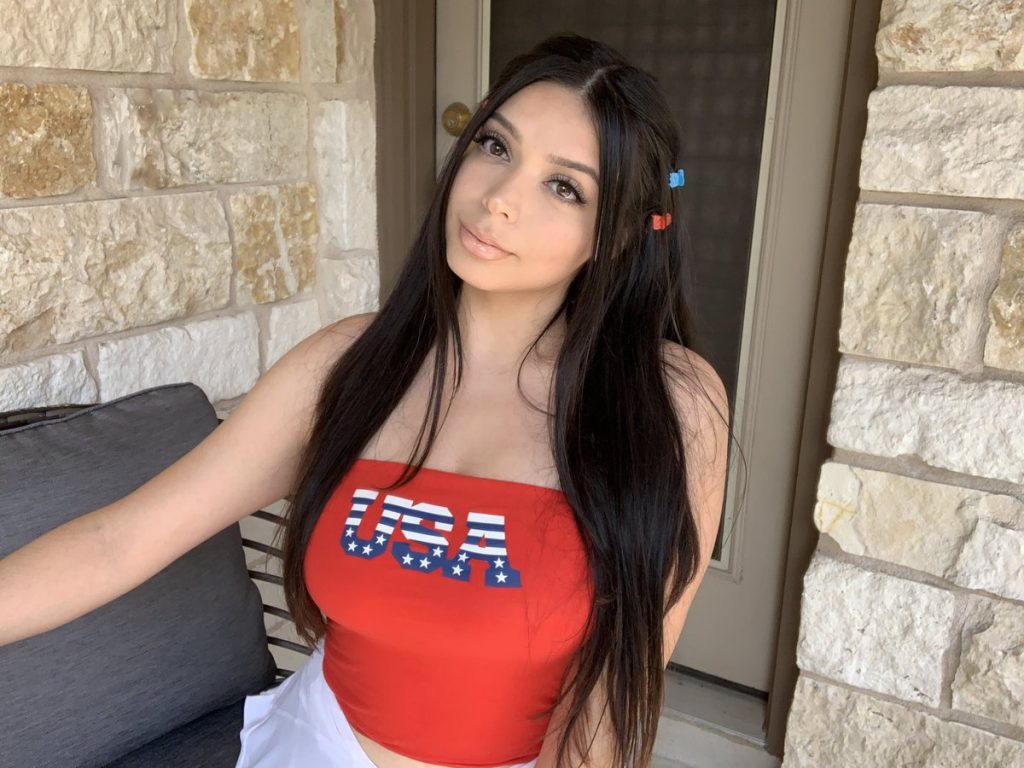 Appearance and Vital Statistics
This prominent Twitch star has blonde hair and dark brown eyes. She stands at a height of 5ft 5ins (1.65m), while her vital statistics are 34-26-39, bra size 33C.
AdeptTheBest's Boyfriend – xQc Short Bio
Born Felix Lengyel on 12 November 1995, in Laval, Quebec, Canada, his parents divorced when he was just a year old and together with his brother, Nicholas, shared time between parents' separate houses. His nickname is a combination of the last letter of his first name and the abbreviation of the Canadian province in which he was born, Quebec (QC).
He completed secondary school, and then enrolled at CEGEP, where he initially studied humanities, but switched to administration. However, he dropped out of studies just six months before graduation and began streaming video games on Twitch.
He ultimately became a professional "Overwatch" player, after playing "League of Legends". He has played for several professional e-sports teams, including DatZit Gaming, Dallas Fuel, Denial eSports, Arc 6, GOATS and Gladiators Legion. In 2017, he won the Most Valuable Player award at the Overwatch World Cup (OWWC).
He is a huge Twitch star, though he's received a few suspensions over the course of his career, due to illegal actions, such as unauthorized streaming of professional events. Nevertheless, he has more than six million followers on Twitch and a number of subscribers. He streams various games such as "GTA 5" and "Fall Guys: Ultimate Knockout", among many others.
He also runs a YouTube channel with more than 1.6 million subscribers and 790 million views.
His most popular videos include "xQc Reacts To Daily Dose of Internet", with close to four million views, then "xQc Reacts to the Story of xQc by the Score esports", with more than 3.5 million views, and "XQC Media Monday #2", which has been viewed over three million times, in addition to a number of other reaction videos and daily vlogs.
xQc's net worth has been estimated to be around $5 million as of mid- 2021, which he has earned as a professional video games player and Twitch star.
This Twitch star has dark brown hair though he often dyes it blonde, and light brown eyes. He stands at a height of 6ft 2ins (1.88m), while he weighs approximately 172lbs (78kgs). His vital statistics are 44-32-38.