• Steve Borden, better known by his ring name Sting, is a professional wrestler and former bodybuilder.
• He was born in Omaha, Nebraska in 1959 and is a Pisces.
• He won 14 world championships in his five-decade long career and is currently signed to All Elite Wrestling.
• He and his first wife Sue have three children, and he is currently married to his second wife Sabine Borden.
• He has a net worth of over $8 million as of December 2022.
Who is Steve Borden?
American professional wrestler and former bodybuilder Steve Borden, perhaps known better by his ring name Sting, was born in Omaha, Nebraska USA, on 20 March 1959, meaning that his zodiac sign's Pisces. He's probably known best for his work in World Wrestling Entertainment (WWE), and still today ranks amongst the best professional wrestlers of all-time. Steve won 14 world championships in his five decades long career, and is today signed to All Elite Wrestling (AEW).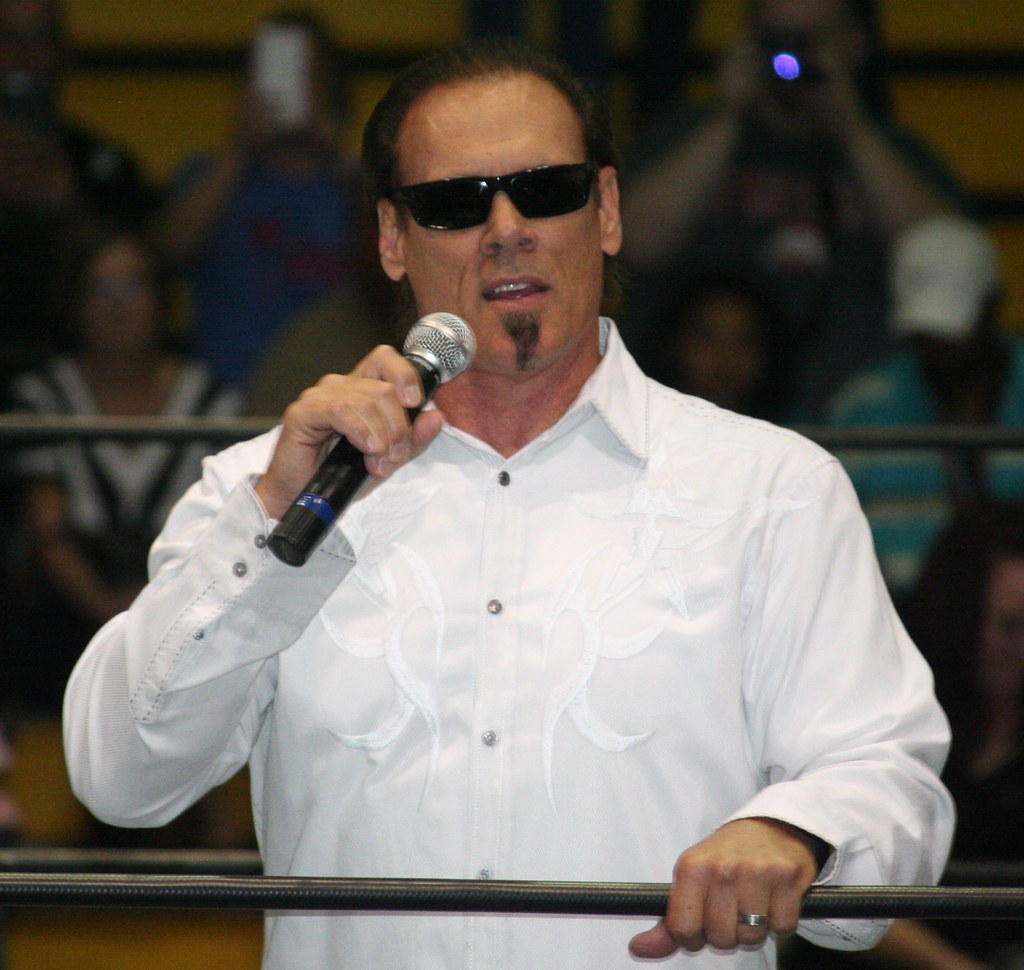 Education and early life
Steve and his brother Jeff were raised in Southern California by their parents, about whom Steve avoids talking in public, because he's respective of their privacy.
He was a pre-teen when he became interested in sports, and began playing both basketball and football while attending a local elementary school. Steve continued playing the sports upon enrolling at high school, and initially dreamed of becoming a professional Football Player.
He began going to the gym at the age of 17, and then chose bodybuilding over football; he eventually became a co-owner of the Gold's Gym health club.
Steve matriculated in 1977, but had no interest in wrestling until a friend took him to Los Angeles, California to watch a World Wrestling Federation (WWF) event, where Steve became a fan of professional wrestlers Andre the Giant, The Iron Sheik and Hulk Hogan.
Steve's career
Steve was a bodybuilder for around eight years after completing his high school education, also practiced martial arts, and occasionally wrestled during that period.
One of his first professional wrestling matches was in 1985 under the ring name Flash, when he and Jim 'Justice' Hellwig teamed up for the All-California Championship Wrestling, together with Mark 'Commando' Miller and Garland 'Glory Donahoe. Steve and Jim moved to the Continental Wrestling Association (CWA) in the following year, and chose Freedom Fighters as their team's name; they left CWA after having broken the leg of Phil Hickerson, an American retired professional wrestler.
They then joined the Universal Wrestling Federation (UWF), choosing Blade Runners as their name; it was around this time that Steve began using Sting as his ring name. In 1986 and 1987, Steve won the UWF World Tag Team Championship, the first time with 'Hot Stuff' Eddie Gilbert and the second with Rick Steiner.
In July 1987, he signed with National Wrestling Alliance (NWA) and in March 1988 challenged the New World Heavyweight Champion Ric Flair; the match ended in a draw. He wrestled Flair to a draw in 1989, and then had his first match in Japan in the same year, while touring in All Japan Pro Wrestling. Steve won his first title in March 1989, when he defeated NWA Television Champion Rotundo.
In 1990, Steve got into a feud with The Four Horsemen, but injured his knee in the first half of the year, and missed many events, but on 7 July, he defeated NWA World Heavyweight Champion Flair.
His reign ended on 11 January 1991, when Flair retrieved his title, but in August 1991, Steve became the World Championship Wrestling (WCW) US Heavyweight Champion, holding the title for 86 days prior to losing to Rick Rude.
He became the WCW International World Heavyweight Champion in April 1994, and held the title for several months. Starting from the first half of the '90s, Steve began to change his looks, letting his hair grow and changing its style; he then teamed up with Lex Luger, and they won the WCW World Tag Team Championship on 22 January 1995.
He became the WCW World Heavyweight Champion in February 1998, and then went on to defend the title against the Diamond Dallas Page, Nash and Hall; he teamed up with The Giant and they won the WCW World Tag Team Championship in May of the same year. For the fifth time, on 26 April 1999, Sting became the WCW World Heavyweight Champion by defeating Page, but lost the title only 90 minutes later.
Four Decades of SHOWTIME! Add this @Sting shirt to your collection today at https://t.co/9hHlXpcSbp!#shopaew #aew #aewdynamite #aewrampage pic.twitter.com/YY7L61gK96

— ShopAEW.com (@ShopAEW) December 15, 2022
His contract expired in March 2002, and he thus signed with World Wrestling All-Stars (WWA), and on 13 December, he became the WWA World Heavyweight Champion, having defeated Luger. He signed a contract with Total Nonstop Action Wrestling (TNA) in 2003, and became the World Heavyweight Champion on 12 October 2008, losing the title to Mick Foley after 189 days.
Steve quit TNA in 2014, and signed a contract with WWE in the same year. The year 2015 was marked by his feud with The Authority, and he was inducted into the WWE Hall of Fame in 2016; having then spoken about undergoing a surgery for cervical spinal stenosis, Steve revealed the he would be retiring on 2 April 2016.
He returned to wrestling on 2 December 2020, after having signed a contract with AEW and it's recently been announced that Steve's going to be wrestling on 23 January 2023, at the Great Muta Final 'Bye-Bye' event.
Love life and wife
Steve's married twice. His first wife was Sue, an American former TV personality and model. The two married in 1986, and Sue gave birth to their sons Garrett Lee and Steven Jr. in the following a couple of years; their daughter Gracie followed in 2000, but Steve and Sue divorced in 2010.
He married his second wife, American certified personal trainer Sabine in 2015, and they've since been together.
Steve hasn't spoken of other women whom he's dated, he's married to his second wife Sabine Borden as of December 2022, and has three children with his first wife Sue Borden.
Interesting facts and hobbies
Steve's admitted that he used anabolic steroids in the '80s.
In August 1998, he admitted to his wife that he'd been unfaithful, and also confessed that he was addicted to both alcohol and drugs; he then became a born-again Christian.
Steven's son Garett holds a degree from Azusa Pacific University, at which he was an avid Football Player; his second son Steven Jr. played football at Kilgore College.
Steve's today followed by close to 3,000 people on Instagram, but has posted only 21 pictures and videos onto the social media network.
His favorite actors are Dwayne Johnson and Vin Diesel, and some of his favorite movies include "Pain & Gain", "The Rundown" and "The Game Plan".
Height, eyes and wealth
Steve's age is 63. His eyes and hair are brown, his weight is 250lbs (113kgs) and he's 6ft 2ins (1.88m) tall.
Steve's net worth's been estimated at over $8 million, as of December 2022.