• Evan Moana, better known as EvanTubeHD, is a social media star and YouTuber
• His family runs a joint channel called "The Tube Family"
• He has an older sister, Jillian, who has her own YouTube channel
• His channels have gained millions of subscribers and views
• He wants to work in the entertainment industry as an animator, producer, or director
Who is EvanTubeHD?
Evan Moana, better known as EvanHubeHD, is a social media star and YouTuber, who gained popularity for his family-friendly, interesting and creative YouTube content. Evan was born under the Zodiac sign Sagittarius on 6 December 2005, in Pennsylvania, USA. As of mid-2021, he is 15 years old, and holds American nationality. His ethnic background is very interesting and diverse, being a mix of Irish, Chinese, British, French, German, and Vietnamese.
Bio, Family and Siblings
Evan was born to Jared and Alisa, who are also YouTubers; his father is known as DaddyTube, and his mother is MommyTube, and they run a joint channel entitled "The Tube Family", which was launched in 2013, and initially named "EvanTubeRaw", changed in 2019. His parents met while they were doing a musical entitled "The King and I". In a Q&A video, Alisa disclosed that she had obtained a degree in musical theatre.
She had a minor role in a 1999 sci-fi movie entitled "Bicentennial" opposite Robin Williams, however, in hopes of finding a more stable job, she enrolled in a teaching program to become a teacher, and before giving birth to Evan, worked as a pre-school and kindergarten teacher.
Evan's father, Jared, went to college as an art major in graphic design, but later changed to music and theatre, but finally, driven by financial motives, his father opted for economics and business. After finishing college, Jared worked as a singer and dancer on cruise ships, and landed a minor role in the biographical drama "Pursuit of Happyness" alongside Will Smith. However, everything changed with Evan's birth, and Jared began working as a photographer and videographer, which is how they eventually began making videos on YouTube. An interesting detail about DaddyTube- he was a competitive teenage bodybuilder in the '90s.
In a video, Jared explained that the initial idea behind "The Tube Family" was combining raw, unedited footage, but the direction changed to a full-on vlog channel with toy and challenge reviews. Jared said: "Another key element for us has been that we work as a tight family unit, and the channel really wouldn't be where it is today if it was missing any one of these elements. Family is the driving factor behind everything we do on YouTube." It currently has nearly four million subscribers.
Evan has one sibling, a sister named Jillian, who also has her own YouTube channel, entitled "JillianTubeHD", which currently has over 1.5 million subscribers. She also makes similar family and children-oriented content, which includes challenge videos, various DIY hacks, and game reviews, to name a few.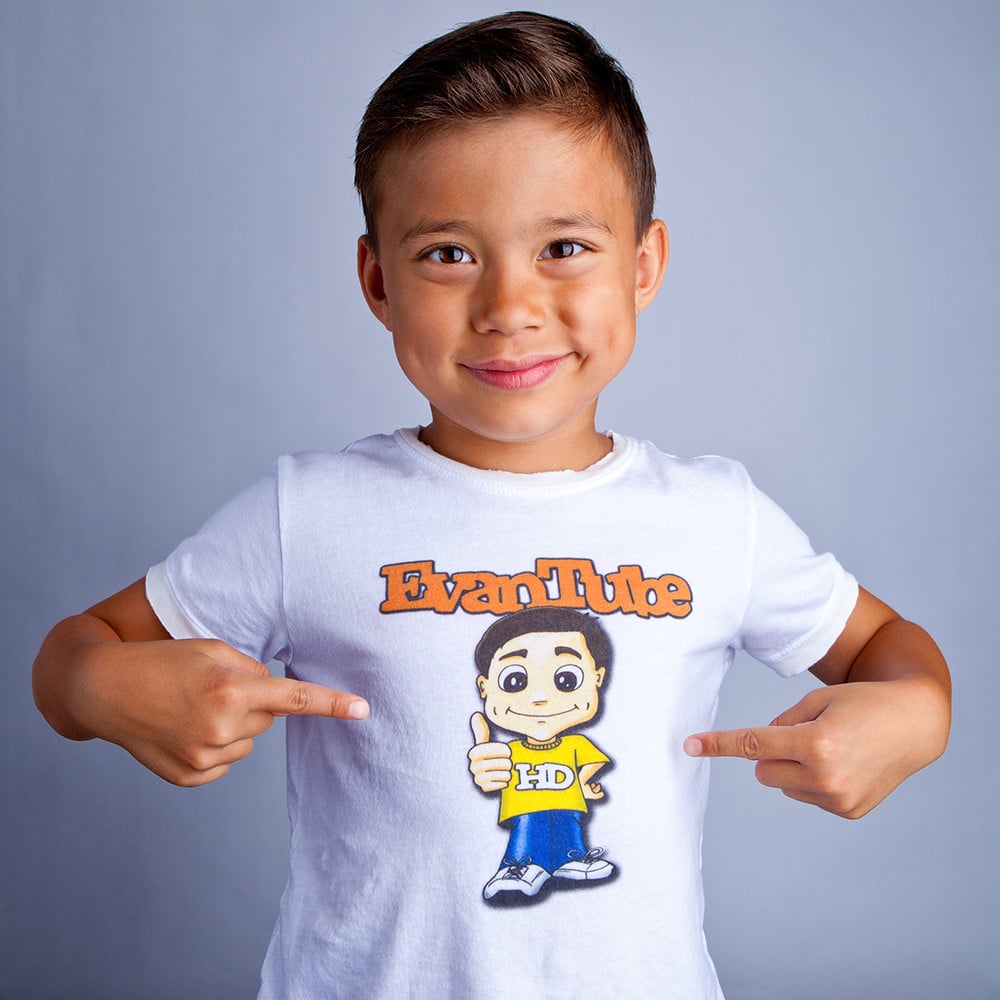 YouTube career
Jared and Evan launched the channel EvansTubeHD in 2011, without thinking that that someday it could turn into a seven-figure business, Jared said:" When we first started the channel, we had no intention of making a cent from our videos. We didn't even know it was possible. Our payment came in the form of father-son bonding time, and the idea that others were enjoying something we created."
After spending some time on YouTube and editing videos, Jared became curious about the monetize button, and by clicking it, a huge surprise came. He said:" Lo and behold, money started showing up in our AdSense account. Granted, it wasn't much–maybe a few dollars a day. I thought if I took this small stream of income and put it into a mutual fund, there would be a nice chunk there to assist with rising costs of education."
It's safe to say that now with millions of subscribers and views, the children are more than set up for college.
In the beginning, the channel's direction gravitated toward various toy reviews videos, such as "Angry Birds Mighty Dragon Clay Model", and "Moshi Monsters Series 2 Blister Pack w/ Ultra Rare and Green Sparkly". In the videos, the then seven-year-old Evan would unpack and show the toys, explaining their features. Evan's videos Very quickly began attracting attention, and views just reeled in. Additionally, his sister Jillian also starred in the videos, doing DYI hacks or reviewing toys such as "PINK BIRD CLAY MODEL from Angry Birds" and "Moshi Monsters Magic Fizz Star & Angry Birds Fizz Eggs".
It didn't take long for Evan to start appearing in various TV shows, including "The Tonight Show with Jimmy Fallon", "Good Morning America" (GMA), and "The Today Show".
In 2014, Evan shot a Spy Gear commercial in Toronto. Later his channel mostly focused on challenges, video blogs, and reaction videos. His latest videos include "World's Most DANGEROUS Roller Coaster!" and "POP TARTS CHALLENGE – KIDS vs. TEENS!!! 2021 Edition!" At the moment, his channel EvanTubeHD has nearly sevn million subscribers with 4.4 billion views.
His second YouTube channel
Besides his official channel, he has another channel for playing and reviewing video games entitled "EvanTubeHD", which he launched with his parents in 2013, including popular games such as "Minecraft", "Among Us", and "Fortnite". This channel has over 150 videos with nearly 2 million subscribers.  He is very active on both of his channels; he usually posts a video every week.
Like many gamers, Evan also streams on his Twitch account, which currently has nearly 90,000 subscribers.  Achieving great success on YouTube has given him a lot of opportunities, such as voicing a character in "Beyond and Beyond", and in 2019 Evan and Jillian voiced characters in the five-part animated series entitled "Camp Halohead".
His official EvanTubeHd verified account on Instagram has over 300,000 followers, and features family and behind-the-scenes photos, and interesting travel shots. Evan is also active on Twitter, which currently counts over 30,000 followers, on which he usually posts announcements and promotions for his videos, plus interesting tweets and selfies, as well as using it to communicate with his fans.
What do you do when you can't go anywhere on the weekend? You build the Wold's Biggest LEGO set! https://t.co/38mjmRptZK #lego #starwars #milleniumfalcon

— EvanTubeHD (@EvanTubeHD) March 25, 2020
Would you like to know his net worth?
As of 2021, his net worth is estimated at $13 million, which he and his parents have earned largely through several accounts on YouTube, most of the revenue coming from brand promotions, embedded advertisements, and affiliations. According to the outlet called Naibuzz, his channels generate daily around 600,000 views, which results in income estimated at around $4,000 per day. In one of his recent "Q&A" videos, Evan teased about a possible merchandise line featuring purple t-shirts.
The family makes donations to various charities, including most of the toys which Jillian and Evan review. He said:" We had the opportunity to work with the Make-a-Wish Foundation, and were able to fulfill the wish of a young boy whose dream was to meet Evan and make a video with him at Legoland. It was a really incredible experience." He added: "YouTube has definitely opened many doors, and the kids have gotten to do some pretty amazing things."
Personal Life
In a recent video Evan confirmed that he is currently single, without revealing anything of his dating activities, past or present.
Physical stats and Hobbies
Given that Evan is a teenager, his current height is 5ft 7ins (173cm), and he weighs around 135lbs (63kgs). His hair is black, and his eyes are brown.
Evan's favorite color is purple.
In terms of his dream YouTube collaboration, he would like to make a video with the popular fellow YouTuber Mr. Beast. His current favorite game is "Minecraft".
Evan is also a great fan of anime; his favorite anime is "Naruto".
Regarding his future profession and goals in life, he wants to work in the entertainment industry, possibly as an animator, producer, or director.