• Angelica Therese Bengtsson born in Vackelsang, Sweden on July 8, 1993
• Started exercising at 4 years old and was interested in gymnastics, running, and soccer
• Won gold medal at 2009 IAAF World Youth Championships in Brixen, Italy and World Junior Championships in Moncton, Canada
• Has competed in 3 major competitions in 2012, 2013, and 2014, and 2 in 2019
• Has a net worth of over $100,000
Who is Angelica Bengtsson?
Angelica Therese Bengtsson was born in Vackelsang, Sweden, on 8 July 1993 – her zodiac sign is Cancer and she holds Swedish nationality. She is a track and field athlete, who gained recognition in 2010 after winning the Summer Youth Olympics pole vault competition held in Singapore.
Early life, family and parents
Angelia was raised in Vackelsang alongside her sister Victoria, by their father Glenn Bengtsson who is a former arm wrestler and a javelin thrower, and their mother Elizete who is a housewife.
Angelica grew up being interested in gymnastics, and began exercising at the age of four.
She dreamed about being a javelin thrower as her father, but soon learned that she was a rather talented pole vaulter, and thus decided to focus on that event. She attended a local high school at which she was physically active, as she practiced gymnastics, ran track and played soccer, while she was also interested in acting, and practiced it with the school's drama club, appearing in a couple of school plays.
Upon matriculating in 2011, Angelica decided not to pursue a college degree, but to focus on being an athlete.
Angelica's career and achievements
She launched her full-time career after joining the sports club IFK Faxjo, then switch to the Hasselby Athletic Sports Club.
Angelica entered her first competition – the 2009 International Association of Athletics Federations (IAAF) World Youth Championships in Brixen, Italy – and won the gold medal as a pole vaulter by clearing 4.32m, which was 0.22m more than any other competitor.
The year 2010 saw her win the World Junior Championship in Moncton, Canada, by clearing 4.25m. In 2011, Angelica competed in the European Indoor Championships in Paris, France and finished 12th even though she managed to clear 4.35m; the same year saw her become the European Junior Champion in Tallinn, Estonia, after clearing 4.57m.
Angelica entered three major competitions in 2012. She finished 10th at the European Championships in Helsinki, Finland after clearing 4.3m, and then won the World Junior Championships in Barcelona, Spain after clearing 4.5m.
She also finished 19th with her 4.25 clearance at the Olympic Games in London, England.
The year 2013 saw her enter three major competitions as well. Angelica finished third at the European U23 Championships in Tampere, Finland, clearing 4.55m, then ranked 9th after clearing 4.46m at the European Indoor Championships in Gothenburg, Sweden. At her third competition of the year – the World Championships in Moscow, Russia – Angelica finished 16th by clearing 4.45m.
In 2014, she ranked 5th with her 4.45m clearance at the European Championships in Zurich, Switzerland.
The following year saw Angelica clear 4.55m to win the European U23 Championships in Tallinn, Estonia, finished third at the European Indoor Championships at Prague, Czech Republic with her clearance of 4.7m, while she also ranked 4th by clearing 4.7m at the World Championships in Beijing, China.
The year 2016 saw her finish third by clearing 4.65 at the European Championships in Amsterdam, Netherlands, and she finished 14th after clearing 4.55m at the Olympic Games organized in Rio de Janeiro, Brazil. Angelica travelled to Belgrade in Serbia in 2017, and finished third by clearing 4.55m at the European Indoor Championships, and she ranked 10th with the same score at the World Championships in London.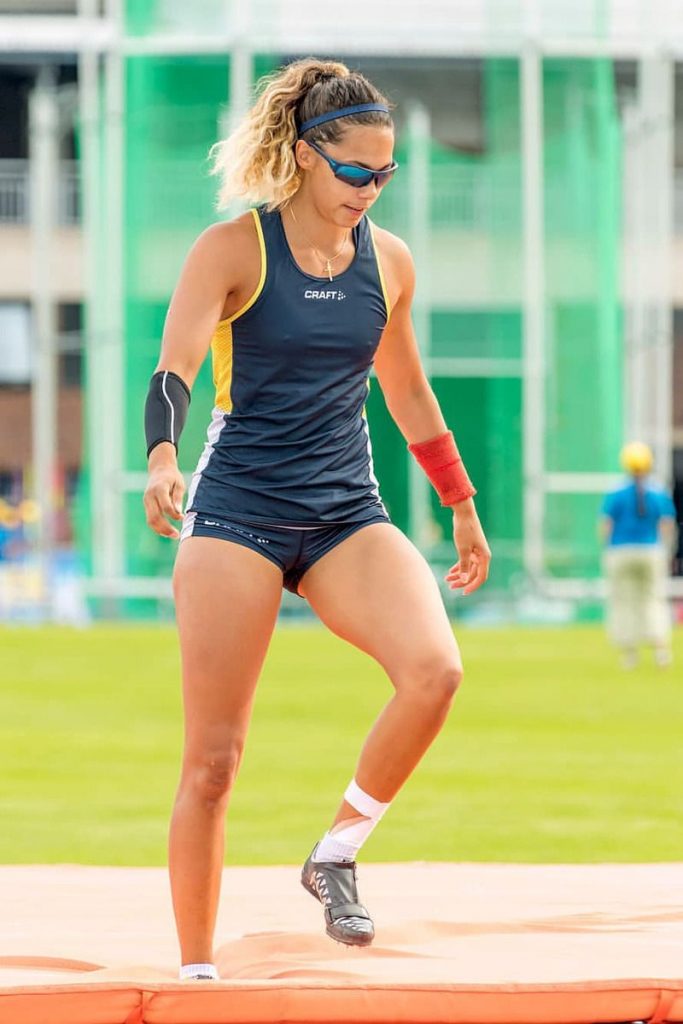 In 2018, Angelica cleared 4.5m ranking 11th at the World Indoor Championships in Birmingham, England, and cleared 4.65m to rank sixth at the European Championships held in Berlin, Germany.
She entered her two most recent competitions in 2019, ranking 14th by clearing 4.4m at the European Indoor Championships in Glasgow, Scotland, and 6th by clearing 4.8m (her personal best and a Swedish outdoor record) at the World Championships organized in Doha, Qatar.
Appearances in TV shows
Angelica has appeared in various sports-related TV shows in Sweden, but attracted attention by only one appearance in 2017 when she competed in a single episode of the game-show "Time Out", hosted by Martin Timell, Annika Andersson and Mans Moller. Each episode of the show features three sports stars as they test their knowledge in sports – Angelica finished second best.
Love life and boyfriend
Angelica is more or less secretive when it comes to her love life, but it's known that she has been in several relationships with sportsmen.
In 2012 aged 19, Angelica dated a mysterious boy – the only thing known about him is that he competed in the hammer throw discipline, one of four throwing track and field competitions. Angelica revealed that the two were dating by writing about it on her Twitter account.
The Swedish website and magazine "Expressen" published a 2015 interview with Angelica in which she talked about her relationship with Andreas Almgren, a Swedish track and field runner who might be known best for his bronze medal won at the World Junior Championships' 800m event.
However, Angelica and Almgren dated for only a week before they learned that it would be better if they stayed friends.
As of January 2021, Angelica is single, hasn't married and doesn't have children.
Hobbies and other interests
Angelica enjoys working out, and has five to six training sessions at the gym each week while she also often goes running in a park close to her home. She doesn't work out alone, as she has a personal trainer who tells her what to do and how to do it.
She likes to encourage other people to exercise and chase their dreams, which is why she has launched her Instagram account. Angelica is followed by more than 70,000 people, and has uploaded around 650 pictures and videos, most of which have been taken during her training sessions and her competitions.
Angelica's main hobby is travelling, and her career as a pole vaulter has made it possible for her to travel all around the world, while her current dream is to visit Antarctica one day.
In her spare time, she enjoys watching sports movies based on true stories, such as "Raging Bull" about the former middleweight champion Jake LaMotta, and "Hoosiers" which follows Gene Hackman portraying Norman Dale, the man who led the Milan High School's basketball team to win against the city's best club.
Age, height and net worth
Angelica's age is 27. She has long brown hair and brown eyes, her height is 5ft 4ins (1.63m) and she weighs around 112lbs (51kgs).
As of January 2021, her net worth has been estimated at over $100,000.