• Holly Ramsay is the daughter of Gordon Ramsay
• She is pursuing a degree in fashion design and works part-time in a clothing shop
• She is a model, lifestyle influencer and social media diva
• She enjoys luxury travel and family vacations around the world
• Her net worth is estimated at $1 million
Do you know Holly Ramsay?
Holly Ramsay may have remained relatively unknown if she wasn't the daughter of one of the most successful chefs in the world, Gordon Ramsay. Holly Anna Ramsay was born minutes before her twin brother Jack on 1 January 2000 in England. Her mother, Cayetana Elizabeth Hutcheson, is a former school teacher, and a cookbook author. Their other children are Megan Jane, a 22 year-old graduate of Psychology, Matilda who is 18 years old and films her own cooking shows. and the youngest, Oscar James who is about 10 months old. Her twin brother Jack plans on joining the Royal Marines after graduating.
Holly Ramsay's Education and Career
Holly completed her secondary education with A-Level results in August of 2018, and is currently pursuing a bachelor's degree in fashion design at Ravensboune University in London, UK.
Though she has stated that she is yet to figure out her own career path – hopefully in the fashion industry – she usually features in the family's reality TV show "Matilda and the Ramsey Bunch". The show is presented by her younger sister, Matilda and is centred on the family's summer activities with Matilda doing most of the cooking in each episode. The first episode was shot in Los Angeles in 2014 with the most recent in 2019, and became quite successful, landing them a nomination for a Children's BAFTA award.
She has also made several appearances in her father's TV shows, and accompanied him to most of his red carpet events, especially when her mum isn't present, such as the Elton John AIDS Foundation's Oscar viewing party, GQ Awards and the BAFTA, which gave her more media exposure.
Being the daughter of a millionaire hasn't stopped her from having her own part-time job at Brandy Melville, a well-known clothing shop. Her father earlier stated in interviews that his children will not access his fortunes, and are expected to work hard to earn their own money. She worked there in 2017 and through her father's influence, has been able to attend high brow gatherings and events like Julien Macdonald's show during the London Men's Fashion week and has also been a guest on "American Idol".
She is a model with a London-based agency-Est. Models, and also a lifestyle influencer on various social media platforms. Holly shares her experiences at the various fashion shows she attended in the 2019 London Fashion Week on her Instagram account, with her over 240,000 followers.
Her Lavish Lifestyle
Thanks to her parent's fortune, the family own several homes in Los Angeles, Cornwall and London. They enjoy luxury travel and world class vacations in top destinations around the world, such as the Maldives for her last birthday celebration, Paris and New York. She shuffles between Los Angeles and London most the time, and also frequents Oxfordshire pile soho Farmhouse – Meghan Markle's hen do location.  Though the Ramsay children may seem to live extravagantly, their parents, especially their father, claim to still ensure some form of frugality on their part.
This is demonstrated by their flight arrangement which permits only the parents to fly first class while the rest of the family board the economy class. He once told the Telegraph sometime in 2017, "They don't sit with us in first class. They haven't worked anywhere near hard enough to afford that. We're really strict on that." Gordon has also stated that he has designated about 25% deposits on housing for each of his children, because he won't be leaving an inheritance for them, and so they would be bound to work hard to become successful themselves.
Being a goofy and fun-loving person, Holly posts mostly about her family, food and fashion on her Instagram page, and even took part in the pillow as a dress challenge which garnered her a lot of positive comments from her over 500,000 followers. She also shared photos with David Furnish and Elton John at the 2017 Oscar's event, the London Fashion Week which was hosted by Victoria Beckham, and was also present at Julien Macdonald's catwalk show.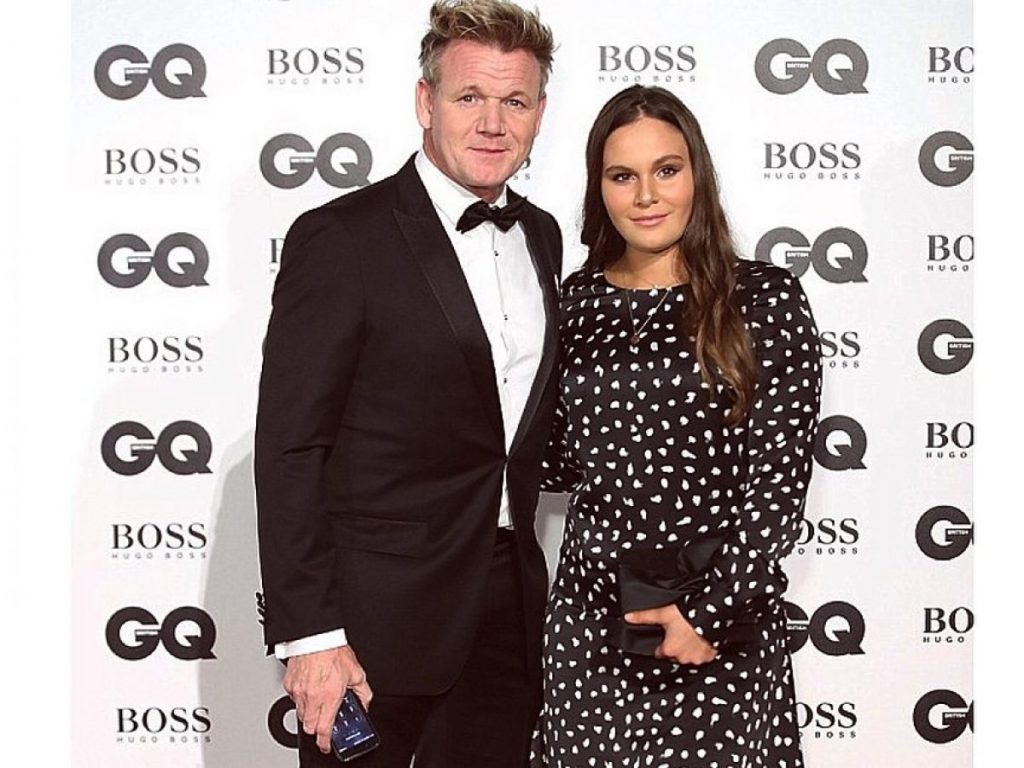 Holly is so passionate about her pet dog Truffle that she created a separate Instagram account for him, on which she shares posts to his over 5,000 followers.
Holly and her brother Jack also enjoy running marathons, much like their dad, Gordon. The pair competed in the London marathons such as the Great Ormond Street Hospital Charity run sometime in 2019. Asides from sharing their love of long distance races with their dad, she also seems to have taken after his feistiness as it has been reported that the two have a lot of altercations. On one occasion, she is said to have stormed out of the house during the filming of one their shows, hopped into one of her dad's cars, thrown a middle finger at him and driven off in anger!
Holly works out in her home, enjoys nightlife at glam London bars, and also fine dining at one of her father's restaurants.
Holly's Personal Life
The 20 year old maybe a social media diva, but when it comes to her relationships, she keeps them on the low. Not much is known about who she has been romantically involved with or if she's in a relationship. Perhaps it could be that she is still considered too young to date, although she shares a few pictures with different men, one of whom is Brooklyn Beckham, where she was seen posing in an unconventional manner. Though there were rumours that the two were an item, neither of them have come out to confirm the speculations. The Ramsay and Beckham family members are quite close, but have in fact been forbidden from dating among themselves by their parents.
Holly and Brooklyn are about the same age, and it is only natural that they hang around each other, seeing that they share common interests. However, they are only close friends, with no strings attached.
She has also been seen around other famous faces, whom she got to know through their parents' friendship. She has been found mingling with the rich and famous such as Luciano, Gino D'Acampo's son, who once went on a date with Tilly, her sister. The members of her family were also present at the 18th Birthday Celebration of the son of Lord and Lady Dundas, Alexander Dundas.
Holly Ramsay's Net Worth
Being a celebrity kid has surely helped Holly earn a decent amount as a lifestyle influencer on Instagram.
Her net worth is currently estimated at about $1 million, and is expected to increase it after she completes her university education, and then her career gets established.
Holly Ramsay's Physical Features
The 20 year old model recently shared headshot photos of herself on Instagram which brought a lot of admiration from her fans. She was complimented about her well-toned stature, dark brown eyes and hair, similar to her mother's. She is said to be about 5ft 2ins (1.57m) tall and weighs 172lbs (78kgs). Her gorgeous features seem to be opening doors for her in the fashion world.
Where to Find Holly
Holly doesn't have a Facebook or Twitter account but is very active on her Instagram page @hollyramsayy. Among some of her few accounts is her dog's @truffleramsay, which is filled with adorable pictures of him.