• Domics is an internet pseudonym of a Canada-based animator, cartoonist, and comedian
• Dominic Panganiban was born on 27 September 1990 in Manila, Philippines
• He learnt about animation and cartoons from watching YouTubers, and started sharing his webcomics onsite in July 2010
• Dominic graduated with a Bachelor's degree in architecture from Ryerson University in Toronto in 2012
• He has an estimated net worth of $1.8 million, as of June 2021
Domics is an internet pseudonym of a Canada-based animator, cartoonist, and comedian. He is best known for attracting a multi-million following on YouTube, on which he posts short cartoons. He gives the voice to his characters, and most likely does everything himself.
Early life, family, educational background
Domic's real name is Dominic Panganiban, born on 27 September 1990 in Manila, Philippines. Information on his parents isn't publicly known, except for the fact that his father worked as an accountant. Dominic is the middle child, with one older and one younger sister, whose names are also unknown.
Dominic's dad spent the better part of Dominic's early childhood away from the family, because he worked in Saudi Arabia, eventually earning enough money to move the whole family there. Dominic has said that he had a hard time understanding different cultures as a child, as his family lived in an area that was largely populated by other Philippino families, so he thought that Saudi Arabia was a part of the Philippines. While living in Saudi Arabia, he attended the International Philippine School in Al Khobar.
In 1997 the Panganiban family moved to Hamilton, Ontario Canada for about a year and a half, then to Mississauga, also in Ontario where they stayed for the next seven years, and where Dominic attended a local school; that was also the place where he developed an interest in art. He was praised by one of his teachers who encouraged him to continue drawing; his initial interest in art revolved around drawing anime characters in various styles. His parents also enrolled him into a Kumon after-school math and reading program.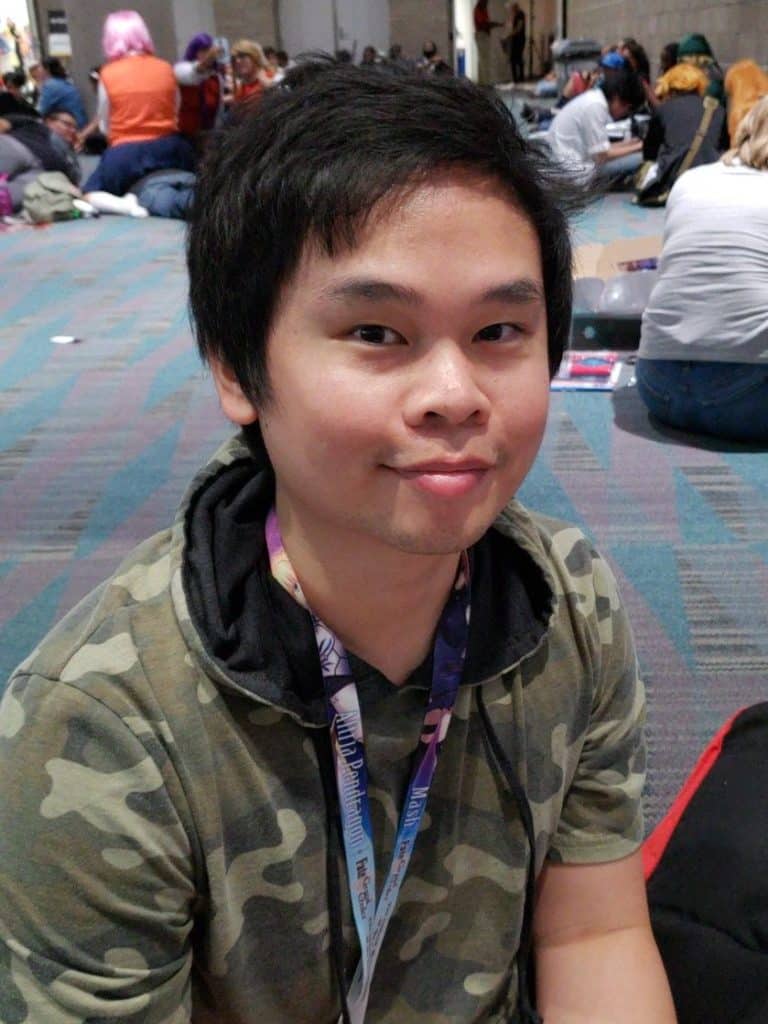 The Panganibas then moved again, and settled in Virginia, USA, where Dominic attended Freedom High School in Chantilly, Virginia. He has said that the change in the school program from Canadian to American was a big shock to him, and that he often felt overwhelmed with it. It didn't help that he had trouble fitting in with his peers, so hardly had any friends.
Drawing and animation have remained his hobby ever since he discovered them as a passion in Canada. He joined Tumblr (a blogging type of social media network) and started sharing his webcomics onsite in July 2010. While he was still in high school, he chose the name "Domics" as a mix of "Dominic" and "comics" on Tumblr.
He learnt about animation and cartoons from watching YouTubers such as Egoraptor, OneyNG, Rooster Teeth Animated Adventures, and Swoozie.
When Dominic was in the final year of high school, his father got a new job opportunity, and this time the choice was between Italy and Canada, so they moved back to Canada after Domnic matriculated from a high school., and this time settled in Toronto. It was now time for him to decide what he wanted to study at university. Dominic's choice was arts, but his parents disproved, believing that most artists are broke, so Dominic studied architecture instead, enrolling into the Department of Architectural Science at Ryerson University in Toronto.
I'm never gonna land this in a real game but it's so fun labbing Nago pic.twitter.com/cm7oQlqjzs

— Domics (@OmNomDomz) June 25, 2021
Dominic has said that it was gruesome, and the workload was ridiculous, but he persevered. He wanted to drop out after the first semester, but decided to finish because his parents would be disappointed in him. In 2012 he graduated with a Bachelor's degree in architecture.
Career
After graduating from university and having some moderate success with his webcomics, he tried his luck on YouTube, launching his channel on 11 August 2012, and posting his first video entitled "Domics: Rural" the following day, 15-seconds long about his confusion over the word "rural", which even though very short, was a perfect example of what his viewers were in for. It is a simple animation, but the story is very interesting, and his vocal performance is captivating.
The second video he posted was "Domics: Relationship Status", on 30 August, a bit longer, and the style of storytelling was slightly different. He was finding his direction, and this seemed to be the way to go.
After his channel started gaining popularity, he faced a choice between using his architecture degree and concentrating on his YouTube channel, eventually choosing the latter. Over the years he's produced a lot of cartoons depicting specific situations in his life, and the everyday things he's been thinking about. His storytelling developed with his channel, and his sense of humor became a big part of his success. Some of his most viewed videos include "Crushes", "Butts" and "The Best Friend Zone".
He hit a milestone of one million subscribers in March 2015, making a video for the "Draw My Life" challenge. Later that year his subscriber count went up to two million, and as of mid-2021, his channel has 7.4 million subscribers.
When asked about how he comes up with ideas for his cartoons he answered: "Many of my comics pretty much reflect life experiences I've had, which is why I can understand how you guys can relate to them lol. Oftentimes, I'd start off asking myself, "I hate it when…" and keep going from there. As for my other comics, they're pretty much just random ideas which I try to alter in an attempt to portray it humorously in a comic"
Personal life
Even though Dominic has spoken openly about events from his life, many details about his life are still unknown. He is currently dating a girl named Claire Tian; they've been together for many years now, and he regularly posts pictures of them on his Instagram page. They live together with a dog Nala, a mix of a Pomeranian and Chihuahua.
Hobbies, favorite things, and interesting facts
While he was in high school he started break dancing which helped him make new friends. He was also going to taekwondo classes.
In 2013 he launched a second channel on YouTube called "DUMBics", on which he usually posts gaming content – it has around 32,000 subscribers.
In 2018 Dominic opened a board game cafe called Domic's GG, but unfortunately in October 2020 it had to be closed.
In one of his videos, he said that he's related to a Philippino singer Lani Misalucha.
He was featured in YouTube Rewind 2018.
Appearance, clothing style
Dominic's height is below average at 5ft3ins (160 cm); his weight has never been disclosed, but he is a bit chubby. His trademark is his hairstyle, and his voice.
Net worth and salary
The main source of his income is the revenue from his YouTube channel, and from selling his merchandise. His net worth is estimated to be around $1.8 million, as of June 2021.