• Tofuu (Hayden Joseph 'Joe' Griffin) is a successful YouTube gamer who focuses on Roblox videos
• He has over five million subscribers and a billion views
• His content is aimed at Roblox users aged 18-24
• His net worth is estimated at over $3.5 million
• He is single and lives in Austin, Texas with fellow content creators
Who is Tofuu?
Born on 1st November 1998, in Sun Valley, Idaho, USA, Tofuu is a highly successful YouTube gamer who centers his videos around Roblox. Boasting over five million subscribers across three channels, the young millionaire has racked up over a billion views since joining the platform – but there are many things his fans don't know about him, which you'll discover in this article.
Tofuu's YouTube Beginnings
Tofuu – real name Hayden Joseph 'Joe' Griffin – was raised in the Rocky Mountains. Griffin's mother nurtured and encouraged his entrepreneurial streak, which led to the youngster creating and selling items in his hometown before he was ten years old – but YouTube caught his eye thanks to its speedy growth rate.
In 2010, Griffin made his first channel posting LEGO product reviews. Although now obsolete, the channel served as a useful springboard for his later ventures. His first channel's successor, Tofuugaming, came in April 2011. The channel's main focus was Minecraft videos, then after several years of exploring content creation, Griffin uploaded a face reveal video when he was seventeen.
Shortly afterwards, Griffin joined Cube SMP, a popular series based around a Minecraft survival world. Over 25 YouTubers joined the series, which lasted three seasons, and many of them still reminisce fondly on their times playing together. According to female YouTubers such as Cayla Brady and Amethyst, some members were predators, but these allegations were never confirmed.
When Griffin was young, a troll left a comment on one of his videos criticizing his handling skills and camerawork, which is what inspired the YouTuber to improve and perfect his craft, and eventually be able to live off it. Since then, he's never looked back, and until today, has never had to work a physical job thanks to his soaring online fame.
Tofuu and Roblox
When the Cube SMP series ended, Griffin began focusing more on Roblox, an online videogame platform worth a staggering $38 billion. Soon, he left Minecraft videos behind, and dedicated all his time towards tapping into the Roblox niche, a gamble which paid off well – in 2020, Minecraft made a total of $415 million revenue, compared to the $920 million Roblox made in the same year.
Griffin's channel grew by leaps and bounds, hitting the one million subscribers milestone in December 2017, and doubling within another nine months. Known by his fans as the 'Roblox simulator king', his most popular videos all have the same things in common: eye-catching titles and thumbnails, bright graphics, and content that interests the target audience. Griffin's most viewed video to date is 'THIS ROBLOX GAME GIVES YOU FREE ROBUX!', with eleven million views and counting. Wisely, the videos feature no swearing or adult themes, meaning that they're unrestricted and anyone can enjoy them.
According to market research, over a third of Roblox users are between 18 and 24 and almost two-thirds are male. In a 2021 interview with Tech Times, Griffin explained that "content must exude a certain energy that viewers are excited to share or become associated with", and his approach to marketing has been an undeniably successful one.
It's also thanks to his Roblox fame that Griffin has been able to branch out into selling merchandise, such as his popular Team Tofuu hoodie and a range of other products. While not the first YouTuber to do so, Griffin's merchandise has the bonus of being affordable and attractive, with the priciest item right now costing less than $35.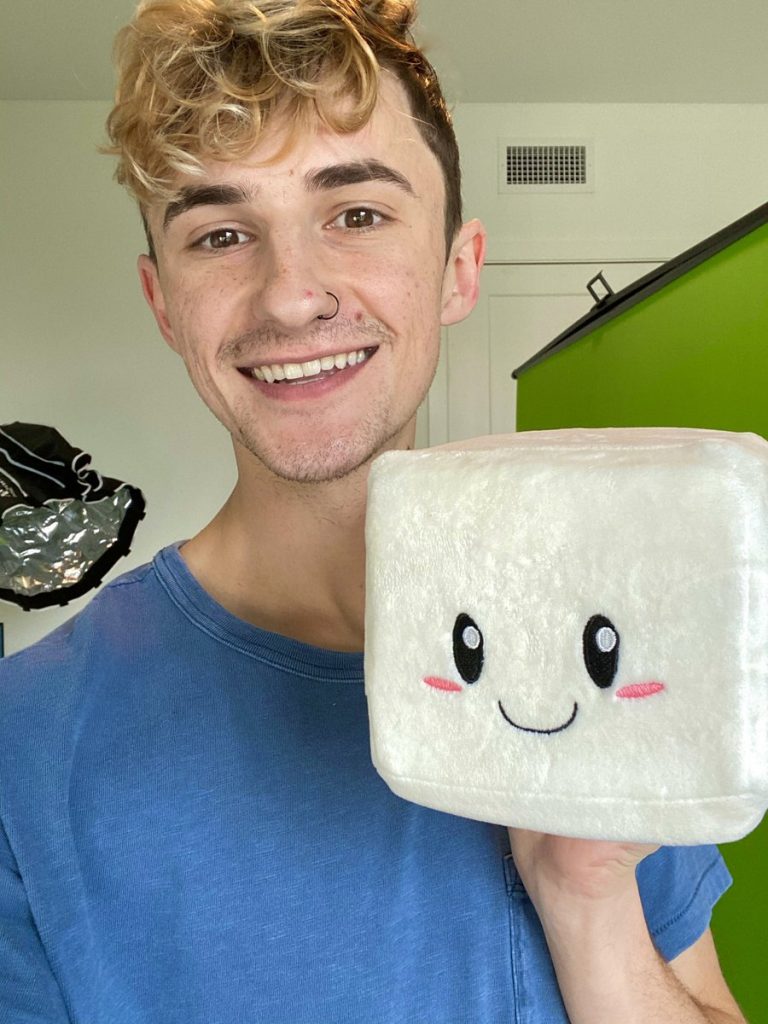 Tofuu's Private Life
While some YouTubers and fellow social media stars share every detail of their love lives, and even make a profit from their relationships, Griffin definitely isn't one of them. As recently as 31 December  2020, he tweeted that he needed a Roblox girlfriend; some fans took the cryptic message to mean that he was single.
Looking at Griffin's Instagram account, @tofu, there are no hints of a love interest in the YouTuber's life either, although we did find one ambiguously titled video from May 2018 – "GIRL FRIEND DYES MY HAIR RAINBOW".
It's safe to say that right now, Griffin is either choosing to remain single and focus on building his content creation empire, or he just doesn't want to tell his fans about his relationship. What we can tell you is that the YouTuber currently lives in Austin, Texas, with fellow content creators Poke and Ant. The trio have plenty in common: Poke's channel consists of Roblox gameplay, vlogs, and challenges, while Ant specializes in Roblox and Fortnite videos. The dynamic friends have even worked on Roblox movies together.
As for Griffin's family, the YouTuber until now has kept mum on that aspect too: the only thing we know about his childhood is that he was home-schooled along with his brother.
From his sporadic social media posts, we can also surmise that Griffin loves traveling, his pet dog Angel, and his valuable friendships.
Griffin's personal YouTube channel, JoeG, posted its first and only video – 'WE GOT ATTACKED AT ABANDONED TOYS 'R' US *HOSPITALIZED' – in July 2018. The video attracted over half a million views and four thousand comments, and fans eagerly await for the social media star to post more glimpses of his daily life and content, unrelated to Roblox.
Tofuu's Net Worth
Being a prolific gamer who uploads frequently, it's unsurprising that Griffin is worth seven figures despite only being in his early twenties. Generally, US-based content creators can get paid up to $12 per thousand views after YouTube takes its cut of revenue.
The video platform also has tricky algorithms, meaning content creators get paid less or more depending on the viewer's location, the time of the year, and ad engagement – perhaps the most important factor of all.
Figures show that Griffin's main channel gains at least a thousand new subscribers every day. So far, the channel has accumulated over a billion views, and racks up an average of 600,000 daily views. Thanks to the ads in each video – and Griffin has uploaded a total of over 2,000 on his main channel – this translates to roughly $5,000 a day or $1.8 million a year. Allowing for merchandise sales, YouTube views, and occasional sponsorship deals, reliable sources estimate that Griffin's net worth is over $3.5 million, as of mid-2021.