• DJ Hernandez is a former American Football player, coach, and entrepreneur, and is the brother of late American Football player Aaron Hernandez.
• DJ was born in Bristol, Connecticut and attended Bristol Central High School, later graduating from the University of Connecticut.
• He is married to Karen and has two children, and is the founder of his own company in Connecticut.
• He is physically active and has a passion for muscle cars and travelling.
• His net worth is estimated at over $400,000.
Who is DJ Hernandez?
Jonathan 'DJ' Hernandez was born in Bristol, Connecticut USA, on 18 May 1986 – his zodiac sign is Taurus and he holds American nationality. He is a former American Football player, coach and entrepreneur, but who is perhaps known best as the brother of the late American Football player Aaron Hernandez, who committed suicide after being convicted of murder.
Early life and education
DJ was raised alongside his brother Aaron on Greystone Avenue by their Puerto Rican father Dennis Hernandez, who always pushed the boys too hard, wanting them to have good grades and also be amongst the best football players at school. He would often beat the boys after getting drunk, claiming that it was because they weren't doing well at school, or weren't good at football.
Dennis also beat their mother Terri Valentine-Hernandez who threw him out of the house on several occasions, but would always let Dennis move back in. Police had to intervene on a number of occasions which, often resulted in both Dennis and Terri being arrested. Both boys feared their father – in January 2006, he died after hernia surgery.
DJ attended Bristol Central High School at which he played football for the school's team, and upon matriculating in 2004, he enrolled at the University of Connecticut, graduating with a Bachelor's degree in 2008.
Career as a Football Player
DJ has worked various jobs related to football but is trying to keep his career away from the media's attention. He served as a football coach at Ledyard High School before he was invited to coach at Brown University.
After being praised for his skills, he was invited to coach at the University of Miami, and eventually found himself coaching at the University of Iowa.
It has been reported that in 2018, DJ founded his own company in the Pawcatuck region of Connecticut.
He is also an author, having published his book "The Truth About Aaron: My Journey to Understand My Brother".
Love life and relationships
DJ is more or less secretive when it comes to his love life, and not a lot is known about his other half Karen, who is a non-celebrity woman and tries to stay away from media attention. The two haven't disclosed the exact date of their wedding, nor how and when they met. They are parents to their son and a baby girl, and the family of four seems to be leading a happy life together in Tampa, Florida.
DJ hasn't talked about any other girls or women he might have dated, but there are rumors circulating the internet claiming that he has been in many relationships, thanks to being a former football player and a coach.
As of February 2021, he is married to Karen Hernandez and has two children with her.
Hobbies and other interests
DJ is physically very active, as it's important for his career to stay fit. He has five to six training sessions at the gym each week, and is following a strict diet, thus his fit body.
He is a fan of muscle cars, and has recently bought himself a Mustang.
DJ likes to travel, and has been to various US states for both work and pleasure, while he's also been to a couple of European countries with his other half. His dream travel destination is right next door, in Miami, Florida.
He is a dog-lover but doesn't have a pet because he knows he lacks time to take proper care of it.
In his spare time DJ enjoys watching movies, and his favorite actor and actress are Vin Diesel and Natalie Portman; his favorite movies include the franchise "Fast & Furious", "Riddick" and "V for Vendetta".
Age, height and net worth
DJ's age is 34. He has short black hair and brown eyes, his height is 5ft 9ins (1.76m) and he weighs around 155lbs (70kgs). As of February 2021, his net worth has been estimated at over $400,000, while Aaron's net worth at the time of his death was estimated at over $50,000.
Who was Aaron Hernandez?
Aaron Hernandez was born in Bristol, Connecticut on 6 November 1989 – his zodiac sign was Scorpio and he held American nationality.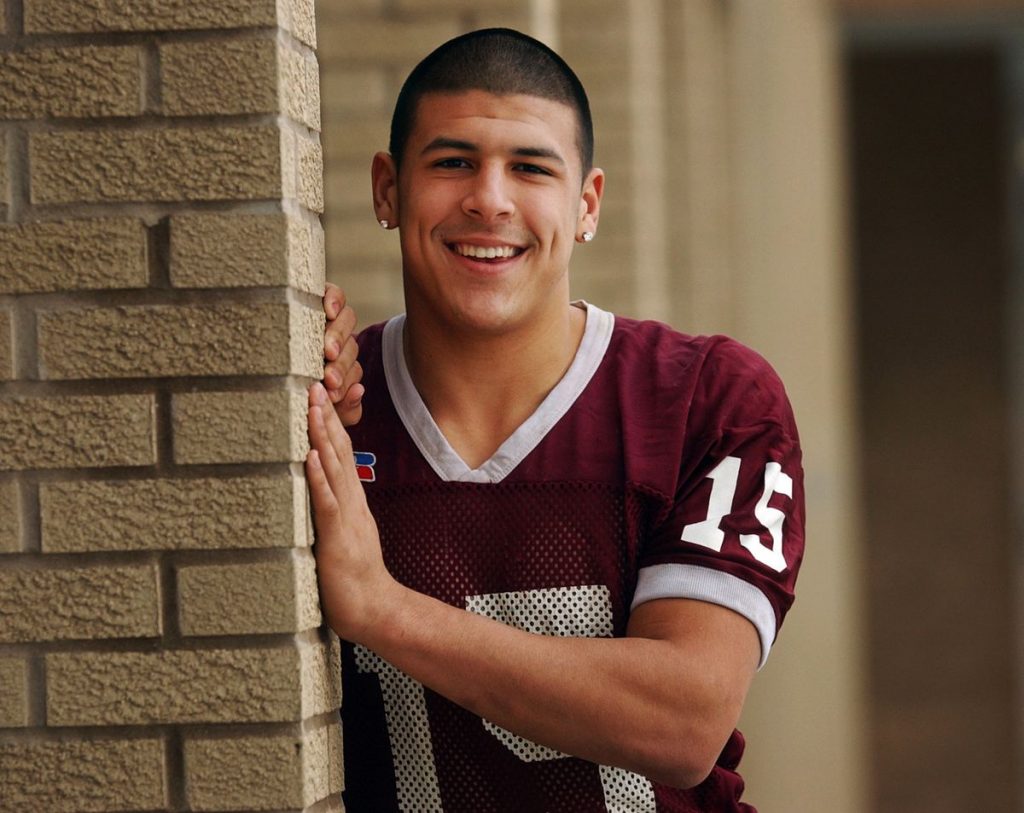 He became popular after playing for the New England Patriots competing in the National Football League (NFL), but his career ended when he was arrested for the murder of Odin Lloyd.
Aaron attended Bristol Central High School at which he played football for the Bristol Rams, while he also practiced basketball and ran track. While attending his final year, Aaron was named Gatorade Football Player of the Year. He was one of the most popular boys at school, and dated Shayanna Jenkins who later became his fiancée. However, Aaron also smoked a lot of marijuana and drank a lot of alcohol.
He went on to enroll at the University of Florida on a football scholarship, and finished three years there but wasn't welcomed for the fourth year because of his drug abuse, so Aaron quit college and make himself eligible for the 2010 NFL Draft- he was picked by the New England Patriots. He signed a four-year contract with them on 8 June 2010 worth $2.4 million and after performing well in the following two years, Aaron signed a new contract with the Patriots on 27 August 2012 worth $40 million; he played his final game on 20 January 2013.
Aaron often had problems with the police – his actions were somewhat confused, and also the legal processes for his actions.
While attending college, he would sometimes become jumpy at nightclubs and some of his friends claimed that he often thought that people around him looked at him strangely and wanted to fight him. It was also reported that Aaron had hired two friends, one of whom was a drug dealer, to look after him and calm him down when he became paranoid. After Aaron died, his high school teammate stated that they were in a relationship, but that Aaron kept it hidden from everybody, because he himself wasn't happy that he was gay.
On 30 September 2007, three men were sitting in a car, and two of them were shot by five bullets, however, both men survived. The third man Randall Carson pointed out Aaron when provided with several pictures and claimed that it was him who fired the weapon. Aaron wasn't charged due to a lack of evidence but after he was arrested in 2013, the case was reopened.
On 16 July 2012, two immigrants were shot dead in Boston's South End. Several witnesses claimed to have seen Aaron's car stop next to the immigrants', and that someone yelled at them 'What's up now, niggers?' Aaron was accused of murdering the two, and his trial started on 1 March 2017, however, he was acquitted on 14 April of the same year, but still charged with possession of a gun.
Aaron had many other problems with the police but it was the murder of his friend Odin Lloyd that put him behind bars. Odin was found dead on 18 June 2013 around a mile behind Hernandez's house. Aaron was found guilty of murder on 15 April 2015 and sentenced to spend the rest of his life behind bars, while the motive behind the killing is believed to be the possibility of Odin letting the public know about Aaron's bisexuality. Aaron was found hanging in his cell on 19 April 2017.
It was later revealed that Aaron came out to his mother as gay, and that his ex-girlfriend knew about it too. It was also revealed that Aaron was sexually abused when he was a teenager, and that this affected him greatly.