• Shelby Blackstock is an American race car driver born in Nashville, Tennessee in 1990.
• He is the son of famous country singer Reba McEntire and her ex-husband Narvel Blackstock.
• Shelby attended a Bob Bondurant race school and has had a successful racing career since 2010.
• He is engaged to long-time girlfriend Marissa Branch and the couple share two dogs.
• Shelby's estimated net worth is $8 million.
Who is Shelby Blackstock?
Shelby Blackstock is an American race car driver who was born on 23rd February 1990, in Nashville, Tennessee, U.S. Keep reading to find out about his family, net worth, career and more.
Shelby Blackstock's Family & Early Years
Despite being a successful race car driver in his own right, Shelby is also known for being the son of popular country singer Reba McEntire and her ex-husband Narvel Blackstock. Reba's long-spanning career also includes acting and writing; she was born in 1955 and began her singing career in 1975.
In 1976, she released her debut single which failed to become a hit and only reached number 88 on the Billboard country music chart.
Although many would've been discouraged by this rocky start, Reba kept persevering, and eventually her efforts paid off. After releasing several failed singles and a debut album which didn't make waves, Reba's big break came in 1979 when her record label Mercury released her sophomore album "Out of a Dream". The singer landed her first Top 20 hit with her rendition of Patsy Cline's "Sweet Dreams", which peaked at number 19 on the Billboard country chart in November of that year.
The next year, Reba landed her first Top 10 single with "You Lift Me Up (To Heaven)". Encouraged by her sudden success, Mercury released Reba's third album that year "Feel the Fire", which included two more Top 20 hits. After years of hard work, Reba landed her first of many Billboard number one singles in 1983, "Can't Get the Blues" and then "You're the First Time I've Thought About Leaving".
After leaving her first record label, Reba signed to MCA Nashville Records, where she enjoyed more creative control over her music, and landed several number one singles. Selling millions of records around the globe, the singer is known as "The Queen of Country" in many circles.
Reba and Narvel shocked the country scene with news of their split, as the couple had been together for over 26 years and many fans of the singer thought their marriage was perfect. At first, the relationship was heavily criticised due to its whirlwind nature; Reba divorced her first husband, Charlie Battles, in 1987 after 11 years of marriage when she decided to put her career first. Right after the divorce, Reba fell in love with Narvel, and her wholesome image took a blow.
However, that didn't stop Reba and Narvel from marrying in California in 1988, and they welcomed Shelby two years later. Narvel's big break came after marrying Reba when he began to manage her and produced several of her award-winning hits.
He also managed talented groups such as Malibu Country" and Not So Family Christmas, and the couple founded Starstuck Entertainment together.
Narvel's decision to file for divorce completely blindsided everyone, especially Reba herself who stated she'd never wish to end her marriage if she had the choice. However, the divorce was finalized in December 2015, and a mere month later Narvel began a relationship with the former couple's mutual friend, Laura Putty Stroud. Reba was snowballed with all sorts of gossip, especially news that Narvel and Laura would marry soon. After the divorce, Reba left Starstruck Entertainment, became her own manager, and focused on her music. She also stated that she found refuge in religion.
Shelby's other family members include his half-brother Brandon Blackstock, who was previously married to Kelly Clarkson, and his two half-sisters Shawna and Cassidy. Shelby's siblings are all older than him.
Shelby Blackstock's Studies & Career
Shelby attended a Bob Bondurant race school, and decided to drop out of main stream education and dedicate all his time and effort to his fledging racing career. In 2010 and 2011, he made his first important appearances in the well-known Skip Barber competitions. 2011 was also the year Shelby made his professional debut in the Continental Tire Sports Car Challenge, in which he drove a Ford Mustang.
In the same year, he finished in fifth place in the annual Skip Barber National Championship, and started to build his name in the world of racing.
In 2012, Shelby participated in the US F2000 National Championship with Andretti Autosport. He finished eighth with his highest finish being fourth at Road America, a motorsport road course on Wisconsin Highway 67, which has hosted several prestigious races since the 1950s. The next year, he participated in the annual Pro Mazda Championship, still with Andretti Autosport, and won at the Canadian Tire Motorsports Park, and with six podium finishes across 16 races.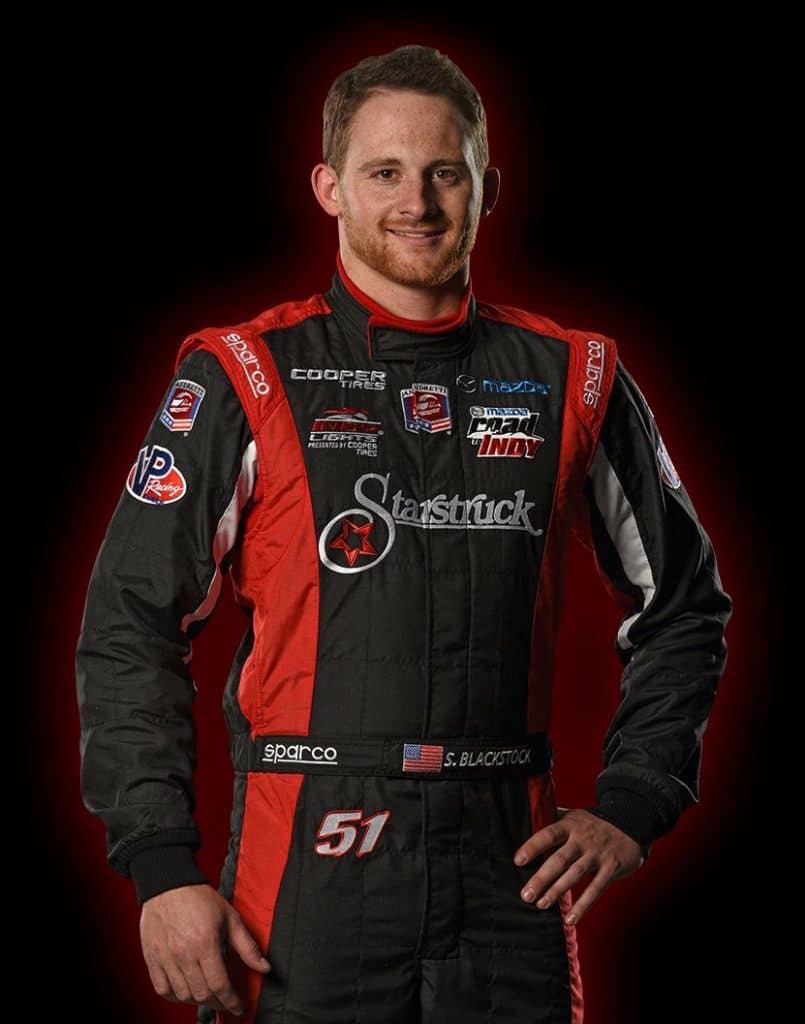 However, Shelby wasn't so lucky when competing in the same championship the following year, coming fourth in points with a total of six podium finishes. In 2015, Blackstock began racing for Andretti Autosoport in the Indy Lights series, and over the next three seasons he finished on the podium two times at the Mid-Ohio Sports Car Course, and finished 8th in points in 2016. Shelby was praised for his consistency, despite only finishing on two podiums.
Shelby's last Indy Lights race came in 2018, where he participated in the season-opening weekend with Team Pelfrey and finished second in the second race. The next year he moved onto to touring car racing, and participated in the IMSA Michelin Pilot Challenge, racing with a Honda Civic and finishing 4th in points in the TCR class.
He entered into the GT World Challenge America in 2020 driving an Acura NSX GT3, and automatically won the series' Silver Cup with his co-driver Trent Hindman, as they were the only class entry to compete in every race.
Shelby Blackstock's Wife & Children
Shelby has never been married, but it's just a matter of time as he recently proposed to long-time girlfriend Marissa Branch at Disney World. Their wedding date is set for 12th February 2022, and the pair have an apparently happy and solid relationship, having been together since May 2016.
Marissa describes herself as a dog mom and Disney princess on her Instagram profile.
She is also a former cheerleader and skincare fanatic. The couple share two dogs, Belle and Watson, but don't seem to have plans for any children just yet.
Shelby Blackstock's Net Worth
Sources estimate that Shelby's net worth is close to $8 million as of early 2021, earned largely through his racing career over the last decade.
Reputable sources estimate Shelby's net worth to be an impressive $8 million. We think this is a reliable figure; racing car drivers can earn up to $100,000 a race depending on their sponsorship, and due to Shelby's consistent performance and popularity, it's not hard to believe he could earn a figure in this ballpark.