• Truman Theodore Hanks was born in Los Angeles, California and holds American nationality
• He is the son of famous American actor Tom Hanks and actress and singer-songwriter Rita Wilson
• He attended local high school and graduated from Stanford University with a Bachelor's degree in 2017
• Has worked in the camera and electric department of various TV series and movies and has one acting credit
• He is 25 years old, has short brown hair and brown eyes, stands at 5ft 7ins (1.7m) and his net worth is unknown
Who is Truman Theodore Hanks?
Truman Theodore Hanks was born in Los Angeles, California USA, on 26 December 1995 – his zodiac sign is Capricorn and he holds American nationality. He is probably only known for being the son of the famous American actor Tom Hanks, and his second wife Rita Wilson, an American actress and singer-songwriter.
Early life and education
Truman was raised in Los Angeles alongside his older brother Chester Marion 'Chet' Hanks, his half-brother Colin Hanks and half-sister Elizabeth Hanks from his father's first marriage to Samantha Lewes. As both his parents are actors, Truman became interested in acting at quite an early age, but soon learned he didn't have the talent to succeed in that profession.
He is quite secretive when it comes to his personal matters, and not a lot is known about his early life.
He attended a local high school at which he played ice hockey and soccer, and matriculated in 2013. Truman hasn't talked about his further education, but it's believed that he enrolled at Stanford University from which he graduated with a Bachelor's degree in 2017.
Truman's career
Truman has worked in the camera and electrical department of one TV series and four movies. In 2019, he contributed to 12 episodes of the thriller crime series "Babylon Berlin", and then worked on the action adventure film "News of the World" – which starred his father – and the action thriller "Wrath of Man". He is currently working on the action adventure science fiction film "Black Widow", and the musical crime drama "West Side Story".
He has a single acting credit, having appeared as German Rider in "News of the World".
He was a production assistant on the 2018 action science fiction horror movie "The Cloverfield Paradox", and on the 2019 adventure comedy action film "Charlie's Angels". He also served as a cinematographer for the 2019 short comedy "The Ice Queen Society".
Love life and relationships
Truman is quite secretive when it comes to his love life, and hasn't mentioned any girls (or boys) he might have dated.
It's believed that he was quite popular at school thanks to being the son of famous actors, and that he has dated several girls as a couple of his father's fans have claimed to have seen Truman walking hand in hand with different girls over the course of five years. Truman hasn't commented on any of the rumors, so nothing about his love life or sexual orientation is known.
As of January 2021, he appears to be single, hasn't married and doesn't have children.
Hobbies and other interests
Truman goes to the gym several times each week, and is also involved in various sports. He likes to ski, snowboard, as well as swim in the ocean during summer. Truman also enjoys watching sports on TV – his favorite ice hockey team is the Los Angeles Kings, while his two favorite soccer teams are the Greek Panathinaikos, and English Liverpool.
He is keen on travelling and has kept his father company during many of his red carpet events, while he has also travelled alone to various US states, as well as a couple of European countries.
Truman is a dog-lover and has a pet dog.
He has his own favorite actors and actresses, some of whom are Matt Damon, Natalie Portman and Emma Watson, while a couple of his favorite movies are "Good Will Hunting", "V for Vendetta", and "The Art of Getting By".
Age, height and net worth
Truman's age is 25. He has short brown hair and brown eyes, his height is 5ft 7ins (1.7m) and he weighs around 140lbs (64kgs). As of January 2021, Truman's net worth is unknown – although his parents apparently keep him in (considerable) pocket money – while his father's is reputedly over $400 million, while his mother's net worth has been estimated at over $100 million.
Who is Tom Hanks?
Thomas Jeffrey 'Tom' Hanks was born in Concord, California USA, on 9 July 1956 – his zodiac sign is Cancer and he holds American nationality. He has produced around 60 movies and TV series, appeared in close to 100, and has won 90 awards including two Oscars, and been nominated for 191 other awards.
Tom was raised in Concord alongside his three siblings – Sandra, Larry and Jim – by their father Amos Mefford Hanks who was an itinerant cook, and their mother Janet Marylyn who was a hospital worker.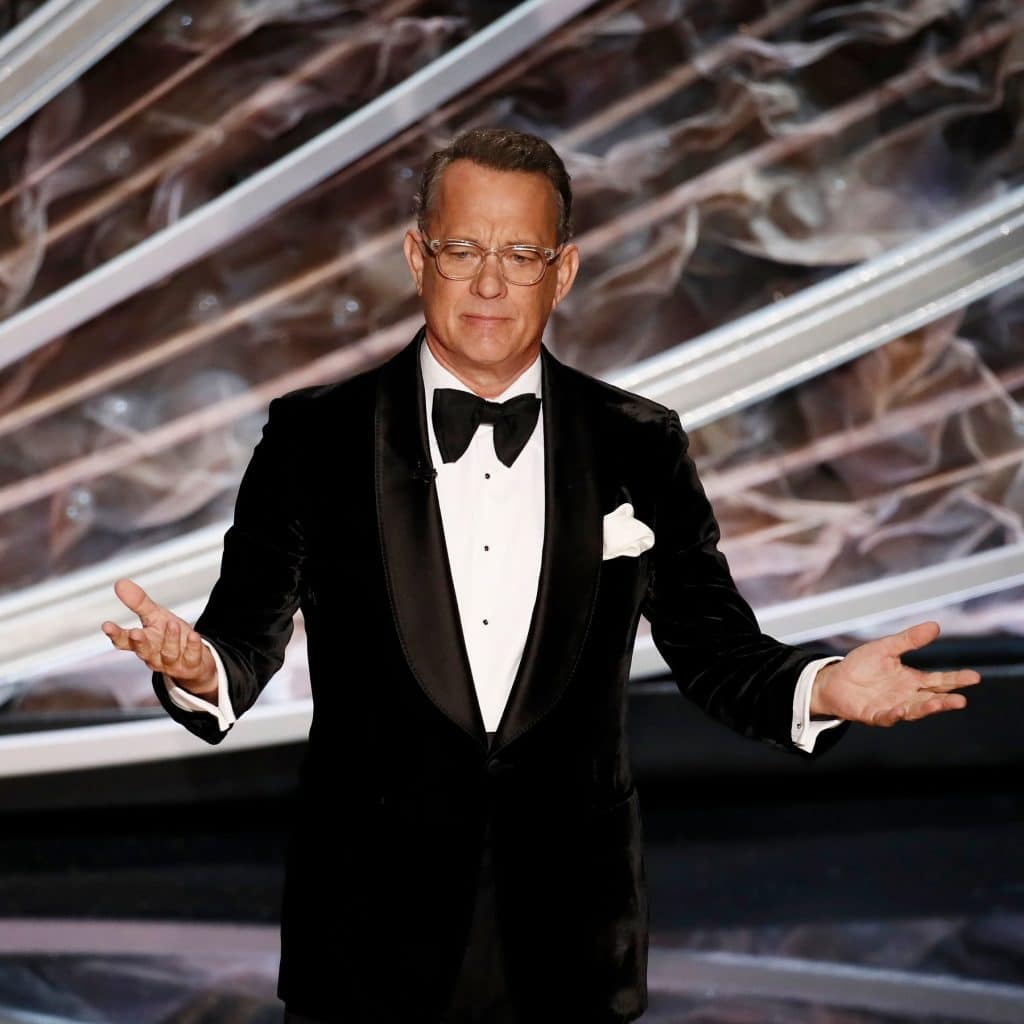 The two divorced in 1960, and Tom went on to move ten times by the time he turned ten. He practiced theatre at Chabot College before moving to California State University, but from which he dropped out a year before graduation. He spent most of his time during those years watching plays at various theatres.
He went to New York aged 23 to pursue an acting career, and made his debut appearance in the slasher movie "He Knows You're Alone". His first lead role was in the 1982 drama movie "Mazes and Monsters", while he became popular after portraying the lead character in the 1989 buddy cop comedy film "Turner & Hooch". Tom became one of the most popular actors in the US after his portrayal of lead characters in two critically acclaimed 1993 movies: the romantic comedy "Sleepless in Seattle", and the legal drama "Philadelphia" – the latter won him an Academy Award for Best Actor.
The following year saw him star in the title role of "Forrest Gump" in the eponymous romantic comedy film, which grossed more than $600 million, and for his performance Tom won another Academy Award for Best Actor. He went on to star as Jim Lovell in the 1995 space docudrama "Apollo 13", and to voice Sheriff Woody in the computer-animated comedy "Toy Story" (as well as in its sequels). He played the lead character in Steven Spielberg's epic war movie "Saving Private Ryan" and in 1999 starred in the epic fantasy drama "The Green Mile", based on Stephen King's novel.
For his performance in the 2000 survival drama film "Cast Away", Tom won a Golden Globe Award for Best Actor, and subsequently appeared in many other critically acclaimed movies, such as the 2002 biographical crime "Catch Me If You Can" which also starred Leonardo DiCaprio, the 2004 comedy drama "The Terminal" produced and directed by Steven Spielberg, and the 2006 mystery thriller "The Da Vinci Code".
The year 2009 saw him star in the mystery thriller "Angels & Demons", and in 2013, Tom played the lead characters in both the period drama "Saving Mr. Banks" and the biographical drama "Captain Phillips". One of his most recent roles has been in the 2020 comedy "Borat Subsequent Moviefilm".
Tom converted to Rita's faith – Greek Orthodox – before marrying her in 1988, and has stated on various occasions that he regularly goes to church.
He is interested in politics, and has donated money to various Democratic politicians. Tom supported Barack Obama during the 2008 US presidential election, and narrated the 2012 documentary movie "The Road We've Traveled". He supported Hillary Clinton in 2016.
He is also a bit of a writer, having published his collection of short stories – "Uncommon Type" – in 2017.
Who is Rita Wilson?
Rita Wilson was born Margarita Ibrahimoff in Hollywood, California USA, on 26 October 1956 – her zodiac sign is Scorpio and she holds American nationality. She is famous for her roles in movies "Sleepless in Seattle", "Jingle All the Way" and "Runaway Bride", and has won five awards while nominated for three others.
She was raised in Hollywood alongside her brother and sister Chris and Lily, by their father Hassan Halilov Ibrahimoff who was a Bulgarian Muslim, and their mother Dorothea Tzigkou who was Greek. Rita attended a local high school, and launched her acting career in 1972 with her appearance in the episode "Greg's Triangle" of the sitcom "The Brady Bunch". She mostly portrayed supporting characters – some of the movies she has appeared in include the 1995 comedy drama "Now and Then", the 1999 drama "Invisible Child" and the 2004 teen musical drama "Raise Your Voice".
She is also a stage actress, who appeared in her first Broadway play, "Chicago" in 2006. One of her most recent roles has been in the 2020 romantic comedy film "Love is Love is Love".
Rita is also known for her career as a musician. She released her debut album "AM/FM" on 8 May 2012, while her second, self-titled album was released in 2016. Rita's third album, "Bigger Picture" came out on 28 September 2018, and was followed by her fourth album "Halfway to Home" on 29 March 2019.
It was revealed in April 2015 that Rita had breast cancer. She underwent a double mastectomy followed by reconstructive surgery, and has since been cancer-free.
Both Rita and Tom are philanthropists, who have been honorary co-chairs of the Women's Cancer Research Fund for the past two decades. They also donated a large sum of money to those hit by the Mati Fire in Greece and in return, the Greek President Prokopis Pavlopoulos offered Tom and Rita honorary naturalization, which apparently they both accepted.