• Plastique Tiara is a 23-year-old drag queen, performer, influencer, and hairdresser
• He has an estimated net worth of $1 million
• He immigrated to the US at the age of 11, and is of Vietnamese nationality
• He is the youngest contestant in the history of RuPaul's Drag Race
• His partner is Tim Kim, and his favorite music artist is Ariana Grande.
Who is Plastique Tiara?
Duc Tran Nguyen, better known by his stage name Plastique Tiara, was born on 11 April 1997 under the zodiac sign of Aries, in Ho Chi Minh City, Vietnam. He is a 23-year-old drag queen, performer, influencer, and hairdresser, probably best recognized for competing in the eleventh season of the VH1 reality competition series "RuPaul's Drag Race". He's also known as the Asian Barbie.
How rich is she, as of now? Plastique Tiara Net Worth
As of early 2021, Plastique Tiara's net worth is close to $1 million, acquired largely through his successful involvement in the entertainment industry as a drag queen.
Early Life, Parents, Nationality, Ethnicity, Educational Background
Plastique Tiara spent his early years in his hometown of Ho Chi Minh City, previously known as Saigon, before he immigrated with his family to the United States at the age of eleven, where they settled in Dallas, Texas. The names of his parents haven't been revealed to the public, and it's also unknown whether he has siblings or not. He holds Vietnamese nationality, and belongs to an Asian ethnic group.
Regarding his education, Plastique Tiara went to a beauty school. He speaks both Vietnamese and English languages fluently.
Career Beginnings
Plastique Tiara began his professional career as a drag queen and entrepreneur in 2015, at the time he was 18 years old. He started performing on amateur nights in Dallas after being inspired by Jujubee's performance in the VH1 reality competition series "RuPaul's Drag Race". In the following year, he won the title of Miss Rose Room Rising Star 2016.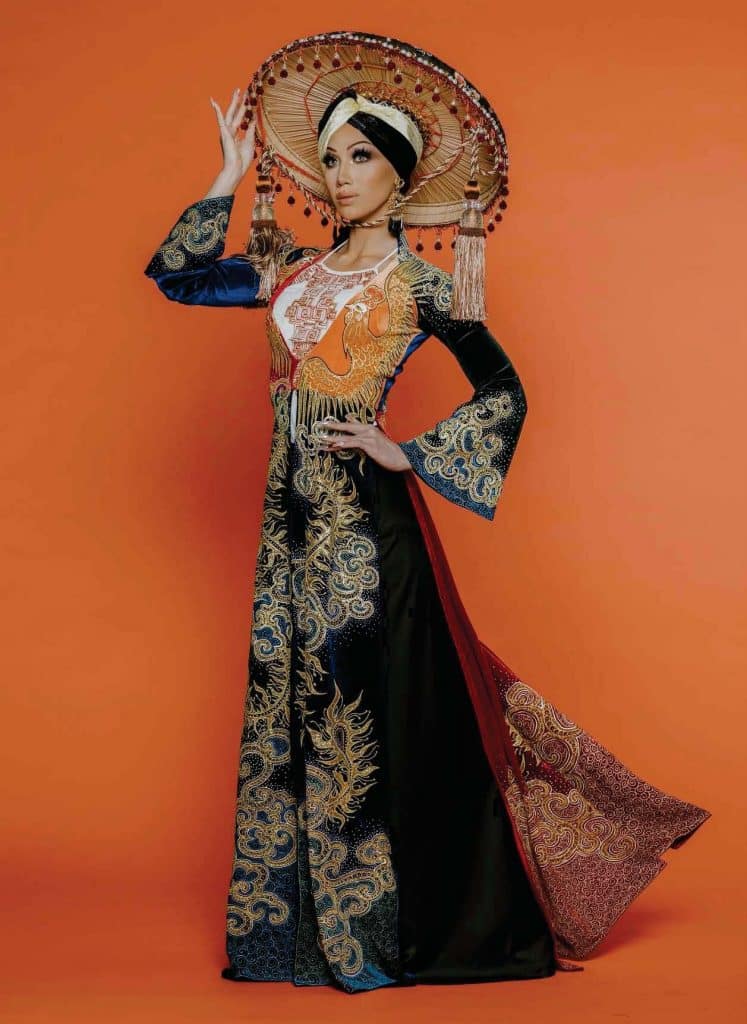 Rise to Fame as a Drag Queen
In January 2019, it was announced that Plastique Tiara would be one of the fifteen contestants to compete in the eleventh season of "RuPaul's Drag Race", which follows RuPaul in the search for the next American drag superstar. Plastique Tiara became the youngest contestant in the history of the show.
The eleventh season premiered on 28 February 2019. He got his makeup inspiration from watching Vietnamese pop stars, while his drag name came from the character Diamond Tiara in the "My Little Pony" franchise. He only changed 'Diamond' to 'Plastique', as many of them had already used 'Diamond' in their names.
His drag mother was Alyssa Edwards, a member of the House of Edwards, alongside Shangela, Laganja Estranja, Vivienne Pinay, and Gia Gunn.
Plastique Tiara made his debut in the first episode of the eleventh season, and immediately received positive critiques. In the third episode, he participated in the show's first six-way lip-sync challenge with Scarlet Envy, Ra'Jah O'Hara, Shuga Cain, A'keria Davenport, and Honey Davenport. In the seventh episode, he became the winner of the main challenge, but was eliminated from the competition in the ninth episode after losing in the lip-sync tournament to Vanessa Vanjie Mateo, finishing in eighth place.
His runaway looks have been worn by Miss Fame, Valentina, and Cardi B.
Social Media Star
Prior to his appearance in "RuPaul's Drag Race", Plastique Tiara caught the attention of many people on Instagram. It led him to set the record for the most Instagram followers among other contestants, before their debut appearance on the show. When he started competing, his Instagram fan base increased enormously, since his photos were shared by Tyra Banks.
Thus, he became the first drag queen to accumulate one million followers on his official Instagram account while the season was still on air. He currently has over two million followers. He is also active on his official Twitter account, on which he has more than 220,000 followers, and he runs his official TikTok account, with over 6.3 million fans.
Other Works
Outside of drag, Plastique Tiara is also known for being a hairdresser. He's made wigs for many drag queens, including Aquaria, Naomi Smalls, Vanessa Vanjie Mateo, PatrickStarrr and others.
Besides that, he's tried himself as a music artist, releasing his debut single entitled "Irresistible" in April 2019.
Appearance and Vital Statistics
Plastique Tiara has naturally dark brown hair and dark brown eyes. He stands at a height of 6ft 2ins (1.88m), while his weight is around 165lbs (74kgs). Information about his vital statistics, dress size, and shoe size hasn't been revealed yet.
Personal Life and Favorites
Plastique Tiara is considered to be a bisexual drag queen.
He is currently in a relationship with a guy named Timmy Turnter, who is famous as Tim Kim on social media platforms, and is a hairdresser by profession. They have been together since 2017. His current residence is in Los Angeles, California.
Plastique Tiara is known as an avid fan of the anime "Sailor Moon". His favorite music artist is Ariana Grande and he also likes K-pop – his favorite K-pop groups are 2NE1 and BLACKPINK.