• Yuan Herong is a 31-year-old traditional Chinese medicine practitioner and bodybuilder from Qingdao, China.
• Her net worth is estimated to be around $1 million.
• She was raised by a family of doctors and is a part-time model.
• Yuan is a national champion bodybuilder who gained fame from the Daily Mail story dubbing her Chun Li.
• In her free time, she wants to pursue a career in martial arts.
Who is Yuan Herong?
Yuan Herong was born in 1989, in Qingdao, China – the actual date of her birth is unknown. She is a 31-year-old traditional Chinese medicine practitioner and bodybuilder, who gained fame thanks to her impressive and perfectly toned body build. She is also a part-time model.
How rich is she, as of now? Yuan Herong Net Worth
As of early 2021, Yuan Herong's net worth is close to $1 million, acquired through her successful involvement in the fitness industry as a bodybuilder.
She has also increased her fortune through her careers as a medical practitioner, and as a part-time model.
Early Life, Parents, Nationality, Ethnicity
Yuan Herong spent her early years in her hometown of Qingdao, where she was raised by her parents, whose names haven't been disclosed. Regarding their professions, Yuan once revealed in an interview that she was raised in a family of doctors. It's unknown whether she's an only child or not.
She holds Chinese nationality and belongs to an Asian ethnic group.
Career as a Medical Doctor
Yuan Herong has always been interested in martial arts. She wanted to become a Kung Fu fighter, but her parents didn't agree with that, and asked her to study medicine to pursue a more stable career. After completing her high school education, Yuan enrolled into a university, and upon graduation, she landed a job as a traditional Chinese medicine practitioner.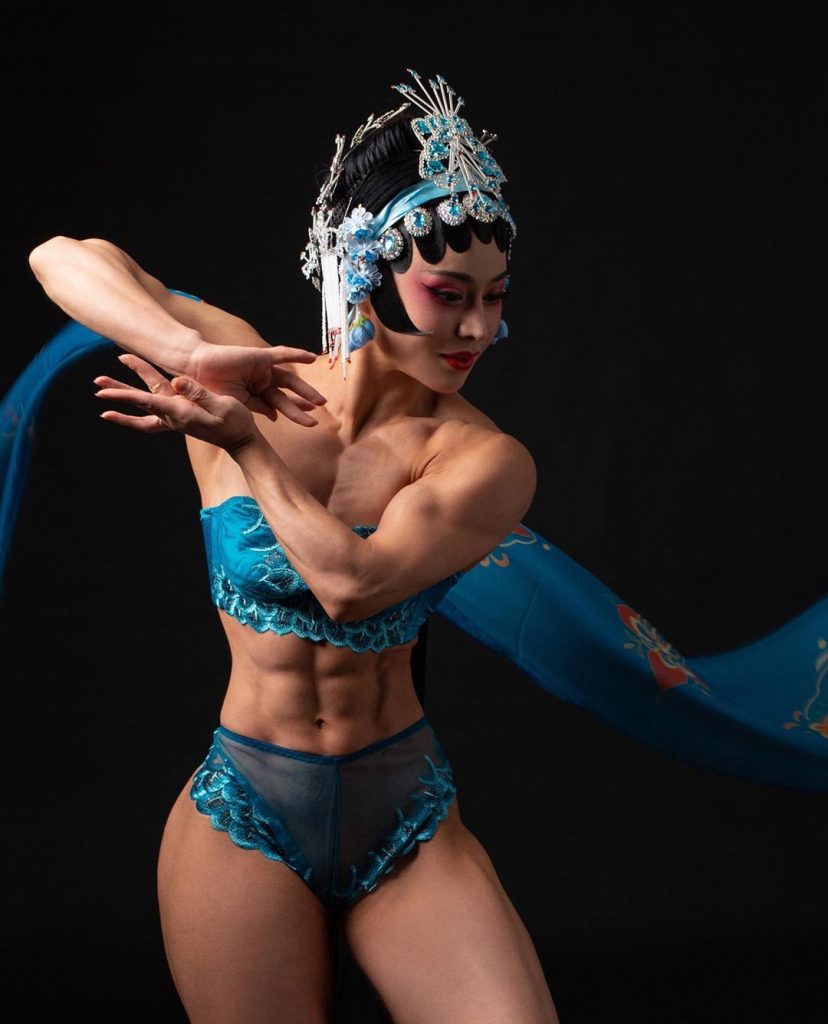 She currently works as a physician at a clinic in her hometown.
Rise to Fame as a Bodybuilder
As soon as she fulfilled her parents' dreams to become a medical doctor, Yuan Herong decided to start following her own dreams. She wanted to look stronger, so she started working out in 2016, initially practicing yoga. After realizing it wouldn't help her to gain muscle mass, she hired a personal trainer to help her build her body.
In no time she became obsessed with fitness and lifting weights, going to the gym five times a week.
Subsequently, Yuan Herong met professional bodybuilder Zhang Wei, and he encouraged her to compete in professional bodybuilding contests. He even made-up a workout plan for her. Although the workouts were very hard and painful, Yuan didn't give up. Her hard work earned her an impressive and perfectly toned body, and she started competing.
In September 2019, she participated in the Women's Class-A national championship held by the Chinese Body Building Association, and finished in second place.
Yuan Herong's transition from medicine to bodybuilding earned her enormous popularity after the Daily Mail covered her story; she was dubbed Chun Li, after the female character of the "Street Fighter" series.
Modeling Career and Future Plans
Apart from her career as a bodybuilder, Yuan Herong also works as a part-time model.
Thanks to her impressive physique, she was spotted by several modeling scouts who invited her to do photoshoots and film TV shows during the weekends. When it comes to her future plans, Yuan has revealed that she wanted to hire a private personal trainer, to coach her in martial arts – she still wants to become a Kung Fu fighter.
Appearance and Vital Statistics
Yuan Herong has long dark brown hair and dark brown eyes.
Information about her height, weight, vital statistics, bra, dress and shoe size isn't available, but it's known that her waist size is 24ins (60cm), while her hip size is 38ins (90cm).
Personal Life
Yuan Herong is very secretive when it comes to speak about her personal life. She has never revealed anything about her relationship status. Nonetheless, it's believed that she is single at the moment, and focused on her professional career.