-Christopher Arnold Shiver Schwarzenegger is a celebrity known for his father, Arnold Schwarzenegger
-He holds dual American and Austrian citizenship and is a member of the Kennedy family
-He has four siblings; two sisters, Katherine and Christina, and a brother Patrick and a stepbrother Joseph Baena
-Christopher has a net worth of $400 million earned through his father's various ventures
-He is a private person who does not use social media and is working on weight loss with the support of his father
Who is Christopher Schwarzenegger?
Christopher Arnold Shiver Schwarzenegger is a celebrity, perhaps best known for his father, Arnold Schwarzenegger. He was born under the Zodiac sign Libra on 27 September 1997 in Los Angeles, California, the USA. As of 2021, he is 23 years old; he holds dual American and Austrian citizenship. Additionally, Christopher is a member of the Kennedy family through his mother.
Early life and His Parents
Christopher, the youngest son, was born to Arnold Schwarzenegger and Maria Shiver. Perhaps best recognized for his iconic portrayal of the Terminator, Arnold has established a successful career in a variety of professions. In addition to his bodybuilding and acting career, as many already know, he served as a governor of California from 2003 to 2011.
Christopher's mother, Maria, is a journalist, author, and member of the Kennedy dynasty. Her mother, Eunice Kenney Shriver, was a sister of U.S President John F. Kennedy and U.S Senators Robert F. Kennedy and Ted Kennedy.
He attended Brentwood School in Los Angeles, from which he matriculated in 2016. He decided to enroll at the Michigan University; he graduated in May 2020. His father additionally posted a photo of him on his Instagram account with captions:" Christopher, you are a champion, and I love you. I know your graduation from Michigan wasn't the big celebration you dreamed about for years, but walking across a stage isn't what makes me so proud of you." At the age of 13, in 2011, he suffered a severe injury while surfing, which affected him greatly. Reportedly it left him with a broken rib and collapsed lungs. Unfortunately, this happened at the time when his parents were in a middle of a very public and messy divorce.
Despite the turmoil, Christopher has managed to stay on good terms with his father.
His Siblings
Christopher has four siblings; two sisters, Katherine and Christina, and a brother Patrick and a stepbrother Joseph Baena from Arnold's extramarital affair with Mildred Baena. Katherine Schwarzenegger Pratt is the oldest; she was born on 13 December 1989. Katherine is an American author who graduated from the University of Southern California. A prolific writer, Katherine has written three books so far; her latest book is called "The Gift of Forgiveness: Inspiring Stories from Those Who Have Overcome the Unforgivable". Regarding her personal life, she is married to the famous actor, Chris Pratt, perhaps best recognized for his roles in "Jurassic World" and "Guardians of the Galaxy". In August 2020, they welcomed their first child, Lyla Maria.
Christina Schwarzenegger was born on 23 July 1991. She graduated in 2013 from Georgetown University in Washington. Christina has established her name behind the cameras of the entertainment industry as an executive producer and editor assistant. She is known for appearing in the TV series "The Doctors", "Access Hollywood". Additionally, she is credited as the executive producer of Netflix's documentary "Take Your Pills". Even though the Schwarzenegger family has been a target for media outlets since the dawn of time, Christina became a center of media attention for her Adderall addiction. Reportedly she suffers from Attention Deficit Disorder, and during her college days, she overly relied on Adderall, which became an all-encompassing force in her life. However, she has managed to battle her demons, and today she uses her space to bring attention to mental health.
Patrick Schwarzenegger is an American model and actor, born on 18 September 1993, who launched his acting career at the age of ten in the sports-comedy film "Benchwarmers". He started his clothing line at the age of 15. Patrick has appeared in a variety of TV series and movies, including "Grown Ups 2", "Dear Eleanor", and "Midnight Sun". Besides his acting career, he is associated with LA Models, Ralph Lauren, and Armani. When it comes to his love life, he dated popular singer Miley Cyrus.
Joseph Boena, unlike his siblings, decided to follow in his father's footsteps, establishing himself in the world of bodybuilding. He works as a wellness coach and weight lifter. The spitting image of his father, Joseph aspires to become an actor; he has appeared in 2016 "Terminator 2: Bad to the Bone". Reportedly he enrolled at the Pepperdine University to study Business Management.
Regarding his love interests, Joseph has been dating Nicky Dodaj since 2019. Unlike his younger step-brother, he is very active on Instagram.
Personal life
Given his media-shy personality, not much is known about his personal life. Additionally, his dating history remains a mystery.
What is Christopher's net worth?
Given that Christopher graduated from college in less than a year, it is too early to talk about his net worth. However, his father's net worth is estimated at around the unbelievable $400 million, which he earned through his numerous ventures as an actor, bodybuilder, and politician. On the other hand, his mother's net worth does not fall short- it is estimated at $200 million.
Physical stats and Weight Loss
Anyone interested in the Schwarzenegger family knows that the youngest Christopher attracted media attention, namely for being overweight.
His former weight was 223lbs (105kgs) and height 5ft 11ins (180). His hair is brown, and his eyes are blue. Recently, he came into the limelight when he was spotted sporting a very slimmed-down look. Even though he rarely goes out, his new slimmer appearance caught the eye and prompted many media outlets to discuss the change in his life. Reportedly, Christopher decided to get rid of his bad habits and get back on track.
One of the sources close to the family said: "He's been away at school living like a typical college kid the past few years, but he's growing up now and ready to take better care of himself. It's not any kind of fad diet or crash diet, he just cut out the junk and started working out,". Additionally, Christopher is not alone in his weight loss struggles; he has his father as support, who gladly rushed to help his son out, according to the source.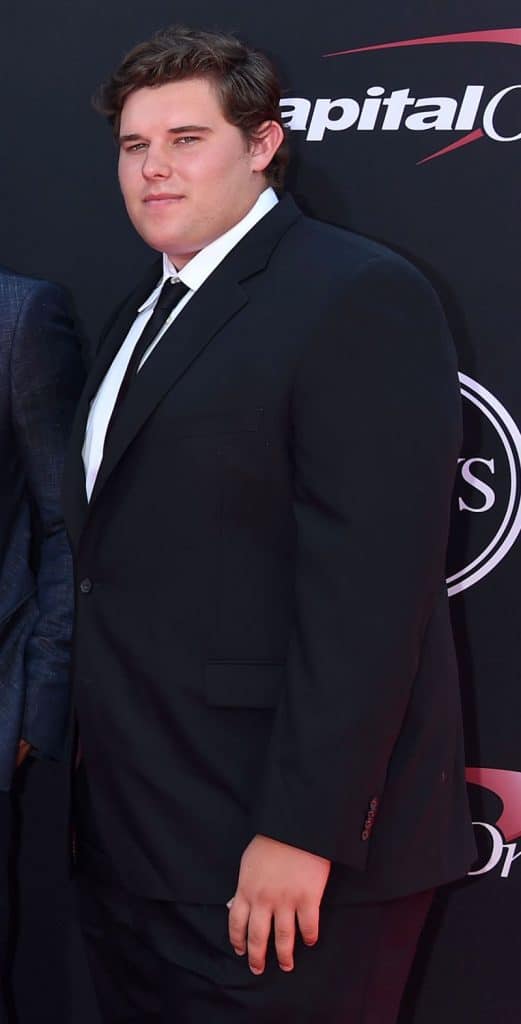 Christopher is a very private person who likes to stay away from the public eye. He does not use social media such as Instagram or Twitter.
His Parent's Divorce
In 2011 the news about Arnold's affair with the long-time housekeeper, Mildred Patrica Baena, made headlines not just in the U.S but in the whole world. The curious media outlets reported about the impending divorce and shocking affair, which was not the only one he had. In an interview, Arnold mentioned that he cheated on Marie with his co-star Brigitte Nielsen while they were dating.
Arnold and Mildred successfully managed to keep their affair away from prying eyes, including the public and his wife and children. However, when Mildred gave birth to a baby boy on 2 October 1997, nobody thought much of it. Interestingly, Christopher was also born in the same week.
Mildred continued working as a housekeeper for years, and everything seemed to be perfectly fine. Additionally, her son, Joseph, visited Schwarzenegger's house from the time.
Time passed by and suspected anything, but when Joseph turned seven years old, Arnold noticed the physical similarities he shared with him, which convinced him that he was his son. In an interview, Arnold said:" It was never discussed, but I put things together. I realized there was little doubt that he was my son." Even though Arnold did not clear the air with Mildred, upon realizing that Joseph is indeed his son, he started sending her money, hoping that his wife would not find out his "little" secret.
However, sometime in 2011, Maria put two and two together and confronted him in a therapy session.
Arnold wrote in his book "Total Recall: My Unbelievable True Life Story ": "The minute we sat down, the therapist turned to me and said, 'Maria wanted to come here today and to ask about a child — whether you fathered a child with your housekeeper Mildred" . Arnold replied:" I told the therapist, 'It's true."
Arnold subsequently issued a statement offering his apologies for the unfortunate situation his family got caught in, he said: "I think it was the stupidest thing I've done in the whole relationship. It was terrible. I inflicted tremendous pain on Maria and unbelievable pain on the kids." Arnold wrote in his book about numerous attempts to recover his marriage but to no avail. Maria seemed adamant in her decision and filed for divorce on 1 July 2011. Even though they never came over this issue, both Maria and Arnold decided to reconcile their differences for the sake of Christopher who was a teenager at the time.