• David Albert Mazouz was born in Los Angeles, California in 2001
• He has Jewish, Tunisian and Greek ancestry and holds American nationality
• He began acting professionally at 8 years old and has since starred in films and TV series such as "Gotham" and "The Dark Knight Rises"
• He is currently attending Stanford University and has a net worth of $700,000
• He loves dogs and enjoys watching "Saturday Night Live" with his family
David Mazouz Wiki Bio
David Albert Mazouz was born in Los Angeles, California USA, on 19 February 2001 – his zodiac sign is Pisces, he has Jewish, Tunisian and Greek ancestry, and holds American nationality. He's an actor, who's perhaps known best for starring as young Bruce Wayne, in the TV series "Gotham".
Family, early life and education
David was born into a family of Sephardic Jews. His father, Michael Mazouz, is from France, has Tunisian ancestry and works in the medical field, while his mother Rachel Cohen is a psychotherapist. David's maternal grandparents are from Greece. He has a younger sister, named Rebecca.
At the age of eight, he appeared in his first TV commercial, which kick-started his career as a child actor.
David was a student at Shalhevet High School, a modern Orthodox Jewish school, while he's currently attending the prestigious Stanford University, majoring in Economics, Psychology and Computer Science.
Roles in movies
David made his film debut in 2010, when he had a minor role in the TV drama about the 2006 Pennsylvania schoolhouse shooting, entitled "Amish Grace". In the following year, he made an appearance in the romantic comedy "Coming & Going", written and directed by Edoardo Ponti, and which starred Rhys Darby, Sasha Alexander and Fionnula Flanagan.
In 2013, David starred alongside Malcom McDowell and John Glover in the mystery horror thriller "Sanitarium".
In the same year, he played one of the leads in the musical comedy "Dear Dumb Diary", based on the eponymous book series by Jim Benton. The film was written and directed by Kristin Hanggi, also starred Emily Alyn Lind and Mary-Charles Jones, and follows a group of seventh-graders participating in a 'Jump-A-Thon'; David played the role of the main character's love interest, Hudson Rivers.
He starred as the lead character Ivan Drago, in the 2014 family adventure "The Game Maker", based on the novel by Pablo De Santis, and directed by Juan Pablo Buscarini.  In 2016, he starred alongside Kevin Bacon, in the supernatural horror "The Darkness", following a family who bring home a supernatural evil force, after visiting the Grand Canyon.
In the same year, we saw David play one of the leads in another horror film, "Incarnate", written by Ronnie Christensen, directed by Brad Peyton, and which also starred Aaron Eckhart, Carice van Houten and Catalina Sandino Moreno.
The most recent movie role for David was in early 2021, in the crime thriller "The Birthday Cake", which starred Shiloh Fernandez, Val Kilmer and Ewan McGregor. The film is the directorial debut of Jimmy Giannopolous, who had previously made music videos for artists such as Kid Cudi, Miley Cyrus and A$AP Rocky.
Roles in TV series
David made his TV series debut in 2010, when he made an appearance in an episode of the sitcom "Mike & Molly", about an overweight couple who met at an Overeaters' Anonymous meeting.
The following year he played the son of Robert California, in an episode of the American sitcom "The Office". He also made single appearances in a number of other series, such as "Private Practice", "Criminal Minds" and "Daybreak".
In 2012 and 2013, David played his first recurring role in the sci-fi mystery drama "Touch", created by Tim Kring, and which also starred Kiefer Sutherland and Gugu Mbatha Raw. The series aired on Fox for two seasons, from January 2012 to May 2013. It follows the lives of a former reporter and his 11 years old autistic son, portrayed by David, and was met with a generally favorable reception from the critics, and nominated for two Primetime Emmys.
David appeared in an episode of "Major Crimes" and "Drop Dead Diva" in 2013 and 2014, respectively.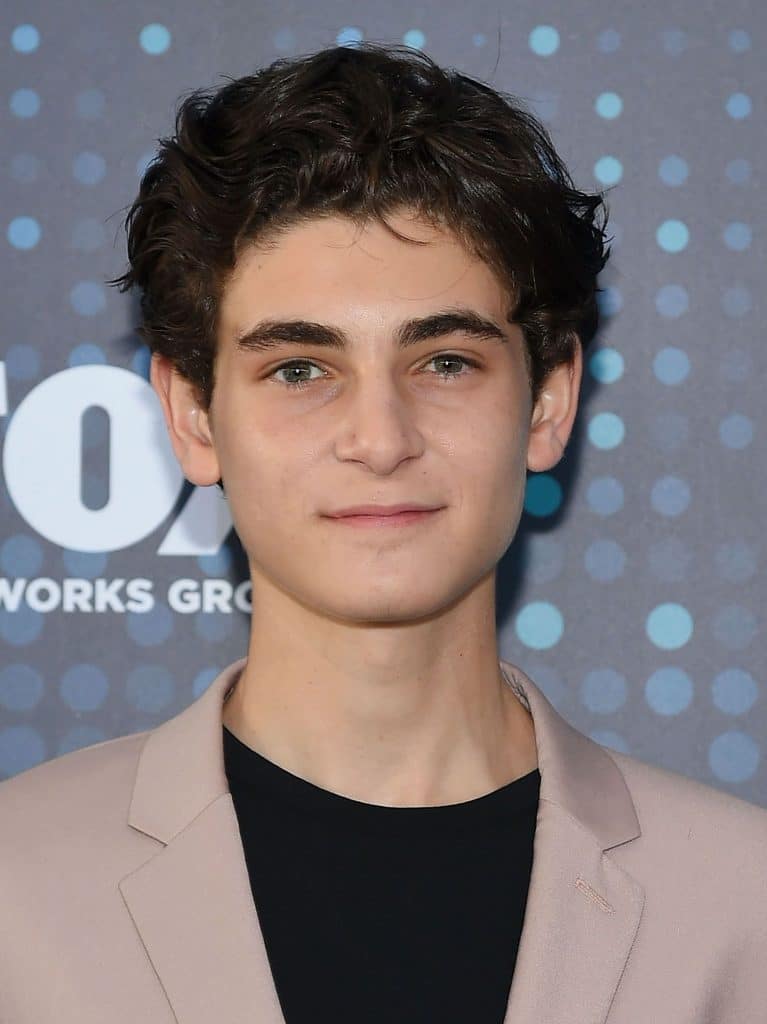 In 2017, he tried his hand at voice acting, voicing a character in an episode of the popular animated adult comedy "Family Guy".
Between 2014 and 2019, he starred as Bruce Wayne (Batman), in the crime action drama "Gotham", created by Bruno Heller, and loosely based on the characters and storylines from DC Comics. The series aired on Fox for five seasons, averaging more than four million viewers per episode. It won a Primetime Emmy, while David received four award nominations for his portrayal of Bruce Wayne, including the 2019 nomination for the Saturn Award in the Best Performance by a Younger Actor in a Television Series category.
Love life and relationships
David is very shy when it comes to publicly talking about his love life, as he's still quite young, and prefers to keep that kind of pressure out of his relationships. In 2019, he was followed by rumors about his relationship with his "Gotham" co-star, Carmen Bicondova., with whom he had a brief romance in the series. She is two years older than David, however, Carmen later clarified in a video post on the Twitter page 'The Bat & The Cat', that they are nothing more than good friends.
Hobbies and interesting facts
David was a huge fan of the Batman films and comic books, long before he had a chance to play him in "Gotham".
'I think the reasoning for that is because he doesn't have a superpower – he has no special ability. He's just a regular person, a regular human.', he has said in an interview. Coincidentally, David and Bruce Wayne share the same birthday, February 19th.
Some of his favorite actors and actresses are Leonardo DiCaprio, Emma Stone and Adam Sandler, while his all-time favorite movies are "The Dark Knight Rises", "Django" and "The Jurassic Park".
David loves dogs, and has three pet dogs.
In 2018, he went on a trip overseas with his sister, Rebecca, visiting many countries across Europe, including Spain, Germany and Denmark.
David grew up watching "Saturday Night Live" with his family, and has revealed that hosting an episode would be a dream come true.
He is quite popular on Instagram, with his account '@davidmazouz' numbering more than 650,000 followers.
Appearance, age and net worth
David is 20 years old. He has short curly black hair and brown eyes, is 5ft 10ins (1.78m) tall, and weighs around 155lbs (70kgs).
As of July 2021, his net worth is estimated at more than $700,000.