• Donald De La Haye Jr. is a 24-year-old Costa Rican-American social media sensation and former American Football kicker
• As of mid-2021, his net worth is estimated to be over $1.2 million
• He is best known for his YouTube channel, which has over 3.5 million subscribers and 560 million views
• He was forced to leave college sports by the NCAA, and later settled a lawsuit to complete his education
• He is currently single and living in Los Angeles, California.
Who is Deestroying?
Donald De La Haye Jr., better known by his online alias Deestroying, was born on 2 December 1996 under the zodiac sign of Sagittarius, in Limon, Costa Rica. He is a 24-year-old Costa Rican-American social media sensation, and former kicker in college American Football, but probably best recognized for running his official YouTube channel, on which he's amassed over 3.5 million subscribers, while his videos have been viewed more than 560 million times in total. He also runs his official TikTok account with over 2.6 million followers, as well as his official Instagram account with more than 1.4 million fans.
He also has over 600,000 followers on his Facebook page and more than 70,000 on his official Twitter account.
How rich is he, as of now? Deestroying Net Worth
As of mid-2021, Deestroying's net worth is estimated at over $1.2 million, acquired through his Internet-based career, which includes monetization of his YouTube videos. In addition, he creates sponsored posts, and shares them across his social media accounts, which also increases his fortune.
Early Life, Parents, Siblings, Nationality, Ethnicity, Educational Background
Donald spent his early years in his hometown of Limon in Costa Rica, before he immigrated with his parents to the US when he was seven years old. They settled down in Port St. Lucie, Florida, where he was raised by his father, Donald De La Haye Sr., and his mother, Sheron De La Haye; however, there is no information about their professions, and it's also unknown whether he has siblings or is an only child. He holds Costa Rican nationality, and belongs to African-American ethnicity. Regarding his education, Donald attended Port St. Lucie High School (PSLHS). Upon matriculation, he enrolled in the University of Central Florida (UCF), majoring in Marketing.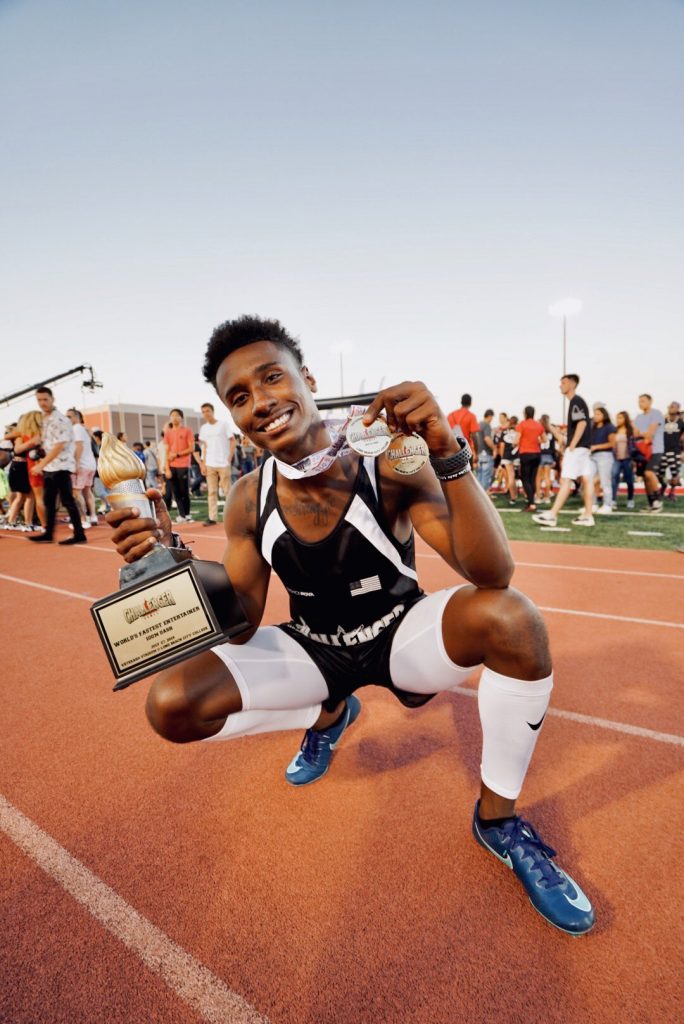 Rise to Fame on YouTube
Donald played American Football for UCF's team in the position of a kick-off/place kicker specialist from 2015 to 2016. At the time, he came up with an idea to create content related to sport for YouTube, so he launched his official channel under the username 'Deestroying' on 5 June 2015, and uploaded his first video entitled "Football vs Fútbol vs Rugby?" a few days later. The number of his followers increased with each video, which encouraged him to continue on.
Loss of NCAA Eligibility
He built his huge fan base over the next two years, which eventually became a huge problem for the National Collegiate Athletic Association (NCAA) which didn't approve it, and forced him to shut down or demonetize his channel if he wanted to stay on the team, because the NCAA forbids its athletes from making money from their athletic ability, aside from their scholarships. In the end, he chose to continue with his channel and quit college sports; the NCAA deemed him ineligible. It led to a legal fight since Donald sued the college over the matter in July 2018, and later that year, he settled the lawsuit to complete his education there.
Continued Success on YouTube
After being kicked off the UFC American Football team, Donald completely focused on his YouTube channel. He initially filmed videos about kicker trick shots and skits on sports stereotypes, while he later expanded his content and started filming funny videos, vlogs, gaming videos, and skits impersonating such National Football League players as Tom Brady, JuJu Smith-Schuster and Odell Beckham, Jr., among others. Moreover, he's collaborated with numerous players, including Smith-Schuster, Antonio Brown, Cam Newton and Tyreek Hill, and has signed a partnership agreement with the NFL and other major sports organizations.
In July 2019, Donald collaborated with Logan Paul on their video, entitled "I RACED LOGAN PAUL FOR $100,000.. AND WON! (CHALLENGER GAMES)", which became his most viewed video on the channel to date. His other popular videos include "DOING 1ON1'S AGAINST TYREEK HILL! (FASTEST PLAYER IN THE NFL) FT. SAMMY WATKINS", "That one friend who is ALWAYS trying to grind..", and "#1 RECEIVER IN THE COUNTRY DOES 1ON1's VS NFL PLAYERS!! (ANKLE WARNING)", to name a few.
Professional Career
Despite his collaboration with the NFL and his advocating for an NFL club to sign him, Donald De La Haye started his professional career after being signed by the Toronto Argonauts of the Canadian Football League in May 2019. He played both pre-season games, and was then signed as a practice roster member. Because of limits on American players allowed on the roster, the team placed him on the Suspended list so that he would be relieved of team obligations, which allowed him to continue making YouTube videos. Recently, he shared with his fans that he was invited to train for the NFL combine.
In 2021, he won the Kohls Pro Combine kick-off competition. Besides that, Donald is one of the owners of the Glacier Boyz of the professional indoor football league Fan Controlled Football, alongside Richard Sherman and Quavo.
Other Social Media Platforms
In addition to his YouTube career, Donald expanded his influence across other social media platforms, to promote himself and his projects. He runs his official TikTok account under the username 'deestroying', on which he has accumulated more than 53 million likes. He frequently uploads photos onto Instagram, where you can find him under the same nickname. He also has his own Facebook page, and is active on Twitter, on which he goes by the username '@Deestroying'.
Appearance and Vital Statistics
Deestroying has short dark brown hair and dark brown eyes. He stands at a height of 5ft 10ins (1.78m), while his weight is around 172lbs (78kgs). Information about his vital statistics, biceps size, and shoe size isn't available.
Personal Life
Deestroying tends to keep all details about his personal life far away from the eye of the public. Nonetheless, it's known that he was previously in a relationship with a girl named Kiana Wudte, a social media personality. They shared cute snaps across social media, but which have now been deleted.
He is single at the moment, and his current residence is in Los Angeles, California.