• Dimitri Portwood Kutcher is the second child and only son of celebrity couple Ashton Kutcher and Mila Kunis
• His father is an actor, producer, and former model with 19 awards
• His mother is an actress with 14 awards
• He has an older sister, Wyatt Isabelle Kutcher
• His parents are married since 2015 and his father's net worth is estimated at $200 million
Who is Dimitri Portwood Kutcher?
Dimitri Portwood Kutcher was born under the zodiac sign of Sagittarius on 30 November 2016, in Los Angeles, California USA. He is the second child and the only son of the celebrity couple Ashton Kutcher and Mila Kunis. His name, Dimitri, was chosen because of his mother's Russian legacy, and his middle name is in honour of his father's stepfather, Mark Portwood.
Who is Dimitri's father?
As Dimitri is not yet five years old, greater interest is in his parents. His father, Ashton Kutcher, is an American actor with around 40 credits to his name, and he's also a TV producer and a former photo-model; he has accumulated 42 award nominations, of which he's won 19.
He was born under the zodiac sign of Aquarius on 7 February 1978, in Cedar Rapids, Iowa USA, where he was raised by his parents, Diane and Larry, who are of Czech and German descent. Ashton has a twin brother named Michael, and an older sister named Tausha.
He attended a local high school, and upon matriculating in 1996, enrolled at the University of Iowa to study biochemical engineering. However, in 1997 he started his career as a model, and so dropped out of the college to work for Calvin Klein's fashion house.
His acting debut came in the 1998, as he portrayed the character Michael Kelso in the series "That '70s Show". Created by Terry and Bonnie Turner, and Mark Brazill, and it had 77 award nominations, while it won 15 awards, including a Primetime Emmy.
In the following years, Ashton starred in movies such as "My Boss's Daughter", "Just Married",  " What Happens in Vegas" , "Personal Effects"  and "No Strings Attached", and had supporting roles in several others. He also had minor roles in the series "Just Shoot Me!", "Grounded for Life" and "Miss Guided". In 2011, he was cast to play the character Walden Schmidt in what became the the worldwide known series "Two and a Half Men", which garnered 72 award nominations and won 30, including nine Primetime Emmys. His most recent role has been in the series "The Ranch" since 2016.
Ashton was the creator and host of the series "Punk'd", which is a hidden camera TV show in which Ashton and his crew played jokes on celebrities.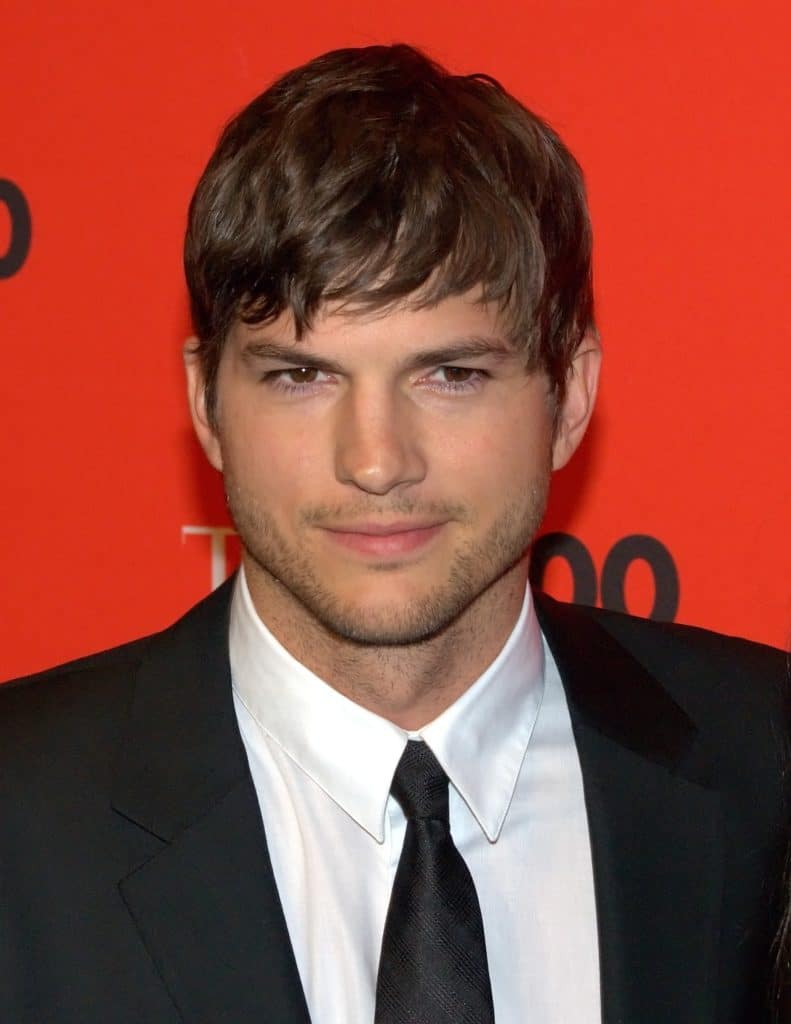 He's an active member of his human rights organization, invests in technology, and is a restaurant owner.
He was the first celebrity to gain a million followers on Twitter.
Before his marriage with Mila Kunis, he was married to Demi Moore, the ex-wife of Bruce Willis.
Who is Dimitri's mother?
Mila Kunis was born under the zodiac sign of Leo on 14 August 1983, in Chernivtsi, Ukrainian SSR – her full name is Milena Markovna Kunis. She is an actress with over 70 credits to her name, perhaps mostly known by her role in the series " That '70s  Show". Mila has over 60 award nominations, of which she's won 14.
Her family moved from Ukraine to Los Angeles when she was seven years old. She attended Fairfax Senior High School, and upon matriculating in 2001, she attended only one semestar of a college before deciding that she wanted to be an actress.
In addition to "That '70 Show" , Mila had minor roles in several other series, such as "Days of Our Lives", "The John Larroquette Show", "Hudson Street", and "Baywatch".
She provided her voice in the series "Family Guy" to the character Meg Griffin, in 361 episode of this worldwide famous animated comedy – the series had 103 award nominations and won 37, including nine Primetime Emmys.
Her debut film role was in the movie "Make A Wish, Molly", followed by roles in the movies such as "Black Swan", "Jupiter Ascending", "Bad Moms", and "The Spy Who Dumped Me". The significant role for Mila was her portrayal of Solara in the 2010 movie "The Book of Eli", staring alongside Denzel Washington.
Before her marriage with Ashton Kutcher, Mila was in a relationship with the famous actor Macaulay Culkin, perhaps mostly known for his role in the movie franchise "Home Alone".
They began dating in 2002, and ended their romance in 2011.
Relationship and marriage of his parents
Dimitri's parents met on the set while they were shooting for the series "That '70s Show" in 1997. A fun fact is that they acted as a couple in the series, and were pretty much in love. However, their relationship didn't start then, as Mila was just 14 years old and Ashton 20. However, Mila's first kiss ever was with Ashton in the series. In the following years, they remained friends, but then lost contact.
It was in January 2012 that they met at the 69th Golden Globe Awards; he invited her to a housewarming party at his house in Los Angeles, and after a few words and a few drinks, they kissed. At first, their relationship started as open; yhey both agreed that they would enjoy the time that they spent together, with no obligations.
However, just three months later, they started living together, and in February 2014, became engaged. In May of the same year, Mila anounced that they were expecting their first child.
Ashton and Mila married on 4 July 2015, in a private ceremony in Oak Glen, California. As of August 2021, the couple is still together in a happy marriage.
Siblings of Dimitri
Dimitri has an older sister, Wyatt Isabelle Kutcher, born under the zodiac sign of Libra on 1 October 2014, in Los Angeles.
Age and net worth
Dimitri is four years old, there is no information about his height and weight. It seems that he is a healthy toddler, according to the posts and pictures posted by online magazines.
As of August 2021, the net worth of his father has been estimated at about $200 million, while his mother's net worth is reputedly $75 million – Dimitri would appear to be financially very secure!