• Jerramy Ryan Stevens is a retired professional American Football player, best known for playing for the Seattle Seahawks in the National Football League (NFL).
• Grew up in Lacey, Washington State, and attended River Ridge High School, where he was a member of the football team.
• Selected by Seattle Seahawks as their first-round pick in the NFL Draft in 200•
• Numerous controversies and criminal allegations, including accusations of beating a schoolmate with a baseball bat and stomping on his face, and rape.
• Married the former soccer player, Hope Solo, in November 2012.
Jerramy Stevens Wiki Bio
Jerramy Ryan Stevens was born in Boise, Idaho USA, on 13 November 1979 – his zodiac sign is Scorpio, and he holds American nationality. He's a retired professional American Football player, a former tight end perhaps known best for playing for the Seattle Seahawks in the National Football League (NFL).
Early life and education
Jerramy grew up in Lacey, Washington State alongside his three siblings. Their parents are Bob and Fran Stevens, a high school teacher and sports coach, and a retired police officer, respectively. Bob Stevens coached the North Mason volleyball team for 11 seasons, and has also been a coach for the River Ridge High School basketball team. He strongly helped Jerramy pursue his interest in sports.
Jerramy attended River Ridge High School, where he was a member of their football team, while he also played basketball and ran track. He was originally a quarterback, and passed for 5,000 yards during his high school career, including throwing for 2,000 yards as a junior. His success earned him a sports scholarship to the University of Washington, where he continued his football career.
Career as a football player
Jerramy red-shirted the 1998 season at University, and played as quarterback for the practice squad. In the following season, he converted to tight end, making 21 receptions for 265 yards and four touchdowns. In 2000, his team won the Rose Bowl against Purdue Boilermakers, with Jerramy receiving five catches for 51 yards.
The following season, he started off strongly, scoring one touchdown and 10 receptions for 88 yards, but on 24 September he injured his right foot, and was sidelined until the end of November.
In 2002, Jerramy was selected by Seattle Seahawks as their first-round pick in the NFL Draft, the 28th player taken overall. His selection was highly controversial among Seahawks fans, due to Jerramy's criminal history. The team's coach, Mike Holmgren, publicly acknowledged that his choice took numerous deliberations with Jerramy, his parents, coaches at the University of Washington, and even Holmgren's own family.
In his rookie season at the Seahawks, Jerramy played 12 games, debuting in a game against the Oakland Raiders on 8 September 2002. In the three following seasons, he played all 16 regular season games, and in 2006 in Super Bowl XL against the Pittsburgh Steelers. He scored the first-ever Super Bowl touchdown for the Seahawks, but also dropped three key passes, and his team ended up losing to the Steelers (10-21).
On 6 November 2006, Jerramy was hit in the groin by the Oakland Raiders defensive end Tyler Brayton, resulting in his ejection from the game; both players were fined by the NFL, for their involvement in the incident.
The Riders' coach, Art Shell later accused Jerramy of being the instigator, as he had apparently tried to knee Brayton earlier in the game, while the Seahawks coach claimed that it was an accident.
On 20 March 2007, following Jerramy's arrest, the Seattle Seahawks manager, Tim Ruskell, confirmed that their tight end was on his way out of the team. On 28 April, he was signed by the Tampa Bay Buccaneers, and spent the following four seasons with the team, despite being suspended for violation of NFL substance abuse policy several times. In October 2010, the Buccaneers waived Jerramy, two days after he was arrested for possession of marihuana.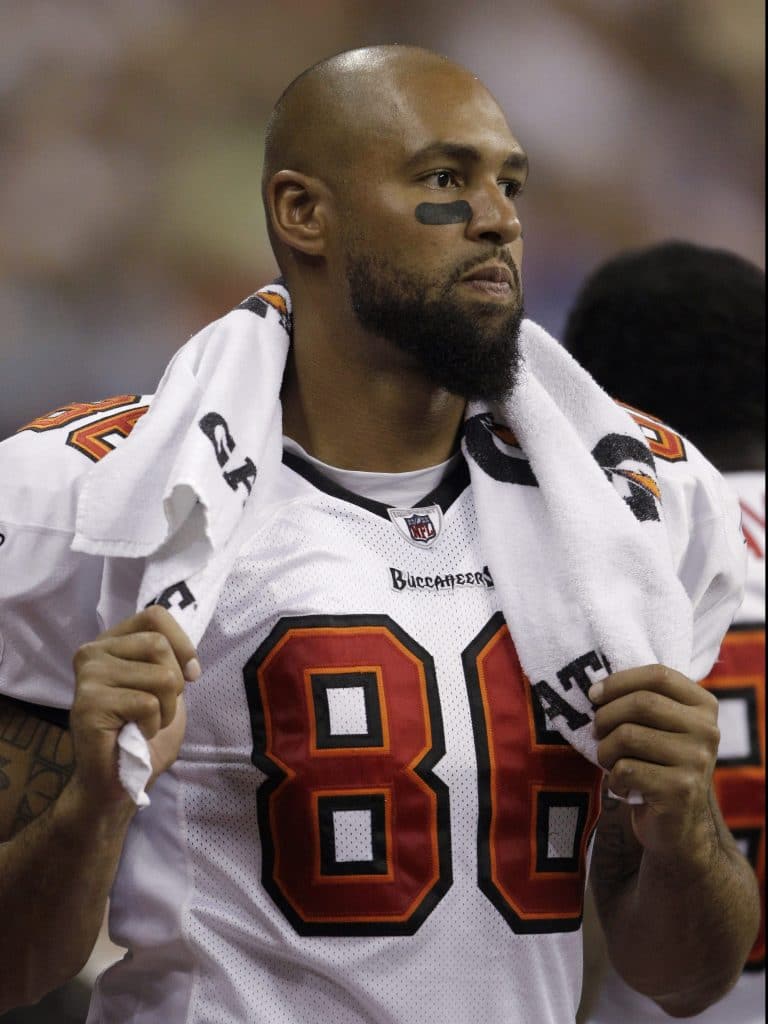 Controversies and criminal allegations
During his senior year in high school, Jerramy was accused of beating a schoolmate with a baseball bat and stomping on his face. The victim suffered a broken jaw, and couldn't eat solid food for six months. Jerramy initially denied the accusations, but eventually confessed his wrongdoings to authorities. He was charged with a felony assault, and ordered to home detention, however, during detention time he tested positive for cannabis, and spent three weeks in Thurston County jail.
In July 2001, Jerramy was arrested and charged with rape. The athletic director of University of Washington, Barbara Hedges, told the media that the University would investigate the case, but which didn't happen.
King County Prosecutor, Norm Maleng, went against standard police procedure and gave crucial evidence to Jerramy's lawyers, so he wasn't prosecuted.
In 2007, "The Seattle Times" published an article revealing that the football player's neighbors had tried to push him out of their shared condominium, due to his problematic behavior. According to them, he would leave vomit and used condoms at their doors, hosted parties almost every night, set off illegal fireworks, and more.
On 23 October 2010, he was arrested and charged with possession of marijuana, and in the following year, he was charged with a felony battery for pushing two bouncers in a Florida bar.
In 2012, Jerramy was arrested again, on investigation of assault following an altercation which left his fiancée, Hope, injured; the case was dropped due to a lack of evidence. He was also charged numerous times for DUI (driving under influence), hit-and-run incidents and reckless driving.
Love life and wife
Jerramy married the former soccer player, Hope Solo, in November 2012. In an interview she gave for the magazine "Elle", Hope revealed that she was friends with her future husband long before they started dating, and that they didn't speak to each other for about a year, after he confessed his love to her.
The two eventually reconciled, and married after dating for two months.
The beginning of their marriage wasn't without issues, as Jerramy was arrested under suspicion that he had physically assaulted Hope two days prior to their wedding. She later explained that a physical fight did take place at their home, but it wasn't between her and Jerramy, it was between their brothers. When the police came, they saw Hope had a bloody elbow, and arrested her fiancée assuming that it was his fault.
In 2015, the couple moved to their newly acquired house in Seattle, Washington. In December 2019, they announced that they were expecting twins, after a long time of trying for a baby. Hope gave birth to a boy, Vittorio Genghis, and a girl, Lozen Judith, on 4 March 2020.
Appearance, age and net worth
Jerramy is 41 years old. He has short black hair and brown eyes, he's 6ft 7ins (2.01m) tall, and weighs around 260lbs (118kgs). As of August 2021, his net worth is estimated at more than $2.5 million dollars.
Who is Jerramy's wife Hope Solo?
Hope Solo was born in Richland, Washington USA, on 30 July 1981 – her zodiac sign is Leo, and she holds American nationality. She's a former soccer player, known best for winning two Olympic gold medals with the US women's soccer team, in 2008 and 2012.
Her parents are Judy and Jeffrey Solo, and she grew up with two brothers, Marcus and Dave, and her half-sister, Teresa. Hope attended Richland High School, and during her time there was a member of their soccer team, as a forward. In 2002, she graduated from the University of Washington, with a degree in speech communications.
During her college career, Hope switched to being a goalie, and became the top goalkeeper in college division history. She went on to play for renowned soccer clubs in the US and Europe, including Olympic Lyon, Atlanta Beat and Seattle Reign. Her biggest professional success came in the summer of 2008, when she led the US national women's soccer team to a gold medal at the Summer Olympics in Beijing, China.
Four years later, she won her second gold medal, at the 2012 Summer Olympics in London, England. In 2015, Hope received the Golden Glove trophy, for being the best goalkeeper in that year's edition of FIFA Women's World Cup.
Although soccer is not as popular in the US as it is in the rest of the world, Hope has still become a prominent public figure in her country. She has signed endorsement deals with numerous brands, such as Seiko, Nike and Gatorade. In 2011, she was one of the contestants on the 13th season of the popular TV show "Dancing with the Stars", and has also made appearances on "Late Night with Jimmy Fallon", "The Ellen DeGeneres Show", and "The Late Show with David Letterman", among others.
Hope is 40 years old. She has long brown hair and green eyes, she's 5ft 9ins (1.75m) tall, and weighs around 150lbs (68kgs).
As of August 2021, her net worth is estimated at more than $3 million.