• Evelyn Taft is a meteorologist for KCAL9 News at 8pm and 10pm.
• She was born to Russian parents in the San Francisco bay area, and speaks French, Russian and Hebrew.
• Taft matriculated from Menlo High school and graduated with a degree in broadcast journalism and political science from the University of Southern California.
• She started her career as a forecaster at KION, and works at KCAL-TV in Los Angeles as a night meteorologist, presenter, editor and director.
• Evelyn is married to Ross Resnick and they have two children.
Evelyn Taft is a regular face on TV screens, as she is a meteorologist on KCAL9 News at 8pm and 10pm. She joined CBS/ KCAL9 from KRON 4 in the San Francisco Bay area, where she began as a weather forecaster. She currently works as a chief weekend meteorologist for KCAL TV
Early life, family, educational background
Evelyn Taft was born on 24 August 1984 under the Virgo star sign, to Russian parents in the San Francisco bay area – her parents moved to the US before she was born. Taft spent her early childhood living in France, England and Israel, and so speaks French, Russian and Hebrew.
She matriculated from Menlo High school in Atherton, California, and the  enrolled at the University of Southern California Annenberg school of journalism. In 2006 she graduated with a degree in broadcast journalism and political science, and subsequently received a certificate in meteorology at Mississippi State University.
Career
During her teenage years, Taft worked at the San Francisco Bay area's mid-peninsula  community media center, hosting shows on travel and entertainment. Taft began her career as a forecaster at KION,  before moving on to working at KCOY TV as a news and weather anchor after she graduated from college, and was with the station until 2008.
During her time there she worked on the "Military Minute" which saw her rewarded with the National Army Guard Appreciation award. In 2010, Taft joined KCAL- TV in Los Angeles, working as a night meteorologist, presenter, editor and director, which launched her broadcasting career. She later moved to the sister station CB2, reporting on weekday forecasts, working with Rick Garcia and Sharon Tay.
With the outbreak of the Corona Virus in 2020, several organizations and businesses had to shift and adapt their working spaces to remote or home based offices. This was the case for Evelyn and her colleagues, and she converted her Hollywood home into a makeshift studio to give her weather reports. In addition to the TV in the room, she has a monitor replete with graphics and maps.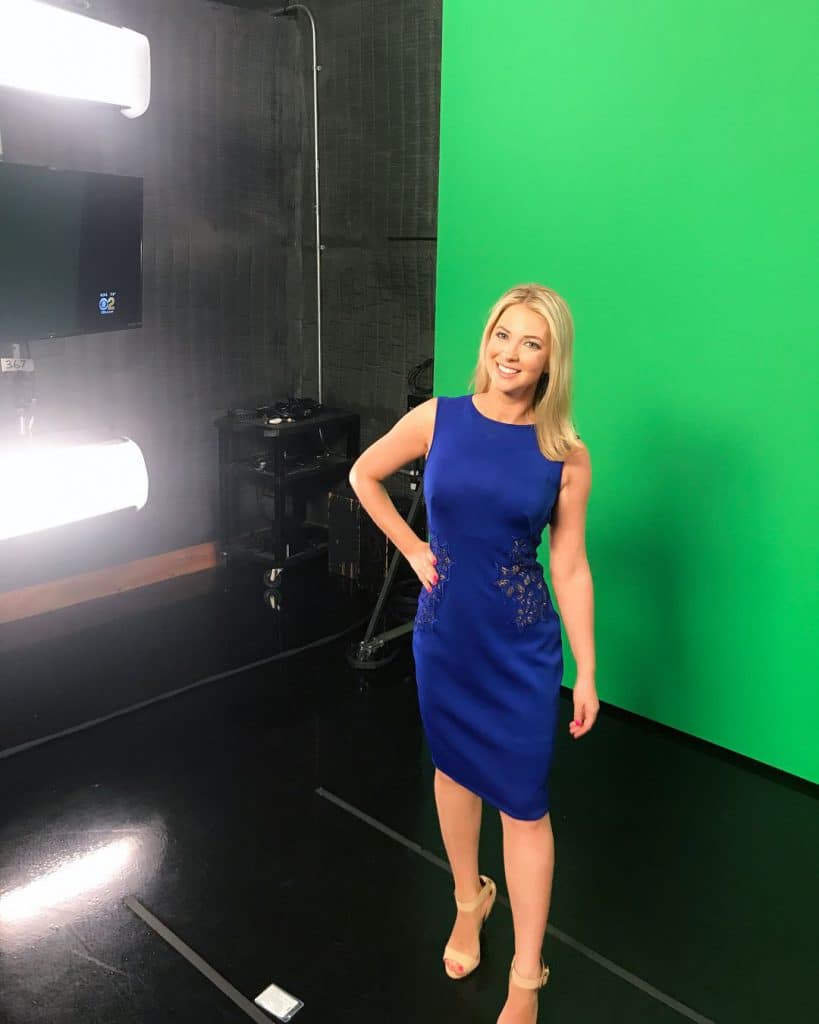 Speaking to the LA Times, she said 'never in a million years did I ever think I could do my job from home.', having been at the station for 10 years.
Personal life, husband Ross Resnick
Evelyn has been married to Ross Resnick since 2011, and they have two children together, living in Los Angeles; the couple is tight lipped about their relationship and the lives of their children. Taft is quite active on Social media platforms including Instagram, though she is very cognizant to not show her children (their faces) or her husband .
Who is Ross Resnick?
Ross Resnick is an entrepreneur, and CEO of Roaming Hunger, a site that helps consumers find and book the best food trucks for various events. It was founded in 2009 in Santa Monica, but has since moved their offices to West Hollywood.
The company offers online resources and mobile phone apps that provide real-time tracking for more than 18 000 food trucks, carts and caterers.
During a 2015 interview with the Los Angeles Business Journal,  Resnick said he was inspired to start Roaming Hunger after spending time in Asia – 'I traveled abroad as an undergrad at University of Southern California, and became obsessed with the street food in Hong Kong. I later went to UCLA for grad school and worked for a bunch of startups – my last job was Divisions Manager at Honest Tea. Then, when food trucks started to get popular in 2009, I took that entrepreneurial skill set and my love of cheap eats and ran with it.' Resnick admitted to Millennial Magazine that like most business endeavors, the early stages were strenuous.
#tbt to last week in the big 🍎 took our two toddlers with us so we're still recovering 😜 but had some very special life moments and celebrations with family and friends ❤️✌️

Posted by Evelyn Taft on Thursday, October 19, 2017
He said as an entrepreneur one always wants to figure out the lowest cost way to test if your business is going to work – 'a food truck is a really great low cost point of entry for a restaurateur to know if their concept is going to be well received.'
In 2010 Pr News Wire reported that startup Sleek had partnered with Roaming Hunger to launch an online ordering system that has been built specifically for mobile food businesses. The system makes it safe and easy for customers to place orders, and now remain safe during the COVID pandemic, while helping businesses create revenue. Consumers pay a fee to place an order, or jump the queue for a shorter wait time, and that revenue is shared with the business.
Resnick has a Bachelor of Science in International studies from the University of Southern California. He went on to acquire an MBA from the University of California in 2014.
Evelyn's hobbies, favorite things and interesting facts
She enjoys sailing.
Loves to eat from LA's gourmet food trucks.
Has climbed Mount Machu Picchu.
Is a member of the National Weather Association, and received the National Weather Association Seal of Approval for her work reporting on various wild fires.
Has been honored with a Golden Mike award for best weather segment.
Appearance, clothing style
Evelyn is an attractive woman who stands at 5ft 7ins (1.70m) and weighs about 125lbs (57kgs). She has blonde shoulder length hair and blue eyes. Evelyn loves to wear flared and flattering clothes. Being in front of the camera for her job, she also looks for something comfortable and fashionable. However, off air she swaps out her heels for flats and especially loves birkenstocks. She is also a huge fan of yoga pants.
When it comes to clothes in the work place, she says it is all about  balance.
'My rule of thumb is… if you are going to wear something a little more fitted on the bottom, pair it with something conservative on top. A modern blazer is always a great go-to. Or vice versa… a fitted top paired with a longer pencil skirt. Sheath dresses are always a sure bet too.' She advices one to stay away from obvious plunging necklines, mini skirts and anything that might feel uncomfortable.
Net worth and salary
Evelyn Taft's estimated net worth is around $1 million from her roles as a meteorologist, editor and director. Her salary is reported to be as high as $120,000.