'1000-lb Sisters' is an American reality television series that debuted on The Learning Channel in 2020. The show follows the life of Kentucky-born sisters, Amy and Tammy Slaton, who, as the title suggests, have a combined weight of over 1000 lbs (454kgs).
According to TLC's description of '1000-lb Sisters', the show primarily focuses on Amy's life, and her recent desire to conceive with her husband, Michael Halterman. Due to health issues arising from her obesity, Amy (406lbs / 185kgs) will face difficulties if she becomes pregnant, and decides to lose weight to make her dream a reality.
Tammy joins her sister on the same journey, initially because she became bedridden due to her 604lsb (274kgs) weight, and requires Amy's help with everyday tasks, and needs to lose weight because of growing health issues.
The show follows the two sisters as they attempt to lose enough weight to undergo weight-loss surgery and achieve their dreams of living healthier and happier. However, both sisters confessed long before the series debuted, that their journey will be difficult since both of them would have to overcome an eating disorder.
Despite currently being in only its second season, '1000-lb Sisters' provides viewers with plenty of intrigue and drama, as they watch the Slatons overcome the everyday difficulties of obesity. Through the past couple of seasons, the show generateded a mixed reception, with some intrigued and others disgusted by the show, yet despite all the criticism, '1000-lb Sisters' achieved undisputed success.
Likewise, the show also holds several intriguing facts that few viewers would know, yet fans of the show might be eager to learn about these secrets.
From struggles never mentioned on the show to YouTube fame, these Kentucky sisters provide enough intrigue to surprise even the most dedicated fans.
Tammy's Series of Serious Health Issues
Obesity poses serious health issues that doctors and other medical practitioners warn their patients against, and as an example of this, Tammy became dependant on her sister's daily care. The numerous health issues that plagued her made Tammy immobile, forcing her to rely on the help of others for even the simplest daily tasks.
At the beginning of the show, Tammy weighed a startling 600 lbs, and as a direct result of her obesity, suffered from life-threatening ailments. Tammy has not left her home in over six years, except to receive medical care. This not only worsened Tammy's degrading health, but also placed a lot of strain on her relationship with Amy and Michael.
During an interview with a local newspaper, 'The Louisville Courier-Journal', Tammy stated that the sole reason for appearing on the show and documenting her weight loss journey was to achieve better health. She also stated that she grew tired of being sick all the time, and hoped that the surgery would assist her in achieving her goal.
Among the health issues Tammy mentioned, the most concerning ones include two blood clots that might easily have caused either strokes or heart attacks, and severe pneumonia, all of which could prove fatal.
In 2019, Tammy shared a video, as yet again she had to be hospitalized for a serious condition. This time, Tammy complained of swelling and severe pain in her foot, and doctors discovered that she'd developed gout, which if untreated could pose life-threatening.
Everyone is watching #TheBachelor while I'm watching #1000lbSisters tonight! pic.twitter.com/KW8x73AzBe

— Jamille (@Jamille_H) February 2, 2021
Hoping for An End
Because of all the medical conditions and constant treatment she required, coupled with years of isolation and loneliness, Tammy reached her breaking point several years before the Slaton sisters' story reached the world. In December of 2019, in a candid interview with 'People' magazine, Tammy admitted that there was a point in her life where the isolation and depression drove her too far, and she attempted to take her own life in the hope of ending all her problems.
In the end, her close call with death served as a wake-up call, and Tammy decided she should rather do something drastic about her situation than try to take the easy way out. Realizing that if she did not take matters more seriously, there was a possibility that she would not live past the age of 35. In the same interview, Tammy told 'People' magazine that the results have thus far been encouraging, and she no longer feels unfit to join society.
Now that people have learned about her story, and that she's accepted healthier lifestyle choices such as improving her diet and doing regular exercise, Tammy began regaining a positive attitude towards life, looking forward to seeing the years yet to come.
Amy's Radical Change
In an interview with 'Louisville Courier-Journal', Amy admitted that her weight was not always a concern, and for the first years of her life she could have been considered average. That was until the age of 10 when tragedy struck their family, and Amy turned to comfort eating as a way to deal with the grief.
For most of their life, the Slaton sisters were in the care of their grandmother, as their mother worked three jobs to provide for them, and hardly had any time at home. As Amy explained, when their beloved grandmother passed away, their world was turned upside down.
With no other family members available, the girls had to learn how to take care of themselves, while dealing with the sorrow of losing a loved one. As a result, the sisters relied on quick and easy meals to survive, often relying on takeaways.
During this time, Amy developed an eating disorder that led to the drastic changes that caused her obesity; she also mentioned that their healthier eating habits suffered because healthier food is quite often more expensive. For example, Amy recalled that a cheeseburger would cost a dollar, while the healthier option of a salad would cost five times that.
Today they are better informed about nutrition, and continue to battle their unhealthy eating habits.
Going Viral
In 2011, Amy launched her personal YouTube channel on which she posted videos of herself and her sister trying funny challenges.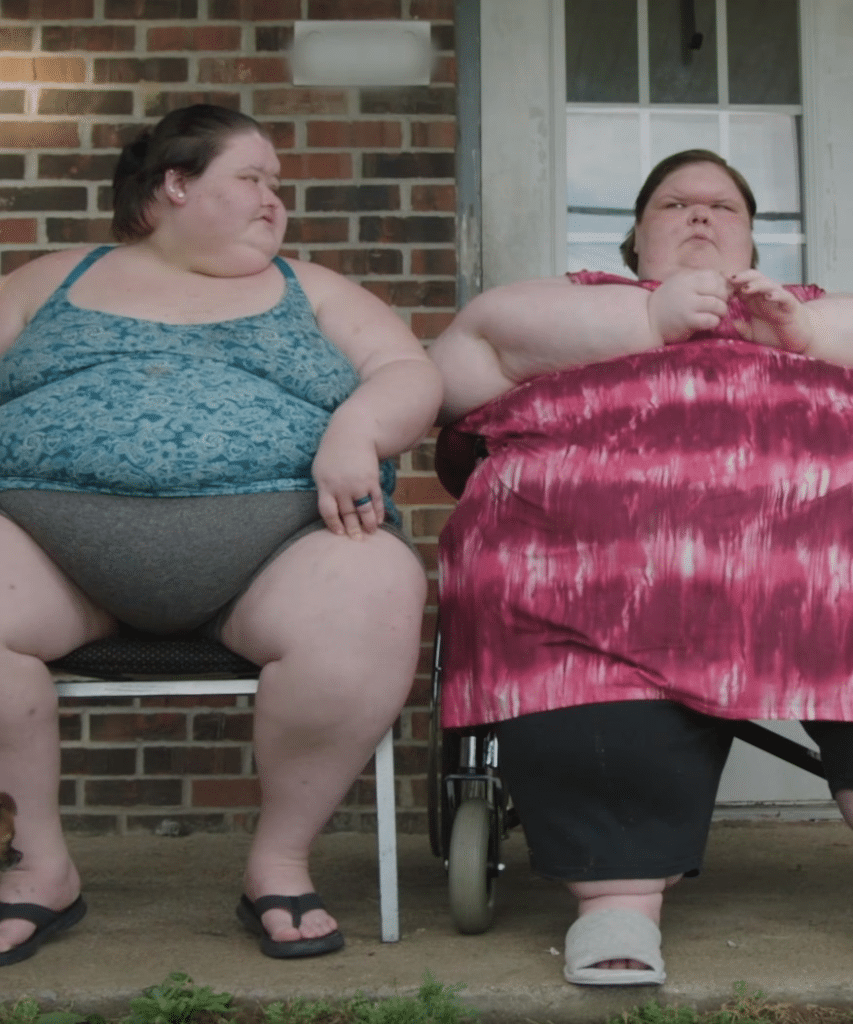 Little did she know that it would become the reason why they now have a reality show dedicated to their weight loss conquest.
A few years passed, while Amy's channel was one of the many channels out there hardly gaining any attention, until in 2014 their luck turned. After participating in the viral 'Chubby Bunny Challenge', in which contests stuff their mouth full of marshmallows and attempt to say 'Chubby Bunny' without laughing, the video went viral, achieving 1.8 million views.
The video's surprising success made internet sensations of the sisters, but as proof that they weren't simply one-hit-wonders, they made more videos that achieved astounding views. Some boasted nearly eight million views, further promoting the sisters' popularity.
As a result of their newfound internet fame, several fans of their YouTube channel reached out to TLC, attempting to convince them that the Slaton sisters deserved their own show.
Of course, TLC did not waste any time and quickly started capitalizing on the Slaton sisters' growing fame, inviting them to participate in a reality series about their life.
Striking Back At Cyberbullying
As can be expected, gaining attention on YouTube would certainly attract negative remarks too, and a lot of hate from the trolls out there. Naturally, the Slaton sisters received their fair share of hateful comments, so falling victim to countless cases of cyberbullying.
In 2017, Amy posted a video on her YouTube channel of herself reading some of the nasty comments to her followers, and addressing the insults directly, striking back at all the haters on social media. Although Amy's response couldn't possibly prevent or stop trolls from sending hate messages, it did spark retaliation against the negative comments from some of her followers.
In May that same year, Amy posted a heartfelt message on Instagram, responding to a post by one of her fans. The post addressed all the haters, saying if they don't like Amy, they should stay off her channel.
The fan also warned the trolls that negativity like that would destroy the sender inside out. Amy replied, thanking her supporters for their kindness, saying that she doesn't know where she would be without them. It seems anyone intent on hating the Slaton sisters, should be careful not to excite the anger of their fans.
Twitter Reacts
As mentioned before, the reception of '1000-lb Sisters' was mixed. In December of 2019, TLC announced the release of the series, publishing the first promotional trailer that allowed viewers an insight into what they could expect of the show.
1000-Lb. Sisters' Tammy Slaton Getting 'a Lot More Hate' About Her Weight: 'It's Not Helping'​ https://t.co/Q8YIpmJfsY

— People (@people) February 1, 2021
Without much ado, they instantly took to Twitter to express their opinions. While some openly mocked the series, like the many internet trolls who insulted Amy's YouTube channel, and others expressing absolute disgust for the dietary habits of the Slaton sisters, others expressed their concern about the tragic nature of their lives.
Despite the countless negative responses on Twitter, TLC went through with the series' release, and streamed an online sneak peek of the season premiere. Ultimately, it seems the commentary from the online stream was what convinced TLC that the series was going to be a smashing success.
Some of the viewers claimed that they discovered their latest favorite after watching the stream, with one fan even writing that the show could potentially become addictive. With that in mind, it should hardly be a surprise that the show made it into its second season.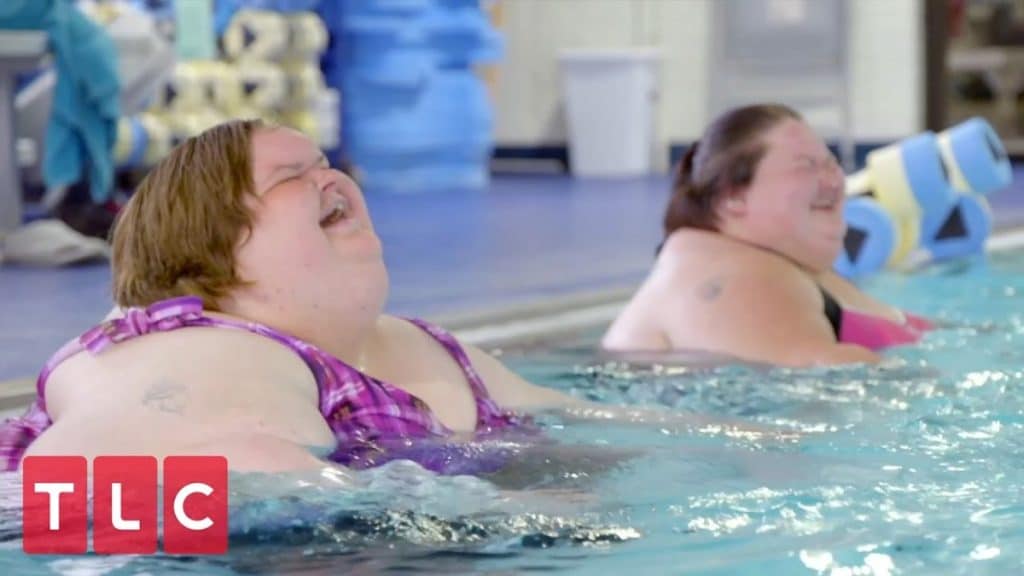 A Tragic Loss
In January 2020, despite their newfound fame, the Slaton sisters took a break from social media, and for some time their activity remained quiet. Fans became concerned that the pressure and perhaps the negative remarks convinced the Slatons to go into hiding, but later that month Amy reached out to fans, saying they were dealing with a death in the family.
Sadly, on 6 January 2020, Robert 'Frank' Rednour passed away at the age of 62. Rednour married the Slaton sisters' mother, Darlene, in 2013, and their step-father became a beloved member of the family. His untimely passing weighed heavily on the family, and after seven loving years as a part of their lives, he will certainly be missed.
Robert worked as a volunteer firefighter for several years, and after 13 years of service retired from the Union County Road Department, where he worked as a bus driver.
In his obituary, the family honored his love for his dogs, and his favorite pastimes which included bird watching and angling.
Reality Therapy
Aside from gaining popularity from the show, the Slaton sisters told '44 News' during an interview that it also had a positive effect on their strained relationship. Amy said that she was especially thankful to have her sister by her side throughout the journey. She said that it was much easier to embrace the newfound fame with somebody who understood and supported her, adding that the whole experience brought them closer together.
Other than helping the Slaton sisters improve their health and lose weight, the show offered them respective therapy, allowing them to learn more about the other's personal struggles and emotional distress.
It allowed them to connect on a deeper level, and today they understand each other far better than before. As their progress keeps improving, it seems, so does their relationship.
Amy Expects
At the end of the first season, Amy proved to be more successful at losing weight than her sister Tammy, and even shed enough weight to qualify for bariatric surgery. As a positive result, Amy could complete her dream of conceiving children. However, as a precaution, her doctor recommended that she wait at least two years following the surgery before trying to have children. In disregard to the advice of her doctor, Amy revealed to the world in anticipation of the second season that she was expecting her first child. According to a report by 'Today', Amy conceived only four months after undergoing surgery.
Conceiving so soon could be perilous to her health, and as a result the news of her pregnancy received a mixed reception, especially from Tammy. While people are overjoyed that she may live her dream and deepest desire, they nonetheless expressed their concern about the implications it could hold.
While the news might be shocking, fans of the show were more interested in the bizarre cravings Amy displayed. In a YouTube video, Amy and Tammy discussed some of her cravings, which included combining a Peppermint Patty with an eggroll. Aside from sharing a few – to some – revolting recipes, Amy revealed that she expected a boy, and that the due date was sometime in January 2021.
Commitment and Improvement
Most of the first season happened in May 2019, and since the filming of the show began, the Slaton sisters have displayed impressive commitment which, by the end of the first season in December 2019, certainly paid off for them.
As part of their improvement, both sisters removed sugar from their diet, claiming that the hardest habit to surrender was soda pop. They have also changed their usual poor nutrition diet to a low-carb high-protein diet, and have taken up some form of exercise. Amy took up dancing, and goes on regular long walks with her husband, while Tammy enjoys swimming.
As a result of their improvement, TLC might have to consider changing the show's title, since the combined weight of the Slaton sisters now averages far below 1000 lbs.
With the latest season on air and these interesting facts to entertain you, we hope you look forward to enjoying the latest developments in the Slaton sisters' lives. As a true example of the fruits determination can bear, we hope you continue to support the Slatons on their weight loss journey, and perhaps draw inspiration from their story.