• "Impractical Jokers" is a popular reality show featuring four friends, also known as The Tenderloins, who play competitive dares and pranks on each other.
• The four stars of the show became friends in high school and developed their unique brand of humor there.
• The Tenderloins established a comedy act in 1999 and achieved success on NBC's "It's Your Show", which led to the creation of "Impractical Jokers".
• The show has since become a massive success, with multiple spin-offs and a feature film.
• Despite the show's success, The Tenderloins still perform comedy acts for live audiences.
Facts You Didn't Know About Impractical JokersMany would consider that laughter is universal, and they might not be wrong, especially when considering the popularity of some comedy programs, and viral videos on the internet. Of course, there is no better way to enjoy leisure time than laughing at anything worth a chuckle. Knowing this, NorthSouth Productions created their ever-popular reality series, 'Impractical Jokers', and since its debut in 2011, it's entertained millions around the globe.
The show follows the practical jokes and humourous exploits of four friends, respectively known as The Tenderloins and comprising James Murray, Joe Gatto, Sal Vulcano, and Brian Quinn. A typical episode features a set of competitive dares or games in which each joker has to compete. Judged on their performance, they would receive either positive or negative remarks. Whichever joker fails to compete in a dare, or ultimately loses the competition receives punishment at the end of each episode, usually in the form of a daring prank.
By design, the games and pranks place the participating joker in an embarrassing situation, generally involving unsuspecting members of the public. The other jokers then provide impossible instructions from behind hidden cameras, of course, hoping their competitor fails. While this happens, hidden cameras from different angles capture every hilarious moment on film, from the crowd's reactions to the sweaty, stressful moments each joker experiences. The challenges undergo little structure and planning beforehand, relying mostly on improvisation for there success.
The punishment for the loser at the end of each, however, seems almost maliciously thought out long before filming starts. As such, it should be no surprise that the show's introduction warns viewers of graphic stupidity among four lifelong friends. Because of 'Impractical Jokers' universal success, the show easily reached its ninth season, and in February 2021 got the green light for a tenth season.
In February 2020, the show also released a long-awaited feature film, and its popular reception also led to the creation of numerous spin-offs. However, even a show as light-hearted as 'Impractical Jokers' may hide a few dark secrets, and amongst all the laughter, certain details easily pass the viewers at home.
For the fans out there who might think they know everything about 'Impractical Jokers', or about The Tenderloins for that matter, a few surprises might be waiting for them. Hopefully, though, it won't change their admiration for the show or its stars.
A Prankster's Education
When the show suggested that The Tenderloins were life-long friends, at least that wasn't a lie. The four stars of 'Impractical Jokers' became friends in their teenage years, and while the show makes no secret of it, there are still details about their friendship kept hidden from the audience.
Joe, Sal, James, and Brian all grew up on Staten Island, New York, and were together considered the clowns and jokers of their class at Monsignor Farrel High School. The all-boys catholic school became the proving ground for their pranks and unique humour.
However, despite their teenage behaviour, none of them would have believed that one day they would make a prosperous living from their antics, yet the friendship they developed back then proved to be their greatest success in life.
While for some it might seem like a ridiculous dream, for them it became a reality. In some ways, high school prepared them for their future career, though it may have been by unintentional means. Many of the pranks viewers get to see on the show drew inspiration from the mischief they created in high school, but it would be quite the journey before they achieved the success they now enjoy.
No goats were harmed in the making of this episode. #ImpracticalJokers pic.twitter.com/sQH6hvzRob

— Impractical Jokers (@truTVjokers) March 26, 2021
The Birth Of The Tenderloins and Impractical Jokers
The four-part troupe of 'Impractical Jokers' may have found their passion for humour and pranks in high school, but to make a living from such antics, of course requires an audience. In 1999, the four friends established a comedy act, and took their humour to various stages. They called their four-man act The Tenderloins, and the name stuck.
However, their true success only happened with the inception of 'Impractical Jokers', which took some time to develop and almost didn't make it on screen. A great part of 'Impractical Jokers' creation came true because of the success The Tenderloins achieved on 'It's Your Show'. The NBC series, hosted by Carston Daly, allowed amateur video creators to compete for a grand prize of $100,000, and in 2007 they entered a video which ultimately won them the competition.
Their video was a mock creation about an infomercial selling the audience a time machine that promises to fix the buyers past without any problems.
Instead of squandering away their prize money, the four friends decided to invest the cash in the creation of their very own television show. The idea of 'Impractical Jokers', initially called 'Mission: Uncomfortable', came to them while enjoying leisure time playing video games.
They considered creating a prank show, but unlike the many others, their concept turned the idea against the prankster. Originally, they pitched the idea and pilot episode to Spike TV, which unfortunately showed no interest in running the show. Despite their eventual success within TruTV, The Tenderloins remained important for all of them, and they still perform comedy acts for those who prefer their stage talents over the pranks of the television series.
Before 'Impractical Jokers'
Before any of them achieved success on television, the four jokers needed to maintain the ordinary side of life, to at least keep paying the bills while they developed their comedy act.
While perhaps loath to admit it, the 'Impractical Jokers' troupe were all considerable nerds in high school, and some of them actually achieved remarkable success before the show's creation. Sal, who they quite often consider the least likely of the four friends to complete a challenge, played chess for his high school, which may be the source of his sound logic.
Aside from that, Sal might also be the only typical jock among the group, as he played football and basketball in high school, and after matriculation, went on to earn a degree in finance at the St John University of New York City.
James expressed interest in drama and bowling while attending high school, and after matriculation, earned his BA degree in English. Murray went on to work for the production company responsible for 'Impractical Jokers', NorthSouth Productions, as their senior VP of development.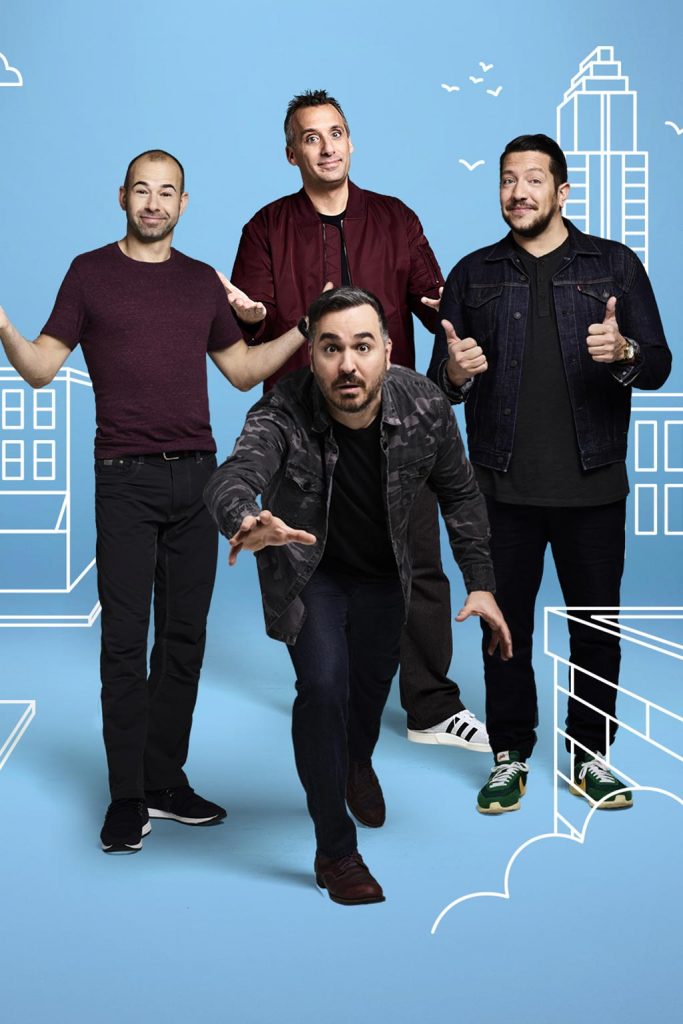 Joe, the mathematician among the group of friends, was a member of the high school's math club, and later graduated with an accounting degree from Long Island University.
Quinn was a part of their high school marching band, and also expressed an interest in videography. After high school, Brain worked as a firefighter for the New York City Fire Department, but when filming of 'Impractical Jokers' began, he took permanent leave from his firefighting duties.
The Pranks Never End
The Tenderloins became famous for their unorthodox pranking, which instead of looking for an unsuspecting victim from the public, makes themselves the butt of the joke. However, the troupe have pranked and tricked each other from as early as when their friendship started blooming, in their teenage years.
As many people suggested in the past, men simply don't grow up, and despite having become adults, they are anything but mature with each other.
Unfortunately, the die-hard fans of 'Impractical Jokers' don't get to see every little trick they play on one another, since the pranking continues long after the cameras have stopped filming. In an interview with 'Comedy Central UK', the troupe admitted that they still prank each other, as they did back in high school, and even discussed in great detail all the nasty things they do to each other.
Unsurprisingly, the show's biggest victim, Murray, is also their favourite to prank off camera. The others admitted that one of their favourite pranks is to trick Murray into paying a bigger tip at restaurants, often distracting him to add digits to the receipts.
According to them, pranks became the basis of their friendship, yet it all happens in good fun, although when it comes to daring Joe, the troupe have learned their lesson and would rarely dare him to do anything. By far the most courageous daredevil among them, Joe would be willing to do just about anything.
Accusations of Creative Reality
Just about every reality television show has faced accusations of dishonesty, which ultimately proves how distrusting the audiences are about what they're watching. Given that editing and other manipulations of reality have influenced a lot of shows, and that many reality shows are guilty of producing creative or scripted reality, fans have reason to question their favourite programs. 'Impractical Jokers' is no stranger to such accusations, and it stands to reason that there are many motivations behind some of the claims made against the show.
Some accusations are based on the far-fetched nature of the pranks on the show, which for some seem a far cry from reality. Another reason why fans often question the show draws from the fact that despite their fame, the unsuspecting public collaborating in their pranks never recognise them. Of course, many people have actually realised who they were, on occasion at times when they were not filming.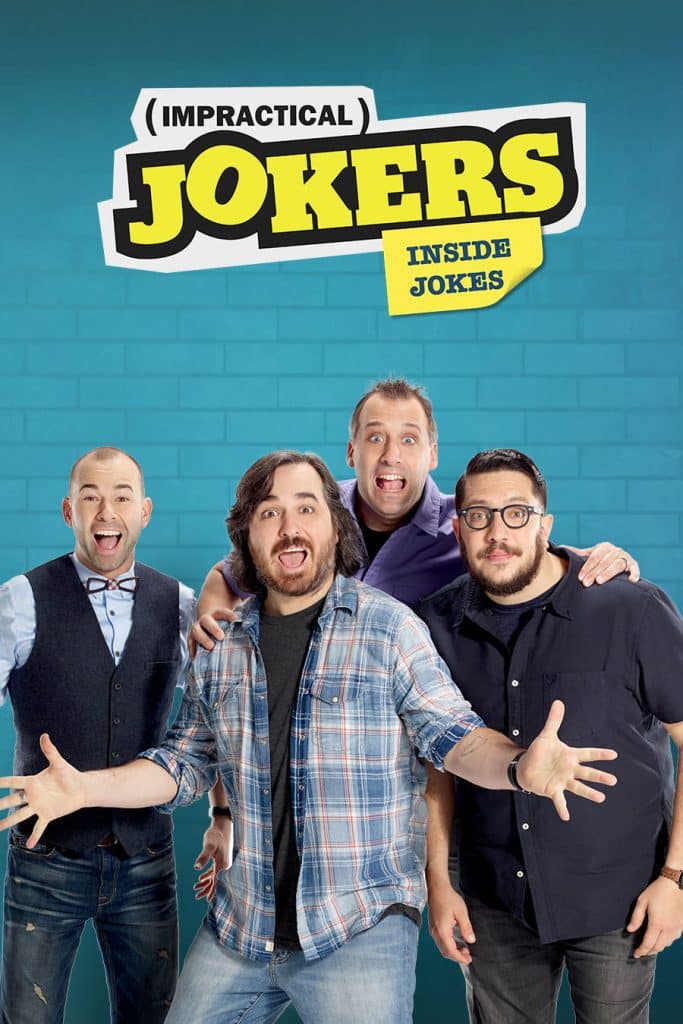 Members of the troupe admitted that strangers frequently approach them in public, and accuse them of playing a prank, even when there are no cameras to be found anywhere nearby. Quite often they do get recognised, but because these pranks are considered failures, viewers simply don't get to see it as part of an episode, mostly since it would be void of entertainment. However, the leading suspicion among fans draws from the possibility that the show hires extras as members of the crowd.
A few observant fans noticed that the same people often appear in the background, or as part of the unsuspecting public, which of course raised questions. Addressing these accusations, Quinn stated that they don't use actors, but instead people who attend focus groups. Surprisingly, sometimes the same people show up, but somehow they never realise they're appearing in the show.
While a likely and acceptable excuse, many fans simply don't believe it.
However, irrefutable proof should yet be presented, but until then, fans want to believe 'Impractical Jokers' present nothing but true reality.
The Punishments Can Get Out Of Hand
Since the show usually occupies only thirty minutes of airtime on TruTV, fans and viewers don't always get to see the entire punishment the losing joker gets subjected to, and has to endure. During most episodes, the punishment lasts for the final three to ten minutes, but quite often the loser has to endure hours of torment.
One instance of this was Murray's now-famous skydiving punishment. The viewers only saw a few moments of his terror as they jumped from the aircraft, and of course his persistent sweating before boarding the aeroplane. However, the viewers didn't see Murray as he locked himself in a bathroom for hours, sending his final goodbyes to family and friends, honestly believing he might die from the plunge.
Another example of prolonged terror the viewers only caught a glimpse of was Sal's punishment when he had to pretend to be a psychic.
The show only aired three minutes of some of the best improvisation Sal probably did his entire life, but in actuality, he had to entertain an audience of 200 people for no less than an hour. One of the most exaggerated punishments also includes the time they made Sal believe something that was never true, for eight months.
Quinn's Secret Girlfriend
Despite Quinn's hopeful intent at keeping one of his girlfriends' identity a secret, a few dedicated Redditors and fans uncovered who she might possibly be. Drawing information from certain things Brian let slip about her on the show, the Reddit sleuths uncovered that he once dated the half-sister of an A-list celebrity.
Because her family found themselves in something of a compromising and delicate situation, Quinn never released her full identity, however, he mentioned that she served time for a felonious infringement. Using this information and referencing it with the given timeline, Redditors determined that the only possible person she could be is 'King of Queens' star, Leah Remini's half-sister, Elizabeth.
Police arrested Elizabeth in 2005 for narcotic trafficking, but their results remain little more than speculations that might never be confirmed. Other than this, it has never been confirmed who Quinn's secret girlfriend may have been.
Cooling The Anger
On many occasions, some marks of the troupe's pranks completely lost it, with some even becoming physical in response to being pranked by them. As an example of this, many fans would recall Joe's stint at a ballpark, as he went about performing his task of stealing signed baseballs from unsuspecting children.
What many fans never got to see was how one mom got so angry with Joe that she very nearly assaulted the joker, but in her defence, he did kind of ask for a beat down.
Nonetheless, fans have wondered what the show and the jokers do to convince their marks to appear on camera, suggesting that they pay them to curb their anger.
Since each person who appears on the show needs to give signed permission, it often takes some convincing to get them to agree, especially if they were angered by a specific prank. It seems, though, that the fans were not wrong in their suggestion.
During a Reddit Ask Me Anything post, Sal admitted that when left with no other option, and especially if the mark's reaction seems worthy, they would pay them for their participation in the show. However, most of the time the unsuspecting public agree out of good nature, or to gain their five minutes of fame.
If none of these facts dissuade you from enjoying 'Impractical Jokers', then feel free to catch the latest instalment. At least it should be worth a few chuckles, and not the worst way to pass the time. If you simply can't get enough of The Tenderloins, feel free to watch their feature film, or any of their dedicated YouTube channels and podcasts. You could also check out their stage acts, unless it's just the pranks that keep you intrigued.