• Aden Young was born in Toronto, Canada and is an actor known for his portrayal of the lead character Daniel Holden in the drama series "Rectify".
• He has appeared in movies such as "Black Robe", "Molokai", and "Mao's Last Dancer", and in TV series such as "The Starter Wife", "The Code", and "Reckoning".
• He is married to singer-songwriter and actress Loene Carmen, with whom he has two sons.
• His hobbies include travelling, playing golf and tennis, and he is a lover of animals.
• Aden is 49 years old, with a net worth estimated at over $8 million.
Who is Aden Young?
Aden Young was born in Toronto, Ontario, Canada, on 30 November 1971 – his zodiac sign is Sagittarius and he holds both Canadian and Australian nationality. He is an actor who is perhaps known best for his portrayal of the lead character Daniel Holden in the drama series "Rectify", created by Ray McKinnon and which also starred Abigail Spencer and J. Smith-Cameron. It follows Daniel Holden who has served 19 years behind bars when new evidence has shown he might not be guilty at all. The series aired from 2013 to 2016, and was nominated for 12 awards, winning one.
Early life and education
Aden was raised an only child in Toronto by his mother who is originally from Newcastle, Australia and is a nurse, and his father Chip Young who is an American working as a broadcaster at CBC while he's also a children's book author and a composer. The family moved to Australia when Aden was nine.
He became interested in acting while attending Galston High School, and appeared in various plays performed at the school while he also practiced his acting skills at the Australian Theatre for Young People. He sporting too, playing soccer and tennis; upon matriculating in 1989, Aden chose not to pursue a college degree, but to focus on his acting career.
Roles in movies
Aden made his debut film appearance in 1991, when he starred as Daniel in the historical adventure drama "Black Robe" written by Brian Moore, directed by Bruce Beresford, and which also starred Lothaire Bluteau and Sandrine Holt. It follows a Jesuit missionary and his friends as they try to reach the Huron tribe – the film won 10 while it was nominated for 13 other awards.
A couple of his following roles were in the 1992 romantic drama "Over the Hill", the 1993 war action thriller "Sniper", and the 1993 comedy "Love in Limbo, and his following notable performance was in the 1997 historical war drama "Paradise Road" which starred Glenn Close, Frances McDormand and Pauline Collins; it follows the Japanese forces holding a group of women imprisoned on the island of Sumatra during the Second World War, and was nominated for eight awards winning one.
The year 1999 saw Aden portray Dr. Kalewis in the biographical drama "Molokai", written by John Briley and Hilde Eynikel, directed by Paul Cox and which starred David Wenham, Kate Ceberano and Jan Decleir. It's a true story about a priest who goes to help the lepers on the island of Molokai, Hawaii in the 19th century.
Aden went on to appear in several mediocre movies such as the 2003 romantic drama "After the Deluge", the 2004 drama "Human Touch", and the 2006 crime thriller "The Bet". In 2009 he portrayed the supporting character Dilworth in the biographical musical drama "Mao's Last Dancer", which starred Chi Cao and Bruce Greenwood and follows a boy from Maoist China who was sent to the US as a child, and trained at a ballet school. The movie won seven awards and was nominated for 20 others.
Aden also appeared the 2010 critically acclaimed historical war drama "Beneath Hill 60", and the 2011 action crime thriller "Killer Elite".
Three of his most recent roles in movies have been in the 2017 biographical crime drama "Don't Tell", the 2018 thriller "Abandoned: Angelique's Isle", and the 2019 comedy "Elsewhere".
Roles in TV series
Aden made his debut TV series appearance in the 2006 episode "Soft Boiled Luck" of the mystery fantasy "Two Twisted", then in 2007 starred as Jorge Stewart in the romantic comedy mini-series "The Starter Wife", which also starred Debra Messing, Judy Davis and Chris Diamantopoulos, and follows a woman who starts a new life after divorcing her husband who was a boss at a Hollywood studio. The series won four awards and was nominated for 29 others, including a Golden Globe.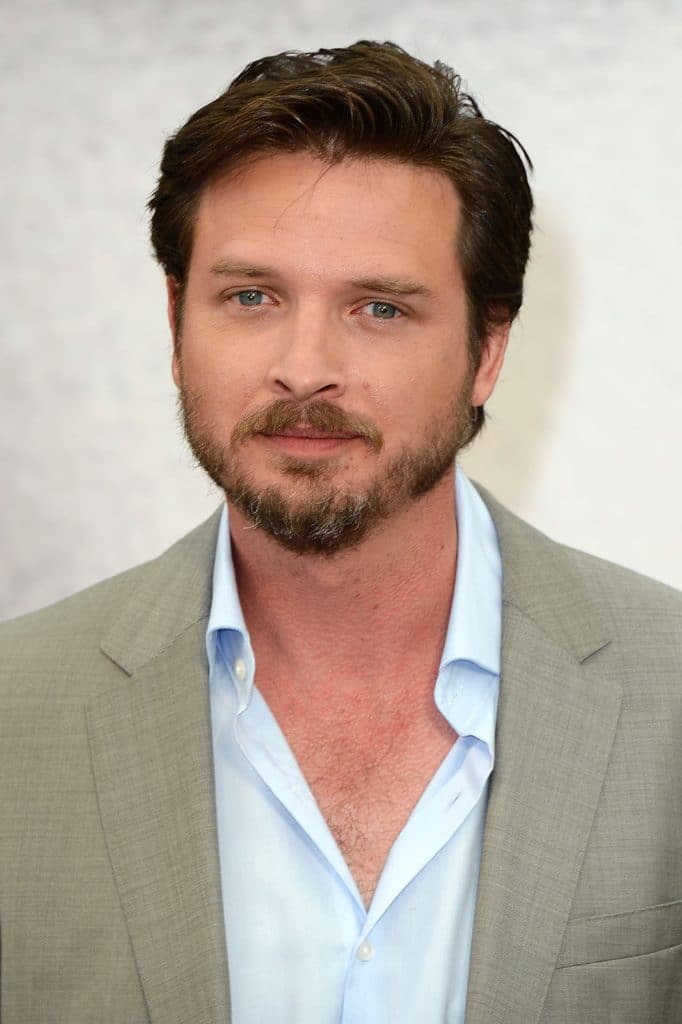 The year 2011 saw Aden play Kendrick in the episodes "Revelation" and "Behold a Pale Horse" of the mystery crime drama "East West 101", and in 2014 he was cast to portray the supporting character Randall Keats in the thriller drama "The Code", which starred Dan Spielman and Ashley Zukerman, and follows two brothers as they become involved in a conspiracy created by the Australian government; the series won nine and was nominated for nine other awards. Aden went on to appear in three 2015 episodes of the drama "The Principal", and in 2017 starred as Luke Sullivan in the mystery mini-series "Disappearance", which also starred Peter Coyote and Camille Sullivan, and follows the events after the disappearance of Anthony Sullivan on his 10th birthday.
Aden's most recent role in a TV series has been in the thriller "Reckoning", in which he starred as Mike Serrato in all 10 episodes in 2019 and 2020.
Other credits
Aden has three editing credits – in 2007 he worked on the documentary film "Kaluapapa Heavan", and the same year saw him edit the short film "The Rose of Ba Ziz" which he also wrote, directed and produced. In 2008, Aden edited the drama "Salvation".
He also wrote and directed the 1999 short movie "The Order".
He performed the song "Never Seen Beauty" in the 1998 movie "Under Heaven".
TV's best kept secret ends tonight https://t.co/mP9Tew8uDx @Rectify

— Independent TV (@TheIndyTV) December 14, 2016
Aden received special thanks for the 2000 drama "Innocence'.
He worked as a camera operator on the 2005 documentary movie "The Remarkable Mr. Kaye".
Aden has appeared in several short documentary movies, such as the 2001 "B-Roll Footage", the 2004 "Petal to the Metal: The Making of 'Metal Skin'" and the 2009 "Lucky Country: The Video Diaries". He has also appeared in the TV specials "The 5th Annual Critics' Choice Television Awards" and "CTV's Big Fall Preview 2017".
Awards and nominations
Aden has been nominated for nine awards, winning three – In 1995, he won a Film Critics Circle of Australia (FCCA) Award for Best Actor – Male for "Metal Skin", and in 2016 he won both an Other Worlds Austin SciFi Film Festival Award for Best Feature Actor, and a Blood in the Snow Canadian Film Festival Award for Best Actor for his performance in the action horror film "The Unseen".
He has also been nominated for two Australian Film Institute Awards, two Critics Choice Television Awards, a Satellite Award and an FCCA Award.
Wife and children
Aden met his future other half Loene Carmen in the mid-2000s, and she gave birth to their son Dutch in 2007, followed by their other son Chester in 2011. Aden and Loene initially decided not to exchange vows as not to complicate things between them by signing papers, however, they eventually changed their minds, and married in a private ceremony in Zebulon, Georgia in 2014.
Loene 'Lo' Carmen was born in 1970, in Adelaide, South Australia, and is a singer-songwriter and an actress, who has released six albums and has 25 acting credits, perhaps still known best for her portrayal of Freya Olson in the 1987 romantic drama "The Year My Voice Broke", written and directed by John Dulgan, and which follows a man as he watches his crush fall in love with a criminal. It won six and was nominated for three other awards.
Aden hasn't mentioned any other women he might have dated – as of February 2021, he is married to Loene Carmen and they have two sons.
Hobbies and other interests
Aden was once physically quite active, and during his 20s and 30s worked out at the gym around six times each week, and also played various sports, however, he is no longer very active, only occasionally playing golf and tennis with his friends.
SUCH a violator. Happy #rectify Season 4 Aden Young!#Repost @xylouriswhite・・・#AdenYoung from #Rectify TV show sporting #xylouriswhite

Posted by The Unseen on Wednesday, April 13, 2016
Aden became interested in travelling during his teenage years, and has since been to various Asian and European countries as well as to many US states such as New York, California and Florida. His dream travel destination is Bali in Indonesia.
He is a lover of animals, but doesn't have any pets.
Aden has his own favorite actors and actresses, some of whom are Russell Crowe, Keanu Reeves and Natalie Portman, and a couple of his favorite movies are "The Gladiator", the trilogy "The Matrix", and "V for Vendetta".
Age, height and net worth
Aden's age is 49. He has short brown hair and blue eyes, his height is 6ft (1.83m) and he weighs around 165lbs (75kgs).
As of February 2021, his net worth has been estimated at over $8 million.