• Brian Bonsall is an American actor and musician, best known for his roles in "Family Ties" and "Star Trek: The Next Generation".
• He attended Boulder High School in Colorado and made his acting debut at age four.
• After retiring from acting in the late 1990s, he pursued a music career with punk rock bands.
• In 2009, he was arrested for multiple legal issues and had his driver's license taken away.
• As of January 2023, his estimated net worth is close to $1 million.
Who is Brian Bonsall?
Brian Eric Bonsall was born on 3 December 1981, in Torrance, California, USA. He's an American actor and musician, best known for playing the role of Andy Keaton in the popular sitcom "Family Ties", as well as for his role as Alexander Rozhenko in "Star Trek: The Next Generation". In the late 1990s, Brian quit acting and started pursuing a music career.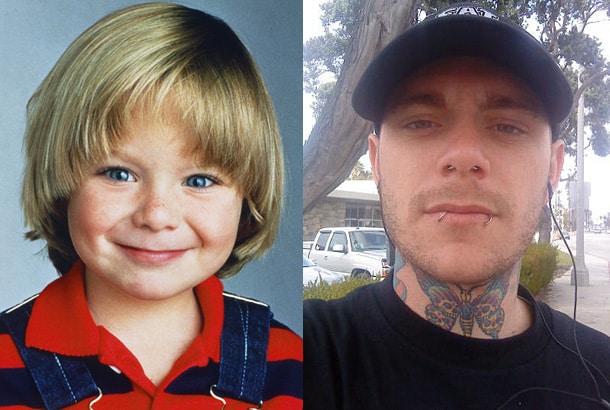 Early life and education
Brian was born to Garth Bonsall and Kathleen Coleman; he hasn't mentioned having any siblings, thus it's believed that he's an only child.
Brian became an actor at a very early age, landing his first role when he was only four years old. After his parents separated in 1994, he moved to Stone, Colorado with his mother, where he attended Boulder High School, from which he matriculated in 2000.
Acting career
Brian made his acting debut in 1982, in the popular comedy series "Family Ties", which aired on NBC for seven seasons. The show was created by Gary David Goldberg, and followed the middle-class Keaton family living in Columbus, Ohio, focusing on the relationship between the parents, Steven and Elyse Keaton, and their three children, Alex, Mallory and Andrew. The series was known for its mix of humor and family values, as well as its portrayal of the cultural changes and social issues of the 1980s.
In the series, Brian played the role of Andrew 'Andy' Keaton, the youngest child of the family, who was known for his mischievous behavior. The show also starred Michael J. Fox as the eldest child Alex, Justine Bateman as Mallory, and Meredith Baxter and Michael Gross as Elyse and Steven Keaton.
"Family Ties" was a critical and commercial success, won five Primetime Emmys during its seven-year ran, and was consistently ranked among the top 20 most-watched television shows. After the series ended, several of the cast members went on to successful careers in television and film, including Michael J. Fox who starred in the hit show "Spin City", and the "Back to the Future" movie franchise.
Parallel to "Family Ties", Brian made appearances in several movies, including "Go Toward the Light" (1988) and "Do You Know the Muffin Man?" (1989). In the following years, he mainly made episodic appearances in TV series, such as "Married People" (1990), "Shades of LA" (1991), and "Parker Lewis Can't Lose" (1992). He also starred in the 1992 horror thriller movie "Mikey", playing the titular role of a young boy responsible for a series of murders in his neighborhood.
Trying to remember what day it is#StarTrek #QuarantineLife pic.twitter.com/mxeArkjOUG

— TrekCore.com 🖖 (@TrekCore) April 2, 2020
From 1992 through 1994, Brian appeared in seven episodes of the sci-fi TV series "Star Trek: The Next Generation", which aired from 1987 to 1994 and is the second live-action series in the Star Trek franchise. It's set in the 24th century, roughly 80 years after the events of the original "Star Trek" series, featuring a new cast of characters led by Captain Jean-Luc Picard, played by Sir Patrick Stewart. In the series, Brian played the role of Alexander Rozhenko, the Klingon son of Worf, one of the most influential people in the Federation. The character was adopted by Lieutenant Commander Worf and Beverly Crusher, as a gesture of goodwill between the Federation and the Klingon Empire. Alexander was raised on the Enterprise, and his story arc was focused on his struggle to find a balance between his Klingon heritage and his upbringing in a Human society.
Perhaps Brian's most well-known movie role was in Disney's live-action comedy "Black Check", directed by Rupert Wainwright, which also starred Karen Duffy, Miguel Ferrer and James Rebhorn. Brian played the leading role of Preston Waters, a young boy who is accidentally given a blank check by a crook, which he uses to buy himself a mansion and a personal hovercraft, however, the crook soon tracks Preston down, and tries to reclaim the money, leading to a series of comedic misadventures. The film was well-received by critics and audiences alike, and grossed $16 million at the box office.
In the same year, Brian appeared in two other movies, "Father and Scout", and "Lily in Winter", as well as in an episode of the comedy-drama series "Heaven Help Us".
After that, Brian quit acting.
He made his comeback 24 years later in the 2018 short comedy film "Slaughsages", written and directed by Mel Haynes Jr. In 2022, he made an appearance in the indie horror film "You're Melting!", directed by James Balsamo, but despite these recent film roles, it appears that Brian isn't going to return to acting full-time any time soon, as he's more invested in making music.
Slaughsages! A Comedy Horror Short!

A lone sheriff stands between a sleepy western town and a hell bent horde of invading demonic bratwurst. Starring Brian Bonsall, Jonathan Tiersten, The Enigma, Deno Apodaca, Justine McKinney, Benton Mckibben and Rodney Tidwell as The Beaver. A film by Mel Haynes, Jr.https://www.facebook.com/DenverLightingCompany/https://www.imdb.com/title/tt4938904/

Posted by Slaughsages on Thursday, January 3, 2019
Music career
Brian indeed turned to music after retiring from acting, forming the punk rock band Late Bloomers with his high school friends in 1998. He'd also been a member of two other punk bands from Denver – The Light on Adam's Stereo and Thruster, which have since disbanded.
In the early 2010s, he joined a few music projects, while playing local gigs with his former band-mate, Mike Oregon. In 2015, they formed the pop-punk quartet Lowjob, releasing their first, and so far only album "We Share" in April 2016. In the same year, Brian joined the pop-punk band The Ataris as lead guitarist, staying with the band until 2018, and joining them for major tours, such as the Vans Warped Tour in 2017.
After leaving The Ataris, Brian and his high school friend, Evan Jones, started a new band called Sunset Silhouette; they've since released an album entitled "Far Beyond Suburbia", and are still active in the local music scene.
Legal issues
After matriculating high school, Brian's life seemed to have taken a dramatic turn. In 2001, "The Denver Post" reported that the former child actor had his driver's license taken away after he was caught driving under the influence of alcohol.
Six years later, he was arrested for assaulting his then-girlfriend; according to her, Brian had poured a drink over her head while she was sleeping and then put her in a chokehold, while he claimed that she attacked him with a knife first, and he was acting in self-defense. He was eventually charged with second-degree assault, and was sentenced to probation.
In 2009, Brian missed a scheduled court hearing for failing to meet the probation requirements, and became a fugitive before the police apprehended him for another assault. One of his friends accused Brian of hitting him with a barstool, and he ended up with charges of third-degree assault, along with violating his probation.
A few months later, he was arrested for violating his probation again, this time for marijuana possession. Fortunately, Brian doesn't seem to have had any more legal issues since then. In a 2016 interview, he spoke about this dark period of his life, saying: 'My drunken run-ins with the law are behind me, and I'm pretty happy about that. I'm not proud of my past mistakes but you live and you learn.'
Personal life, net worth
In October 2017, Brian married his long-term girlfriend, Courtney Tuck; they welcomed their son, Oliver, in August 2019.
In his recent interviews, Brian has cited Courtney as one of his biggest supporters, and a huge help in getting his life back on track. He often posts pictures featuring his wife and son on Instagram, showing that he's a true family man.
Brian's net worth as of January 2023 has been estimated at close to $1 million.